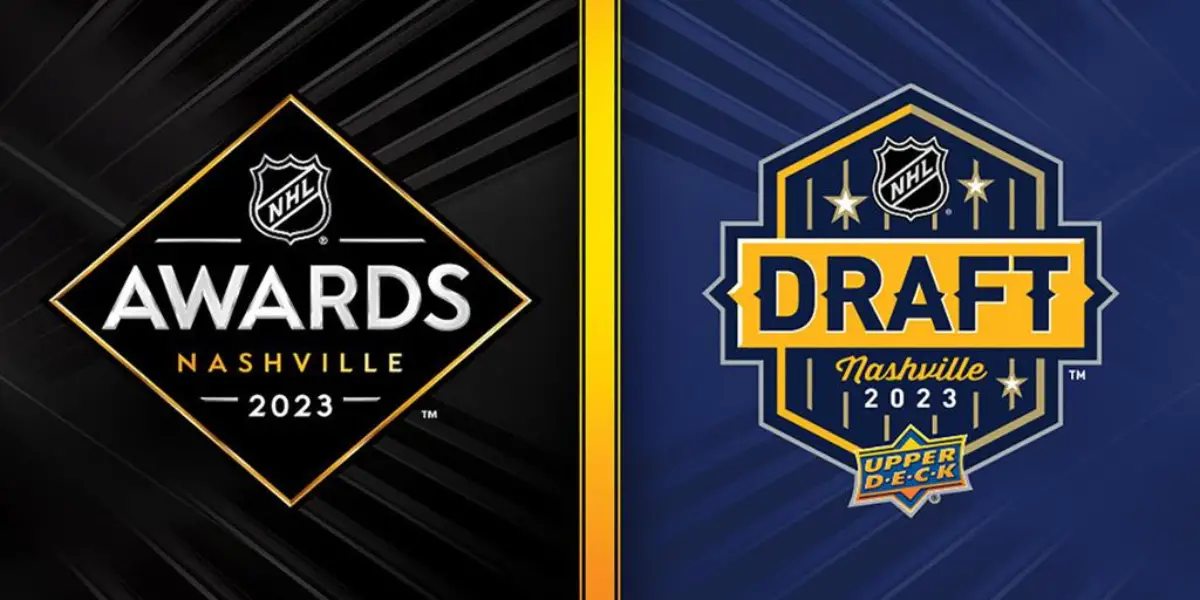 The 2023 NHL entry draft is getting closer, and each year, I take the time to read on roughly 150 players, sometimes more, sometimes less. Inside The Rink has a unique 2023 NHL Entry Draft project where a group of writers will write prospect profiles on players throughout the entire entry draft. Click on a prospect's name, and you can read their prospect profile written by Inside The Rink's very own, and if you click on the name of who that article was written by, you can check out all of that writer's posts.
Related Page: 2023 NHL Draft – Nashville
#1 Overall – Connor Bedard – Regina Pats – C – (Written by Nathan Bondy)
I don't think, at this point, heading into draft day, that there would be any reason not to select Connor Bedard first overall. Bedard is unlike anything we've seen in a long time, and it will be cool to see what he does at the NHL level.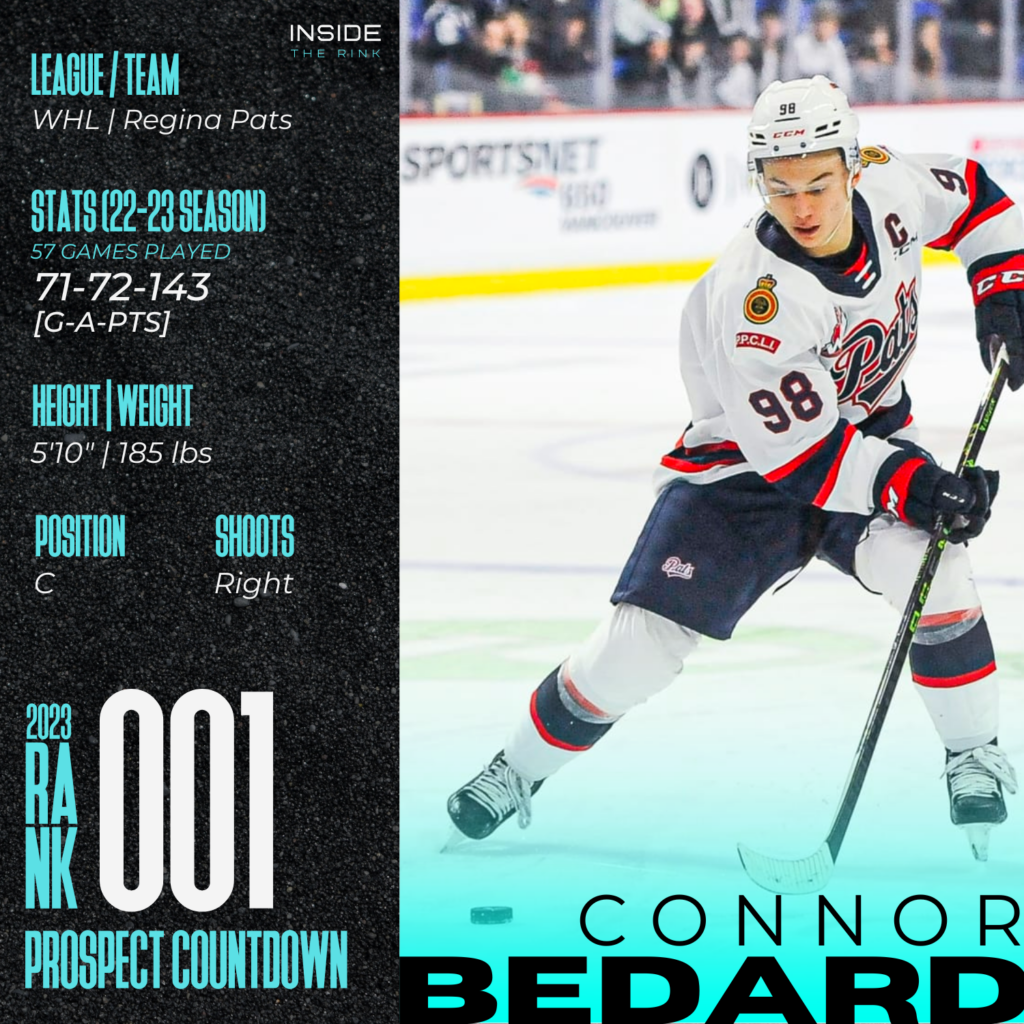 #2 Overall – Adam Fantilli – University of Michigan – C – (Written by Conrad Jack)
Adam Fantilli, in any other draft year, would be a solid first-overall pick. There's just Connor Bedard in front of him. However, Adam Fantilli is certainly no consolation prize, Fantilli is the real deal and makes this draft class legit.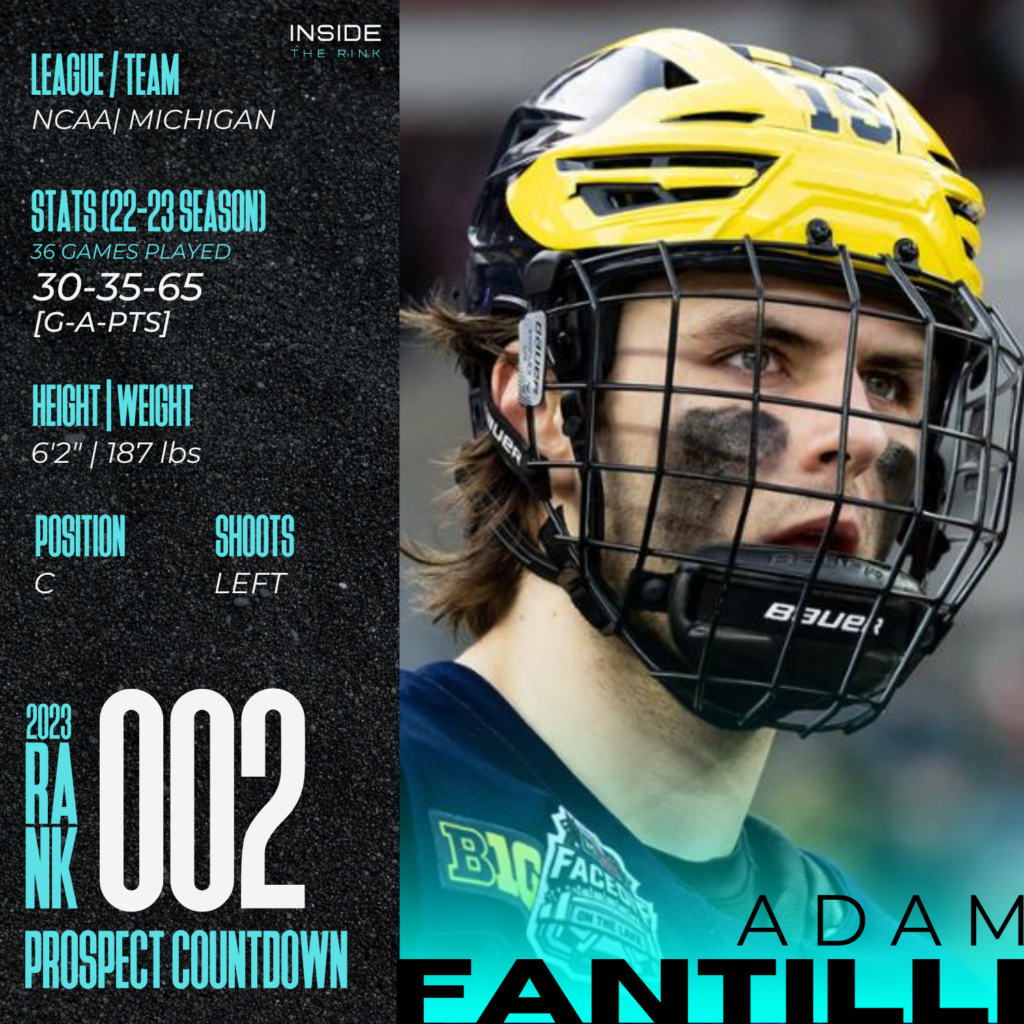 #3 Overall – Leo Carlsson – Orebko HK – C/W – (Written by Conrad Jack)
Leo Carlsson makes this draft class a legit top-three, which we haven't seen in a while. It's nice to see such a strong and deep draft class with dynamically skilled players who bring a ton to the table on their own.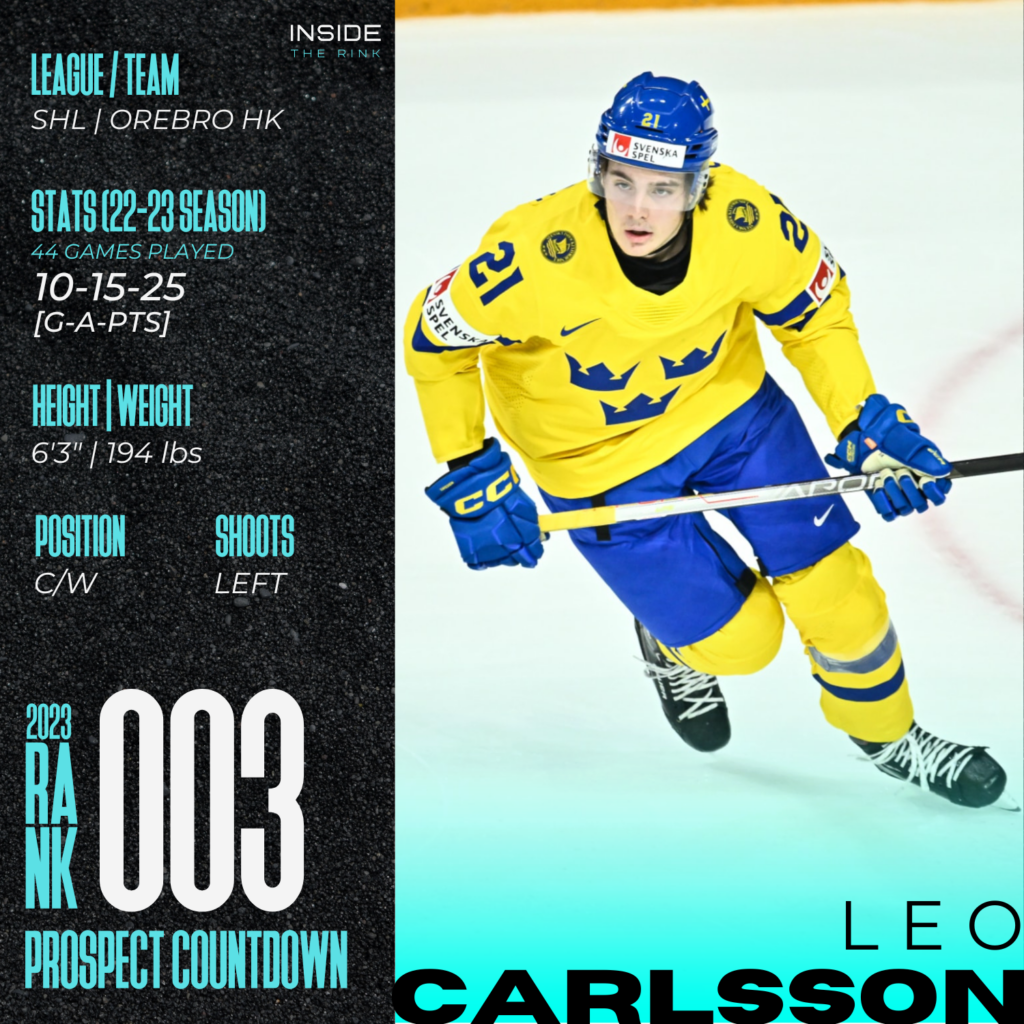 #4 Overall – Zach Benson – Winnipeg Ice – C – (Written by Conrad Jack)
Zach Benson is a solid center in an already deep draft class; to stand out this much with such a saturated draft position is excellent. Zach Benson is a solid pick for any team looking to draft him.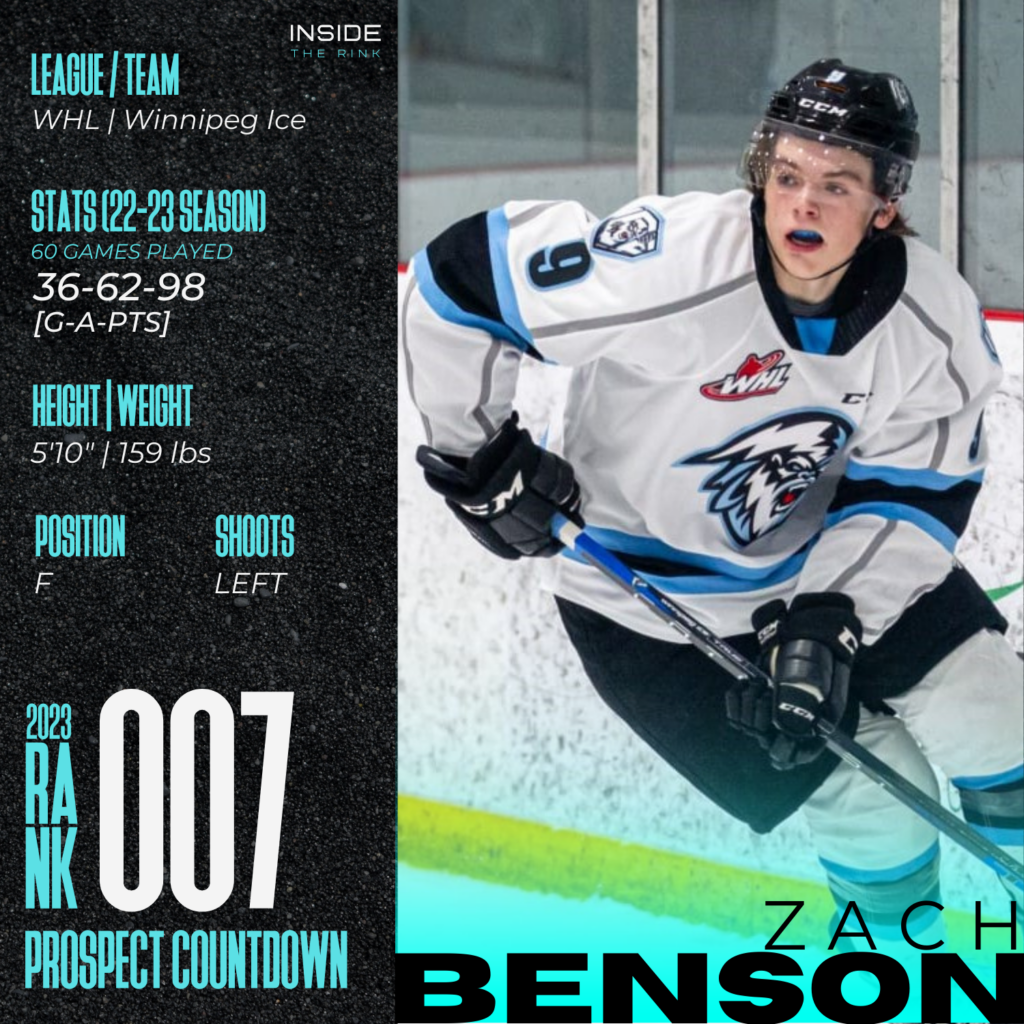 #5 Overall – Matvei Michkov – HK Sochi – RW – (Written by Conrad Jack)
Matvei Michkov was touted at one point in time as a better prospect than Connor Bedard, and many thought Michkov would go first overall over Bedard. Michkov is still touted as the best Russian prospect since Alex Ovechkin, and he's under contract until the end of the 25/26 season. I wouldn't be surprised if he falls a bit because of the stigma around Russian prospects and contracts.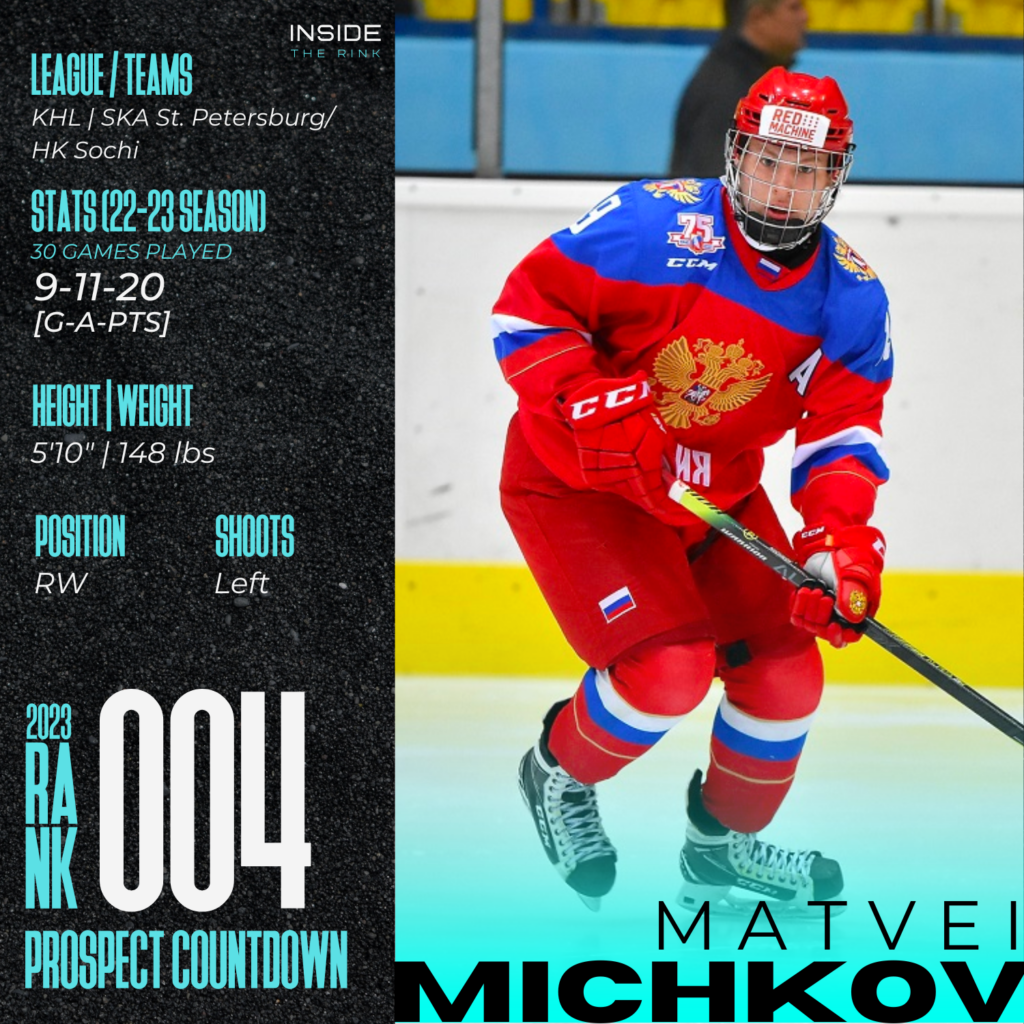 #6 Overall – Dalibor Dvorsky – Allsvenskan – C – (Written by Conrad Jack)
Dalibor Dvorsky is another prospect that found his own way to stand out. Dvorsky is a hard-working centerman and might move up a couple of spots or down a couple of spots.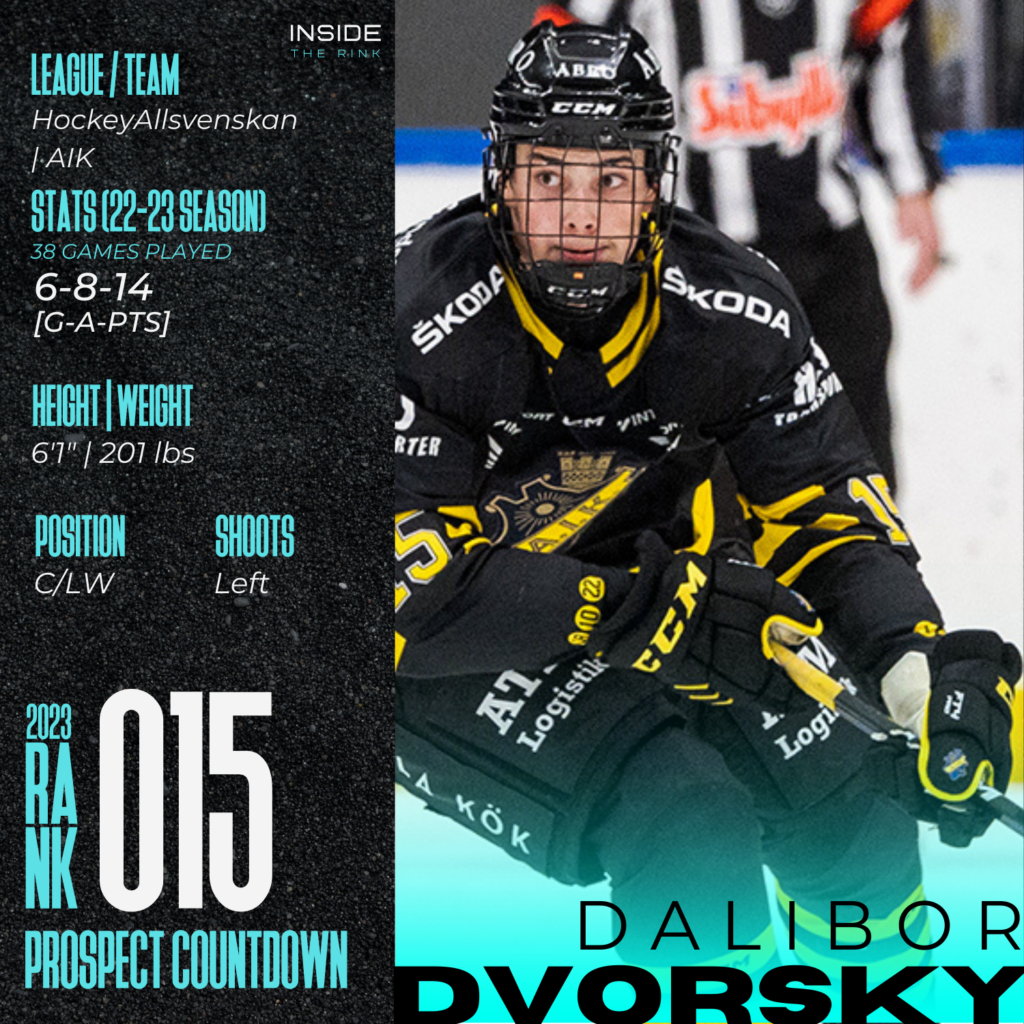 #7 Overall – Brayden Yager – Moose Jaw Warriors – C – (Written by Conrad Jack)
You can't find a player that plays like Brayden Yager, he's dynamic and reliable, and most importantly, he's easily coachable and loved by his teammates. This is a player that may or may not hear his name called earlier than expected come draft day in Nashville.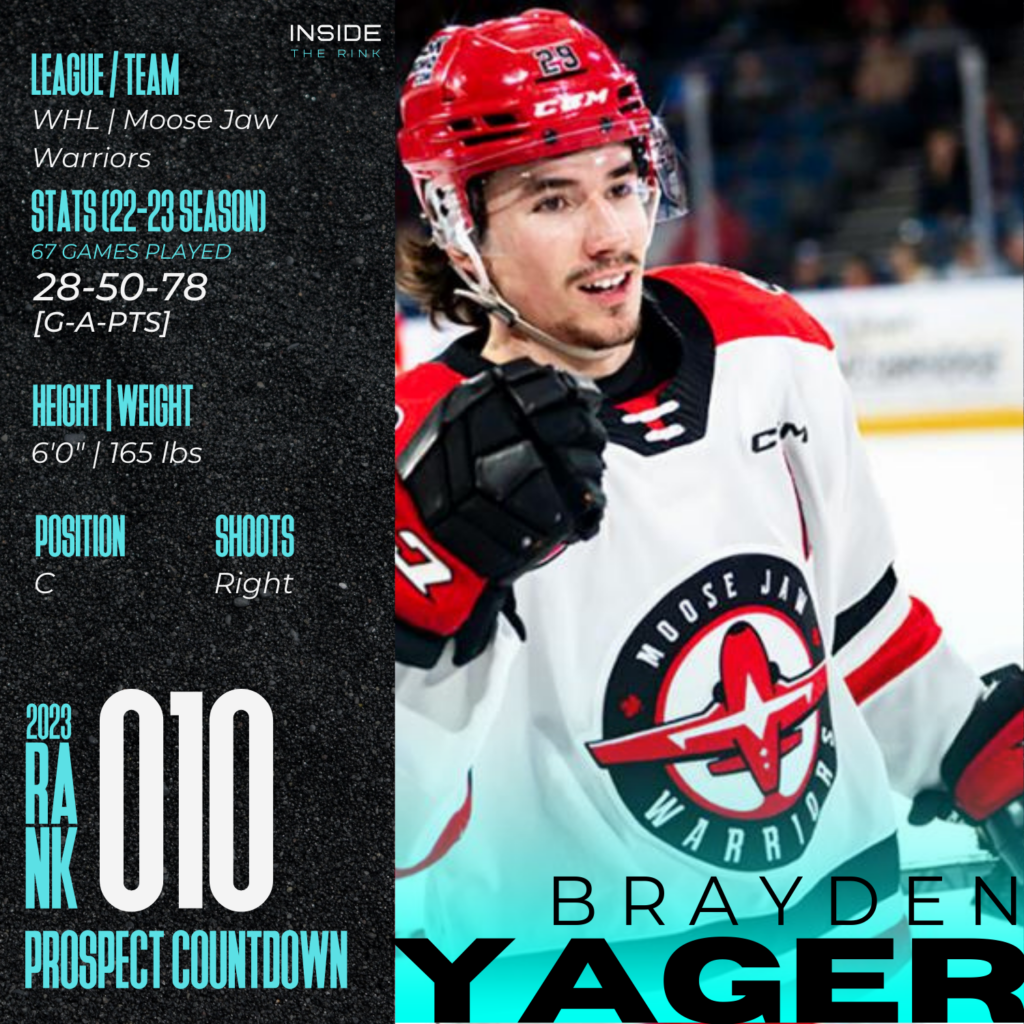 #8 Overall – Will Smith – US National Development Program U18 – C – (Written by Matt Barry)
A dynamic playmaker and a strong offensive weapon for any team looking to draft this crafty forward. Will Smith is definitely as advertised and will make a strong impact on any team looking to draft him.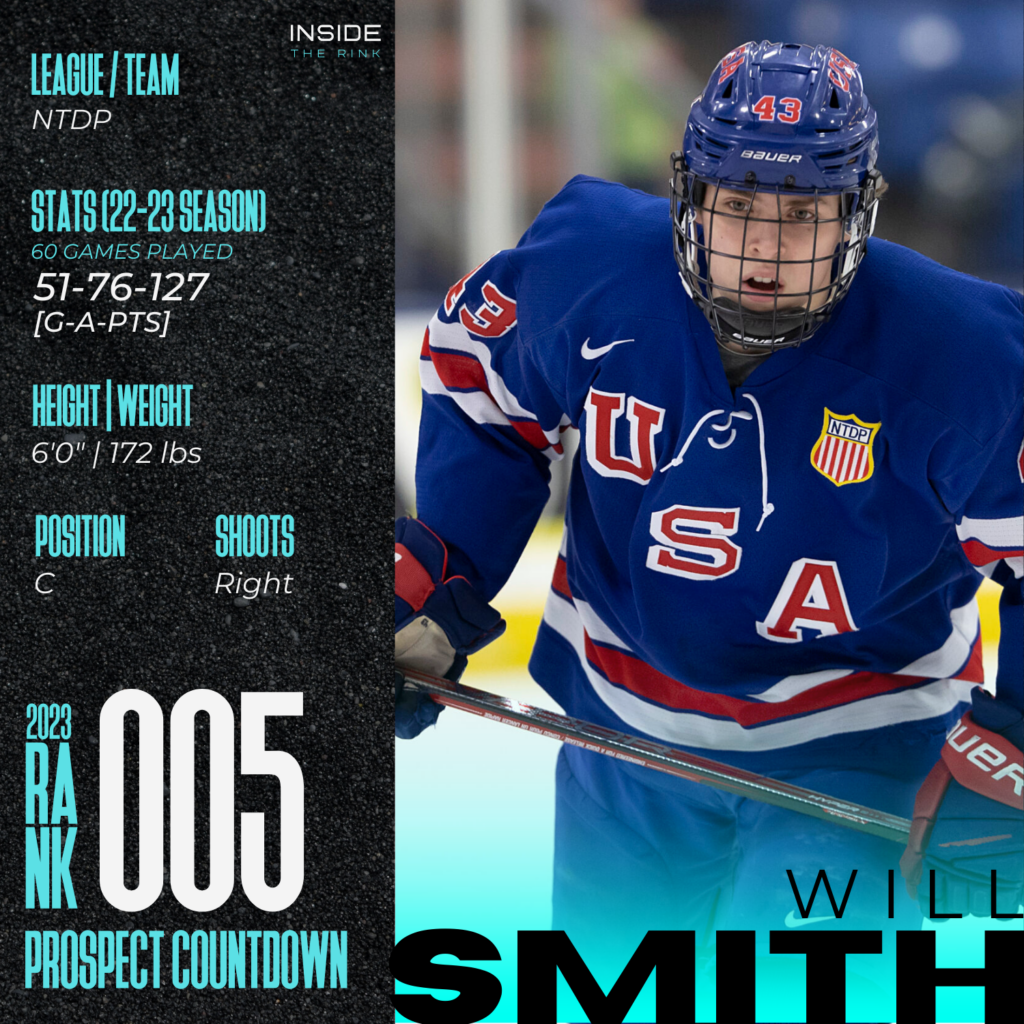 #9 Overall – Eduard Sale – Kometa Brno – C – (Written by Conrad Jack)
A physical and offensively-minded forward, Eduard Sale will certainly be a solid addition to any team looking to get better in the long term. Sale also has a really accurate shot and will look to present this as one of his best qualities come draft day.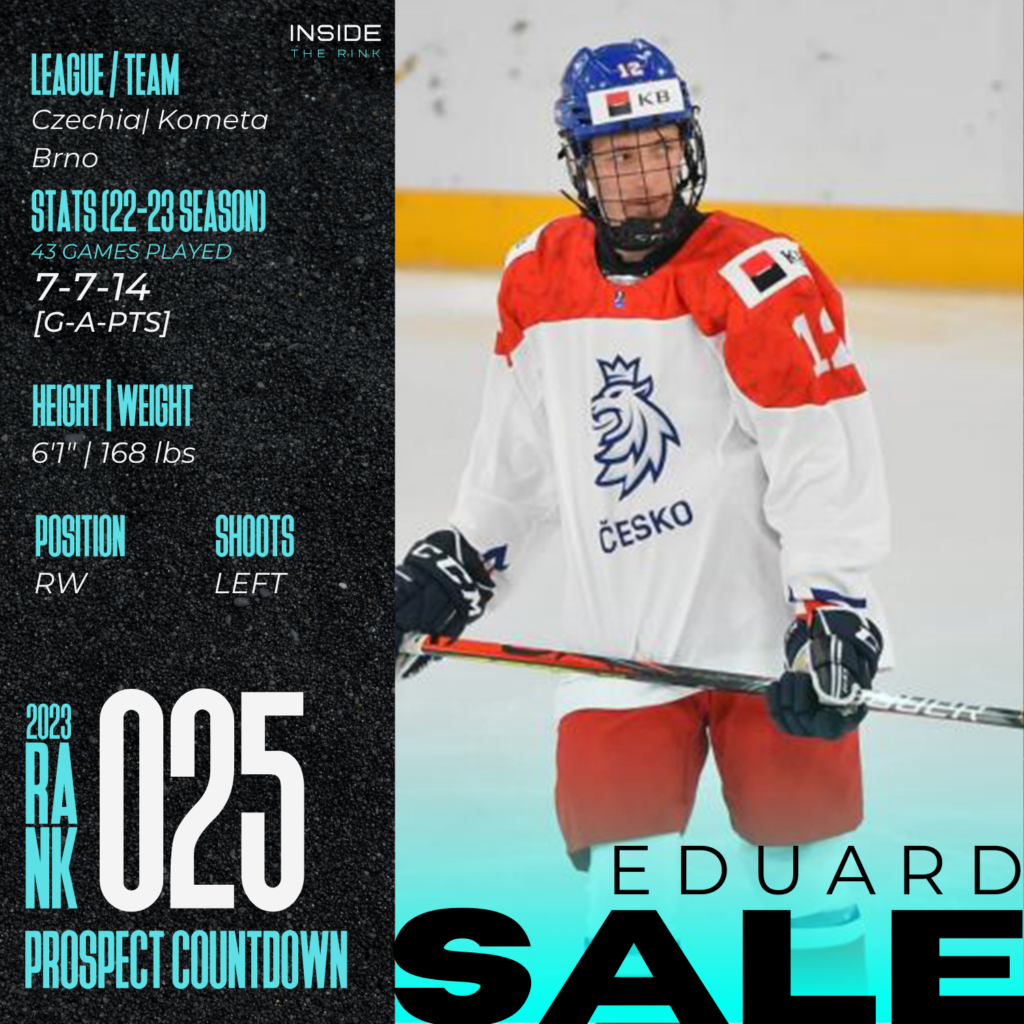 #10 Overall – Quentin Musty – Sudbury Wolves – LW – (Written by Josh Anselmo)
The first overall pick in the 2021 OHL draft, Quentin Musty, is as good as you get. Confidence is the name of Musty's game, and it will serve him well if he can continue his levels of confidence.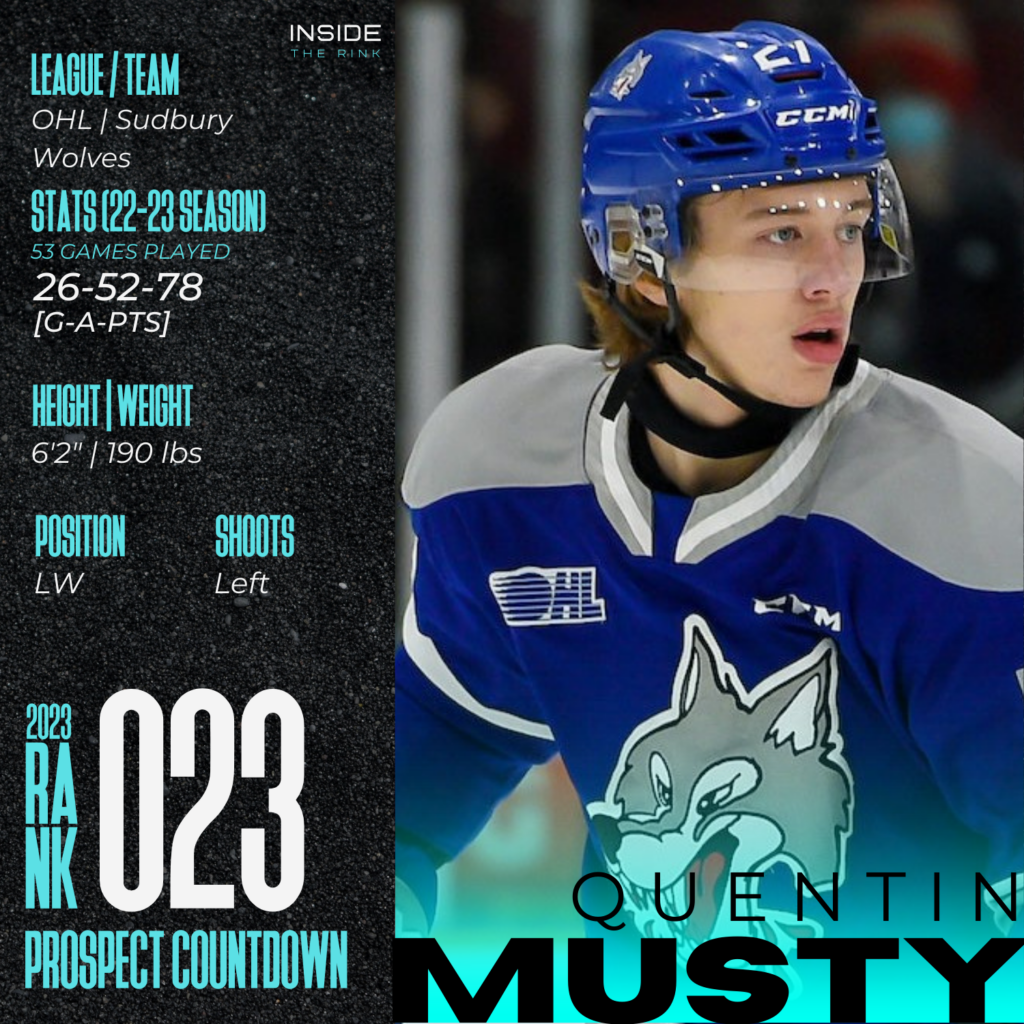 #11 Overall – Colby Barlow – Owen Sound Attack – C – (Written by Josh Anselmo)
Colby Barlow might be one of the best skaters in the 2023 NHL entry draft, and his highlights show his skill level. Barlow stands out for his leadership ability and his overall offensive capabilities.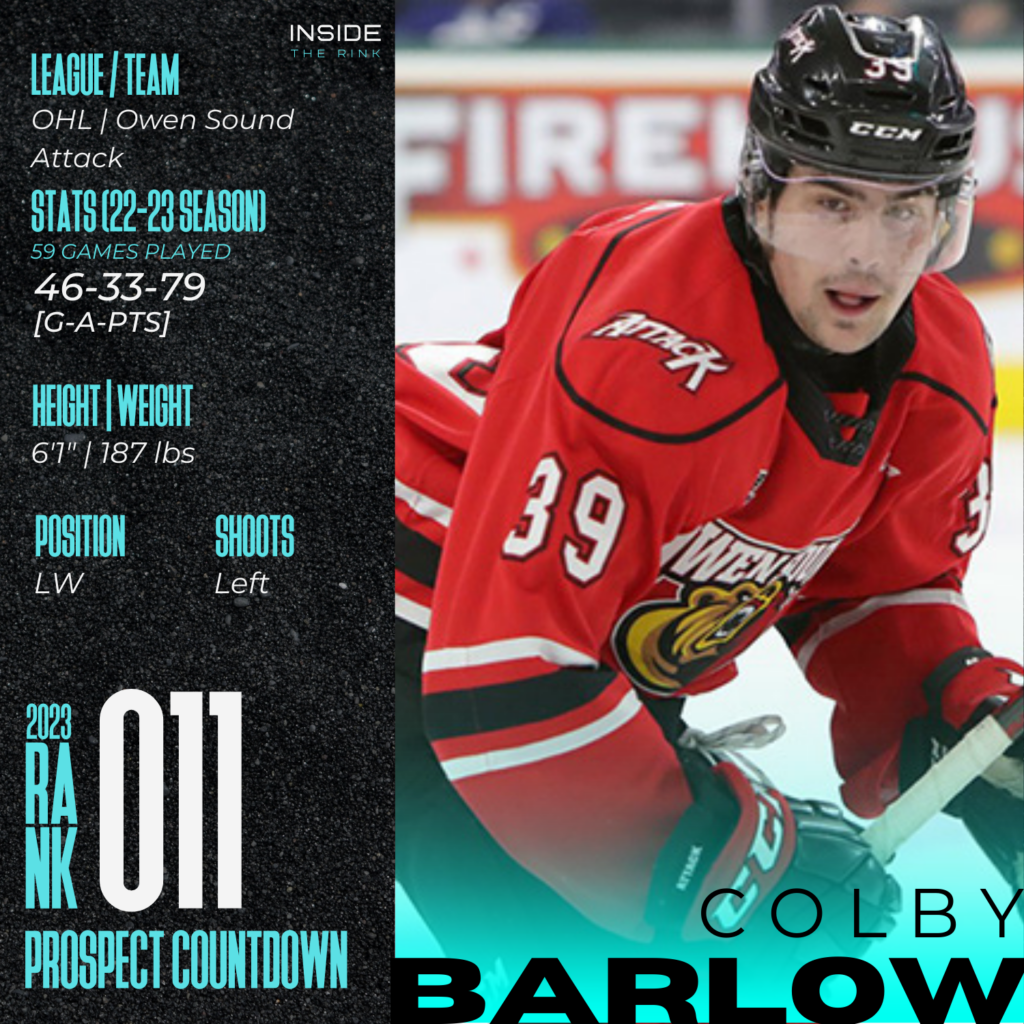 #12 Overall – Ryan Leonard – US National Development Program U18 – C/RW – (Written by Matt Barry)
Ryan Leonard is your typical hard-working player, he plays a game that you don't find in most players, especially in an NHL draft class. Leonard also compliments his hard-working nature with a great will to block shots. I don't think there's another player in this draft class who has a better shot-blocking nature than Ryan Leonard.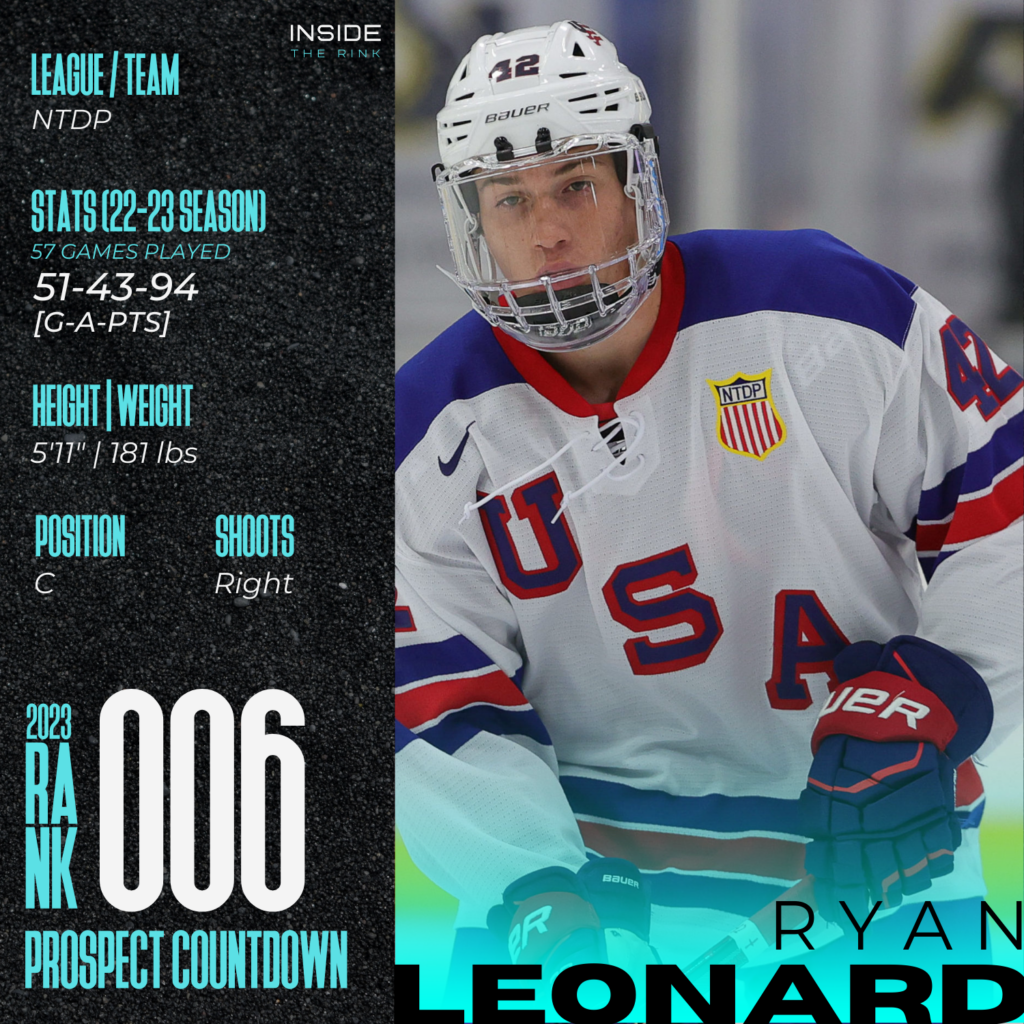 #13 Overall – Samuel Honzek – Vancouver Giants – C – (Written by Gabrielle Klempner)
6'4″ and 185 pounds, the Slovakian center, Samuel Honzek, is a beast. Honzek came over from Slovakia to Canada to play hockey and exploded offensively. Strong, offensively inclined, and has strong skating, Honzelk is what you look for in a tough-to-beat center.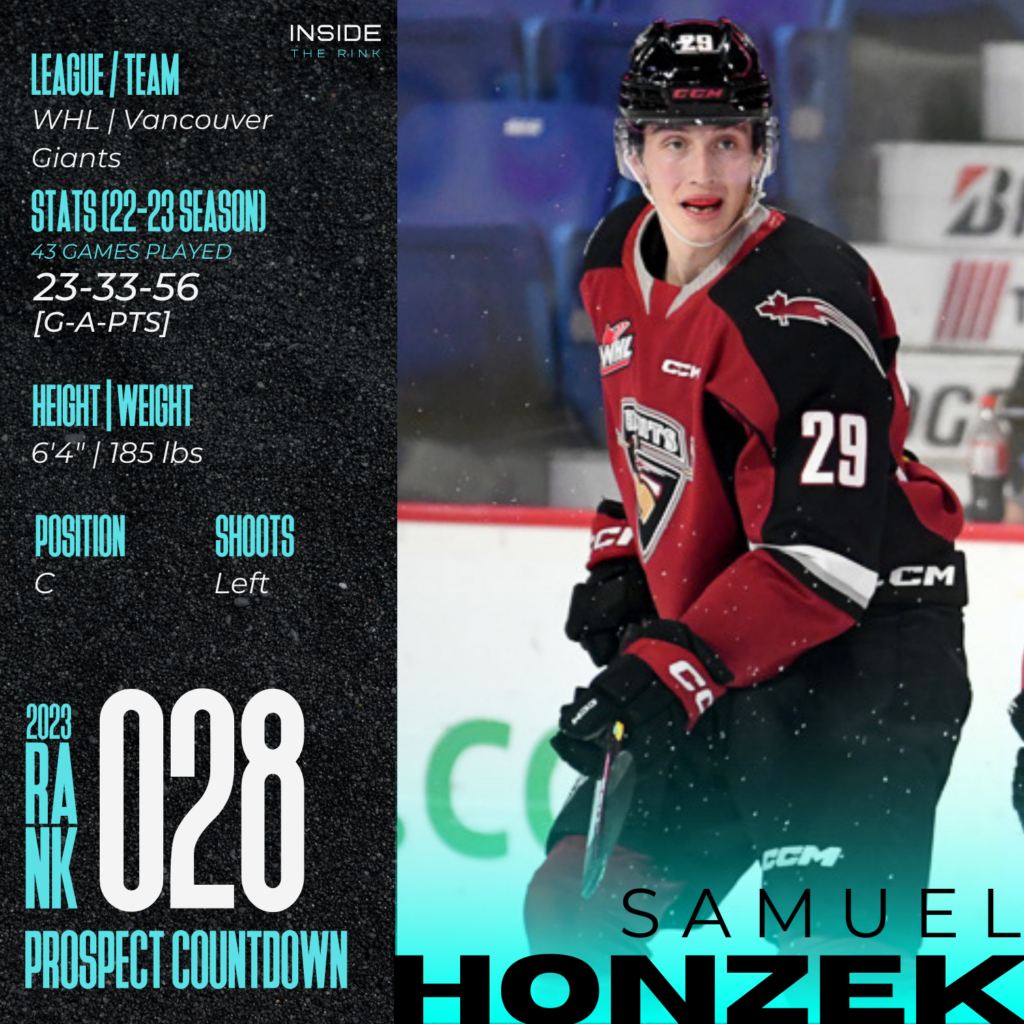 #14 Overall – Axel Sandin Pelikka – Skelleftea AIK – D – (Written by Gabrielle Klempner)
A physical right-shot defenseman is something every general manager wants in the NHL. Axel Sandin Pelikka checks all of those boxes. Pelikka is being compared to the likes of Cale Makar and Erik Karlsson, and he continues to show in his playstyle why. He's a sound puck mover, fast on his feet, and can pass the puck incredibly well.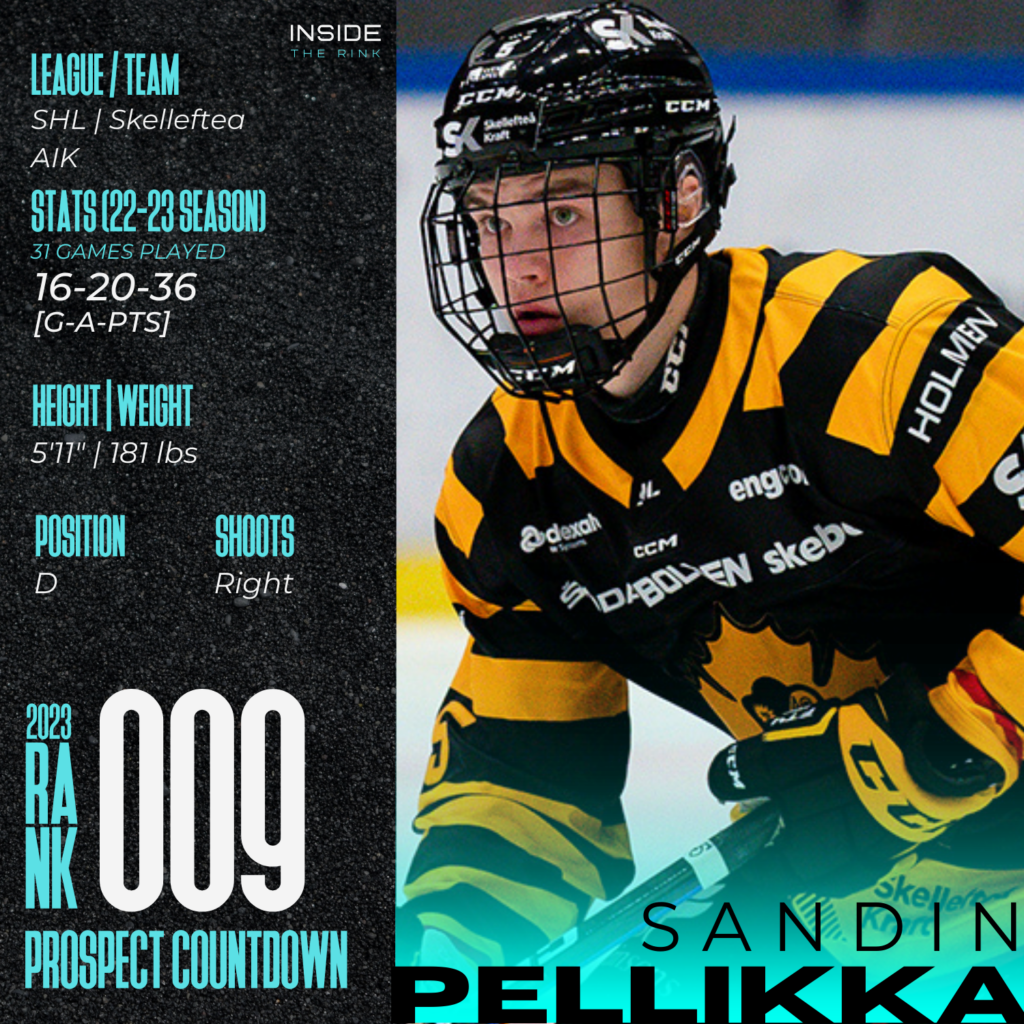 #15 Overall Otto Stenberg – Frolunda HC – C/RW – (Written by Conrad Jack)
Otto Stenberg is a highly sound two-way forward known for their off-ice contributions as a hockey player and as a leader. Super consistent and has the drive to be the absolute best that he can become.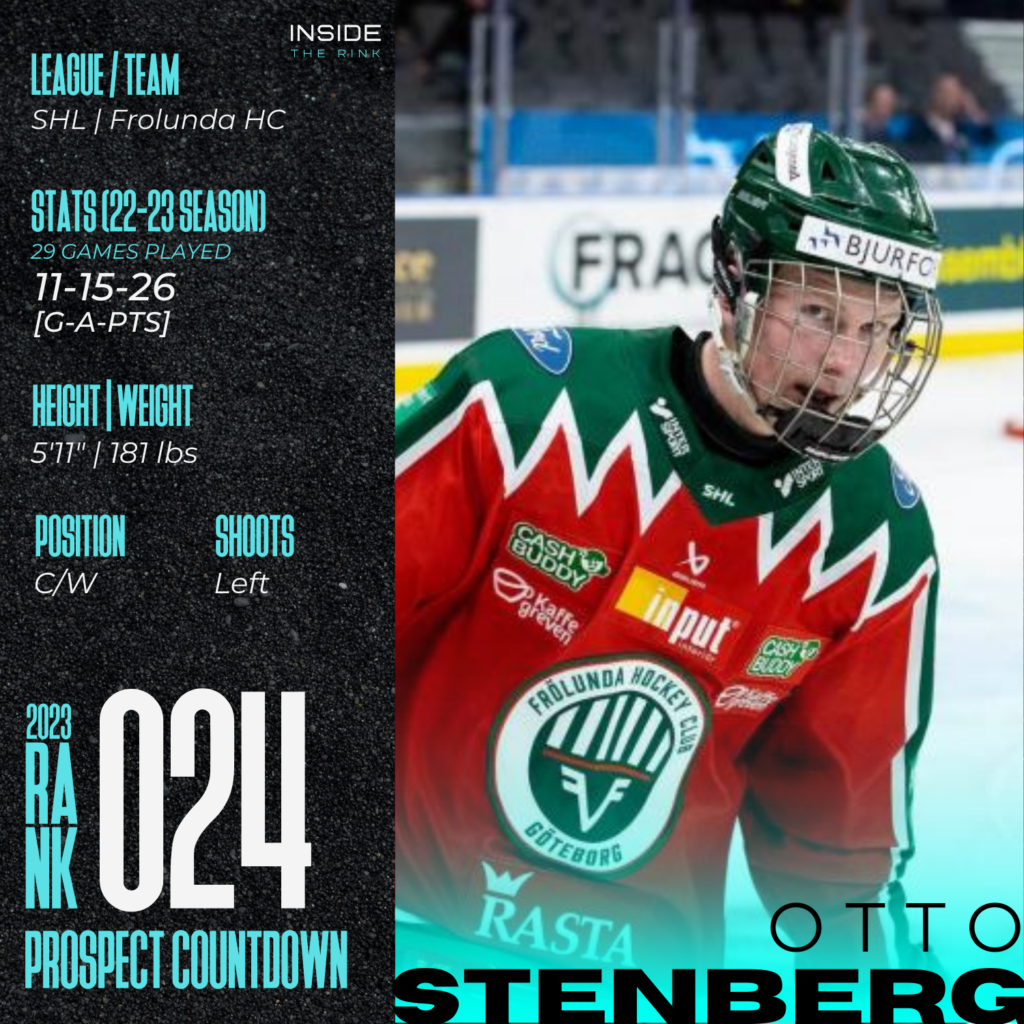 #16 Overall – Matthew Wood – University of Connecticut – LW/C (Written by Conrad Jack)
Matthew Wood took a different route for development, Wood saw what was best for his training regiment and what he wanted to accomplish. From the BCHL to the NCAA, Wood has managed to excel in every league he's played in.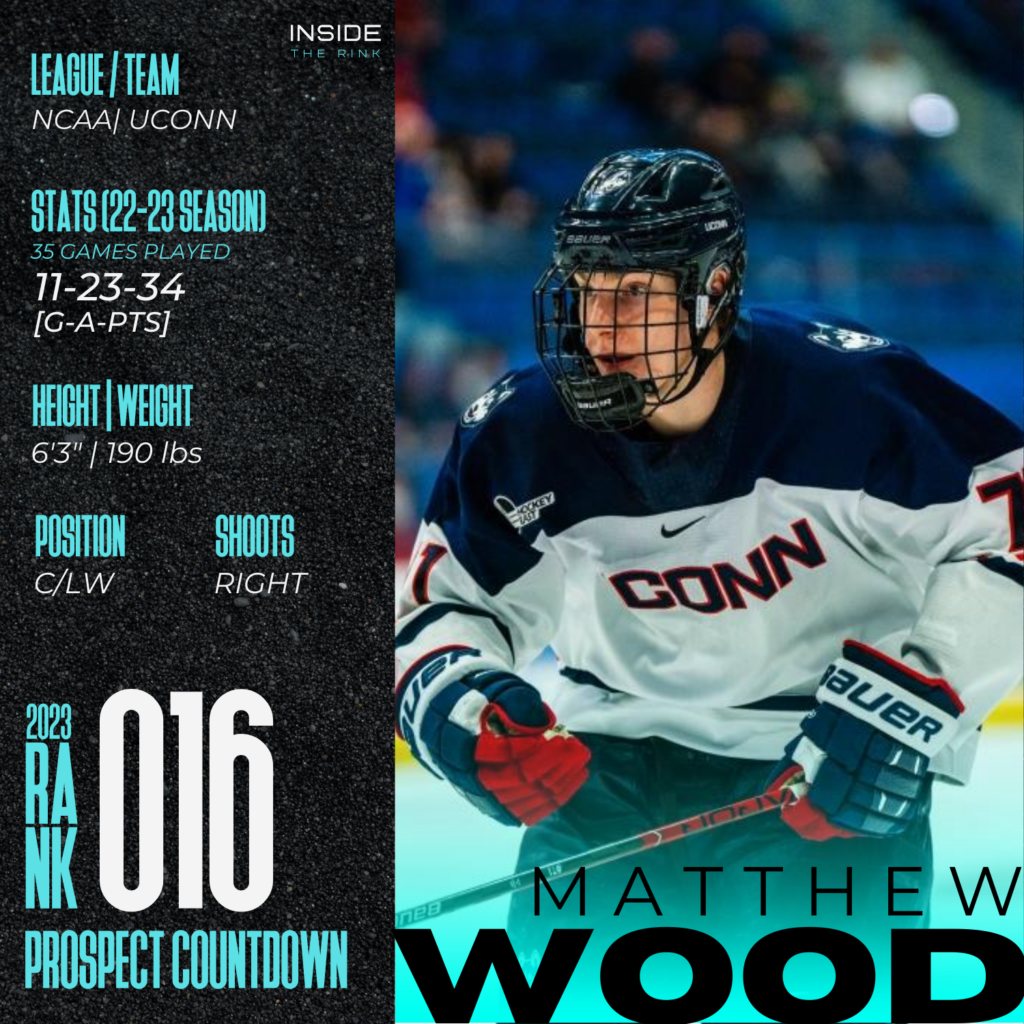 #17 Overall – Andrew Cristall – Kelowna Rockets – C – (Written by Jake Hughes)
Andrew Cristall has been a strong puck handler for the Kelowna Rockets of the WHL. A solid point scorer and on-ice leader, Cristall proved his draft stock to be true since his first U15 season.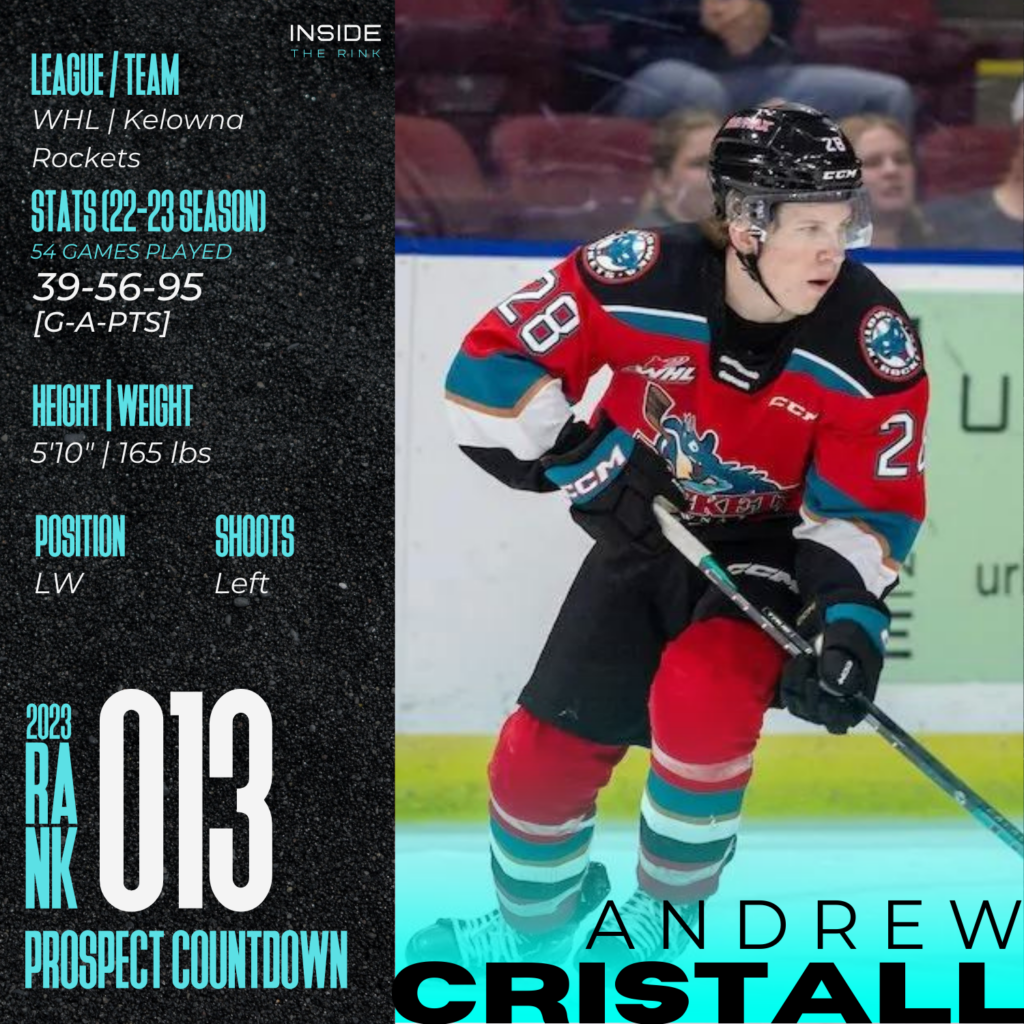 #18 Overall – Jayden Perron – Moose Jaw Warriors – C/RW – (Written by Alex Grandy)
From the Winnipeg leagues to the USHL, Jayden Perron has proven dominant in whatever league he is playing in. While he needs to put on weight and size, Perron has the qualities to be a dominant NHLer, given his strong skating and his awareness, and even his hockey IQ.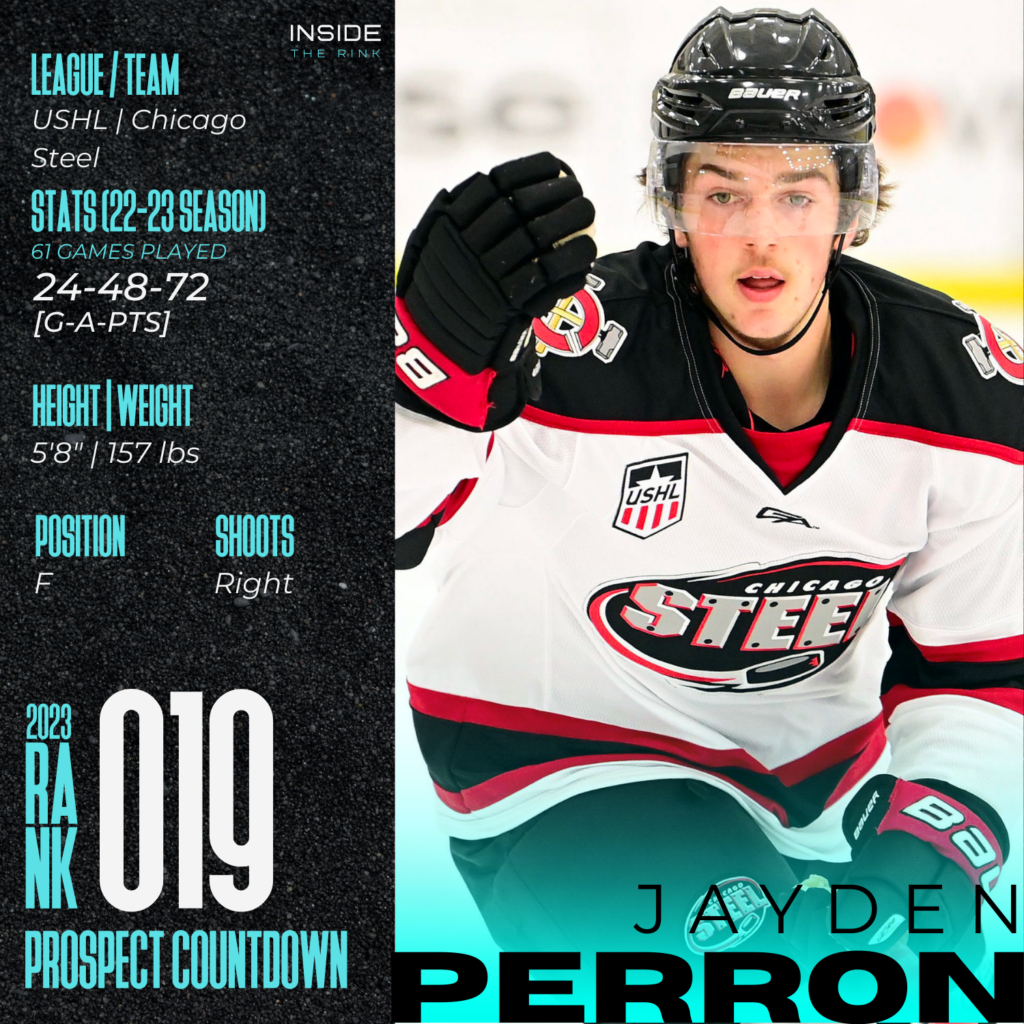 #19 Overall – Nate Danielson – Brandon Wheat Kings – C – (Written by Conrad Jack)
Dominant defensive centerman and adaptability are a rarity to come by nowadays. To top it all off, Nate Danielson is a strong leader and always does what is best for his team.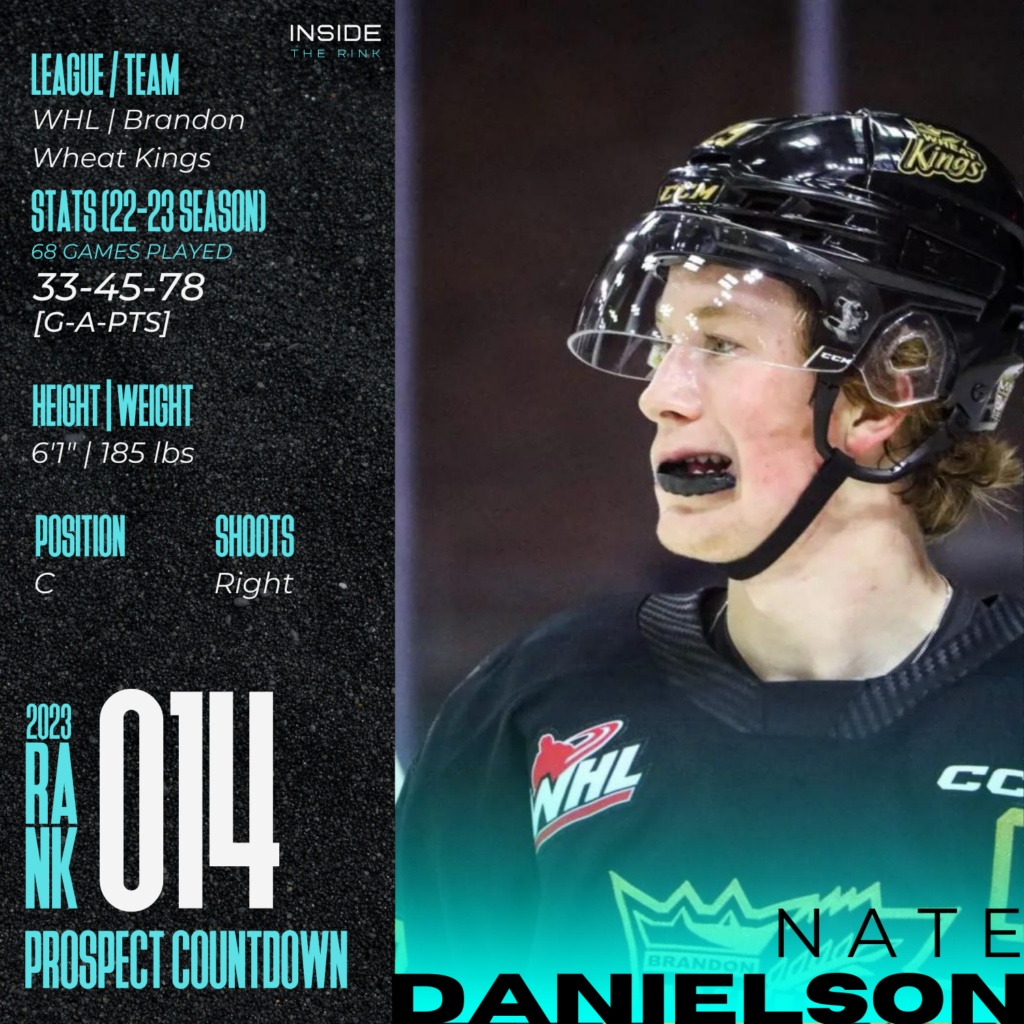 #20 Overall – Mikhail Gulyayev – Avangard Omsk – D – (Written by Conrad Jack)
Mikhail Gulyayev is one of the best transitional of this draft class, Gulyaye, Axel Sandin Pelikka, and David Reinbacher are so scarily similar in their style of play that you know you are getting a decent defenseman. Gulyuayev is precise and passes smoothly, making his teammates breathe a bit easier when he's on the ice.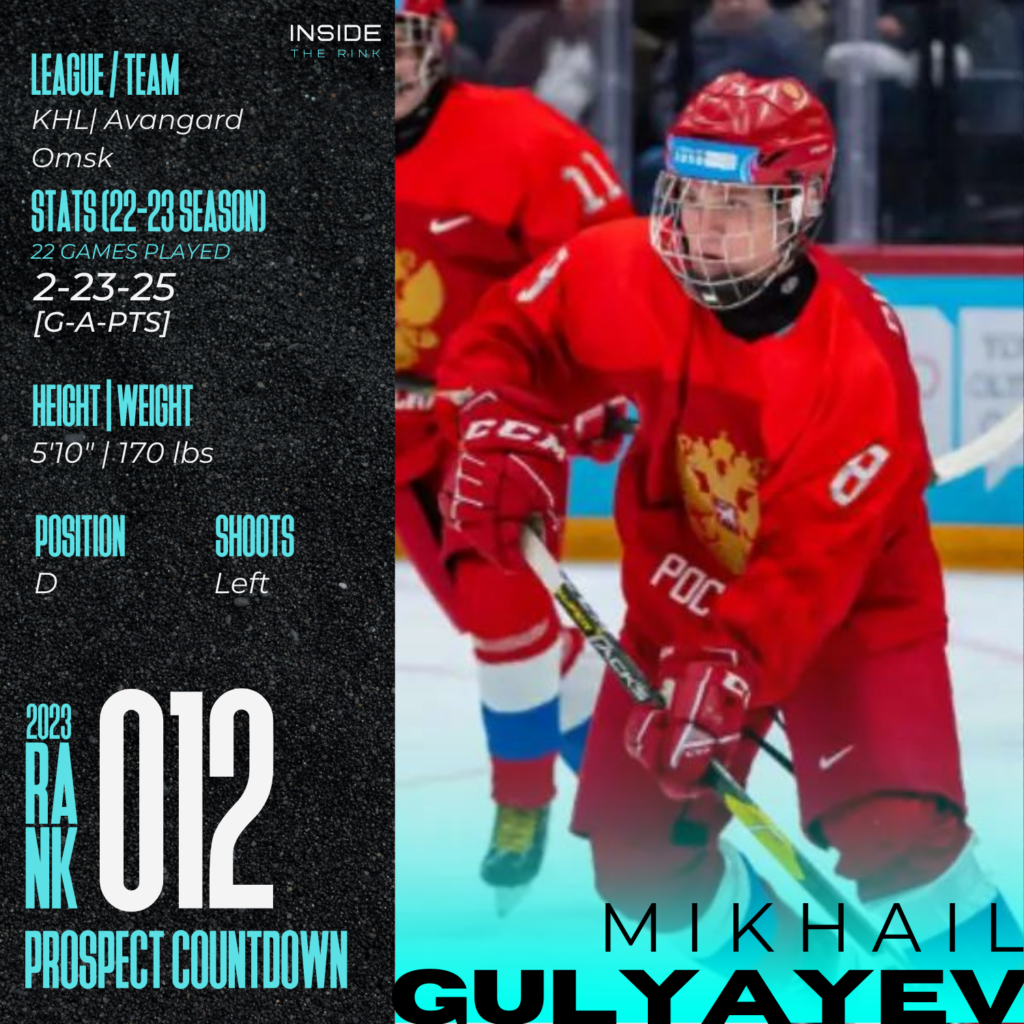 #21 Overall – Lukas Dragicevic – Tri-City Americans – D – (Written by Alex Grandy)
Another solid defenseman in the 2023 NHL draft class, Lukas Dragicevic, has a cool name and a stronger two-way game. Dragicevic is a smooth skater and a solid passer, helping his teammates in play, especially in the offensive zone.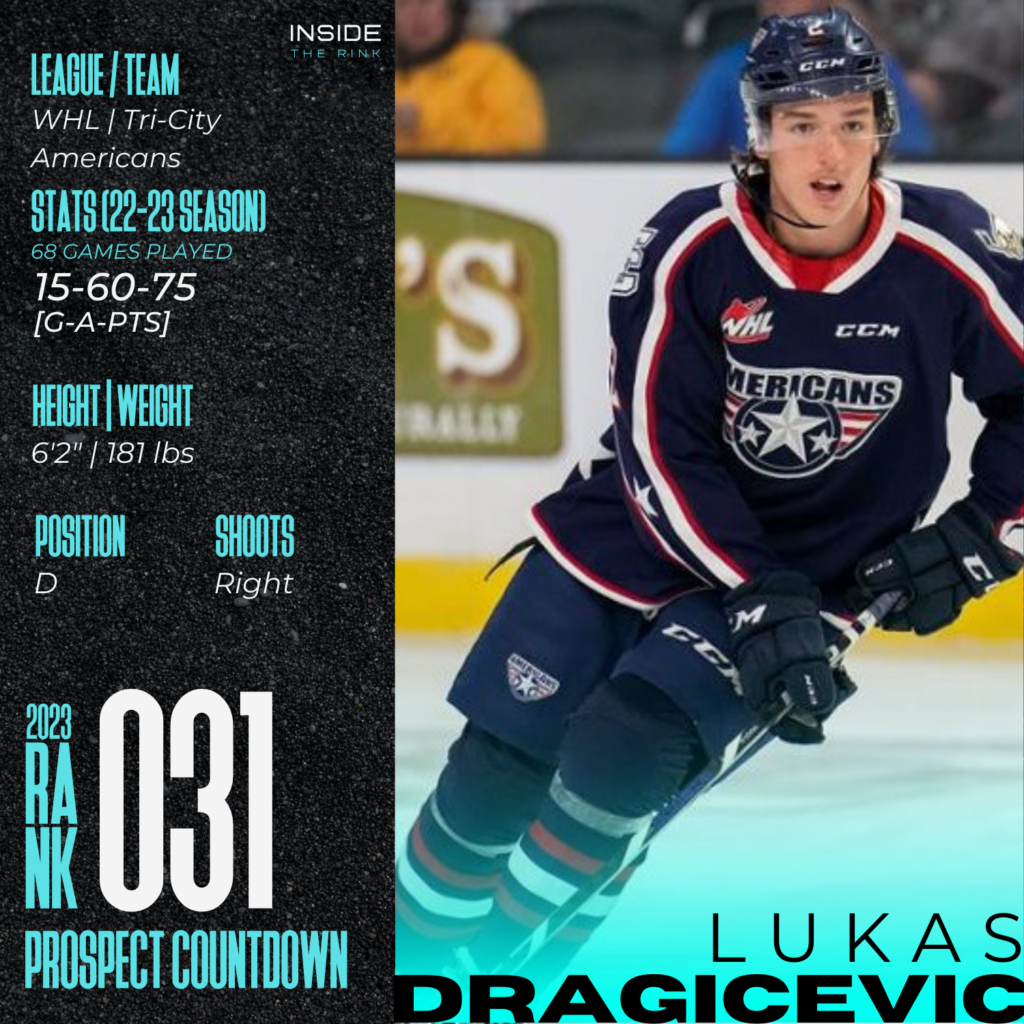 #22 Overall – Riley Heidt – Prince George Cougars – C – (Written by Nathan Bondy)
Riley Heidt is a strong team player in the 2023 NHL entry draft. Heidt is also quite sound defensively, though his strongest standout attribute is his ability to play as a team player and buy into any coach's system.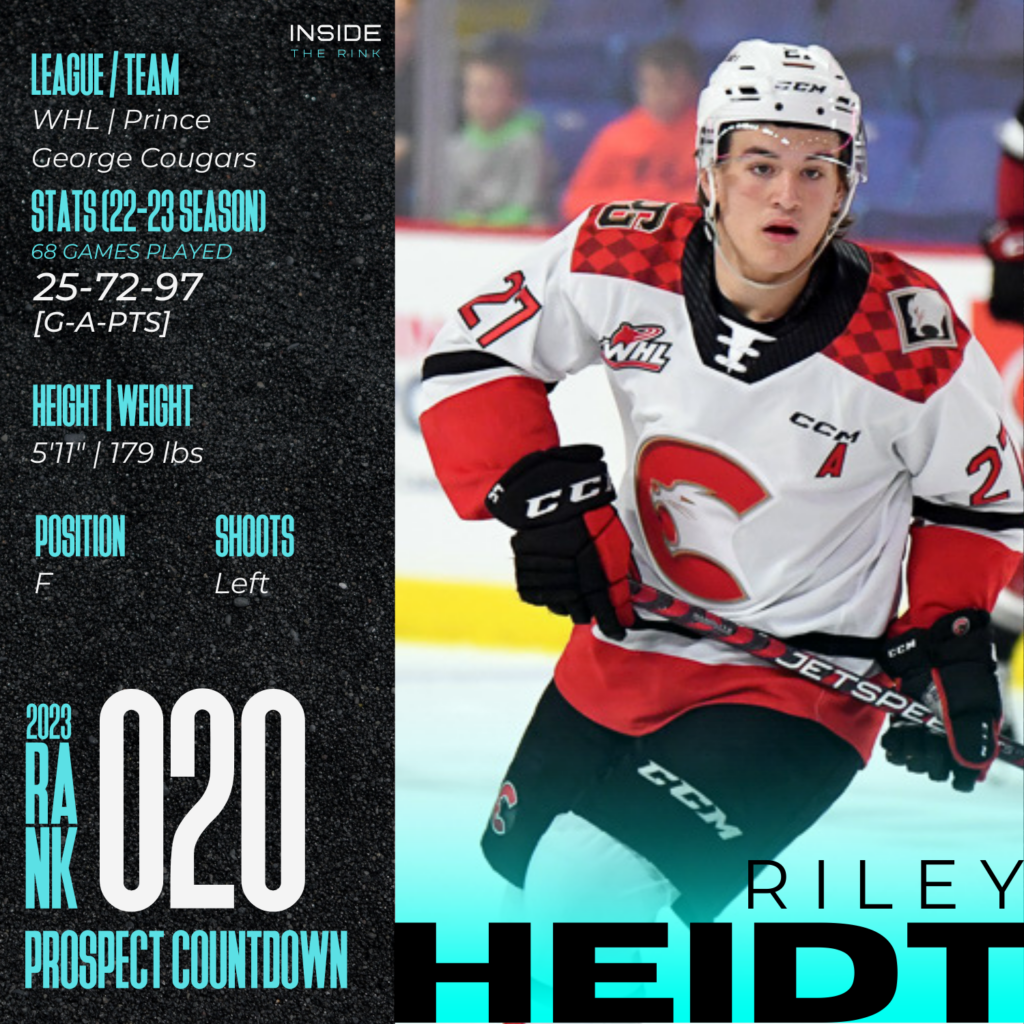 #23 Overall – Gracyn Sawchyn – Seattle Thunderbirds – C – (Written by Patrick Present)
Gracyn Sawchyn is a solid centerman in the 2023 NHL entry draft who would make a decent middle-six forward on any team. Currently playing with the Seattle Thunderbirds in the WHL, Sawchyn has cemented himself as a top prospect in his draft class.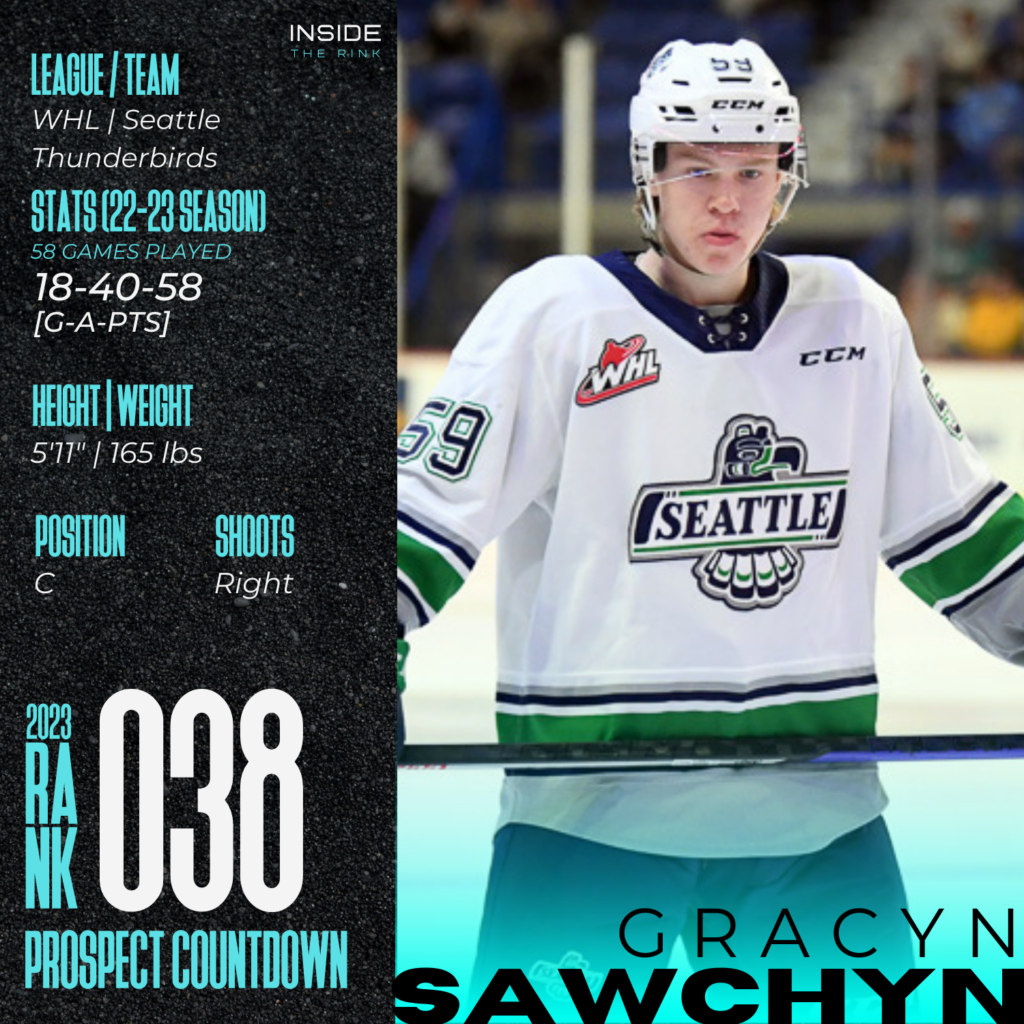 #24 Overall – Charlie Stramel – University of Wisconsin – C – (Written by Alex Grandy)
Charlie Stramel is one of the more physically imposing players in the 2023 NHL draft class. Though he lacks mobility and strong skating which might affect his draft stock. Stramel has a ton of potential to improve and be a strong NHLer in the future.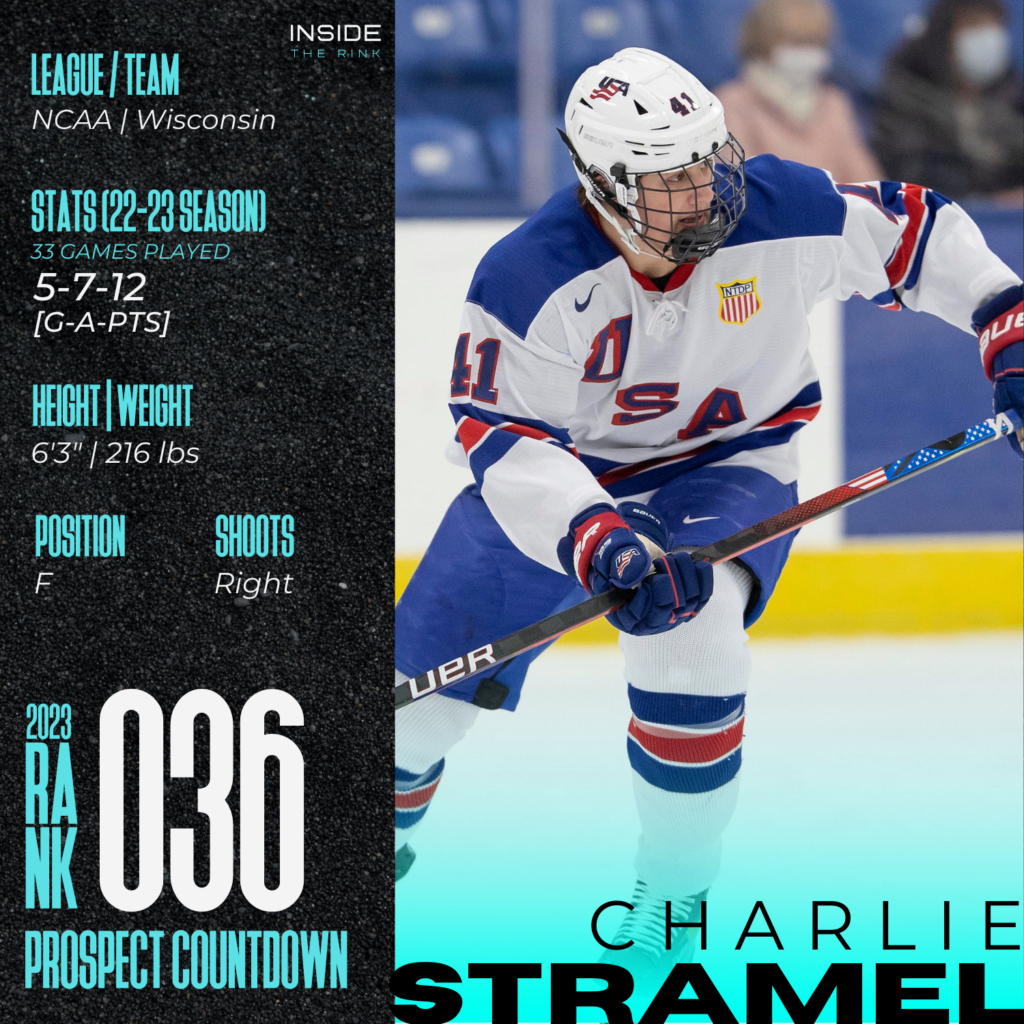 #25 Overall – Caden Price – Kelowna Rockets – D – (Written by Gabrielle Klempner)
Caden Price is a prototype NHL player who is a mix between the old-school/traditional style of defenseman, and an addition of the modern NHL defenseman. Caden Price will be a fun NHL prospect to watch really soon.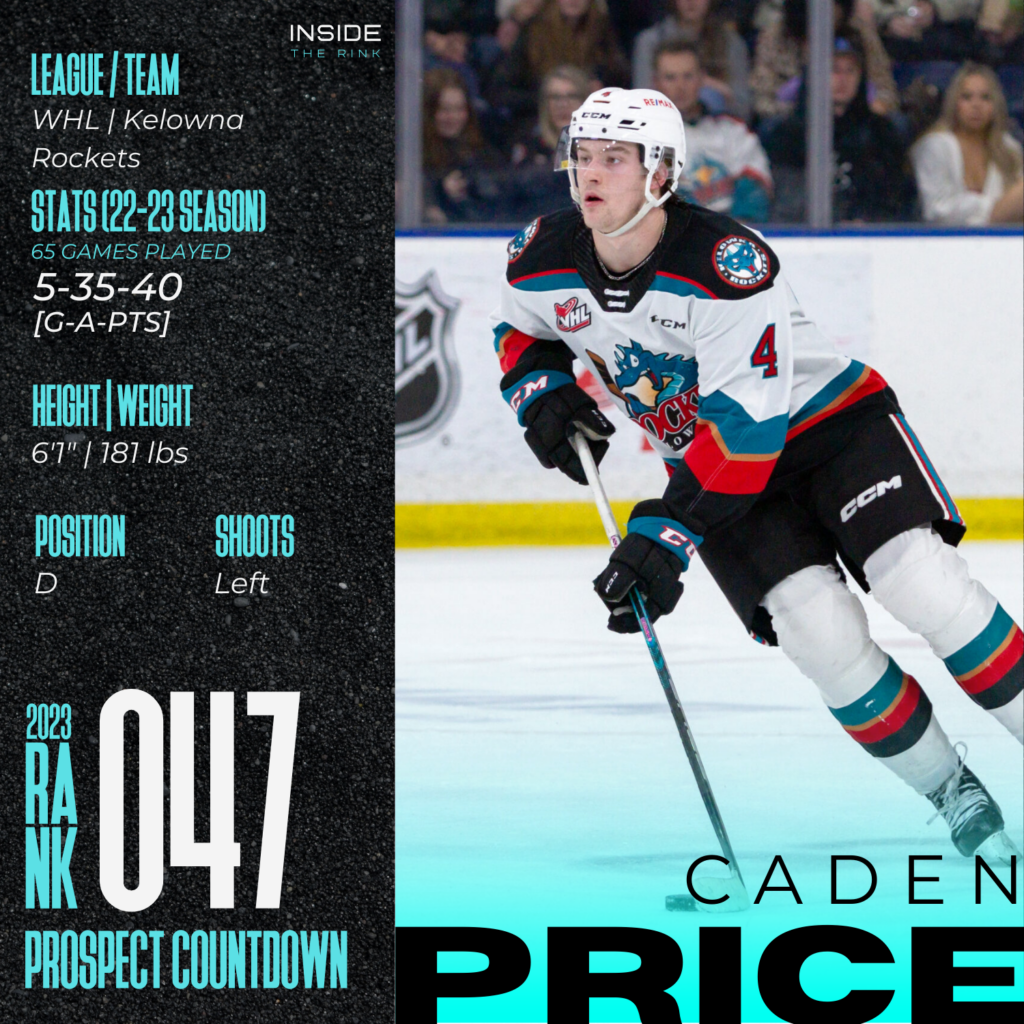 #26 Overall – David Reinbacher – Kloten – D – (Written by Gabrielle Klempner)
A physical right-shot defenseman who is ready to play in the NHL before their draft class is extremely rare. Reinbacher is compared to the likes of Matias Ekholm and Victor Hedman, let's hope Reinbacher is as good as who he's compared to.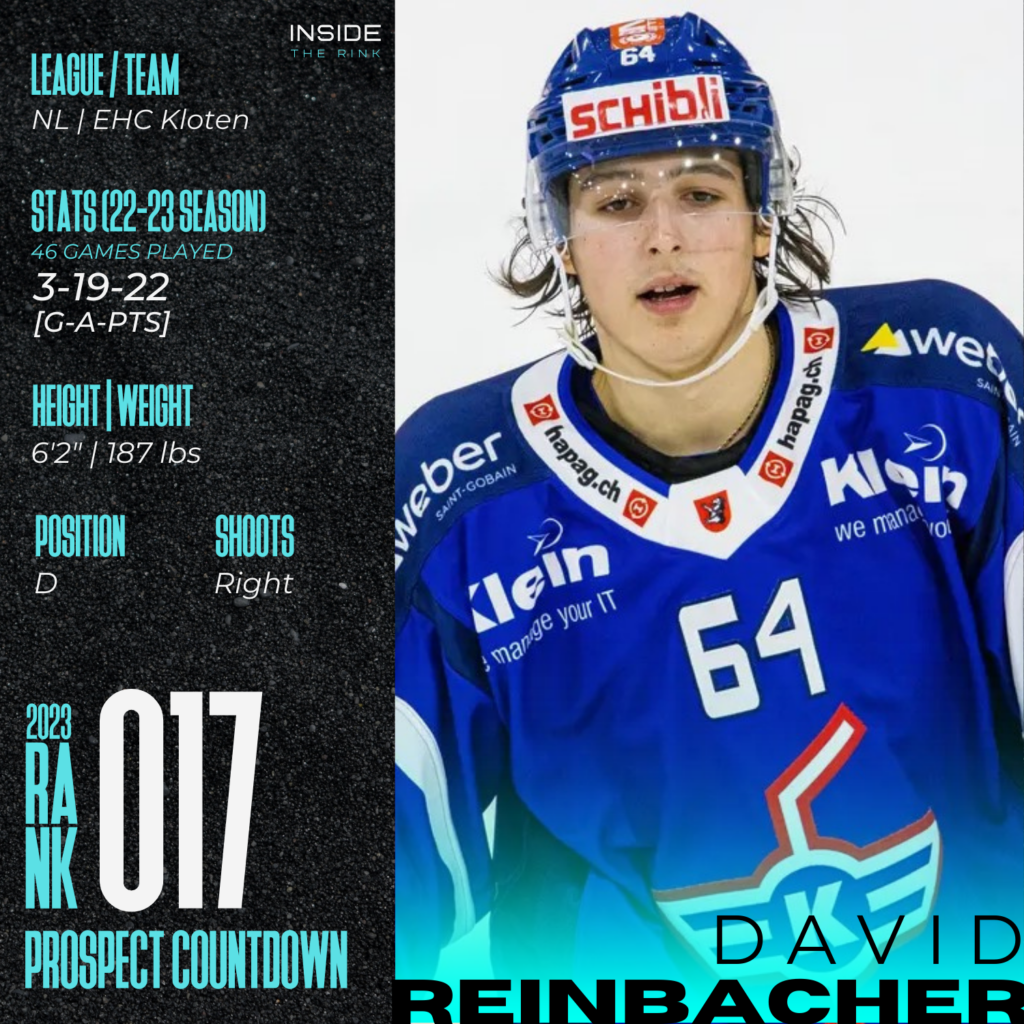 #27 Overall – Ethan Gauthier – Sherbrooke Phoenix – RW – (Written by Nathan Bondy)
Gauthier had a huge hot and cold spell in the 2022-23 season, though instead of trying to jam a square into a circle, Gauthier worked on the other parts of his game, which helped him stand out more as an impact forward.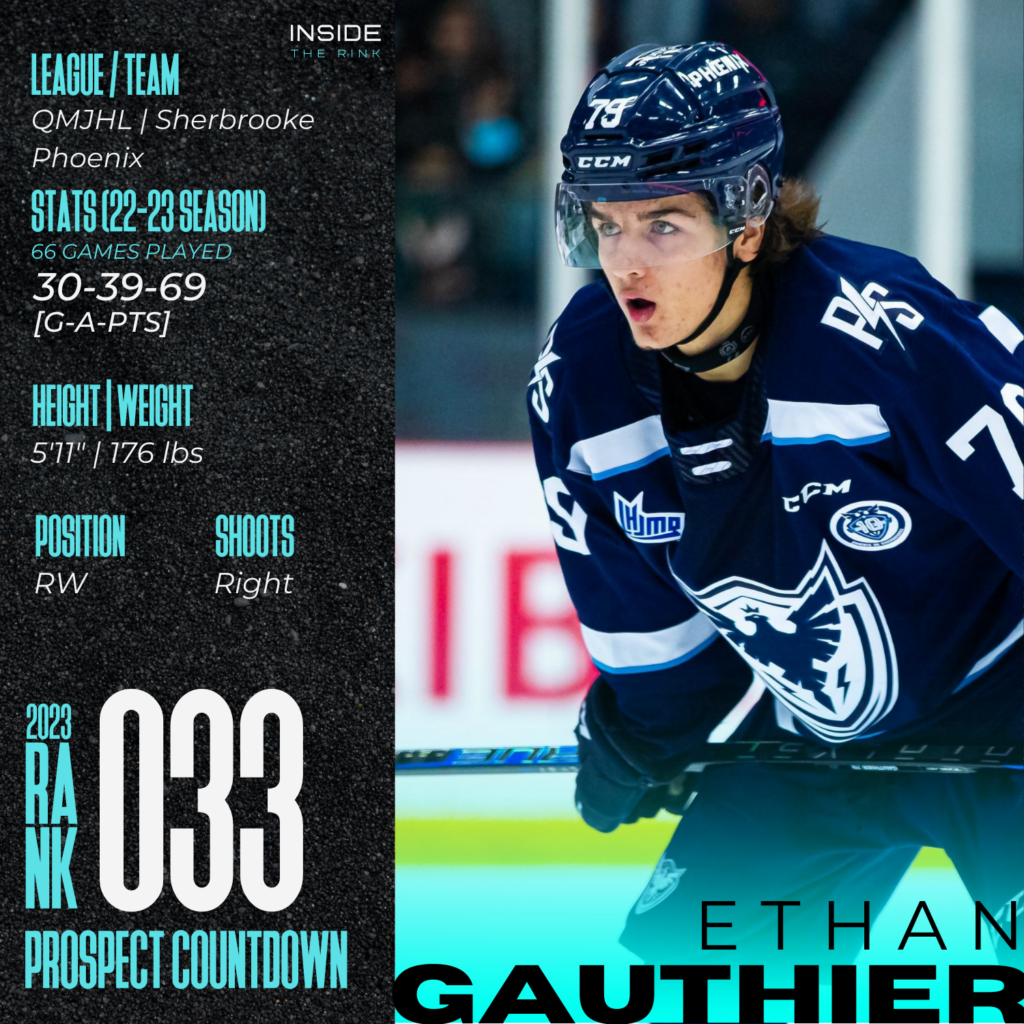 #28 Overall – Gabe Perreault – US National Development Program U18 – RW – (Written by Conrad Jack)
Gabe Perreault is a strong forward, and with the right players, he can be a dominant scorer for his team. Loved by coaches and teammates wherever he goes, Gabe Perreault is just super beneficial to have on your team, either on or off the ice.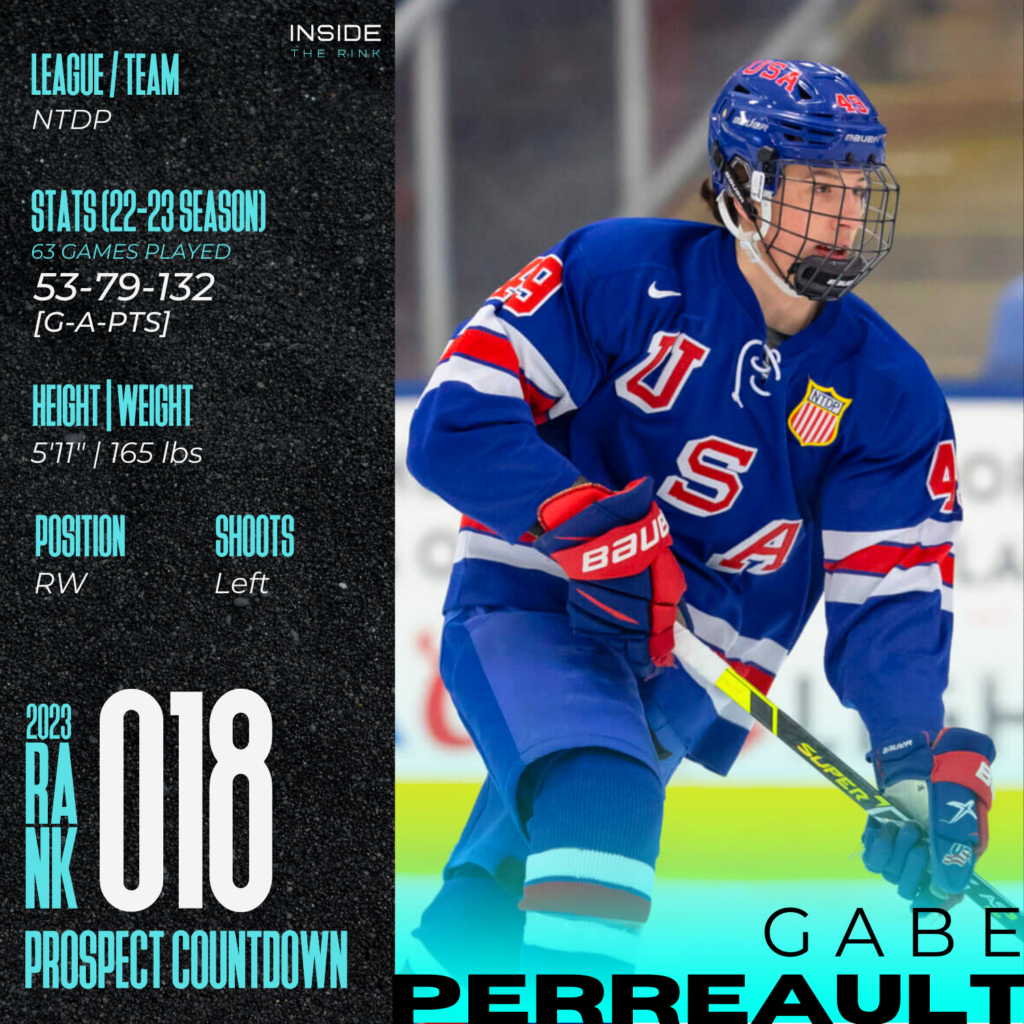 #29 Overall – Luca Pinelli – Ottawa 67's – C – (Written by Matt Barry)
Luca Pinelli is a strong, fast, and creative forward, his size may see him fall on draft day, but teams will certainly have Luca Pinelli on their list of impact guys they're looking to draft.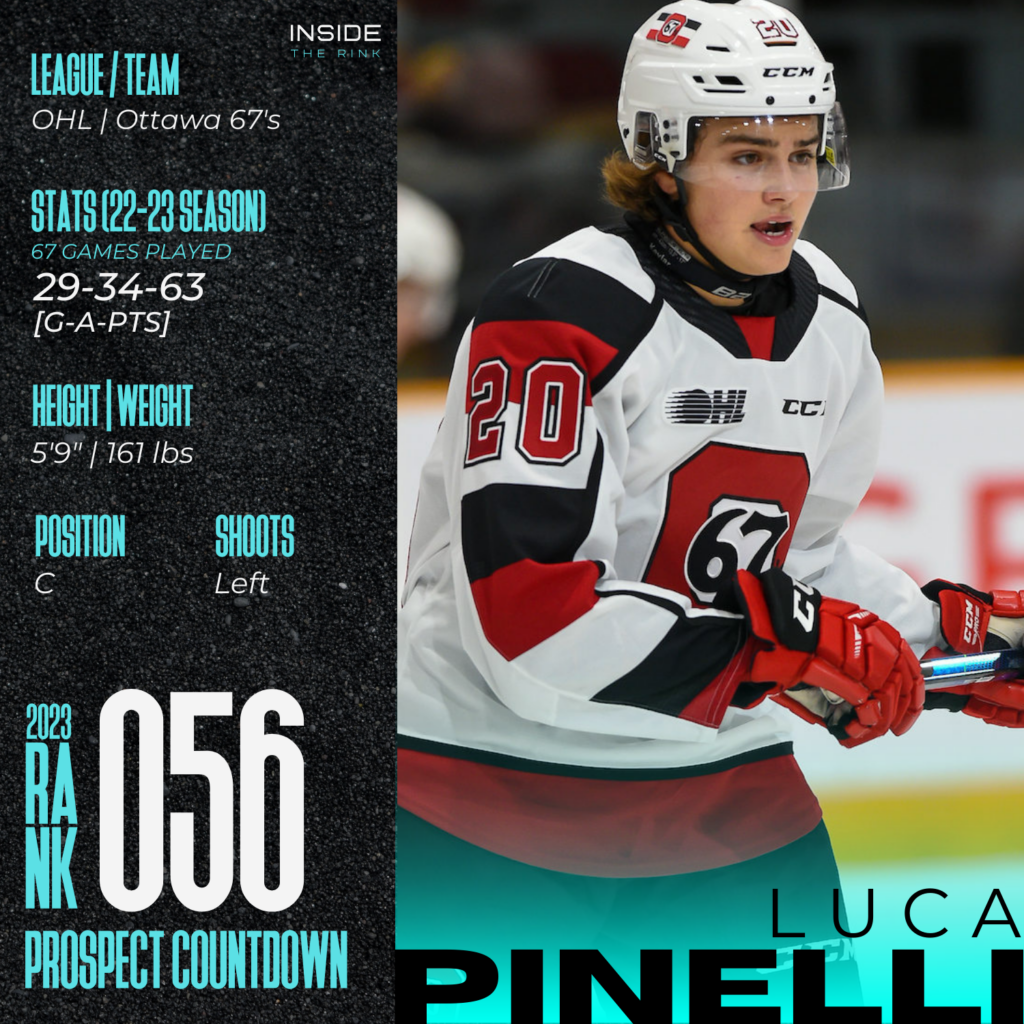 #30 Overall – Trey Augustine – US National Development Program U18 – G – (Written by Armand Klisivitch)
Trey Augustine is a goaltender with a development path that makes the hockey fan smile. From being just another goaltender on the Team USA World Junior Championship roster in Halifax and Moncton, Augustine took his opportunity and never looked back. Augustine's skill set is unique, and if he had a bit more height to him, he would be a lock to go in the late first round or early second round.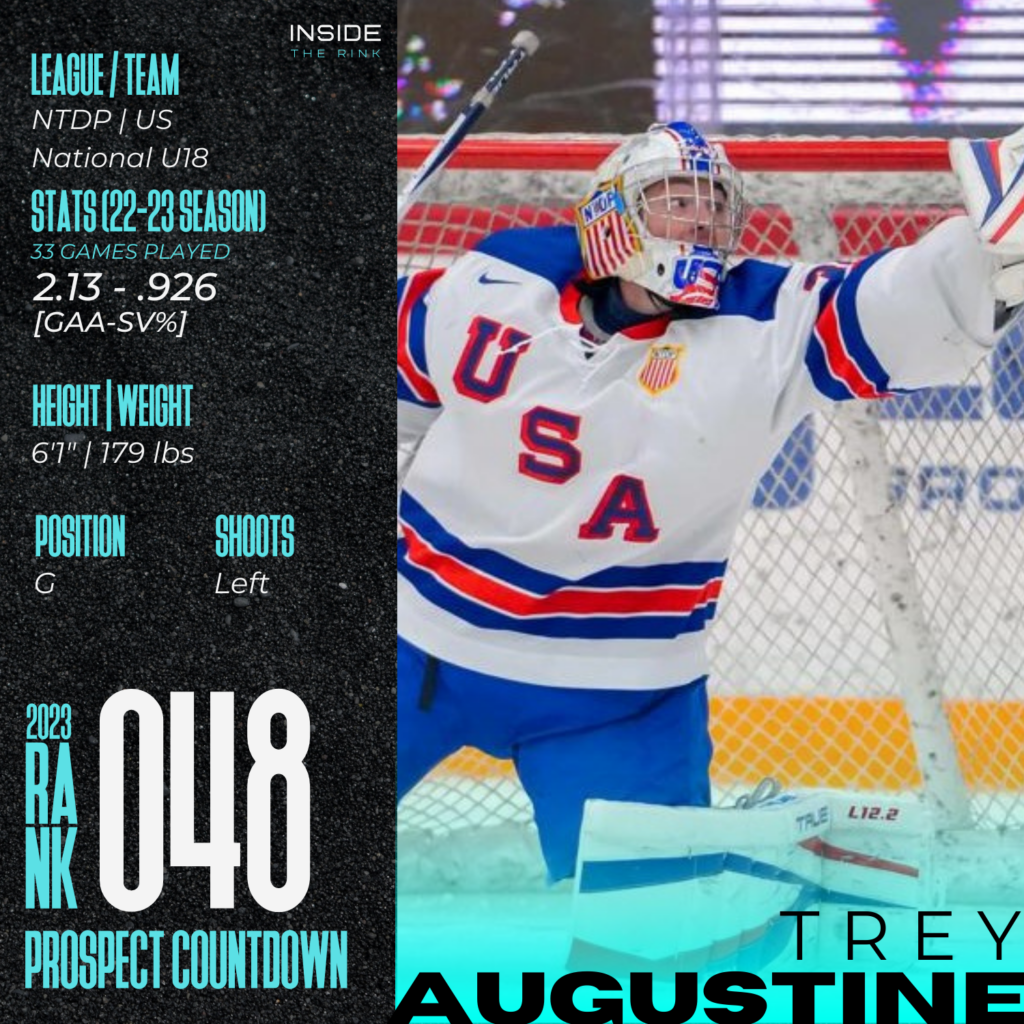 #31 Overall – William Whitelaw – Youngstown Phantoms – C – (Written by Conrad Jack)
Hard workers always beat out skill players, Whitelaw excels past all of your expectations when he is on the ice because you know he will empty everything in the tank before it's time to make a line change.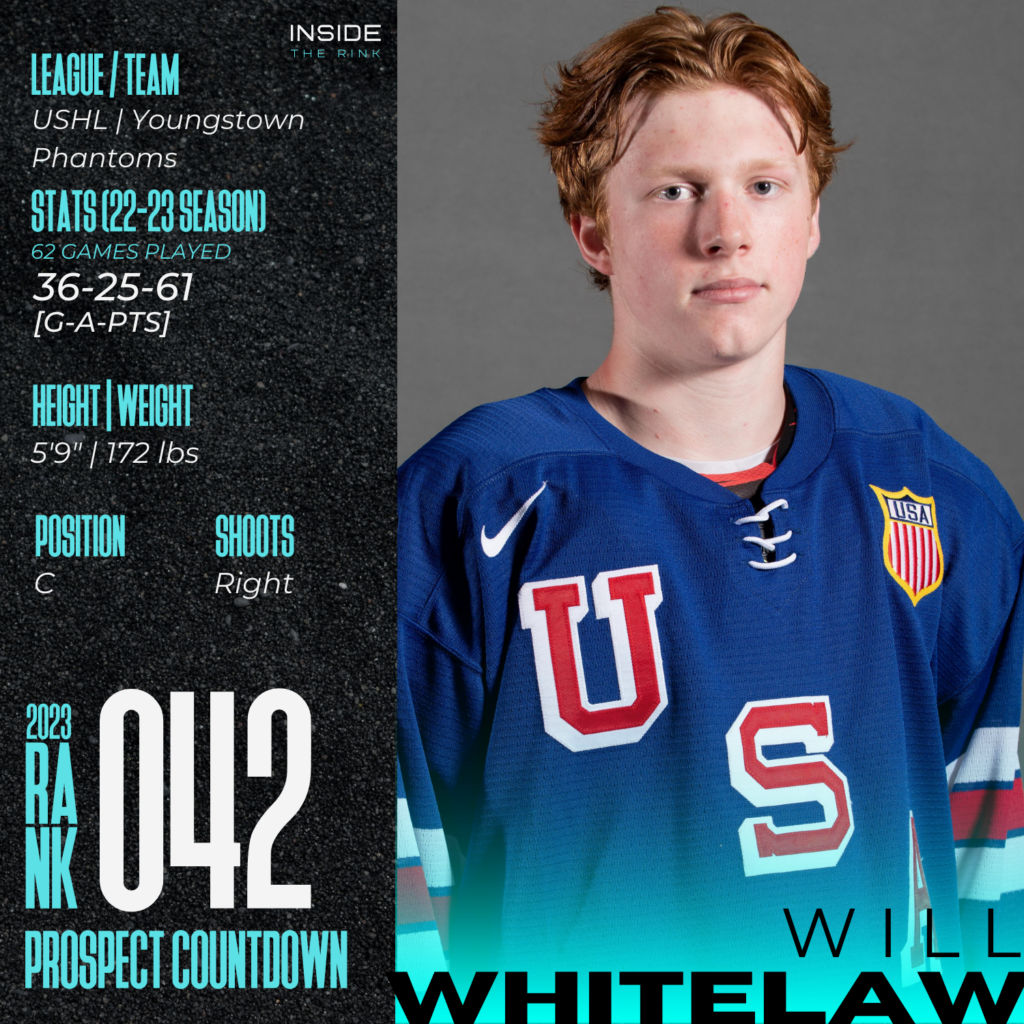 #32 Overall – Hunter Brzutewicz – Kitchener Rangers – D – (Written by Conrad Jack)
When you're an anchor on the blueline for your teammates, you give extra room for your forwards to do more when they don't have to worry a ton about defensive responsibilities. Brzustewicz is hard to beat defensively, and I'm surprised that he isn't ranked higher.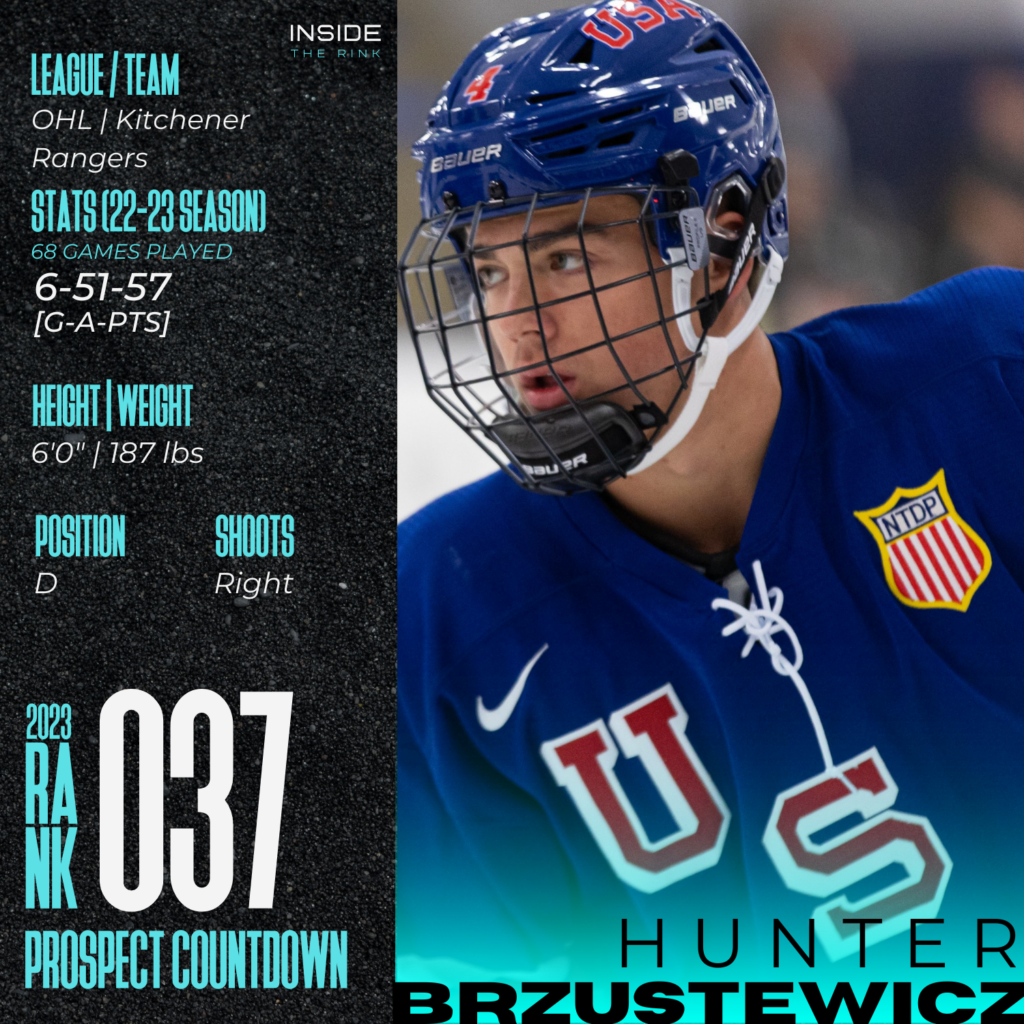 #33 Overall – Tom Willander – Rogle BK J20 – D – (Written by Patrick Present)
Tom Willander is a confident player and a solid defender on the ice, the draft class is flooded with defensemen who have flown under the radar, and Tom Willander will make his draft team reap the rewards for drafting him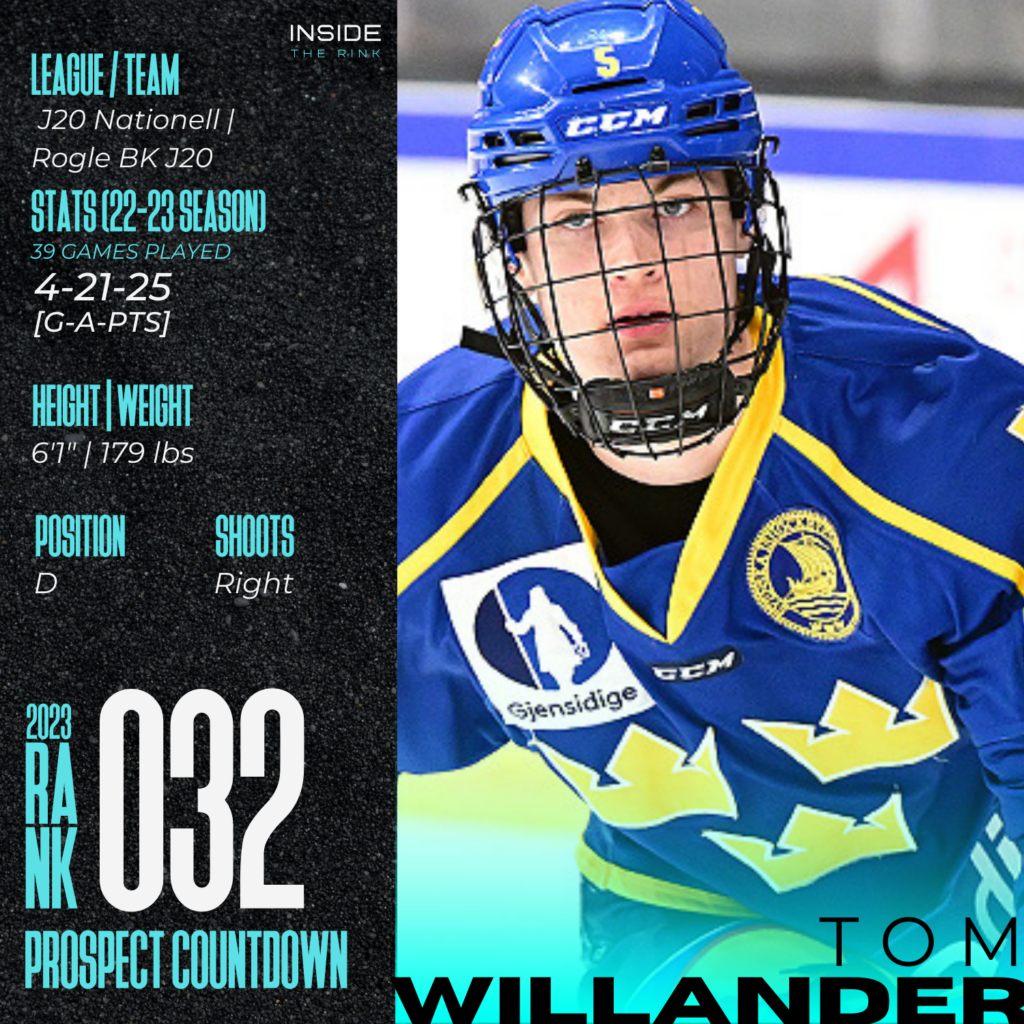 "Willander controls play with steady confidence as he snaps the puck up ice methodically and in the blink of an eye. He is an ace rush-defender as he stifles breakouts and suffocates attackers at the defensive blueline. It's not hard to see why he's skyrocketing up draft boards."

Patrick Present – Inside The Rink
#34 Overall – Oscar Fisker Mølgaard – HV71 – C – (Written by Conrad Jack)
Oscar Fisker Molgaard is one of the most intense and strongest defensively-minded forwards in this draft class. He stands out because he's always giving 110% and can easily become an NHL favorite if he transfers this to the NHL.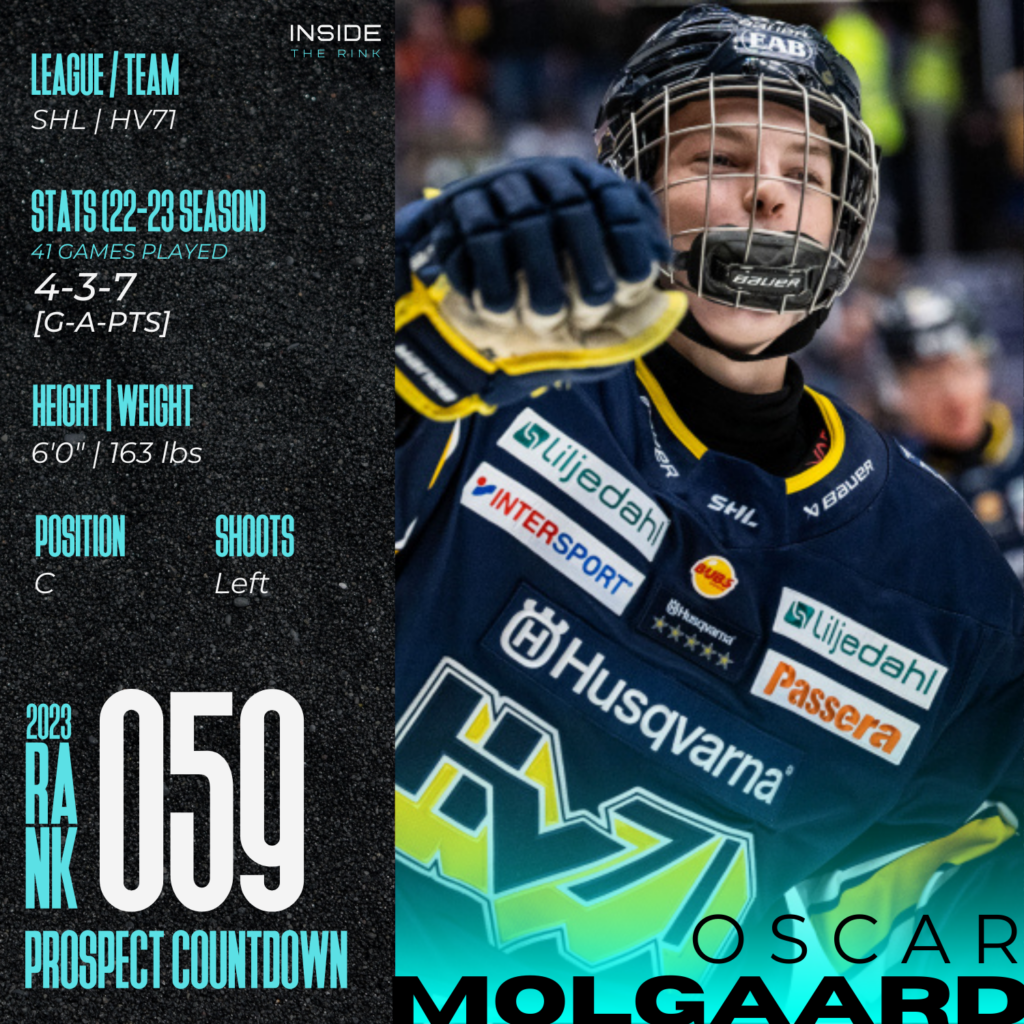 #35 Overall – Tanner Molendyk – Saskatoon Blades – D – (Written by Conrad Jack)
Physical leaders are something that is hit and miss in draft classes, Molendyk checks off all of the boxes for what you need in a leader. With his work ethic trickling down to his teammates, they're able to exceed expectations and play as a full team and not just a bunch of individuals.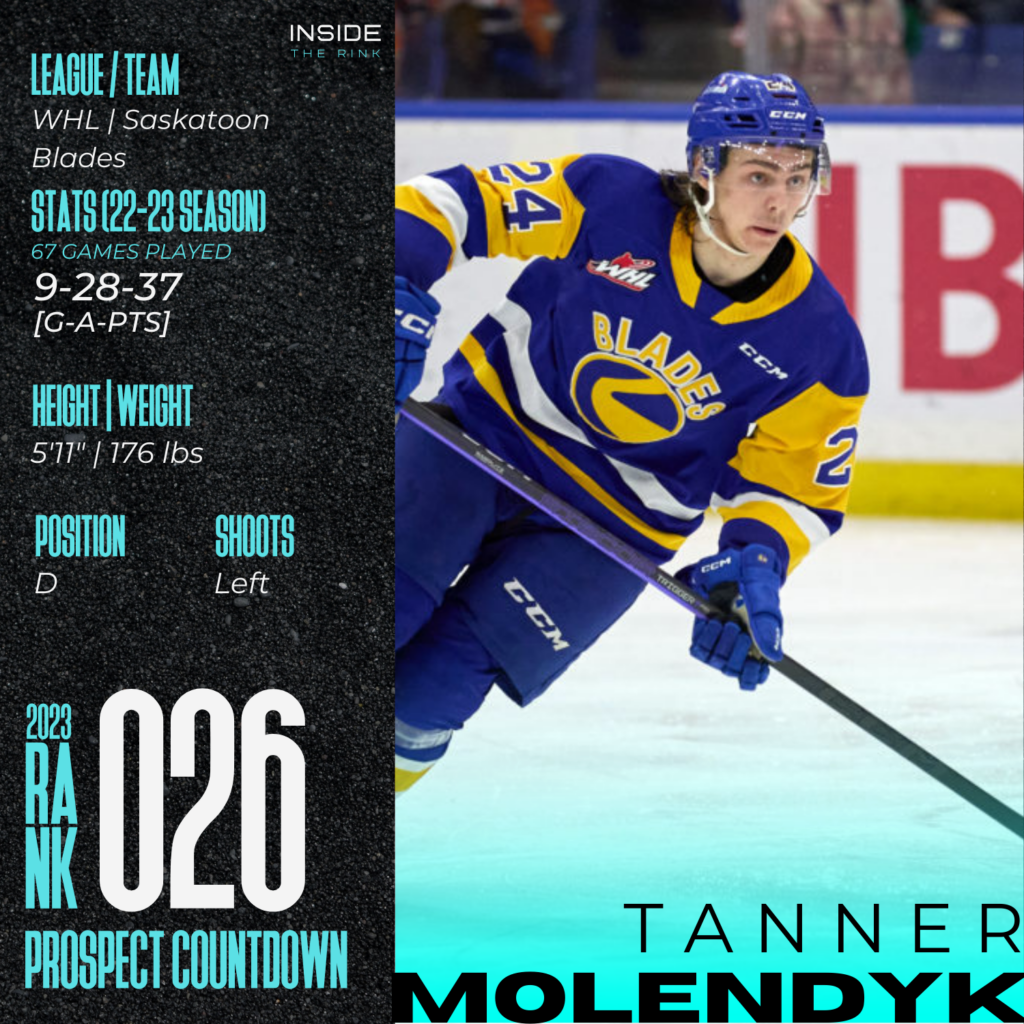 #36 Overall – Calum Ritchie – Oshawa Generals – C – (Written by Josh Anselmo)
Calum Ritchie stands out in the 2023 NHL draft class for his size and his shot. Highly effective forwards who are excellent finishers are what NHL general managers will be looking to add to their lineup.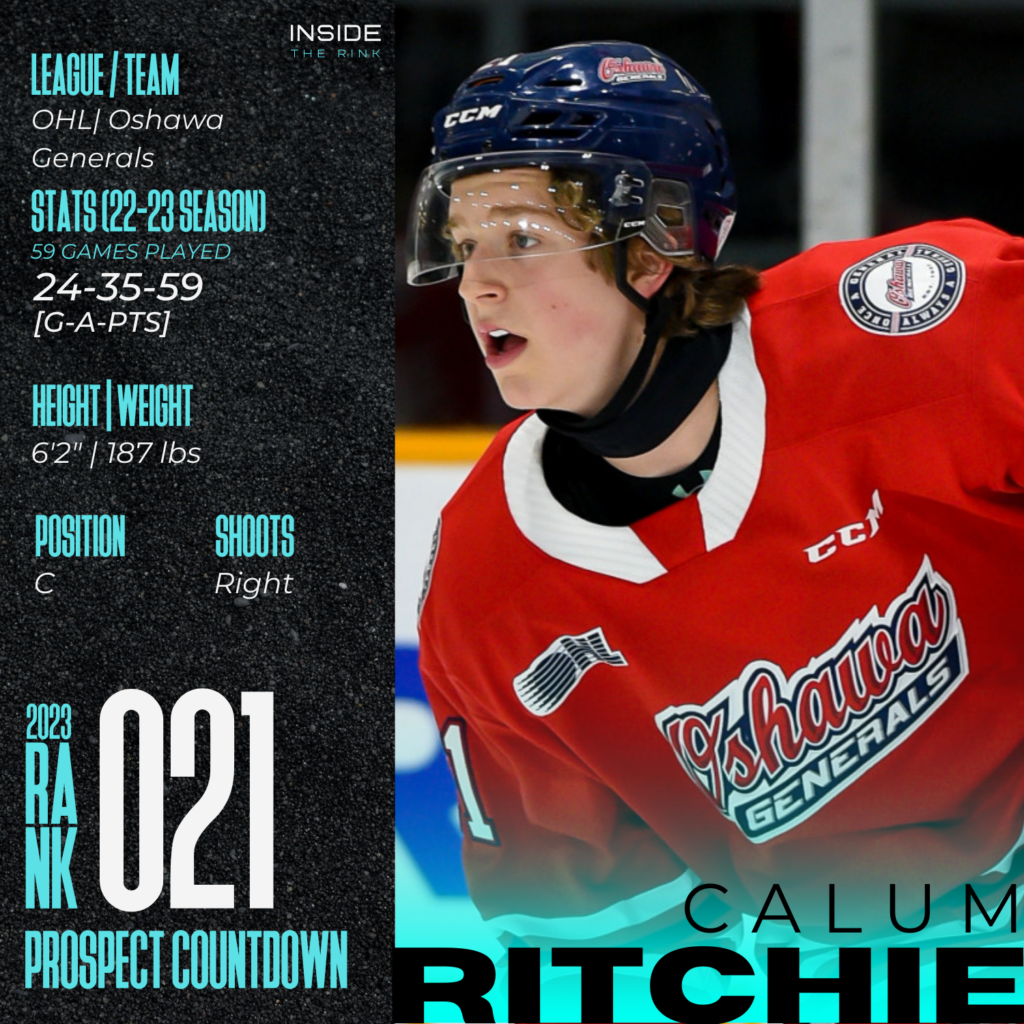 #37 Overall – Koehn Ziemmer – Prince George Cougars – RW – (Written by Nathan Bondy)
The willingness to drive the net and play in the dirty areas is not something you see all that often in NHL draft-eligible prospects. Ziemmer is strong at driving play and using the opposing players against each other.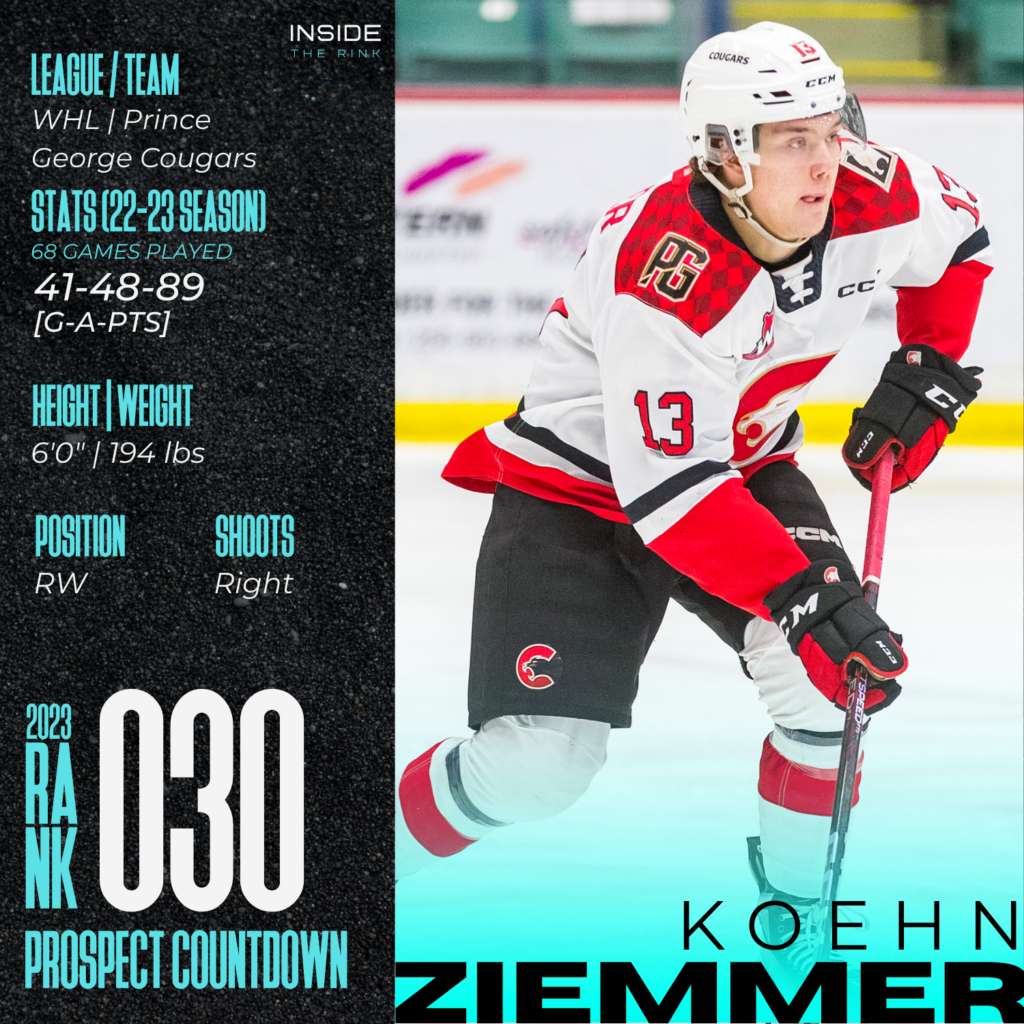 #38 Overall – Gavin Brindley – University of Michigan – C/RW – (Written by Gabrielle Klempner)
Gavin Brindley stands out for his incredible competitiveness and physicality/intensity levels when his skates hit the ice. Brindley plays a solid 200-foot game and doesn't stop until that final buzzer sounds.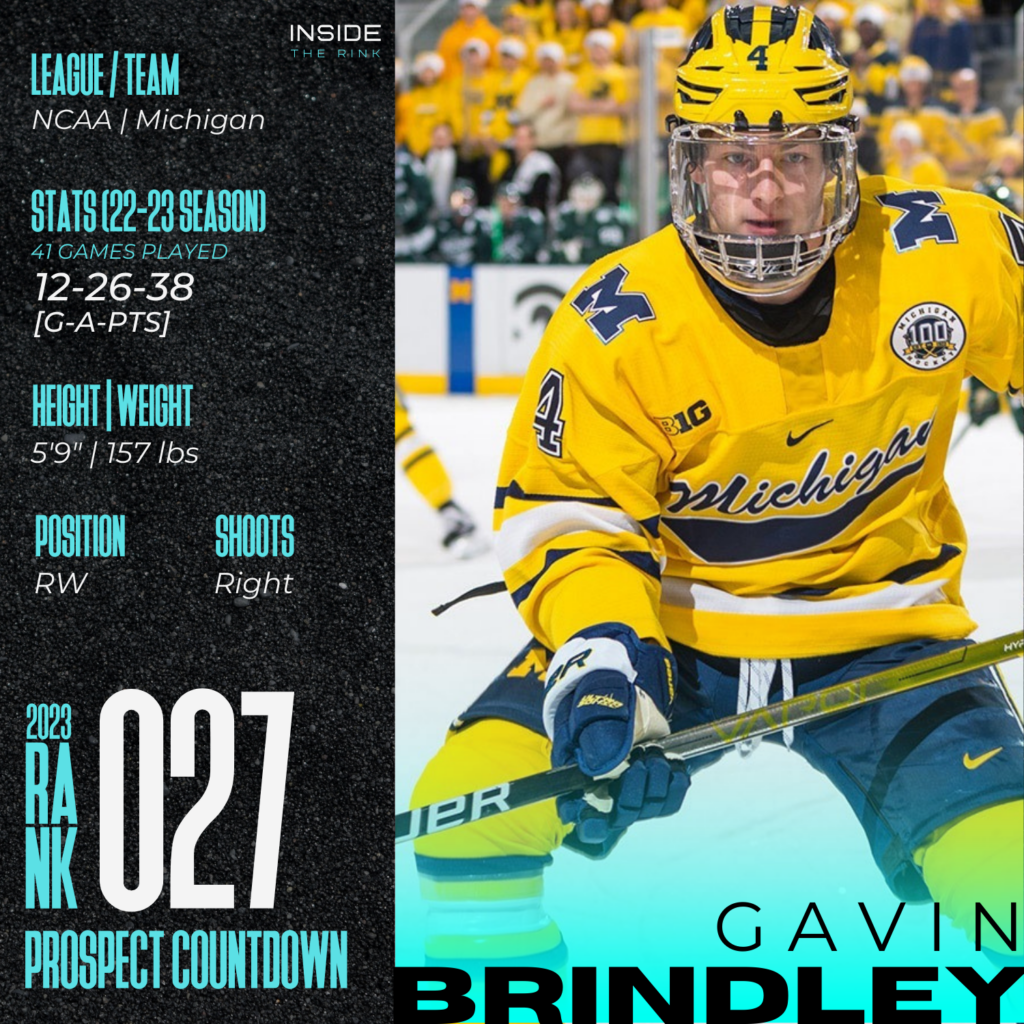 #39 Overall – Oliver Bonk – London Knights – D – (Written by Nathan Bondy)
Oliver Bonk has one of the more extraordinary names in the 2023 NHL draft class, and besides his name, he's incredibly sound defensively. Bonk has displayed a high level of confidence which will take him far if he makes the NHL one day.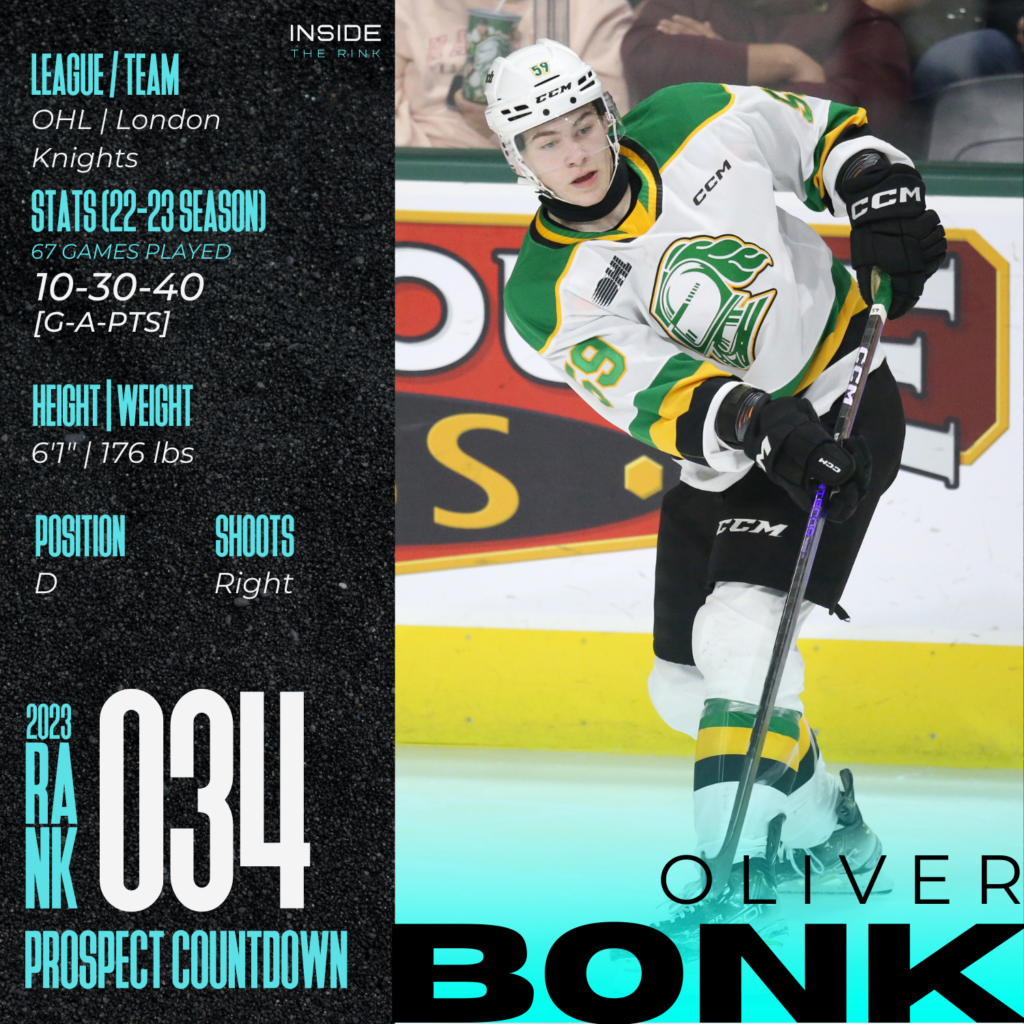 #40 Overall – Beau Akey – Barrie Colts – D – (Written by Conrad Jack)
Beau Akey is one of the most mobile defensemen in the 2023 NHL draft class, and his skating is top notch too. Teams that are looking for a strong defenseman who skates super effectively likely have Beau Akey on that list.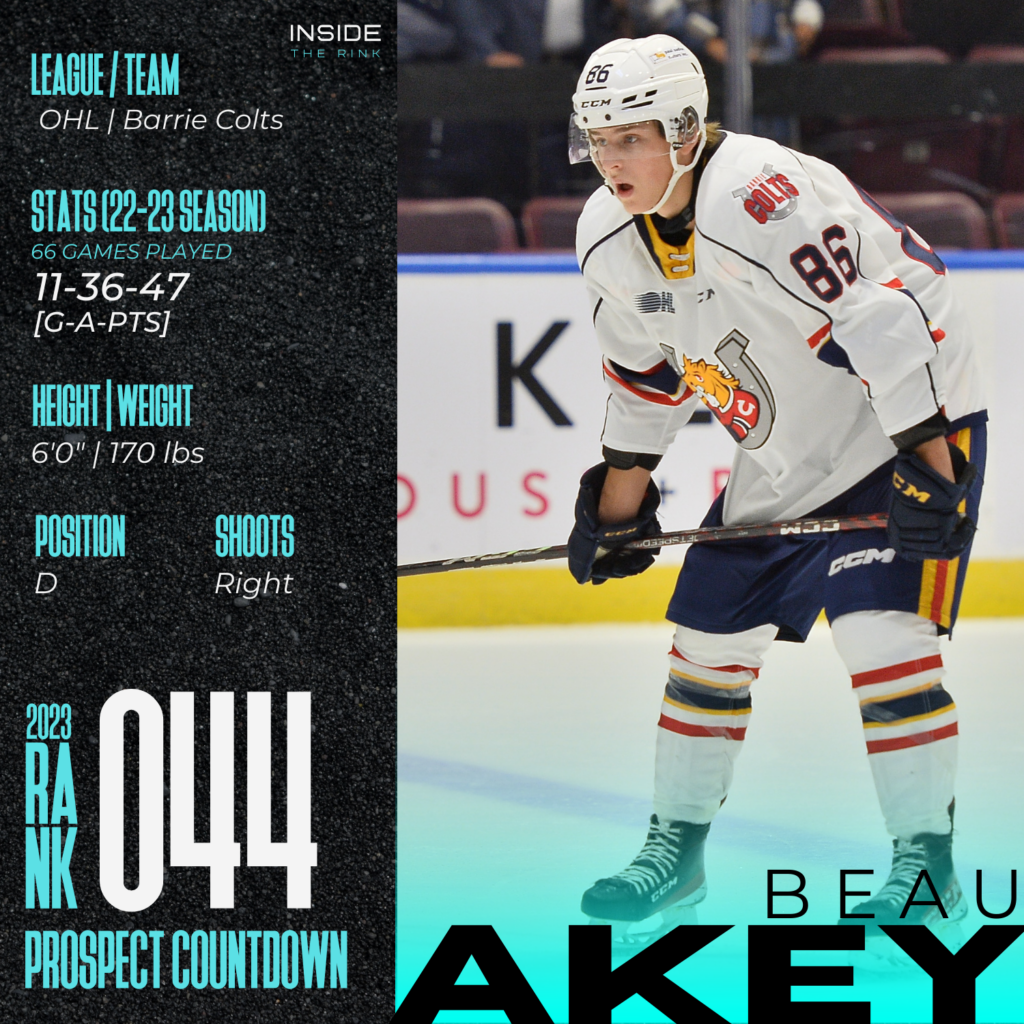 #41 Overall – Kasper Halttunen – HIFK – RW – (Written by Gabrielle Klempner)
Halttunen had a slow start but found his footing eventually, he has the size and ability to be a dominant forward when he develops more, and teams will take that chance with a bigger-bodied player.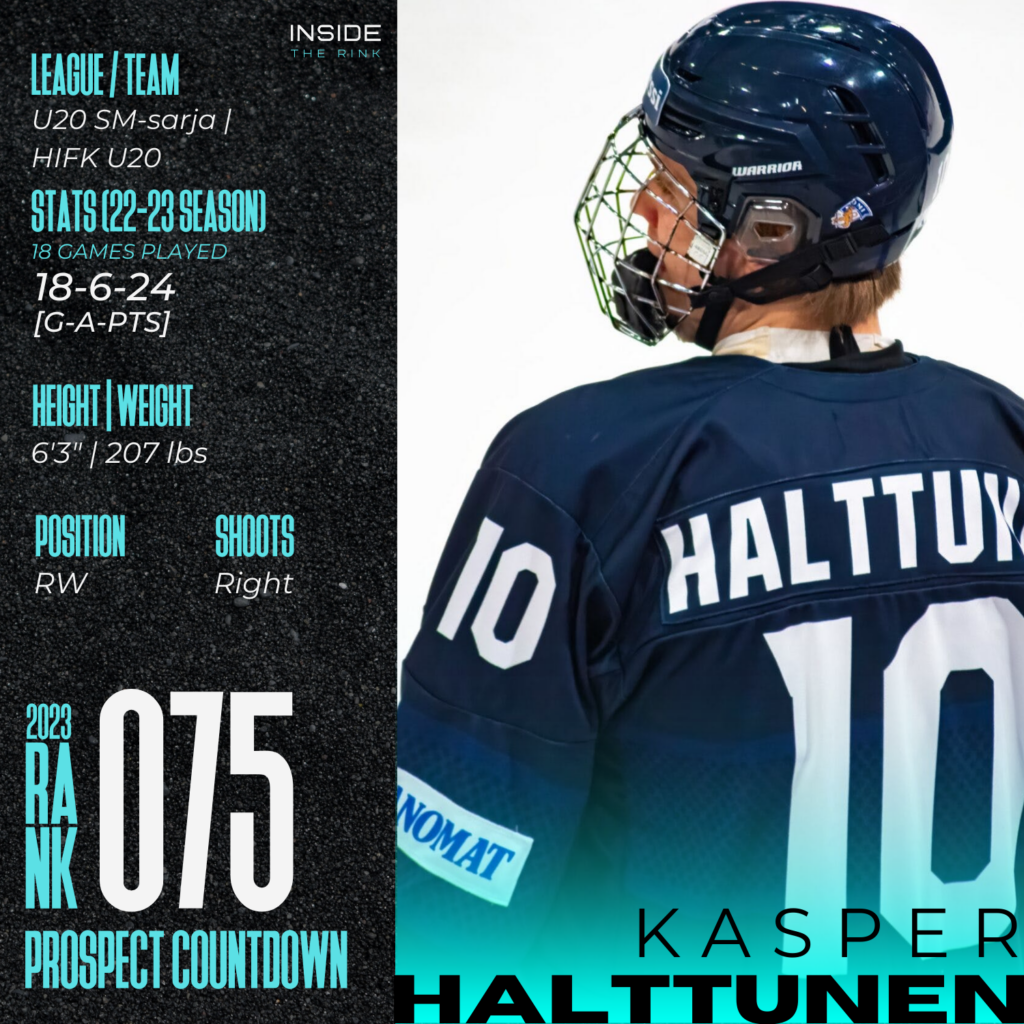 #42 Overall – Ales Cech – Karpat U20 – D – (Written by Conrad Jack)
Cech stands out for how he plays a mature game overall, mostly, his movement restriction of opposing players is what makes him stand out. Scouts look for a complete player regardless of their roles, and Ales Cech is a complete depth defenseman heading into the 2023 NHL entry draft.
#43 Overall – Mathieu Cataford – Halifax Mooseheads – RW – (Written by Conrad Jack)
Cataford has the jam that most players want to have when they have that level of skill similar to Cataford. Highly disciplined and gets under your skin easily, teams will be looking to get Mathieu Cataford for his offensive potential and that extra bit of bite he'll provide your team.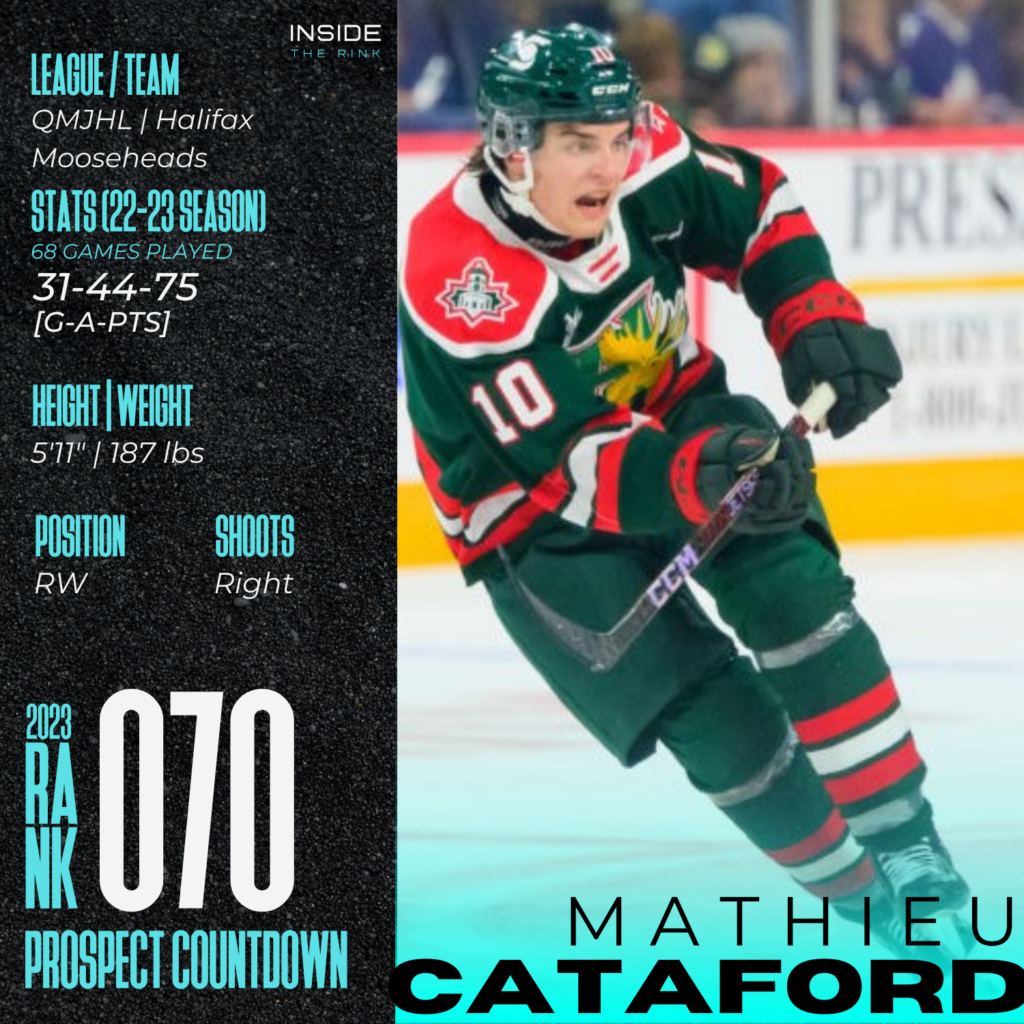 #44 Overall – Cameron Allen – Guelph Storm – D – (Written by Conrad Jack)
Allen, who is smaller than most defensemen, doesn't allow himself or his teammates to be pushed around. He has a shoot-first mentality and can anchor the blueline as needed, teams will definitely have a look at Allen, especially after he bounced back from confidence issues and a slow start to the 2022-23 season.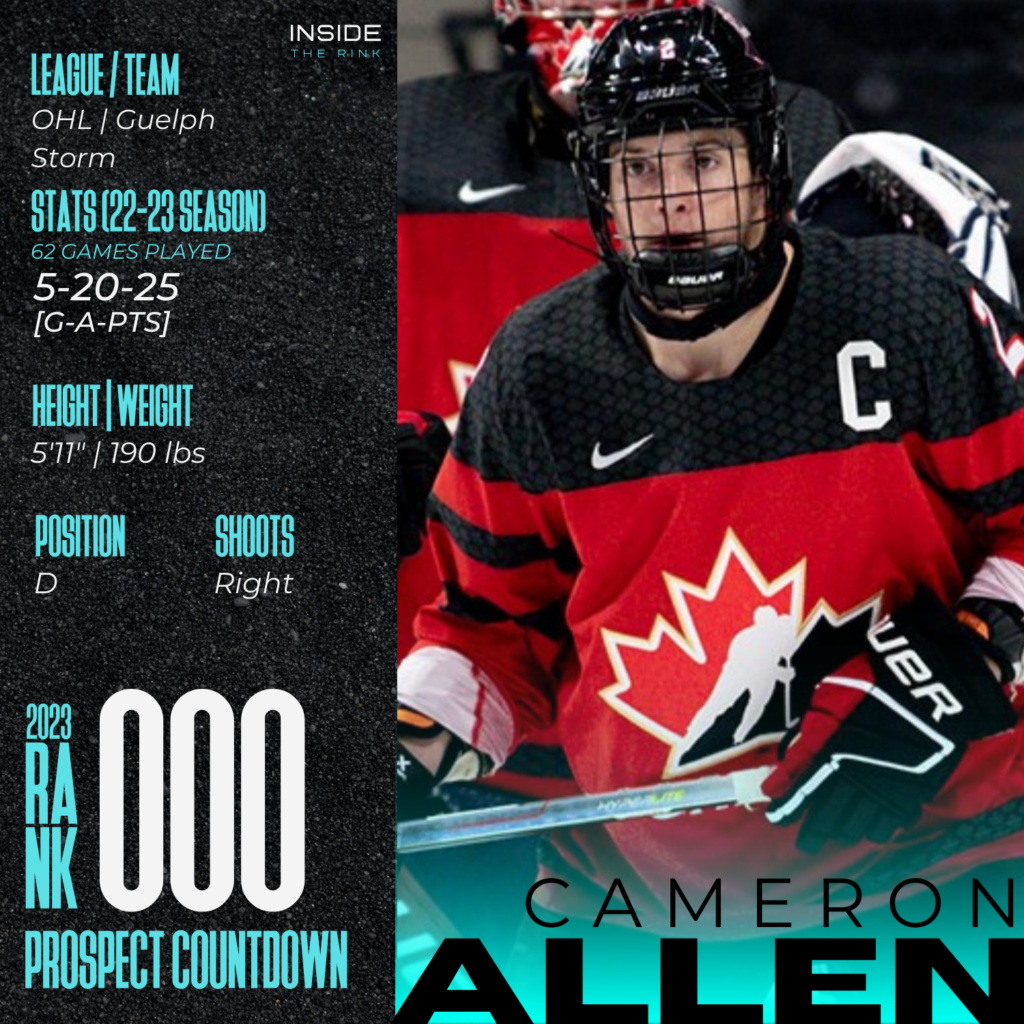 #45 Overall – Ondrej Molnar – Erie Otters – LW – (Written by Conrad Jack)
Ondrej Molnar can serve as a highly versatile and valuable depth piece for any NHL team that drafts him. Molnar has no problem playing up and down the lineup as needed, serving his pass-first mentality well in most situations on the ice.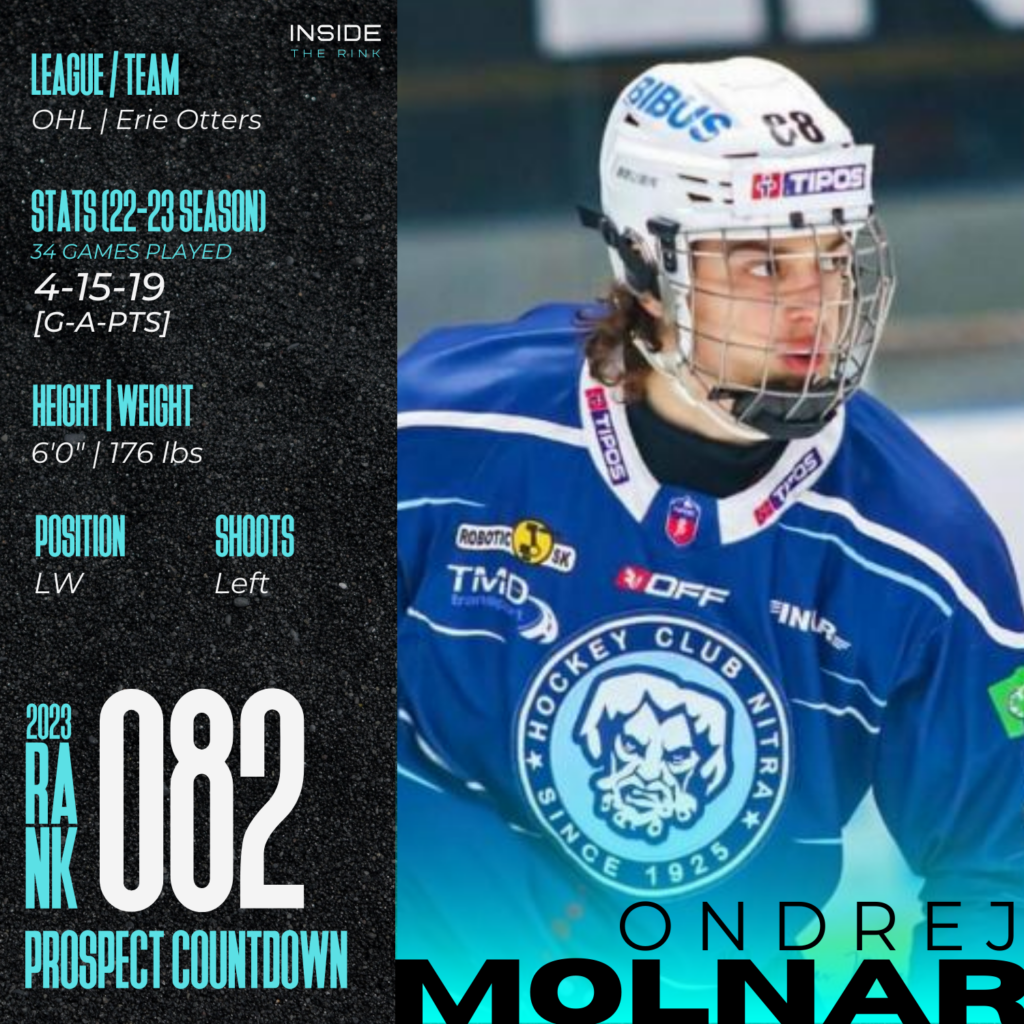 #46 Overall – Noa Vali – TPS U20 – G – (Written by Armand Klisivitch)
Noa Vali is a standout goaltender prospect in the 2023 NHL draft class, Vali has great positioning, recovers loose pucks well, and reads low shots exceptionally well. Teams that want to improve their goaltending depth will look at Noa Vali.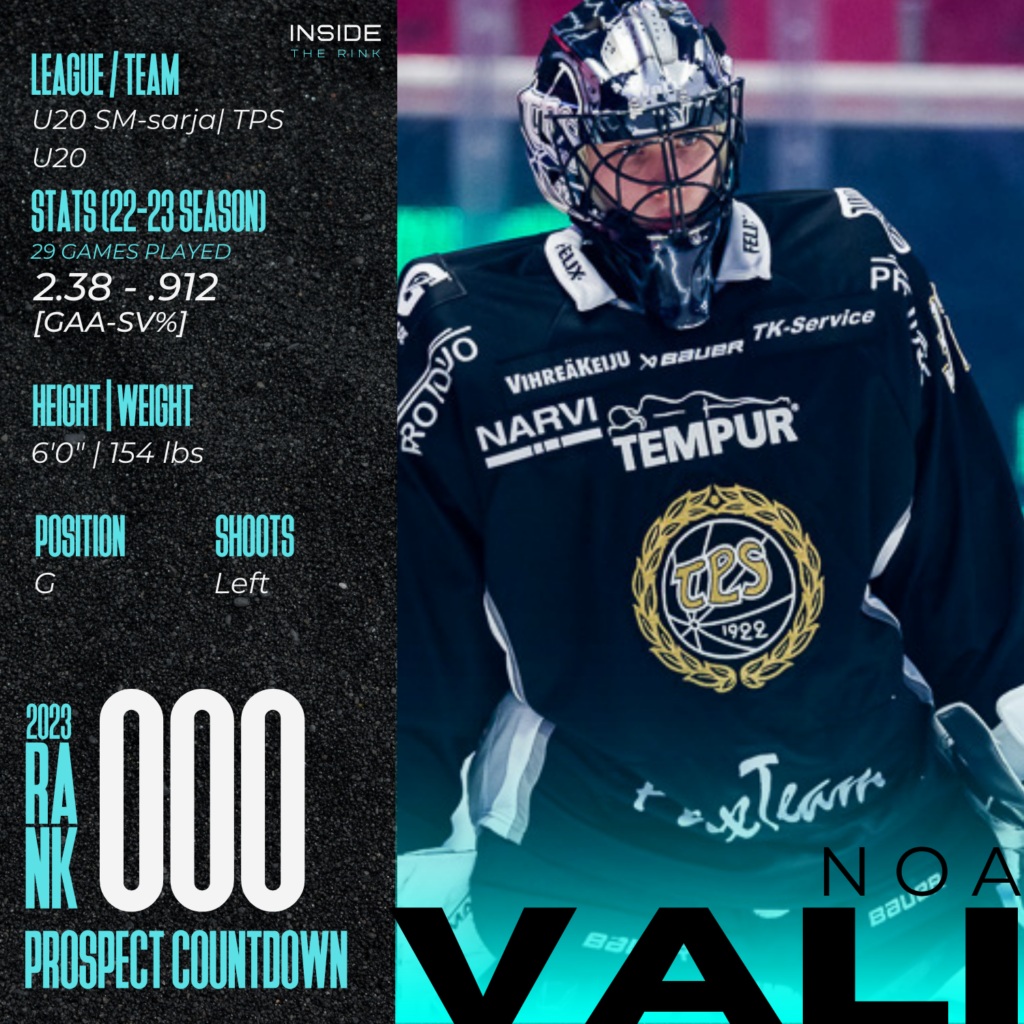 #47 Overall – Tanner Adams – Tri-City Storm – RW/C – (Written by Conrad Jack)
Tanner Adams has a solid two-way game and adds decent sandpaper to teams that like to mix it up every so often. If you need a guy in your grill, Adams is that guy. Though if he can add a bit more weight to him, he will be a force in the NHL.
#48 Overall – Bradley Nadeau – Penticton Vees – C – (Written by Conrad Jack)
Nadeau plays in Canada's Junior A leagues, and if it had more recognition, he would certainly be a higher draft pick. His offensive abilities stand out the most, he skates hard and fast, shoots with precision, and has decent defensive abilities.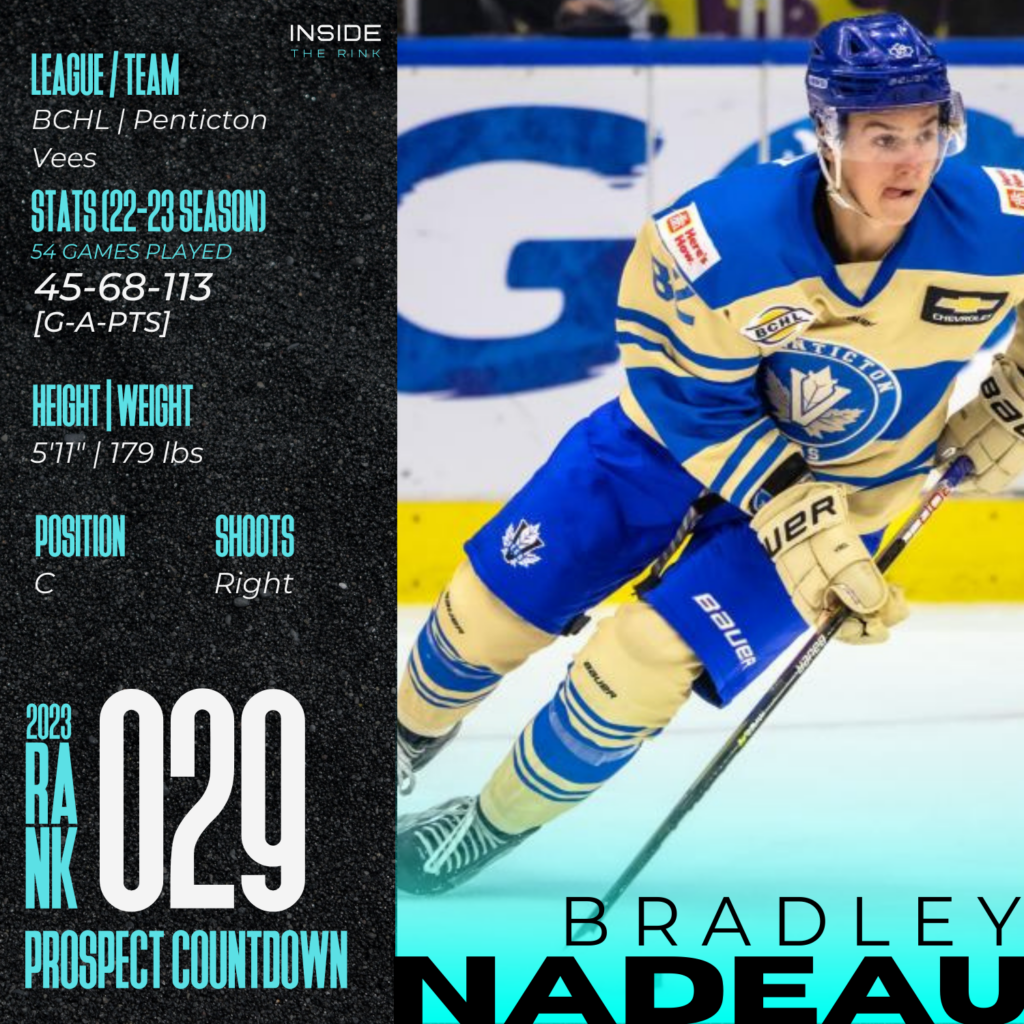 #49 Overall – Maxim Strbak – Sioux Falls – D – (Written by Patrick Present)
Strbak has gone above and beyond in his draft year, establishing his presence on the ice as a top defender and leader.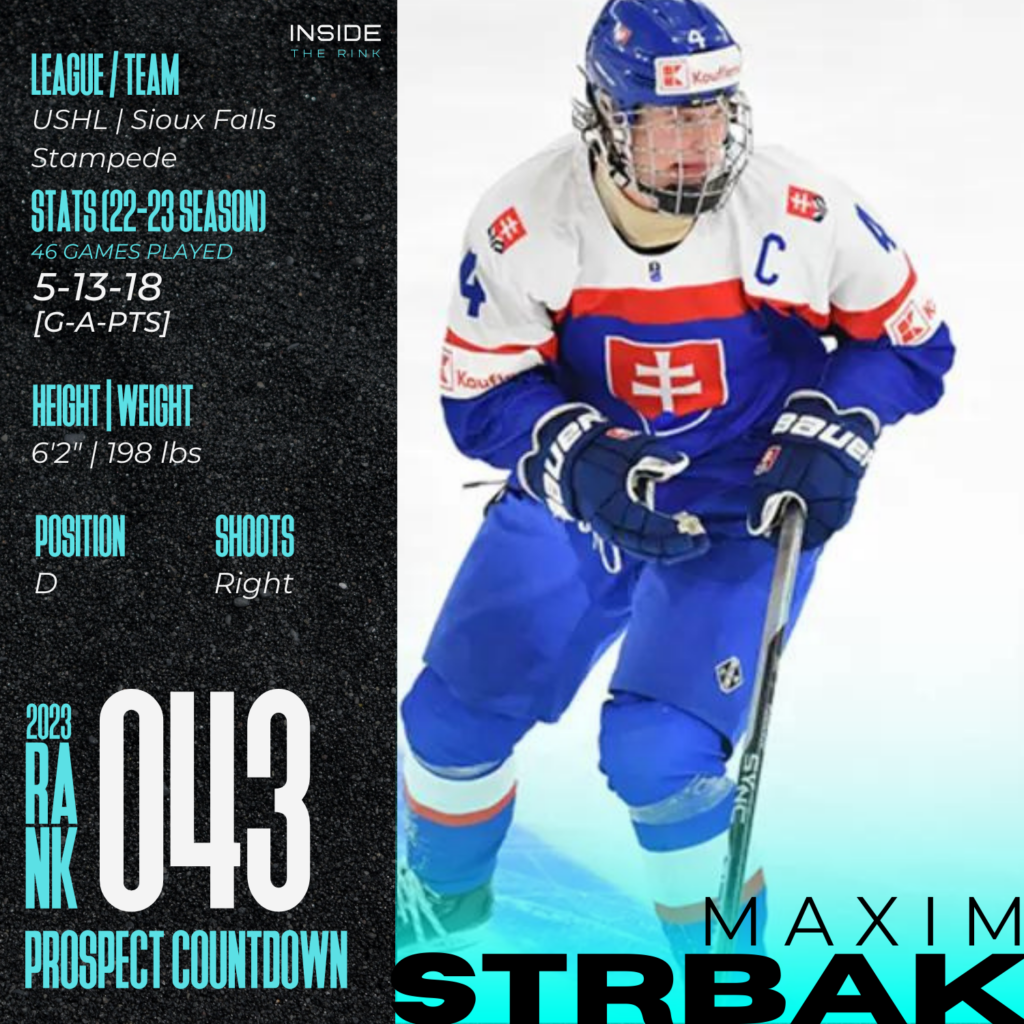 "A leader and competitor, Strbak is surprisingly crafty (for a player with his frame) moving the puck up ice and creating scoring chances from the offensive blueline. He's a brute low in the defensive zone and is eager to block shots at will. If he can iron out his skating, his potential is sky high."

Patrick Present – Inside The Rink
#50 Overall – Oskar Asplund – Almtuna IS – D – (Written by Conrad Jack)
While Oskar Asplund isn't the biggest defenseman in this draft class, he certainly plays a defensively-sound game. He isn't overly physical, which is something that he needs to improve on, but he has improved massively heading into his second year of draft eligibility.