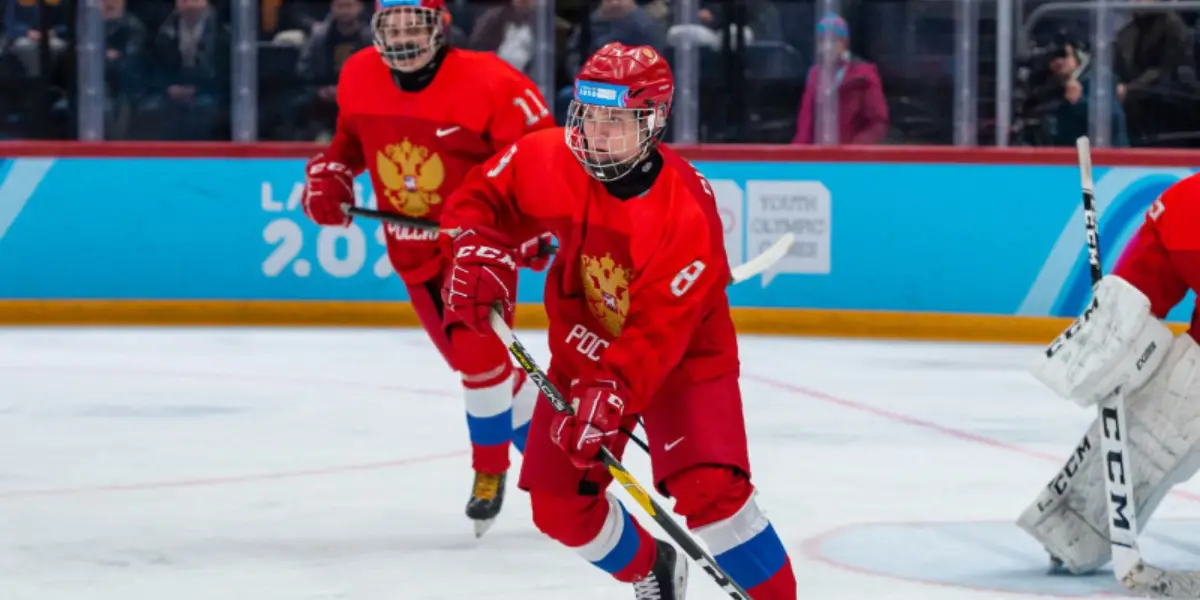 The Scouting Report:
Mikhail Gulyayev from Novosibirsk, Russia, born on April 26th, 2005, is one of the top defensemen of the 2023 NHL draft class. Gulyayev commands the flow of play when he's on the ice and can anchor a spot on the rush where the puck will not pass. One of the more outstanding defensemen of this class, Gulyayev will no doubt be a first-round pick. For a defenseman, Gulyayev stands 5'10" and 170 pounds, and what he lacks in size, he makes up for character and leadership.
Within this draft, there are a ton of solid forward prospects and many teams that need forward prospects. Gulyayev is ranked as high as 13th overall and as low as 31st overall. The following list will show the scouting rankings for Mikhail Gulyayev.
Ranked #12 by Inside The Rink
Ranked #10 by NHL Central Scouting (EU Skaters)
Ranked #31 by TSN/Craig Button
Ranked #22 by The Hockey News
Ranked #13 by Recruit Scouting
Ranked #18 by Sportsnet
Ranked #24 by TSN/Bob McKenzie
Conrad Jack of Inside the Rink has Mikhail Gulyayev projected at 20th overall.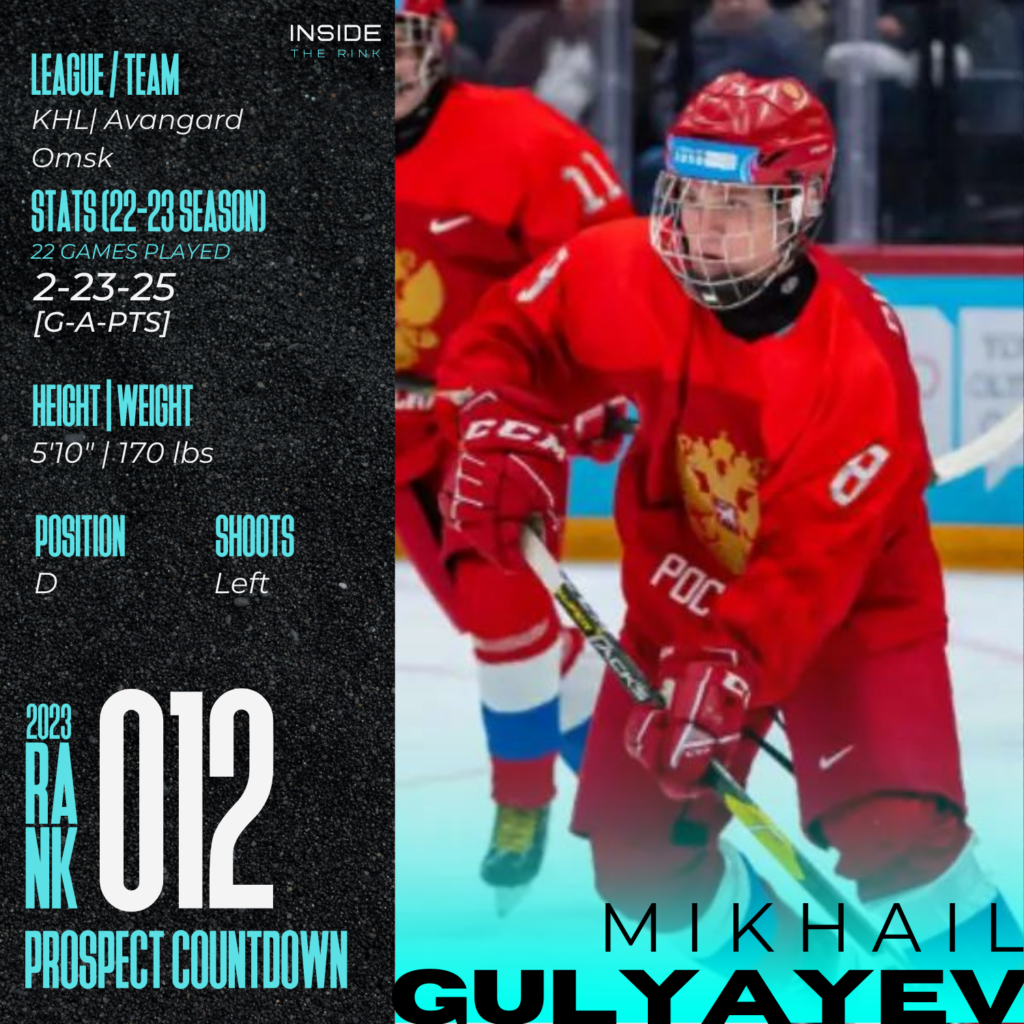 For teams looking to draft a defenseman and have him develop for a few years, Gulyayev has that with him. Gulyayev has a two-year contract with Avangard Omsk of the KHL until the end of the 2024-25 season. Teams might be slightly hesitant to use a first-round pick for a prospect under contract for another two years.
Not to take away from Gulyayev's play, in the last two seasons, Gulyayev has split time with the MHL, VHL, and KHL in Russia.
Diving Deeper:
As we look into Mikhail Gulyayev as a player and break down his play, it is worth noting that he is an offensive defenseman whose strongest attributes are the following.
Skating:
One of Gulyayev's strongest attributes is his skating, which is a must in today's NHL. Gulyayev is a threat on the ice whenever the puck is on his stick, and he has a few strides worth of space. The speed he generates, either in a straight line or in crossovers, allows him to put himself farther up on the rush. Gulyayev's edgework also stands out, making him agile in any direction and an asset on the ice. When Gulyayev is not in the offensive zone, he sets off to get behind his own net and gain himself a high speed to burst towards the other side.
"Transitional defenceman who can break pucks out on his own. His hands resemble a skilled forward."

Sam Cosentino – Sportsnet – Dec. 14th, 2022.
Puck Handling:
Gulyayev is a solid puck handler which compliments his strong skating abilities. When Gulyayev has the puck on his stick, his teammates are looking to find a place where Gulyayev will feed them the puck. MyNHLDraft.com has a ton of highlight videos for Gulyayev and his puckhandling, and shift by shift, here are some things that stood out.
Gulyayev uses his lateral movement to open up a passing lane and uses patient puck handling while his teammate is set to receive the pass. Gulyayev waits to pull the defender in and open a super slim passing lane to his teammate and create a scoring chance.
When Gulyayev is shown moving the puck in the neutral zone, he marches in just to the top of the faceoff dot with the puck and continues to hold the puck. Gulyayev waits to center himself in a triangle formation with his defensive partner and centerman. This is where Gulyayev passes off and recalibrates himself closer to the blueline to receive the puck and bait a defender toward him. Gulyayev relies on his edgework when pushed in the corners to outplay anyone in the offensive zone.
Gulyayev looks incredibly calm when facing pressure from one or more defenders. He looks incredibly confident when carrying the puck into the offensive zone and creating plays.
"A skilled offensive blueliner who is excellent on the breakout, Gulyayev must work on his defensive decision-making to truly ascend the draft board. His passing from the offensive blueline is one of his best assets."

Tony Ferrari – The Hockey News – Dec. 19th, 2022.
Precision & Passing:
I've previously touched on Gulyayev's passing, but he is incredibly precise when making passes and creating plays. Gulyayev's willingness to jump into passing lanes, sometimes a little too early, is another asset while he's on the ice.
When Gulyayev is looking to make a pass, which is often the case, he is almost guaranteed to make a great pass. Gulyayev isn't a goal scorer, he's a passer, and his near assist per game count is what he can boast.
Gulyayev has an incredible hockey IQ, and it bleeds out the most when he is breaking out and reading where his teammates are. He's an even better asset to have on the ice when you have a powerplay, as his quick feet, preciseness, and passing allow for great movement of the puck.
"He's a commanding offensive defenceman who is at his best when he's looking to take charge with his feet. His size is going to be a talking point, but he doesn't play small and I like his game at both ends of the ice because of his mobility and the way he reads the play."

Scott Wheeler – The Athletic – Aug. 8th, 2022.
On-Ice Abilities:
Gulyayev's current playstyle will certainly develop as he continues the next two seasons in Russia. It is likely he finds a full-time role in the KHL within the next two years, which will allow him to hone his defensive game and his puck battles.
Currently, Gulyayev's strengths definitely outweigh his weaknesses. We've listed his strengths as his skating/edgework, passing/precision, puckhandling, transition, and speed.
This creates Gulyayev's potential to be limitless if he can develop his game into a better well-rounded game. He's definitely like a fourth forward on the ice, as he is often caught behind the play. Gulyayev's speed often brings him to the play sooner, but he still needs to learn to manage his share of defensive responsibilities.
Final Thoughts:
Mikhail Gulyayev definitely can be a valuable offensive defenseman in the NHL. Quinn Hughes rounded out his game as he developed and molded his game to suit the NHL style. Gulyayev has the opportunity to do the same.
Gulyayev's size will also be a factor and a potential hindrance at the NHL level. His confidence when he has the puck and his skating ability combined have definitely impressed scouts all over. This will definitely allow the team that drafts Gulyayev to mold him into their system and pair him with someone more naturally defensively inclined.
Stats via Elite Prospects
Highlights via MyNHLDraft.com
The boys are back after a long break but have plenty to talk about as the playoffs are in full swing. We go series by series, looking at how teams have fared so far and who will come out on top. Thanks for listening! Please rate and review our show on your favorite listening platform. Check out our partner's website at www.insidetherink.com for all your latest hockey news.