Gracyn Sawchyn is a versatile 2023 NHL Draft-eligible center/right winger who doesn't carry many liabilities in his game. Born January 9th, 2005, in Grande Prairie, Alberta, Sawchyn has had an interesting path to the draft thus far. He played for the vaunted Minnesota prep school, Shattuck St. Mary, for his Freshman and Sophomore years of high school, where he predictably filled scoresheets to the tune of 143 points in 101 games over those two seasons (14U for his Freshman year and 16U for his Sophomore). For the 2021-22 season, he headed to the U17 USNTDP (United States National Team Development Program) team, where he finished fourth on his team in scoring behind fellow draft-eligibles Gabe Perreault, Oliver Moore, and Will Smith. In his draft year, he was to play for the Seattle Thunderbirds of the WHL, a completely loaded squad with Memorial Cup aspirations. 
Related Story: 2023 NHL Draft – Nashville
As the 2022-23 season wore on, Sawchyn remained productive despite seeing his role diminish gradually, yet greatly. He started the year as a top-six forward in the Seattle lineup, but as the playoffs drew nearer and his team made big acquisitions (Colton Dach, Dylan Guenther, Brad Lambert), he was destined to finish the season in a bottom-six role. Despite his increasingly small role and an injury that cost him 10 games toward the end of the season, Sawchyn produced at a point-per-game clip with 18 points and 40 assists in 58 games. The Thunderbirds won the WHL title but lost in the Championship game of the Memorial Cup. In the playoffs and cup combined, Sawchyn tallied 11 points in 22 games while given a minuscule role.
Sawchyn is a slender 5'11", 165 lbs forward who is willing to fight for every inch of ice he needs to create plays offensively or break up plays defensively. His frame and undefined role are likely the causes for his current draft rankings amongst various outlets, which mostly have him in the 20-40 range with a couple of outliers on either end.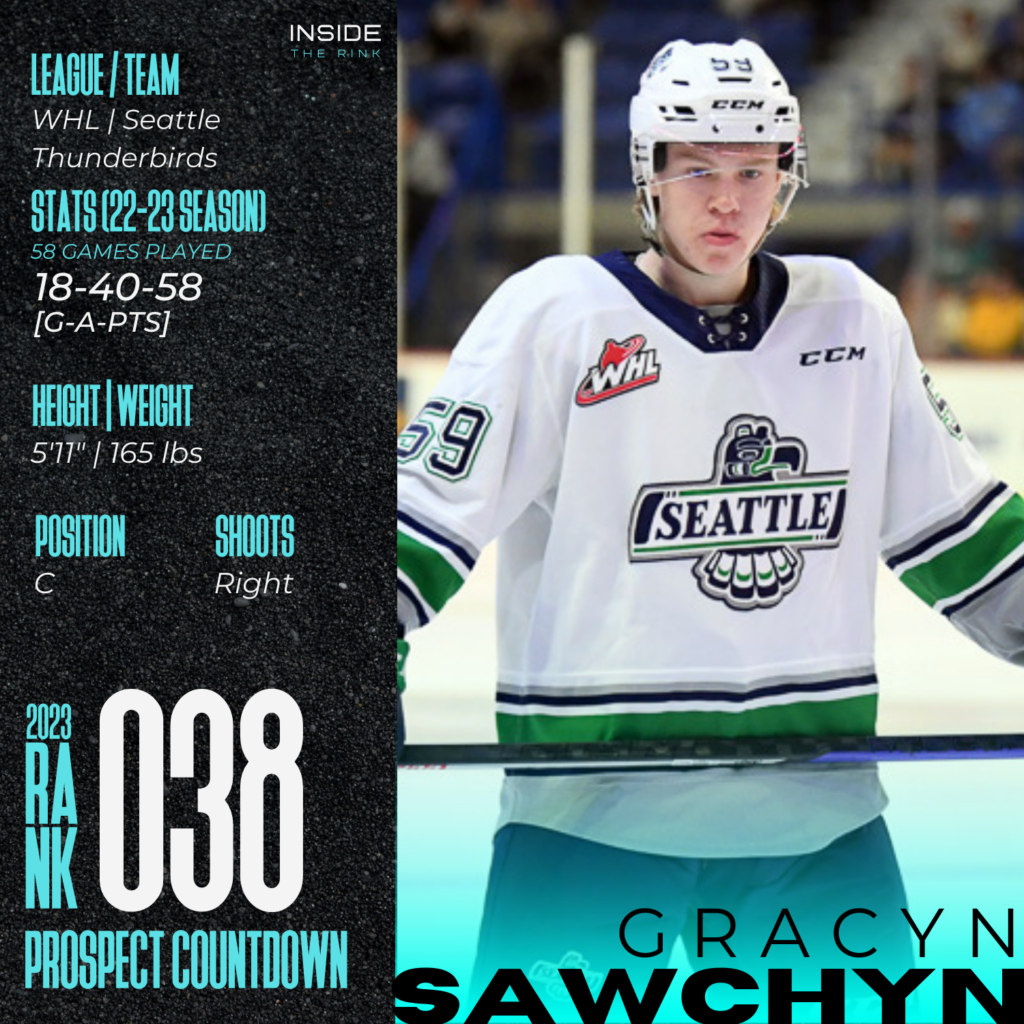 Scouting Report
NHL coaches and GMs love the Gracyn Sawchyns of the world. He's cerebral, detail-oriented, creative, and eager to engage in battles all over the ice. He has no glaring weakness in his toolbox; his vision is elite, he has great spacial awareness, and he can play at any pace. He isn't the most powerful skater but is shifty with great four-direction mobility. 
Offensive Zone
Sawchyn thrives in tight quarters and has great small-area instincts. He isn't one to impose physically but loves to craftily slip passes through defenders' feet or under their sticks to his teammates in dangerous spots. He has top-notch puck skills, so he's able to protect the puck and extend plays with his hands and edges alone as he moves throughout the zone, scanning for options or opportunities. Passes that seem ambitious are completed with ease and regularity from Sawchyn's stick. He is willing to be creative and instinctual in the offensive zone and can singlehandedly manufacture dangerous chances.
The standout attribute Sawchyn possesses is the eagerness and willingness to get to the net at all costs. With the puck, he loves to explode off his edges from the half-wall and attempt a dangle or two before getting a shot or sneaky pass off. Without the puck, he seeks out the low slot without regard for the possible punishment his body may endure. He's tenacious and tough to play against.
200 Ft Game
Sawchyn doesn't take a shift (or even a second) off. He's at his best low in the defensive zone playing the center position. His brain is moving faster than the play as he shows great anticipation in the defensive zone. He is adept at determining when his defensemen need support during battles and when/where the puck is going to pop out. When he's engaged in battles, he translates his small-area ability to finding lanes so he can get passes through to outlet options. Away from the puck in the defensive zone, he is always aware of his assignment, of his position, and he swallows seam passes regularly. 
I wouldn't call Sawchyn a reckless-abandon puck-hound when he's in pursuit as he opts for a more cerebral approach. By design, pucks always seem to find his stick when his team is on the forecheck in the neutral or offensive zone. When they do, he is quick to find a teammate with a clever pass that leads to a chance the other way. 
Side note: of the top 32 North American skaters, according to Central Scouting, Sawchyn has the most penalty minutes. So I guess he's got a little nasty to his game. 
What Needs Improvement
At times, Sawchyn tries to do a little too much in a little too dangerous of situations. He has great puck skills, but his dangle success rate isn't high enough to take the chances he does. There's little doubt that his moves will become more effective as he learns how to attack defenders at higher levels, but he'd be wise to be more selective. He often tries the most difficult play when an equally effective and easier one is available.
Right now, when projecting him at the next level, he suffers from a little bit of the "what is he?" syndrome. He's played both center and wing at the WHL level and is by far more effective as a center due to his defensive acumen and ability to start a transition out of his zone. The problem is that there aren't a lot of centers with his slight frame who are succeeding the same way he does in juniors. He either needs to find a way to become more dynamically puck-dominant like a Jack Hughes or Brayden Point or kick his motor up a notch like a JG Pageau (or both). Morgan Frost would be a good case study for Sawchyn.
Looking Ahead to the Draft
If I were to put a number on it, I would say there's about a 40% chance Gracyn Sawchyn hears his name called on the first day of the 2023 NHL Draft in Nashville later this month. His 200 ft game, tenacious nature, and deep toolbox are all likely to intrigue some scouts and GMs, while his frame and questionable projection may deter others. Sawchyn will likely return to the Seattle Thunderbirds with an increased role for the 2023-24 season. I'm fully expecting him to make the most of that opportunity and play #1C minutes, produce through the roof, and play on both of the top special team units. We just might be sitting here at this time next year talking about how much of a steal Gracyn Sawchyn was at the end of the first/top of the second round of the 2023 draft.