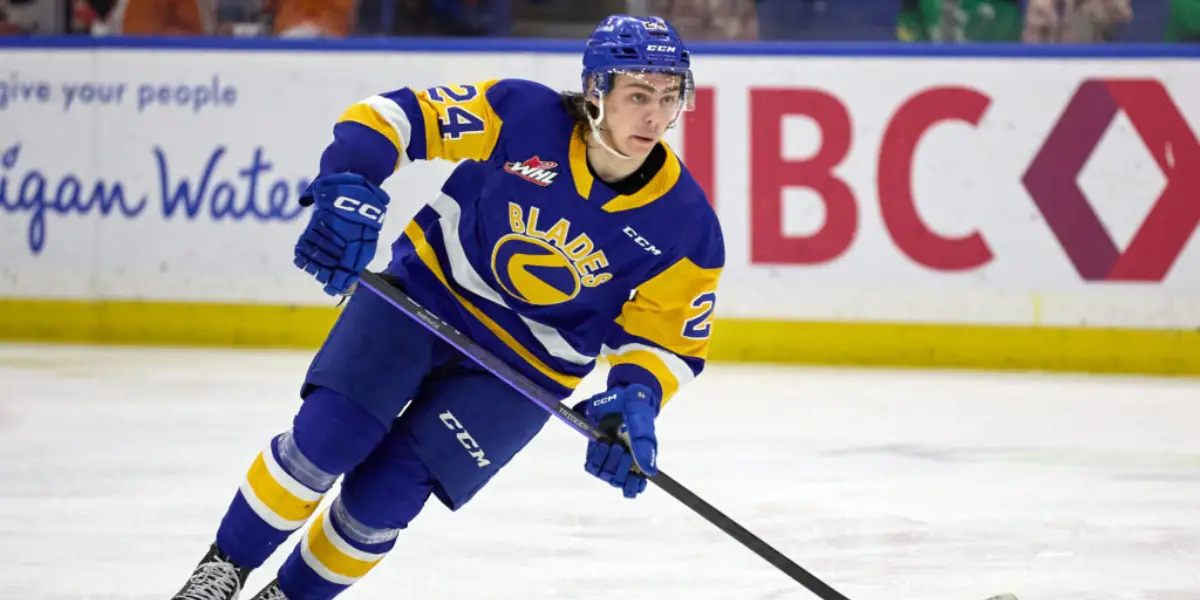 The Scouting Report:
Tanner Molendyk from Kamloops, British Columbia, Canada, born on February 3rd, 2005, is a draft-eligible prospect and a reliable offensive defenseman. Standing at 5'11" and 176 pounds, Molendyk definitely uses his size to his advantage on the ice. Known for his feisty play, Molendyk isn't a lock to go in the first or even the second round of the draft. Below are the rankings for Tanner Molendyk.
Ranked #19 by Inside The Rink
Ranked #28 by NHL Central Scouting (NA Skaters)
Ranked #52 by TSN/Craig Button
Ranked #46 by Daily Faceoff
Ranked #48 by Recruit Scouting
Ranked #62 by TSN/Bob McKenzie
Conrad Jack of Inside the Rink has Tanner Molendyk projected at 35th overall.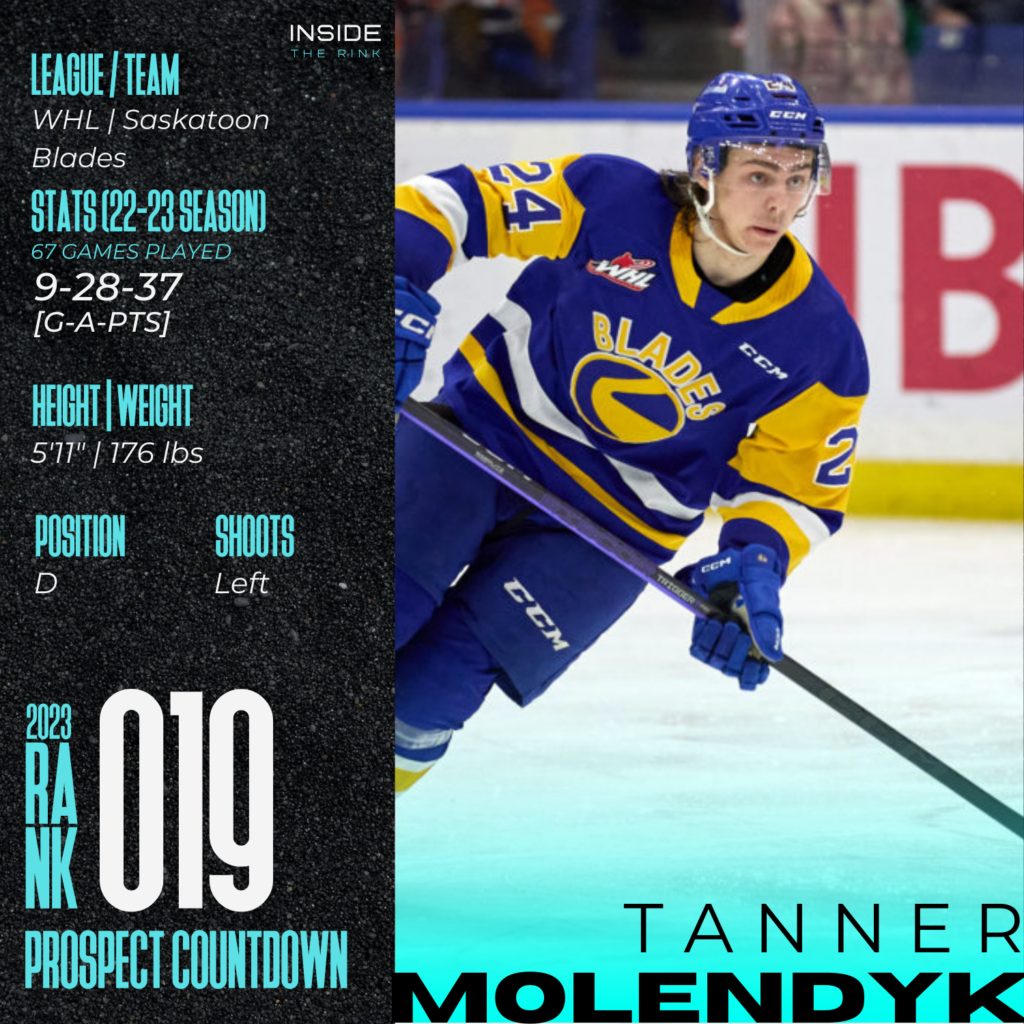 The Canadian-born defenseman is currently playing for the Saskatoon Blades of the Western Hockey League (WHL). Posting his best season in the WHL, Molendyk had a stat line of nine goals and 28 assists for 27 total points, and he also added 37 PIMS with a plus-minus of plus 31.
Molendyk has been showcased at many levels throughout his teenage development. He was a part of the Yale Hockey Academy U15 prep, where he held the captaincy in an impressive season. That same year Molendyk would play with the Yale Hockey Academy in their Elite 15s squad. Some of the awards that Molendyk has received are the CSSHL U15 Top Defensemen award in 2019-20 and the Hlinka Gretzky Cup Gold Medal in 2022-23. Before his transition to the Saskatoon Blades in the 2020-21 campaign, Molendyk would play with Yale Hockey Academy U18 prep squad. After Tanner Molendyk got his call to play with the Saskatoon Blades, he started slow but never looked back. Currently, Tanner Molendyk and the Saskatoon Blades are battling in the third round against the Winnipeg Ice in the WHL playoffs.
Diving Deeper:
Tanner Molendyk is like most defensemen, good at keeping people out of the crease and denying most high-danger chances. Let's take a deeper dive into what Tanner Molendyk excels at.
Leadership:
Tanner Molendyk is an incredible on-ice leader. He will go to the ends of the earth for his teammates and plays incredibly smart hockey. His quick feet and strong skating ability are something that he potentially relies on too much. However, when Molendyk is on the ice, his teammates don't have to worry about the other team taking liberties with them.
Molendyk plays with his teammates in mind and plays for the crest on his sweater. Molendyk plays hard, honest hockey, and his ice time proves that, and you can't teach it, either.
"He has the look of a player who could have scored more if the puck bounced his way on occasion. He's a fluid skater with sound hockey IQ. Molendyk was used in all situations for Team Canada."

Jason Bukala – Sportsnet – Aug. 7th, 2022.
Physicality:
Molendyk uses his size and frame to strip people off the puck and fly in a way that most defenders normally don't. While being primed as an incredibly dominant offensive force for years, Saskatoon Blades head coach Brennan Sonne molded Molendyk into a physical shutdown defenseman. Both Molendyk's defensive and physical aspects go hand-in-hand, as he is not afraid to throw his weight around to gain possession of the puck.
"Molendyk has emerged as one of Saskatoon's go-to guys to shut down their toughest opponents, including Connor Bedard on multiple occasions, who went goalless twice this season against the Blades thanks to him.

Dayton Reimer – The Hockey Writers – Apr. 4th, 2023.
On-Ice Abilities:
Tanner Molendyk uses his skating to his advantage, and the way he plays is what he has to show for it. Molendyk dominates puck possession and is not afraid to throw his weight around to protect the puck, as I've consistently stated.
Molendyk's work ethic trickles down to his teammates, and they see the effort he puts in every single night and reflect it in their play. The Saskatoon Blades beat Connor Bedard and the Regina Pats in a seven-game series, thanks to the work ethic reflected by Molendyk.
Final Thoughts:
Tanner Molendyk has the ability to be a force in the NHL, and he likes to shoot the puck and make sure the puck is being moved, which could be a valuable asset of Molendyk's come draft day. While there are a few bumps in Molendyk's game that he can smooth out, he could become an NHL regular within 2-3 years of proper development and consistent work.
Stats via Elite Prospects
Highlights via MyNHLDraft.com
The boys are back after a long break but have plenty to talk about as the playoffs are in full swing. We go series by series, looking at how teams have fared so far and who will come out on top. Thanks for listening! Please rate and review our show on your favorite listening platform. Check out our partner's website at www.insidetherink.com for all your latest hockey news.