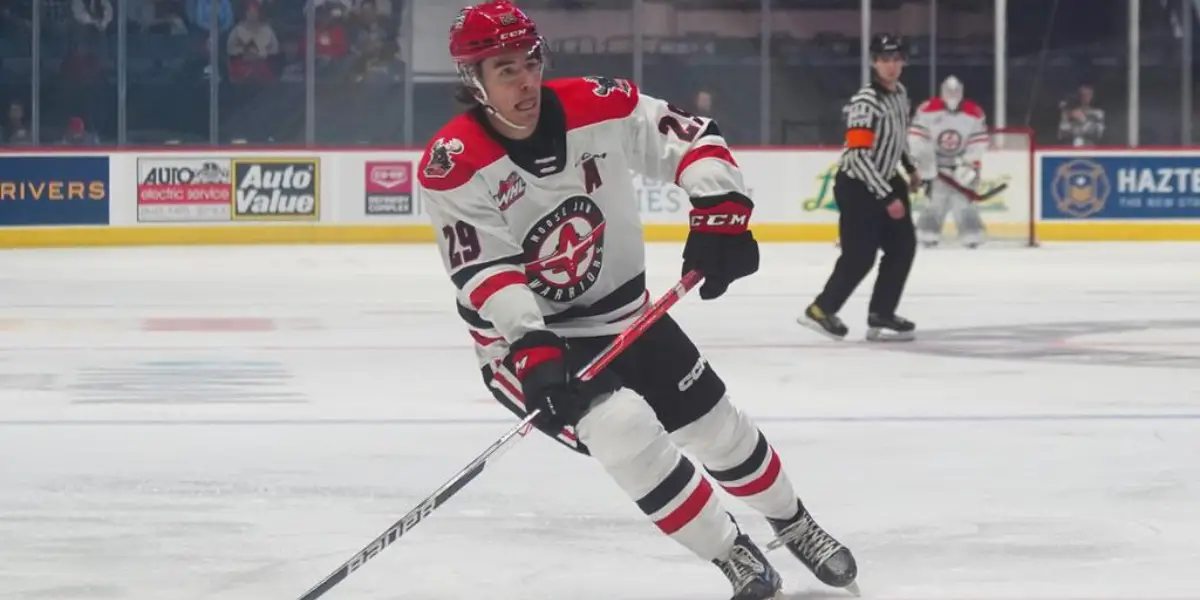 The Scouting Report:
Brayden Yager from Saskatoon, Saskatchewan, born on January third, 2005, is one of the top center prospects of the 2023 NHL draft class. Yager stands out because of his sportsmanship and dedication to his team and the game of hockey. Not to be lost in the many great center prospects of this draft, Yager has all the tools to become one of the best centers of this draft. Standing at 6'0″ and 165 pounds, Yager will need to fill out his frame more, but his development path should be a key asset moving forward.
The draft projections by top analysts and scouts have placed Yager consistently in the top-15 of the draft class.
Ranked #10 by Inside The Rink
Ranked #11 by NHL Central Scouting (NA Skaters)
Ranked #12 by TSN/Craig Button
Ranked #10 by The Hockey News
Ranked #7 by Recruit Scouting
Ranked #7 by FCHockey
Ranked #7 by TSN/Bob McKenzie
Conrad Jack of Inside the Rink has Brayden Yager projected at 7th overall.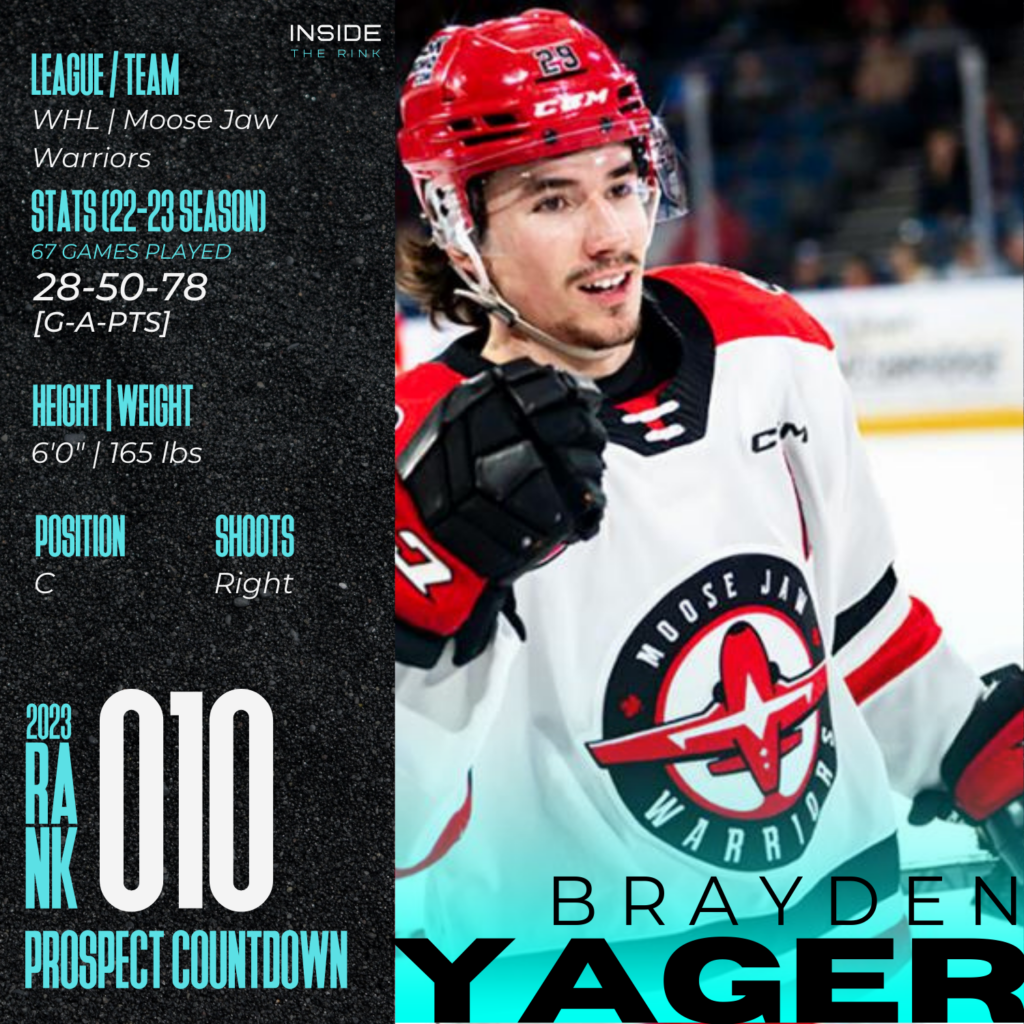 Brayden Yager comes with a nice stat line and some great career highlights heading into this draft. In 2014-15, Yager was brought to the Brick Invitational and played for the Saskatchewan Jr. Pats, where he served as team captain. Later in Yager's development years, Yager played in the Hlinka Gretzky Cup tournament and won a gold medal. In the 2020-21 season, Yager would join the Moose Jaw Warriors and stay there the following two seasons.
An offensive talent for Moose Jaw, Yager has played 154 games in three seasons, scoring 69 goals and 86 assists for 155 points. To make the stat line even more impressive, Yager maintained a plus/minus of plus 15 across the 154 games played for Moose Jaw.
Diving Deeper:
Brayden Yager has a lot of strengths; the following three attributes make him a unique player in this draft class.
Two-Way Play:
Brayden Yager is definitely one of the stronger two-way players of this draft class. Yager plays with his teammates in mind, which sometimes restricts him from having a shoot-first mentality. Yager's two-way sees him calmly pursuing the puck carrier to clear the puck out of the defensive zone. When Yager is not in the defensive zone acting as a third defenseman, he actively is pressing to find open passing lanes to his teammates. When Yager does shoot the puck, he has shown a consistent pounce in his attempt to beat the goaltender by getting the puck in the back of the net.
"He's a ton of fun to watch, with a threatening, attacking, puck-dominant game plus a highlight-reel quality to his skill in straight lines and in cutting sequences in transition."

Scott Wheeler – The Athletic- Nov. 1st, 2022.
Shooting Abilities:
I pluralize this attribute as it is two-fold, power and accuracy. Yager is most dangerous as a shooter at even strength, with nine even strength shots across a three-game sample, eight of them would hit the net. When the Moose Jaw Warriors were on the power play across three games, Yager shot six times, hitting the net three times. Out of these 15 shots, 11 hit the net, and four of those total shots came on high-danger chances.
There is no doubt that if Yager could capitalize and read the goaltender's position a bit better, he would've scored more than 60 goals in two seasons. That isn't a shot at Brayden Yager either; scoring 60 goals is not an easy thing to do at such a high level of hockey.
"Brayden Yager is a high-level finisher who has an unreal release, blistering shots by netminders with ease. When he gets going, he can pick up speed and is a very dangerous player off the rush."

Tony Ferrari – The Hockey News – Dec. 19th, 2022.
Passing/Playmaking Ability:
Yager has an incredible sense of making some plays on the ice that most wouldn't see. In Yager's highlights, Moose Jaw was trailing a number of crucial times in the game. Yager has been trusted by his coach that he is almost always on the ice when a momentum shift is needed or when you need a strong power play showing.
As Yager continues his professional hockey journey, the only uncertainty is whether he will remain a center or transition to a winger. His playmaking senses become even stronger when he plays on the wing, though he has every characteristic of a tough two-way centerman. When placed at center, Yager is more focused on driving the play from the middle rather than getting into position to set his teammates up.
This is definitely an interesting trait for the young player, he plays with heart and acts as a third defenseman as needed. This should stand out as incredibly valuable for teams looking to draft a reliable two-way player with a ton of versatility.
"Brayden Yager, seemingly one of the more polarizing names thus far, brings with him a straight line, puck dominant style of play that for myself is hard to overlook. Yager gets around the ice in all areas very well thanks to his elite ability to see plays unfolding."

Ben Jordan – Smaht Scouting – Nov. 25th, 2022.
Brayden Yager's play is similar to Eduard Sale in this draft class: 2023 NHL Draft Prospect Profile: Eduard Sale | Inside The Rink
On-Ice Accomplishments:
All of the on-ice stuff that has transpired throughout Yager's career has led him to have a high draft stock. The two-way forward plays with a ton of respect shown toward his opponents, this showmanship earned Yager the WHL's Most Sportsmanlike Player award. An incredible achievement for the young player as he looks to add more noteworthy nominations and awards to his name as he furthers his career. Yager will no doubt become a Lady Byng nomination and potential winner if he finds a full-time role in the NHL.
To add to his list of awards, Yager earned the Rookie of the Year award at both the CHL and WHL level, respectively. Yager has consistently combined his high level of play, dedication, and sportsmanship to the game of hockey to be an earning recipient of these awards.
Final Thoughts:
Brayden Yager has the ability to become a dominant two-way forward in the NHL, he may take a few years to develop before being NHL-ready, but it will be well worth the wait for the team that drafts him.
It is highly unlikely Yager falls out of the top-15 in the draft. However, this is a draft class flooded with incredible talent. Any team that takes Brayden Yager will be solidifying their two-way game, and Yager will most certainly find a role on the team sooner rather than later.
Stats via Elite Prospects
Highlights via MyNHLDraft.com
Like this prospect profile? You can read more here! 2023 NHL Draft Prospect Profile: Tanner Molendyk | Inside The Rink
The boys are back after a long break but have plenty to talk about as the playoffs are in full swing. We go series by series, looking at how teams have fared so far and who will come out on top. Thanks for listening! Please rate and review our show on your favorite listening platform. Check out our partner's website at www.insidetherink.com for all your latest hockey news.