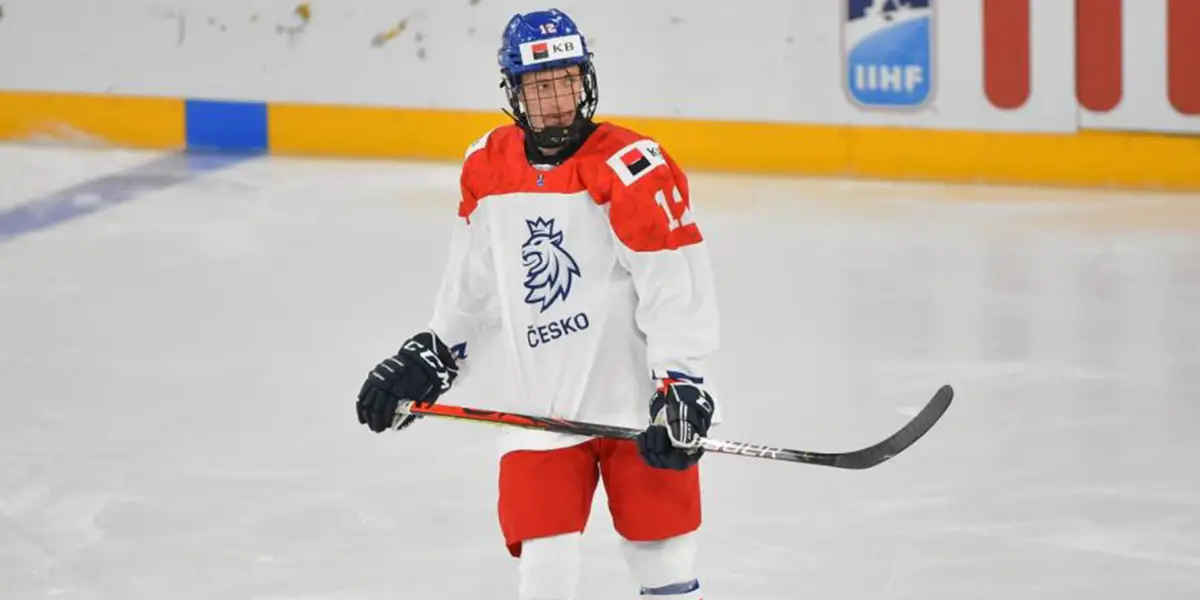 The Scouting Report:
Eduard Sale from Brno, Czechia, born on March 10, 2005, is touted as one of the top prospects in the upcoming 2023 NHL draft. Sale has developed himself into a highly skilled player with a versatile skillset that has stood out to scouts ahead of the draft in June. Sale currently stands at 6'1″ and 168 pounds, a decent frame for the young winger that he must fill out as he continues his professional career.
Eduard Sale is ranked as a near constant in the top 10 from scouting reports, some ranking him lower or just on the edge of the first round. The following list will show the scouting rankings for Eduard Sale.
Ranked #25 by Inside The Rink
Ranked #4 by NHL Central Scouting (EU Skaters)
Ranked #5 by TSN/Craig Button
Ranked #7 by The Hockey News
Ranked #9 by Recruit Scouting
Ranked #10 by Sportsnet
Ranked #12 by TSN/Bob McKenzie
Conrad Jack of Inside the Rink has Eduard Sale projected at 9th overall.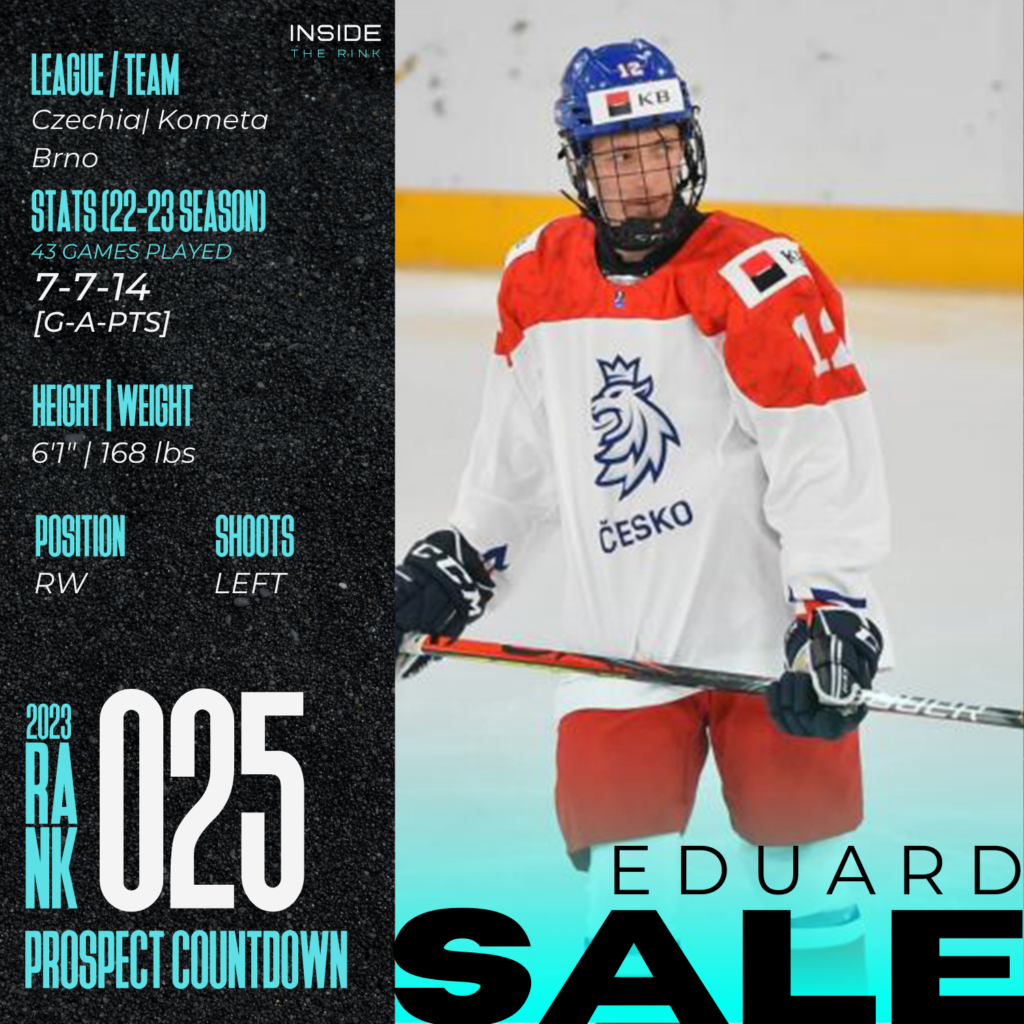 Eduard Sale took Kometa Brno's U20 squad by storm in the 2021-22 season, posting an impressive 42 goals and 47 assists for 89 points across 39 games. This impressive performance by Sale would lead to him earning 10 games with Kometa Brno's men's roster. In Sale's 10 games, he would score two goals and one assist for three total points. This season, Sale would get a small role on the men's roster of Kometa Brno, allowing him to put up seven goals and assists for 14 total points. Sale would also play for team Czechia's U18 team in the World Hockey Championship competition. Sale also split 12 games for team Czechia in the World Junior Championship on their U18 and U20 teams. At these tournaments, Sale would be an assistant captain once at the U18 World Junior Championship and post impressive stat lines.
Diving Deeper:
Some of Sale's best attributes are the simpler parts of his game. Let's take a deeper dive into some of Eduard Sale's best attributes.
Offensive Awareness:
As a forward, having offensive awareness is something that most possess, sometimes in abundance. Eduard Sale has an incredible gift with his offensive awareness, he's quick to think on the ice, creates space for himself and his linemates, and provides solid tip-in opportunities. Sale is dominant in controlling the speed of the play and uses the positioning of his opponents as his weapon to impact the game.
Eduard possesses a rare gift in his offensive awareness that, if continued to develop, he will be a dominant NHL forward for many years to come. Sale's brain goes into overdrive when he's on the ice, showing an incredibly advanced understanding of hockey. This puts Sale two to three steps ahead of the competition.
"Sale is one of the more intelligent players in the draft, diagnosing play and making the smart pass every time. He's analytical in his approach, aniticipating all possibilities for what the next step could be and making the correct decision."

Tony Ferrari – The Hockey News – Dec. 19th, 2022.
Related Story: 2023 NHL Draft – Nashville
Shot Accuracy:
If you're going to attribute Eduard Sale, you absolutely cannot forget to list his shot accuracy. From reading passing lanes to putting shots on goal, even if the puck doesn't find the back of the net, Eduard Sale has a powerful and accurate shot. When Sale is scoring, it comes from a variety of positions, Sale's ability to put the puck on the target consistently makes him stand out among the others in his draft class.
With a great offensive read and an accurate shot, Eduard Sale would be an incredibly valuable piece on any NHL team's powerplay unit. Sale's understanding and awareness on the ice will allow him to create more scoring opportunities for himself either on the powerplay or at even strength.
"He's able to make even the most difficult of plays look easy with his soft hands and great puck control. He's quick and elusive and he easily showed why he's going to be a top pick in this draft."

Peter Baracchini – The Hockey Writers – Sept. 27th, 2022.
Physicality:
When you consider everything apart of Eduard Sale's playstyle, his physicality is one that stands out, and for the right reasons. Sale is not afraid to play in the rough corners, drive the net, or use his frame to battle for the puck. He will prove himself incredibly valuable to NHL teams if he can transition this to the NHL level.
"He can make highly-skilled plays on the move and is someone who can run a power play off the flank as well. He's not going to ever run guys over, but he gives an honest effort every night."

Corey Pronman – The Athletic – Nov. 15th, 2022.
On-Ice Abilities:
When you consider all things, Sale has flashy moments, but his calmness and control of the puck help him tremendously. I can continue to mention his excellent awareness, though his ability offensively is worth noting.
I noticed one major thing when watching Sale's highlights, his ability to get shots off from any spot while changing his body and hand positioning. Yes, it's a mixture of multiple things, but this is an incredible thing to build on as a young player.
Sale has played a limited role in his time with the Kometa Brno men's team, though he's used his ice time to help him gain experience. As a player grows into their roles and learn more about themselves in their position, the pressure to not make mistakes eases just a bit.
When play transitions from either defense to offense or vice versa, Sale has shown he has the ability to be really good in that aspect of his game. I made two comparisons between Sale's two most recent seasons for reference. First, I took a three-game sample from his 2022-23 season with Kometa Brno, and this is the most recent sample of his game that scouts will use. I compared the previous to a several-game sample from his 2021-22 season with Kometa Brno U20. Across the three game sample, there were 15 zone entry attempts that Sale has involvement within. Of that number, Sale was successful six times, unsuccessful four times, and the other five attempts were tossups. As for his zone exit attempts, Sale had some involvement in 15 zone exit attempts. Sale was able to clear the puck and maintain play just four times. Meanwhile, he failed to exit the zone with control six times. In the remaining five zone exit attempts, Sale failed by either turning the puck over or simply not being in control of the play.
This could be alarming for scouts, however, for teams that choose to draft Sale, they could easily work on his defensive development. Sale is consistently drawn out of position, often looking like he is floating around waiting for something to happen. I should also note Eduard Sale is not a defensive liability either; it just isn't the strongest area of his play.
Final Thoughts:
Eduard Sale is highly touted for many reasons, as discussed above, though I believe that his work ethic will be his biggest help. As Sale transitions from Czechia and the Kometa Brno team, he will be incredibly valuable to any team that drafts him. Sale may play an odd NHL game or two in the first 2-3 years, with a likeliness to play a handful of preseason games. Sale will likely need two to three years of professional development before he becomes NHL-ready. His offensive talents and ceiling will take him far and make him a core piece to any team.
Stats via Elite Prospects
Highlights via MyNHLDraft.com
The boys are back after a long break but have plenty to talk about as the playoffs are in full swing. We go series by series, looking at how teams have fared so far and who will come out on top. Thanks for listening! Please rate and review our show on your favorite listening platform. Check out our partner's website at www.insidetherink.com for all your latest hockey news.