The Scouting Report:
Otto Stenberg from Stenungsund, Sweden, born on May 29th, 2005, is one of the draft-eligible prospects who has fallen under the radar in the 2023 draft class. Stenberg is a highly skilled puck-handler with an incredibly accurate shot to compliment the former. Stenberg stands out as a defensive specialist in this draft. There are tons of focus around points and stats for most that follow hockey. Stenberg excels at being an advanced stats darling. Stenberg currently stands at 5'11" and 181 pounds, and the 17-year-old has clearly moulded himself into a player with a solid frame.
Otto Stenberg is ranked as high as 6th to as low as 50th from scouting reports, with some ranking him as a solid pick in the mid-to-late 20s in this draft. The following list will show the scouting rankings for Otto Stenberg.
Ranked #18 by Inside the Rink
Ranked #6 by NHL Central Scouting (EU Skaters)
Ranked #27 by TSN/Craig Button
Ranked #27 by The Hockey News
Ranked #22 by Recruit Scouting
Ranked #19 by Sportsnet
Ranked #28 by TSN/Bob McKenzie
Conrad Jack of Inside the Rink has Otto Stenberg projected at 15th overall.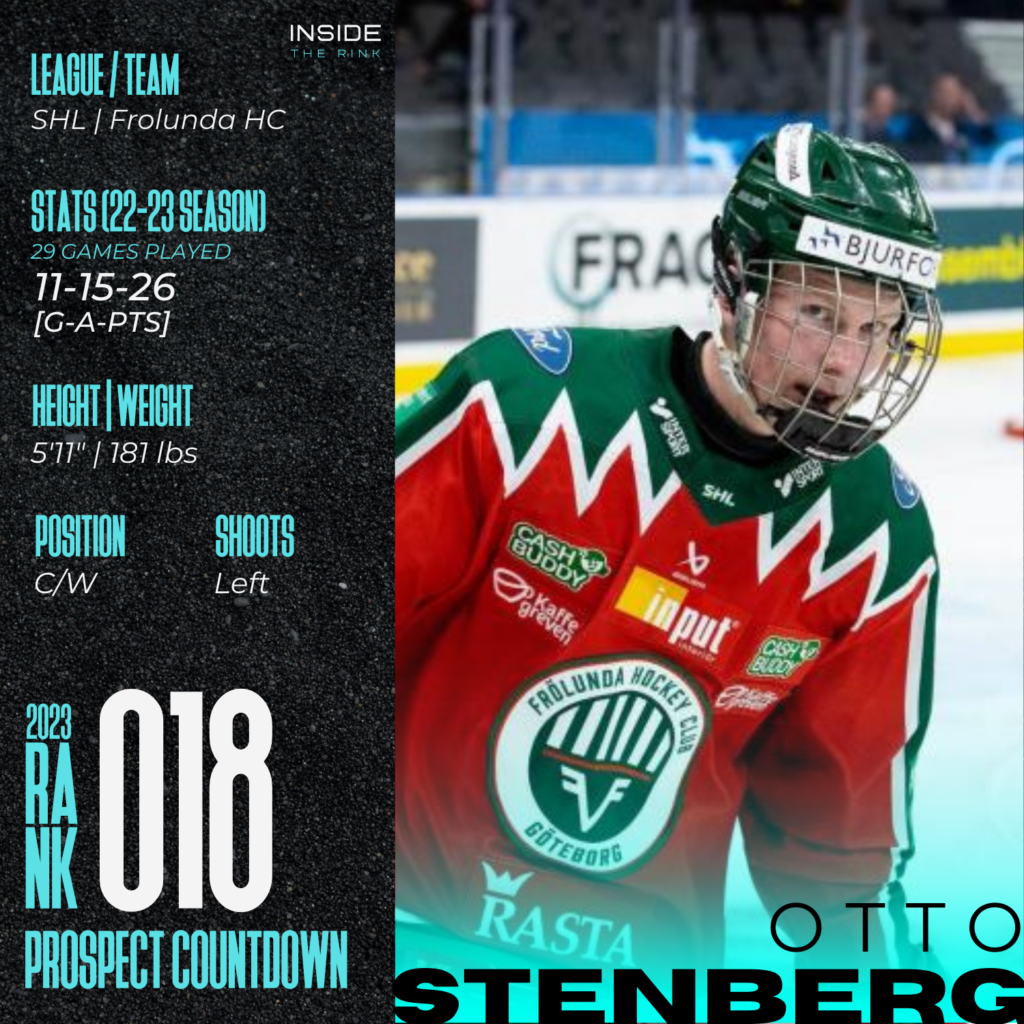 The Swedish ice hockey forward, currently playing with Frölunda HC in Sweden Hockey League (SHL), Stenberg, has been an impact in every area with Frölunda HC. Some of Stenberg's achievements listed via Elite Prospects are J18's best U18 forward, the U18 WJC gold medal, both in 2022, the Hlinka Gretzky Cup silver medal in 2023, and the WJAC-19 bronze medal in 2023.
Diving Deeper:
When considering prospects, Stenberg stands out for multiple unique reasons. His willingness to pounce on the rush and drive play as needed is incredibly valuable to his linemates. However, when the defensemen on his team need extra help, they can almost certainly count on Stenberg being there to help them out. Some of Stenberg's best attributes are the more technical and advanced statistics of his game. Let's take a deeper dive into some of these attributes of Otto Stenberg.
Defensive read:
A center who's willing to play the dirty areas, Otto Stenberg, stands out as a defensive specialist in this draft class. Stenberg oozes energy and confidence on the ice, and his linemates know they have someone that provides them a little extra cushion. When times are tough on the ice, Otto Stenberg is the guy you're hoping you have when you need added comfort.
"Stenberg already plays a mature two-way game with tremendous energy and skill. He's constantly involved in driving the play and always on the go in the offensive zone."

Peter Baracchini – The Hockey Writers – Oct. 3rd, 2022.
Leadership:
This is definitely someone you would look at for their off-ice contributions and be jealous of the work they've put into their overall game. Otto Stenberg is an excellent hockey player and an even better leader. Stenberg oozes courageousness on the ice, is willing to go to war for his teammates, and pushes them to be their best. It's not every day that you have a leader at a young age, especially in a professional sport, but Stenberg has taken expectations and blown it out of the water. A true leader, Stenberg has worn the captaincy honor twice in international competitions. His first selection came in the World Junior Championships, and his second came in the Hlinka Gretzky Cup.
"He plays a fast, creative game, hanging onto pucks to spin away from pressure, attack in and out of space, and facilitate from the outside in through layers. He's also got a pinpoint accurate shot from midrange, and regularly picks corners."

Scott Wheeler – The Athletic – Aug. 8th, 2022.
On-Ice Abilities:
Stenberg is a dynamic forward who is solid at forcing turnovers and pushing out his opponents in stressful situations. Stenberg uses his quick feet to fly through defenders and create odd-man rush situations at a moment's notice. While Stenberg stands out for his leadership and outstanding defensive play, you cannot discredit his offensive capabilities.
In Stenberg's highlight reel, he's developed a strong understanding of the common hockey defensive systems. His positioning and consistent push to fill gaps as needed are what make him stand out as a defensive specialist. In Stenberg's most recent play with the men's team for Frolunda HC of the Sweden Hockey League, Stenberg became incredibly consistent at transitioning from defense to forechecking positioning. One of the most common systems run in his 23-game stint with the men's club was a defensive 1-2-2. They would transition to an aggressive forechecking system on a 2-2-1, which allowed players like Stenberg to take chances when they needed to score. Typically, teams wouldn't run a 2-2-1 forecheck as you leave your defensive by himself to cover an odd-man rush or potential breakaway on his own. However, Stenberg being incredibly quick on his feet allows teams to continue to mold their systems more aggressively. This will create value for NHL teams looking to add speed, leadership, and two-way experience.
Final Thoughts:
Otto Stenberg is strong in many areas, his consistency and drive on and off the ice are definitely helping him as a player. Stenberg resembles the play of a Ryan O'Reilly or Johnathan Toews-like player as he elevates those playing with him. Stenberg may need a few years of professional development before he becomes an NHL regular. However, he can prove himself as a dominant depth piece before growing into a bigger role.
Stats via Elite Prospects
Highlights via MyNHLDraft.com
The boys are back after a long break but have plenty to talk about as the playoffs are in full swing. We go series by series, looking at how teams have fared so far and who will come out on top. Thanks for listening! Please rate and review our show on your favorite listening platform. Check out our partner's website at www.insidetherink.com for all your latest hockey news.