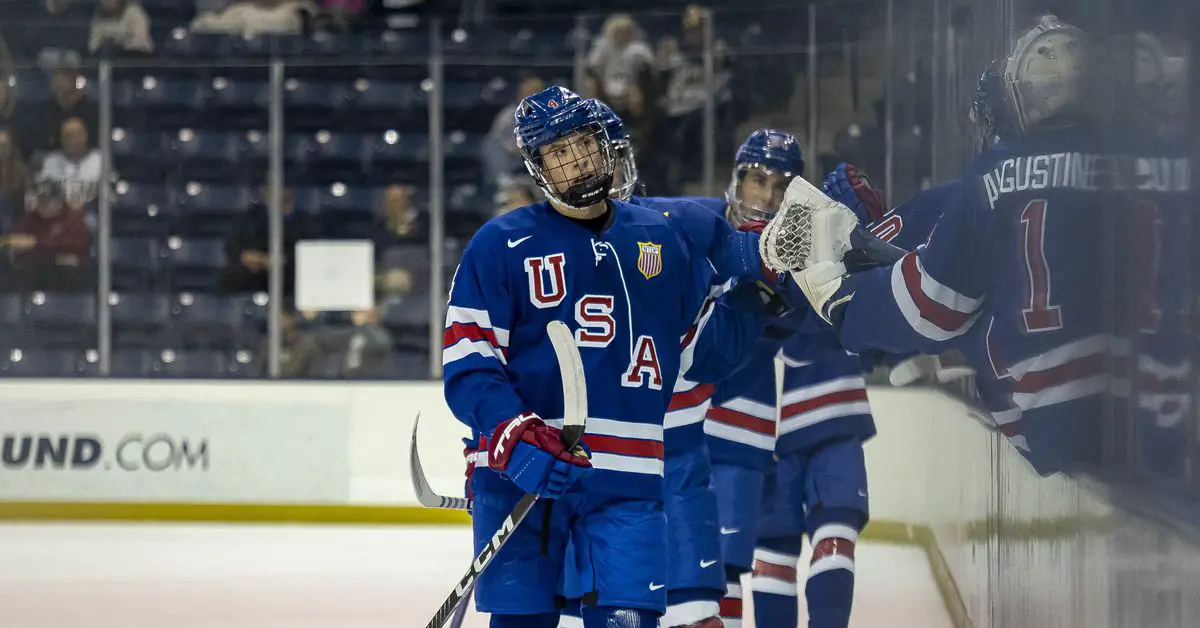 The Scouting Report:
Gabe Perreault from Sherbrooke, Quebec, Canada, born on May 7th, 2005, is a top-62 2023 NHL entry draft prospect. Gabe Perrault is the third player in the family to be eligible for an NHL entry draft. Gabe's brother, Jacob Perreault, was selected 27th overall by the Anaheim Ducks in the 2020 NHL entry draft. The oldest brother, Jeremy, would retire from hockey in 2017-18 and pursue a career in coaching. Their father, Yanic Perreault, was drafted in the third round at 47th overall in the 1991 NHL entry draft. Yanic played in the NHL from 1993 till 2008.
Gabe Perreault has learned a lot from his brothers and his father, who grew up playing hockey together. Gabe plays with a large presence on the ice. Standing at 5'11" and 165 pounds, Gabe Perreault certainly makes his presence known.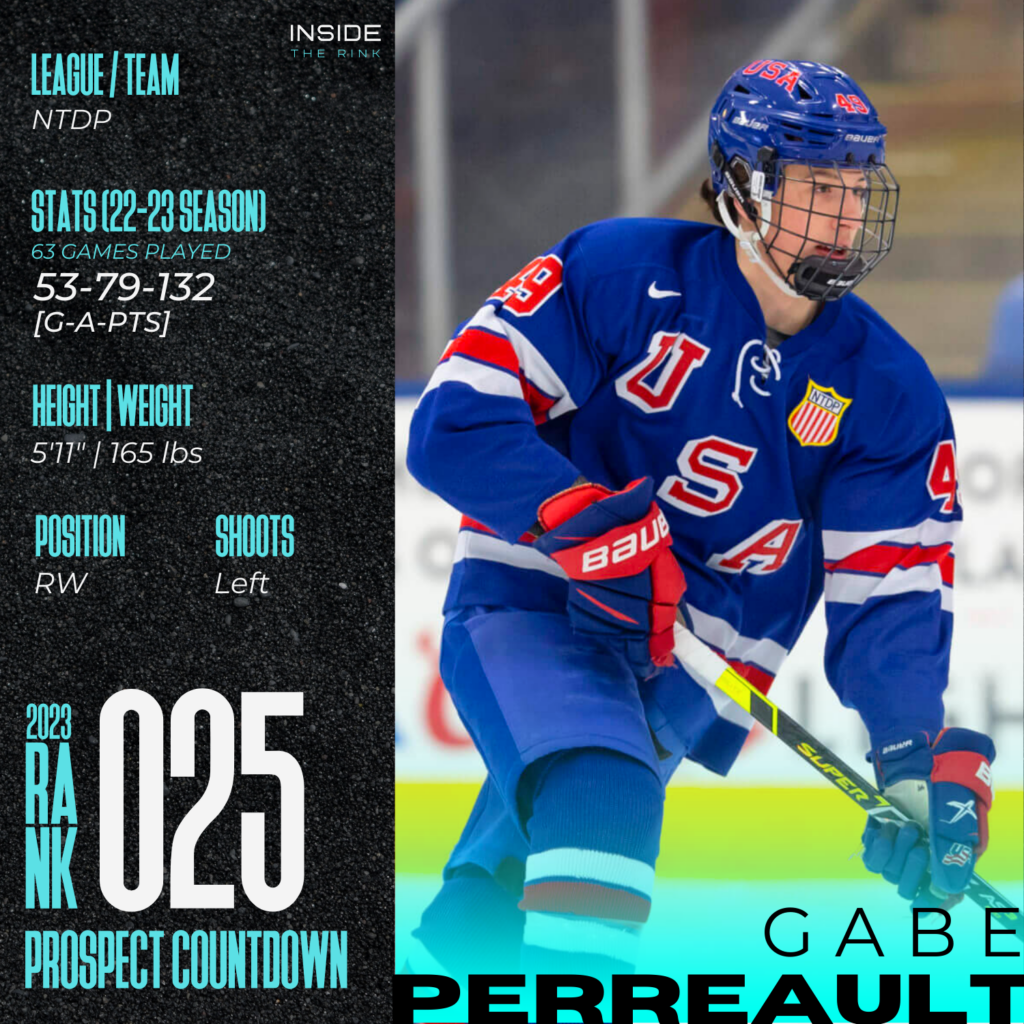 A draft class that has loads of wonderful talent, Gabe plays a highly physical game. His scoring stats make it hard to justify telling him not to hit as much as he does. With the US National U18 Development Team, Perreault has played 63 games posting 53 goals and 79 assists for 132 points. Eight total PIMS doesn't make it seem like he plays a physical game, but when watching Gabe's highlights, you certainly see a more physical player than what the stat line claims. To top his incredible stat line off, Gabe posted a plus/minus of plus 79. Gabe is also a great shot blocker, willingly blocking as many shots as he can. His plus/minus certainly shows this trait of his.
Ranked #25 by Inside The Rink
Ranked #10 by NHL Central Scouting
Ranked #11 by TSN/Craig Button
Ranked #24 by The Hockey News
Ranked #41 by Recruit Scouting
Ranked #17 by Sportsnet
Ranked #23 by TSN/Bob McKenzie
Conrad Jack of Inside the Rink has Gabe Perreault projected at 28th overall.
Diving Deeper:
Gabe Perreault is a strong forward, proving that when he is with the right players, he will post an incredibly high amount of points. Gabe is loved by his teammates and his coaches wherever he plays. This seems to be one of the strongest traits off the ice. As for his on-ice attributes, Gabe is a creative playmaker with strong stickhandling and will use his body to protect the pucks at all costs.
Playmaking:
When you are in the offensive zone rush, you want to have a player like Gabe Perreault on the ice. He uses his offensive awareness to track where there are any small areas of open ice and pressures the defensemen with his strong puck handling. When Perreault isn't putting loads of pressure on the defensemen, he is playing along the perimeter of the ice and waiting to make a pass to his teammates. If Perreault doesn't have the puck, he is in front of the net ready to pounce on a rebound or looking for a tip in a scoring chance. The flexibility and understanding of his position make him a solid addition to anyone's firepower up front.
"Offense is the calling card of his game. He is a very skilled and intelligent winger. Perreault makes highly creative plays with the puck at a high rate, both off the perimeter and in small areas."

Corey Pronman – The Athletic – Nov. 15th, 2022.
Offensive-Minded Play:
As I've mentioned countless times before this, Perreault is a pure goal scorer and intelligent passer either on the powerplay or at even strength. There is a significant upside to Gabe Perreault if he can transition his offensive game from the US Development U18 program to college and then to the NHL. He's scored at such a high rate that he surpassed Auston Matthews' previous record of 117 points with the program. There is no doubt that Perreault has the ability to become a full-time NHL goal scorer, especially if his development projections continue at the same pace.
"Possesses elite vision and playmaking abilities. Has the type of awareness in his game that helps him avoid solid contact."

Sam Cosentino – Sportsnet – Dec. 14th, 2022.
Final Thoughts:
Gabe Perreault's size may cause him to fall a bit in the draft, especially compared to other players in the 2023 NHL draft. However, Cole Caufield, who was also an incredible scorer for the US Development U18 program, was drafted 15th overall in 2021. Perreault plays a fast-paced game similar to Caufield; Caufield transitioned his game to the NHL level quickly. Perreault can follow and continue to make a path for NHL-eligible prospects who may not have the frame teams are looking for yet.
Perreault has an incredibly high ceiling if he can reach his full potential. He will almost certainly be a constant on any team's powerplay, Gabe will be a solid middle-six forward for any team who drafts him. Aside from his frame, Gabe Perreault has committed to the Boston College Eagles for 2023-24. Gabe may fall a bit because of his size and being committed elsewhere for a year. However, that hasn't stopped teams from drafting certain players before.
Stats via Elite Prospects
Highlights via MyNHLDraft.com
The boys are back after a long break but have plenty to talk about as the playoffs are in full swing. We go series by series, looking at how teams have fared so far and who will come out on top. Thanks for listening! Please rate and review our show on your favorite listening platform. Check out our partner's website at www.insidetherink.com for all your latest hockey news.