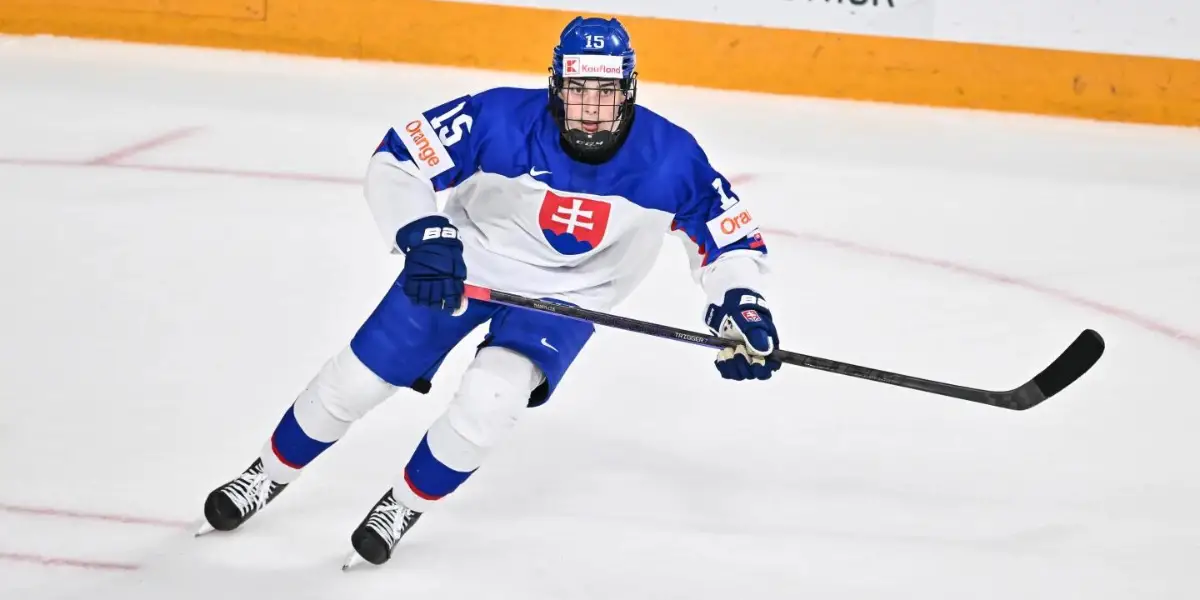 The Scouting Report:
Dalibor Dvorsky from Zvolen, Slovakia, born on June 15th, 2005, is among the top prospects eligible in the 2023 NHL entry draft. Aside from being a part of one of the deepest drafts in recent memory, Dvorsky stands out for many reasons. While not posting the most impressive stat line, Dvorsky is a reliable middle-six center with one of the best 200-foot games in this draft class. The 17-year-old centerman stands at 6'1″ and 201 pounds, making Dvorsky one of the more complete players in this draft. Currently playing for a second-tier Swedish pro league HockeyAllsvenskan, Dvorsky is a boy among men. Below are many rankings for Dalibor Dvorsky.
Ranked #10 by Inside The Rink
Ranked #3 by NHL Central Scouting (EU Skaters)
Ranked #19 by TSN/Craig Button
Ranked #11 by The Hockey News
Ranked #8 by Recruit Scouting
Ranked #12 by Sportsnet
Ranked #9 by TSN/Bob McKenzie
Conrad Jack of Inside the Rink has Dalibor Dvorsky projected at 6th overall.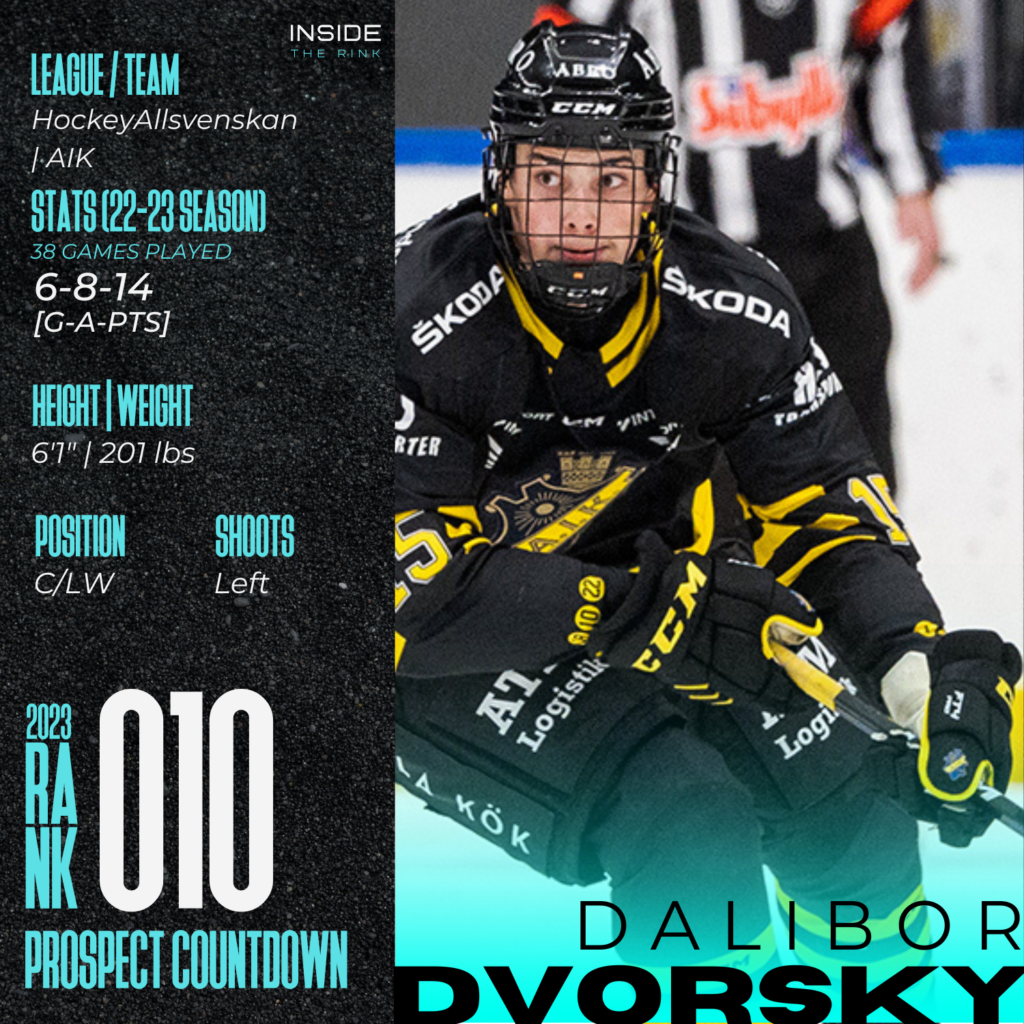 Teams should be lining up to draft Dalibor Dvorsky as the young center transitioned from J20 Nationell to HockeyAllsvenskan in the 2021-22 season. Dvorsky has played a crucial role since his debut with the men's team, solidifying him as a middle-six defensive forward. On top of the consistent development path, Dalibor Dvorsky is signed to play with AIK of HockeyAllsvenskan for the 2023-24 season. This will be incredibly lucrative for teams who are looking to build toward the future.
Diving Deeper:
Dalibor Dvorsky is a multi-talented forward, coming naturally and in abundance. Let's take a look at some of Dvorsky's best attributes.
Offensive Read:
There are few players in their respective draft classes that are ready to smooth out the bumps in their game. Most players are molding their playstyle and learning to apply it to higher positions. Dvorsky is an incredibly creative forward. He works well under pressure, connecting tough passes and punching the puck through tight spaces. Dvorsky's offensive talents extend to the powerplay, where he parks himself in the right circle. This offensive playstyle has served Dvorsky well and has allowed him to be a valuable teammate and asset to any team.
"He uses his body to gain inside positioning on defenders and shields pucks effectively. But he has struggled in spurts with the pace required of centres at higher levels (whether that be this summer's world juniors, or the pro game, he could stand to get and play a little quicker) and some scouts worry about his consistency at five-on-five."

Scott Wheeler – The Athletic – Nov. 1st, 2022.
Shot Accuracy:
Dvorsky has an incredible wrist shot and slap shot, both with significant quickness and power to them. To compliment his great shot, Dvorsky is super accurate when he has the space to shoot. As I previously mentioned, Dvorsky will park in the right circle when on the power play and create his office there. Dvorsky is not afraid to press a fierce shot through in this area, as most of his highlights show an impressively accurate shot from his office. Dvorsky continues to stand out to scouts with his shot accuracy.
"He does an excellent job of getting himself into scoring position and can shoot the puck as well as anyone in this draft class."

Steven – Daily FaceOff – Oct. 3rd, 2022.
Defensive Ability:
There are few young players who show this level of defensive instinct as Dvorsky has shown, and almost never in a professional league against tough competition. Dvorsky isn't afraid to use his frame to battle for the puck along the boards and using his frame to protect the puck. Dvorsky is also incredibly valuable not only on the power play but the penalty kill as well. This will make him a strong pick for all of the right reasons, as Dvorsky can eat significant minutes on any special team unit.
"The Slovak centre has the size, strength, skill and competitiveness to project as a solid two-way No. 2 NHL centre, equally adept at scoring goals and making plays."

Bob McKenzie – TSN – Sept. 22nd, 2022.
On-Ice Abilities:
All things considered, Dvorsky can become one of the stronger two-way forwards to come out of the 2023 NHL entry draft. His highlights show consistent improvement in the right areas and the application of what he learns.
Dvorsky has strong puck-handling skills, which complement his offensive and defensive game while being a crucial part of his accurate shot. If Dvorsky can continue his consistency and hardworking nature, he will no doubt become an NHL regular in no time.
Final Thoughts:
If Dalibor Dvorsky pans out and becomes what he looks like he can become, he'll be the kind of player you want on a team and that all coach loves to have, but he won't be the guy carrying your team offensively. He'll be a strong middle-six center with a solid 200-foot game, but he won't post a lot of points.
While you want a player like this on your team, it's a more common type of player than those who are gifted offensively. Dvorsky stands out among the common mold in this, and I'd be incredibly shocked if he fell past 12th overall.
Stats via Elite Prospects
Highlights via MyNHLDraft.com
The boys are back after a long break but have plenty to talk about as the playoffs are in full swing. We go series by series, looking at how teams have fared so far and who will come out on top. Thanks for listening! Please rate and review our show on your favorite listening platform. Check out our partner's website at www.insidetherink.com for all your latest hockey news.