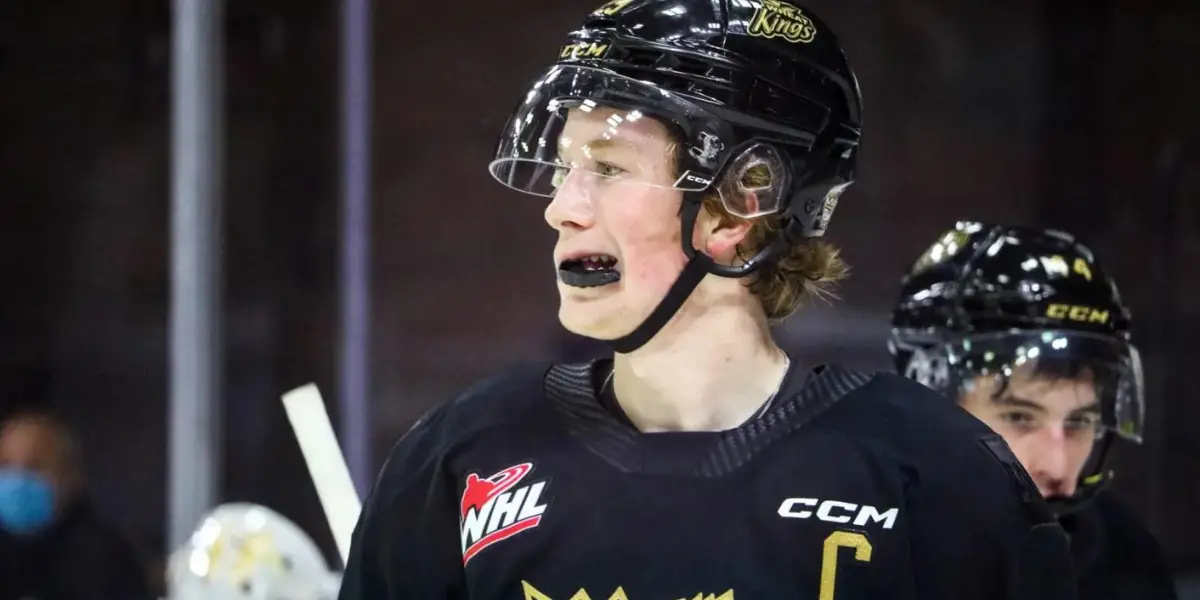 The Scouting Report:
Nate Danielson from Red Deer, Alberta, Canada, born on September 27th, 2004, is one of the top available prospects in the 2023 NHL entry draft. Danielson is currently playing in the Western Hockey League for the Brandon Wheat Kings, where he has been a key player for over two seasons. Danielson has played a total of 145 games for the Brandon Wheat Kings across three seasons, where he's chipped in his share offensively. Danielson has a total of 59 goals and 91 assists for 150 total points in his 145-game tenure with the Wheat Kings. Danielson would transition from the AEHL U18 league to the WHL in the 2020-21 season. The Wheat Kings' 2019 fifth-overall pick would spend his NHL draft season as the captain of the team, giving his draft stock an incredible value boost.
Danielson is gifted offensively and looks like he is miles ahead of his competition at times. The 6'1″ 185-pound center is a true leader on the ice, using his intelligence and his speed to leverage the advantage for his team. Danielson was ranked eighth in points and sixth in goals this season, with a season total of 32 goals and 76 points.
Ranked #12 by Inside The Rink
Ranked #7 by NHL Central Scouting (NA Skaters)
Ranked #17 by TSN/Craig Button
Ranked #23 by The Hockey News
Ranked #16 by Recruit Scouting
Ranked #14 by Sportsnet
Ranked #15 by TSN/Bob McKenzie
Conrad Jack of Inside the Rink has Nate Danielson projected at 19th overall.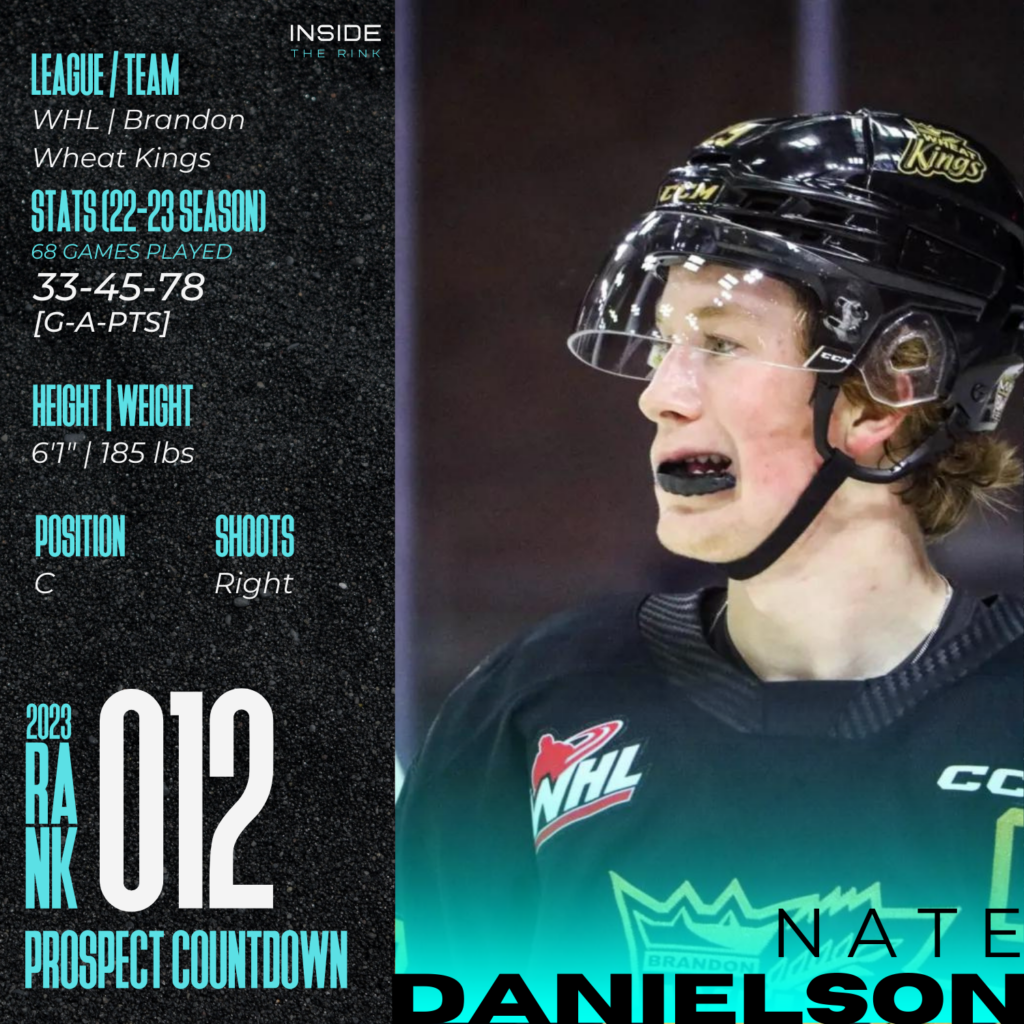 Diving Deeper:
The Brandon Wheat Kings are a bit of a weaker team this year, and Nate Danielson has quickly established himself as an offensive threat. There are several reasons that make Danielson an on-ice threat; however, he's got a unique feature. Let's dive deeper into some of Danielson's best attributes.
Puck Patience:
Nate Danielson is extremely patient with the puck, he does not take many shots in a game and makes sure they are mostly high-danger chances. Across a four-game sample from Nate Danielson, he took 13 total shots, none were considered low-danger chances, and 11 were high-danger chances. The other two shots taken came in a critical turnover situation; Danielson stripped the puck from his opponent in the neutral zone, skated up to the blue line, and took a shot that created a rebound for his teammates. Danielson's patience goes hand-in-hand with his intelligence and knowledge of the sport.
"While his game doesn't have the dynamism of the other kids in this loaded WHL class, and his production hasn't taken the step early on this season that you might hope for out of a player his age playing the kind of minutes that he's playing, most scouts project Danielson as an everyday top-nine NHL center."

Scott Wheeler – The Athletic – Nov. 1st, 2022.
Willingness to Adapt:
Danielson has one of the best mental makeups of the 2023 NHL draft class, and his willingness to adapt in any situation is such a critical aspect of his game. Whether he's on the offensive zone rush or racing back to help his defensemen on an odd-man breakout, Danielson is consistent in his play and provides stability on the ice. NHL teams are always looking for players with the best character, mental game, and overall maturity. Danielson might top that list for many scouts and general managers in his draft day interviews.
"A steady-eddie type of player who doesn't jump off the page in any one element. Is consistently playing against the opposition's best, which limits his ability to produce at elite levels.

Sam Cosentino – Sportsnet – Dec. 14th, 2022.
Defensive Dominance:
Nate Danielson has been a key player offensively for the Brandon Wheat Kings. When he shifts to defense, he's one of the best two-way forwards on the ice and probably the best in his draft class. Danielson is a dominant defensive specialist with a gift for putting up solid offensive numbers. Danielson's willingness and his eager nature are what make him stand out. Danielson's head is always moving, and he's constantly moving on the ice and rarely ever comes to a full stop. He scans the opposition for their weaknesses and the smallest of openings. Danielson jumps over any opportunity presented and is quick to transition back into an offensive threat when he has successfully defended and secured the puck on his stick.
"He has the skill and hockey sense to make a lot of plays inside the offensive zone, while also having the NHL body and skating ability to make you think he will be able to make those kinds of plays at higher levels. Danielson can drive the play due to his brain, feet and compete down the middle."

Corey Pronman – The Athletic – Nov. 15th, 2022.
On-Ice Abilities:
Nate Danielson has the skill to be a tremendous bargain come NHL draft day, his hardworking nature is what has helped him make huge strides in his game. Danielson has always gone up against the best competition on the ice, which has limited his offensive production, but he has always been ready for the challenge.
Final Thoughts:
The 2023 NHL draft class is one of the deepest draft classes in recent memory, especially at the center position. Players like Connor Bedard, Adam Fantilli, and Leo Carlsson have dominated the rankings for centermen, while other players like Will Smith, Brayden Yager, Dalibor Dvorsky, and Eduard Sale flood the depth of this position.
Danielson will be a steal for any team that wants to draft a hardworking center. It is unlikely that Danielson could sneak into the top half of the draft, though teams get the players that they want in their system. Danielson could be a wonderful middle-six forward on any team that is willing to draft him a little higher than projected.
Stats via Elite Prospects
Highlights via MyNHLDraft.com
The boys are back after a long break but have plenty to talk about as the playoffs are in full swing. We go series by series, looking at how teams have fared so far and who will come out on top. Thanks for listening! Please rate and review our show on your favorite listening platform. Check out our partner's website at www.insidetherink.com for all your latest hockey news.