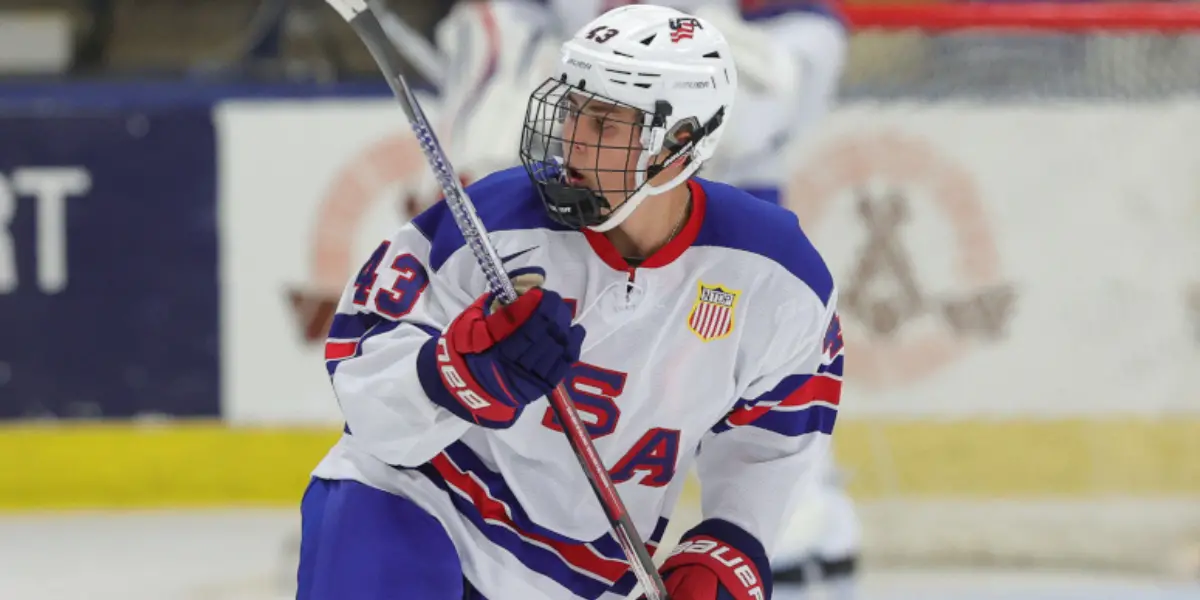 National Hockey League 2023 draft prospect Will Smith was born in Lexington, Massachusetts, on March 17, 2005. The 18-year-old center is projected to be chosen in the top ten of this year's draft. Smith is a 6-foot, 182-pound right-shot center who brings excellent offensive skills and an improving 200-foot defensive game.
Will Smith is ranked by many hockey evaluators in the top 10 in scouting reports, some ranking him in the top five of the upcoming NHL Draft. The following list will show the scouting rankings for Will Smith:
Ranked #5 by Inside The Rink
Ranked #3 by NHL Central Scouting
Ranked #6 by TSN/Craig Button
Ranked #5 by The Hockey News
Ranked #5 by Recruit Scouting
Ranked #5 by Sportsnet
Ranked #6 by TSN/Bob McKenzie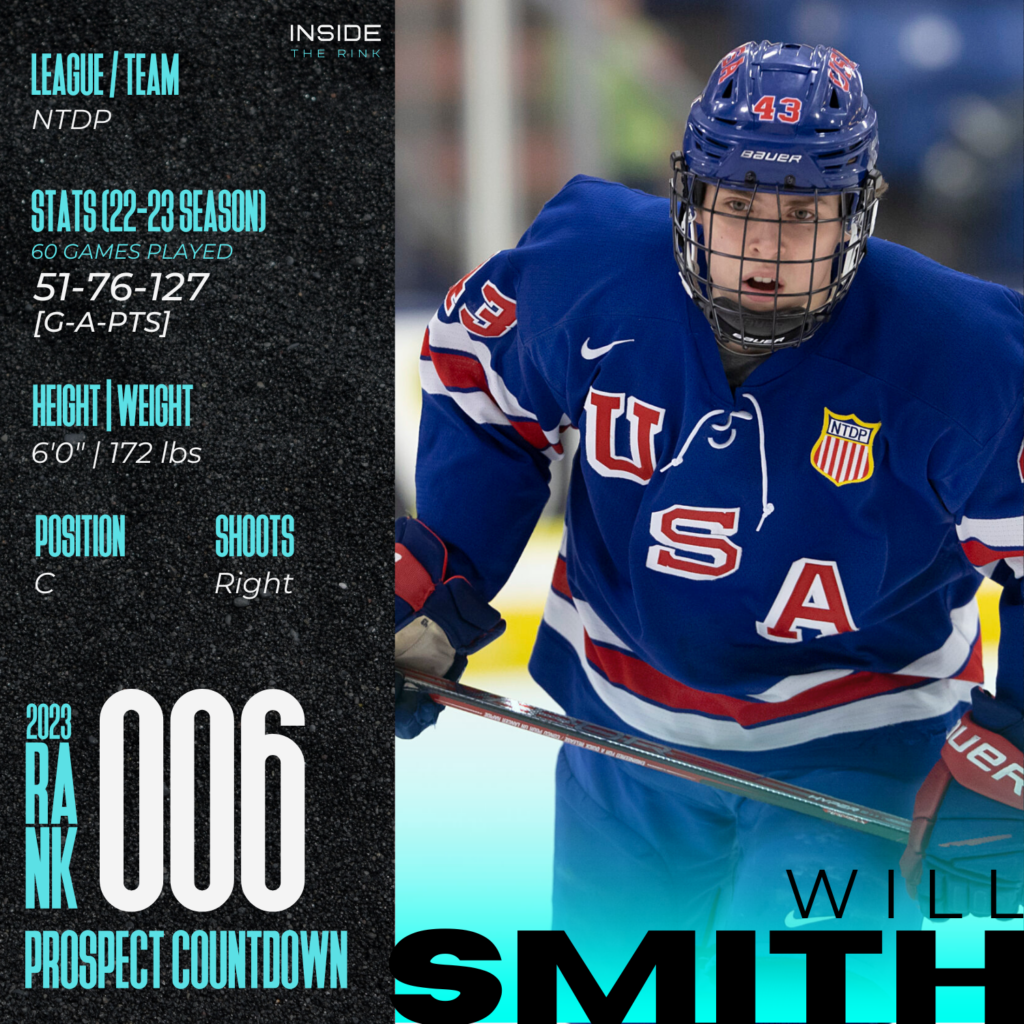 Will Smith is most likely to be drafted fifth overall, possibly to the Montreal Canadiens in the 2023 NHL Draft. Smith will attend Boston College for the 2023-24 season in the Hockey East Conference. The skilled forward is currently playing in the National Development Program, where Smith first landed on the NHL prospect map last season when he scored 14 goals, and 13 assists for 27 points with the NTDP's U18 squad in 28 games at 16 years old. He also added 17 goals and 20 assists for 37 points with the U17 squad that year. In 2022-23, Smith's stock rose significantly with a monster season for the USDP with 51 goals and 75 assists in 59 games. When the national team played in the USHL circuit, Smith scored 15 goals with 27 assists in 20 games. The future BC Eagle has played in the World Junior Championships twice and totaled 11 goals and 12 assists in 10 games.
Diving Deeper:
Some of Will Smith's best attributes are his ability to score goals while playing a responsible defensive game. Let's take a deeper dive into Smith's all-around game.
Offensive Game:
Daily Faceoff characterizes Will Smith as "a versatile centerman with a high offensive floor who plays a reliable two-way game. Many scouts believe he'll be valuable as a middle-six forward that can hold his own physically and set players up on the rush while putting up 20-plus goals consistently. And they especially love how he thinks the game". Smith has the ability to produce offensively without blazing speed or as much dynamic skill as Connor Bedard or Adam Fantilli. Instead, Smith plays an extremely intelligent game positionally and drives the play for his linemates, making him a playmaking center. Scott Wheeler of The Athletic had this to say about Smith. "He's an impressive puck handler who dodges close-outs and plays through holes in coverage in possession with ease, regularly hanging onto pucks to delay and fake his way into his spots. He's also the kind of player who, despite a dangerous wrister, will more often look to deke in all alone than shoot."
Playmaking Skills:
Smith is a crafty playmaking forward with legitimate scoring and a two-way upside. He works hard off the puck and attacks with intent, utilizing his puck skills to beat defenders one on one and create space for himself and his teammates. Smith is one of the very best slot passers in the draft and uses impressive puckhandling ability to dodge close-outs, weave off of the wall, and make plays. His passing ability is also similarly strong, as Smith is able to make clean passes to his teammates. Sharing the puck was a big part of why his line was one of the best in all of junior hockey this past season and why all three members of the line on the US Team, which includes Ryan Leonard and Gabe Perreault, are rocketing up draft boards and headed to Boston College together.
Areas of Improvement:
Smith will admit that improvement will need to come on the penalty kill. The gifted center projects to be a top-line center in the NHL, but he would also like to be considered an elite defensive pivot. Physically, Smith will continue to fill out his frame and should be able to sustain during the rigors of an NHL season and postseason.
The other area of Smith's Game that needs to develop is his skating ability. His speed is average, and playing in Hockey East should help evaluate just how well Smith will be able to adjust to a faster game.
Final Thoughts:
Smith should be a top-five pick in the 2023 NHL Draft and has been participating in the World U18 Championships, where the consensus top pick Connor Bedard is not participating. This has allowed Smith to be a focal point in the tournament as possibly the top player and he has not disappointed as Team USA won the Gold Medal with a 3-2 overtime win over Sweden. Smith had nine goals and eleven assists in seven games. Some prognosticators predict that Smith will be comparable to Anaheim Ducks center Trevor Zegras at the NHL level but with better defensive awareness. TSN's Bob McKenzie has the following analysis of Will Smith: "The U.S. National Development Team U-18 center is a shade under 6 feet tall, but many scouts identify him as having the highest hockey IQ in the entire draft. He uses a vast array of offensive skills to drive a line alongside fellow first-round prospects Ryan Leonard and Gabe Perreault (son of former NHLer Yanic Perreault). Scouts say the trio, led by Smith, is the most dominant line in all of junior-age hockey".
Season 2. Episode 38. Special Guest Terrence Wallin
–
Bruins Benders Podcast
Maine Mariners Coach Terrence Wallin makes a return visit to recap the season. Should the Bruins make room for Tyler Bertuzzi? Will the Bruins move some core pieces? I guess there is more time for golf and more!