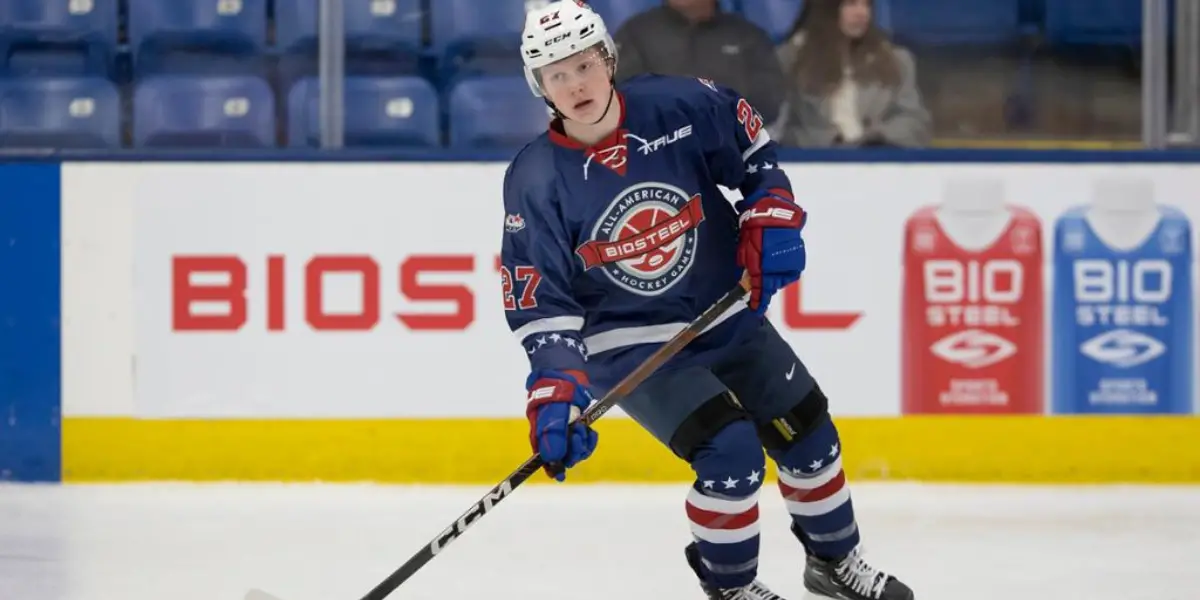 The Scouting Report:
William Whitelaw from Rosemount, Minnesota, United States, born on February 5th, 2005, is a prospect eligible for the 2023 NHL entry draft. Whitelaw has been notable since the fifth grade with Rosemount; this is definitely something that a smaller city like Rosemount will talk about for years, especially if he gets drafted. Whitelaw has a well-rounded game and has a bright career ahead of him. He could easily be taken at the later end of the first round or somewhere in the second round. The centerman is listed at 5'9″ and 172 pounds, a frame that will fill out as he continues to pursue his professional career.
Ranked #39 by Inside The Rink
Ranked #42 by NHL Central Scouting (NA Skaters)
Ranked #29 by FCHockey
Ranked #28 by Daily Faceoff
Ranked #45 by Recruit Scouting
Ranked #65 by TSN/Bob McKenzie
Conrad Jack of Inside the Rink has William Whitelaw projected at 31st overall.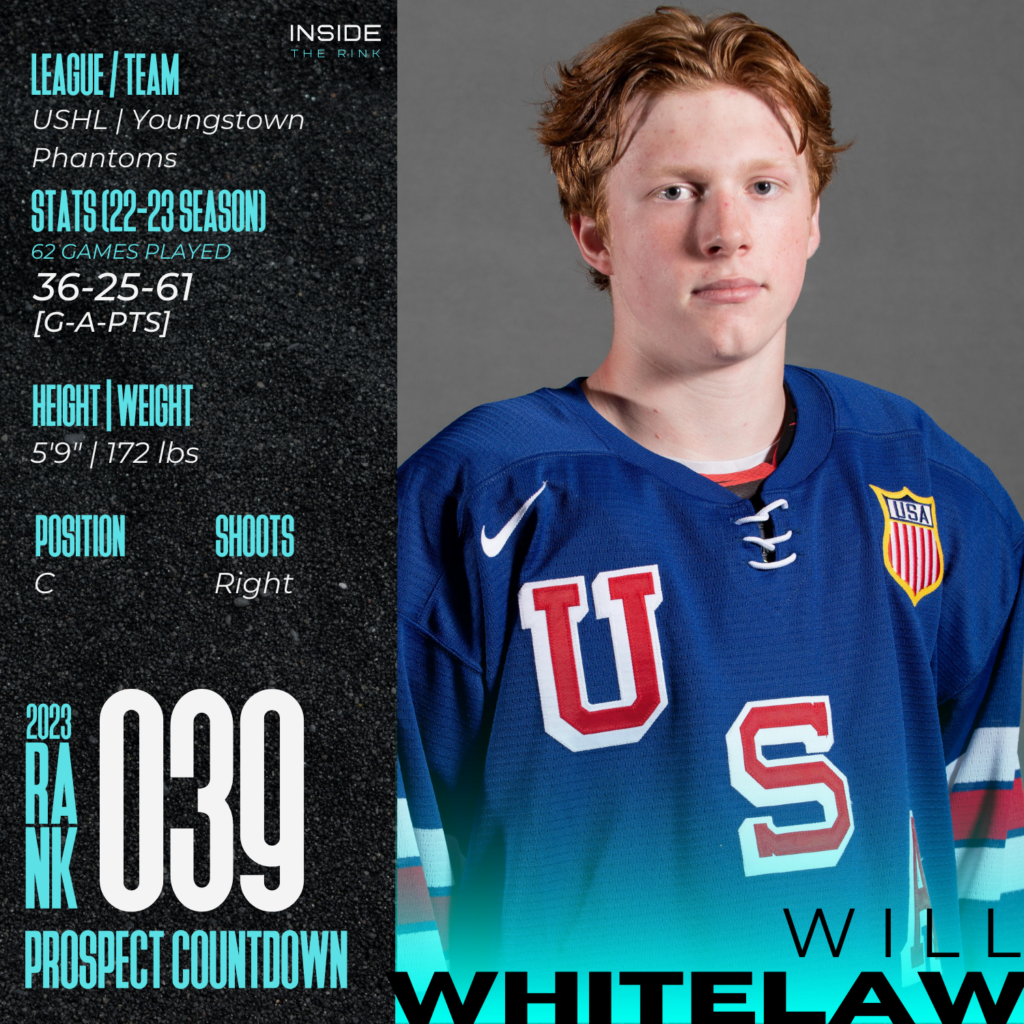 Whitelaw spent his 2022-23 season with the Youngstown Phantoms of the USHL, where he posted 36 goals and 25 assists for 61 points in 62 games. Whitelaw also posted 90 PIMS and a plus/minus of plus 11 in his season-long tenure with the Youngstown Phantoms. Whitelaw has committed to the University of Wisconsin for the 2023-24 season, earning him another year to develop and build his resume for the team that drafts him.
Diving Deeper:
William Whitelaw is an impressive all-around player, and he has the skills to be a solid middle-six forward in the NHL should he develop into what he is projected to become. Let's dive deeper into what makes William Whitelaw such an impressive player.
Forechecking Ability:
Throughout the USHL season, Youngstown had used Whitelaw in a role that saw him in the number one position in the 1-2-2 forecheck system. Not only is Whitelaw reliable in this role, but this is his bread and butter. Whitelaw is constantly battling for loose pucks and putting himself into situations that leverage the play in favor of his team.
"Whitelaw is a shifty and skilled attacking forward who will likely play on the wing at the next level. The undersized forward has undeniable talent with the puck on his stick, and he plays at a high pace."

Tony Ferrari – The Hockey News – Dec. 19th, 2022.
Physicality:
William Whitelaw is definitely a physical player, his size will limit him severely, but it won't stop him from playing either like a pest or with a big heart. William Whitelaw averaged 3.4 hits per game which helped his ability to force turnovers and shift momentum in a split-second.
"Whitelaw hasn't let his small frame stop him from putting a beating on goalies across the United States. His 5-foot-9 frame will be the thing that tears him down the most, but the skill is apparent."

Steven – Daily FaceOff – Oct. 3rd, 2022.
On-Ice Abilities:
Whitelaw has even better puck distribution when he has the puck, and he uses a deceptive pass that mimics a dump-and-chase that confuses most defenders. When the puck gets to the front of the net, there are at least two to three attackers for Youngstown trying to jam the puck past the goaltender. When Whitelaw is not on offense and needs to play defensively, he's usually the last one back in the defensive zone for Youngstown. This is mostly because he plays as the number one in a 1-2-2 forecheck play for the team, and it more often than not causes a star formation back on defense.
Final Thoughts:
William Whitelaw has the potential to be a solid top-9 forward should he transition his game from the USHL to the NCAA and then to the NHL. The intensity that Whitelaw brings to the game when he's on the ice is almost unmatched, and I think that it could be an asset for any team looking to draft an intense player for the future.
Stats via Elite Prospects
Highlights via MyNHLDraft.com
The boys are back after a long break but have plenty to talk about as the playoffs are in full swing. We go series by series, looking at how teams have fared so far and who will come out on top. Thanks for listening! Please rate and review our show on your favorite listening platform. Check out our partner's website at www.insidetherink.com for all your latest hockey news.