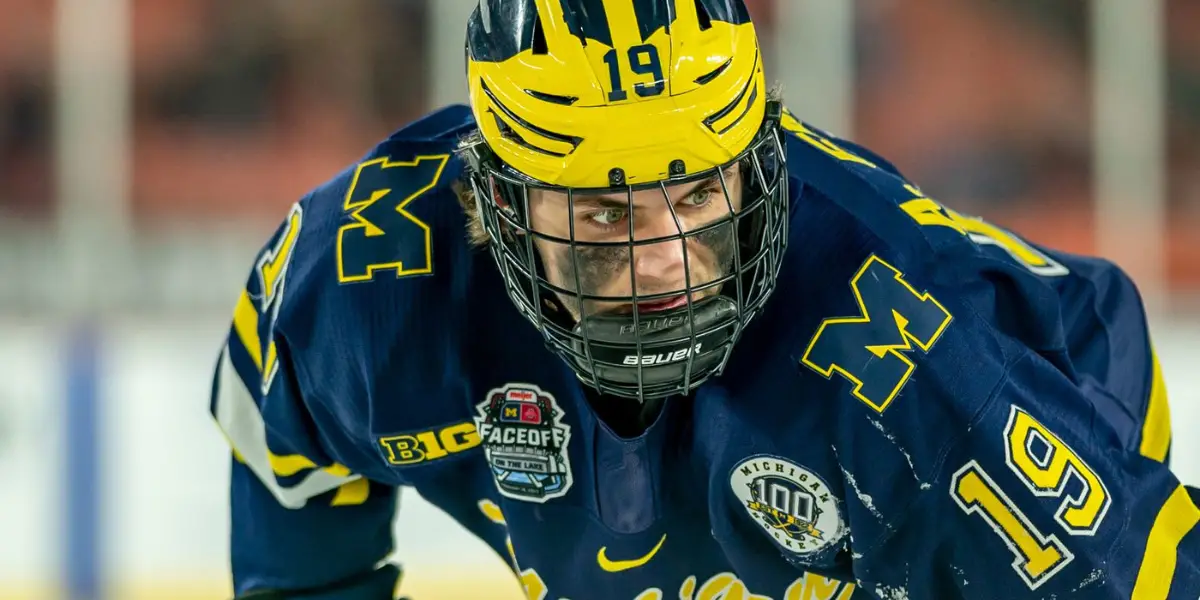 The Scouting Report:
Adam Fantilli from Toronto, Ontario, Canada, born on October 12th, 2004, is one of the top three available prospects in the 2023 NHL entry draft. Adam Fantilli is a unique story, as he did not take the traditional Canadian hockey development path. Adam Fantilli would play in the Greater Toronto Hockey League (GTHL) until the 2019-20 season. Fantilli would jump to the USHS-Prep league before transitioning to the Chicago Steel of the USHL. Fantilli would dominate the USHL for two seasons, establishing himself as a dominant power forward. Fantilli would then commit to the University of Michigan, where he would continue to dominate as a solid power forward. Adam Fantilli could fill out his frame a little bit more if he wants to continue as a power forward in the NHL, as he currently stands at 6'2″ and 187 pounds. Fantilli is already hard to move off of the puck, and he could continue this dominant playstyle as he transitions into the NHL.
Ranked #4 by Inside The Rink
Ranked #2 by NHL Central Scouting (NA Skaters)
Ranked #2 by TSN/Craig Button
Ranked #2 by The Hockey News
Ranked #2 by Recruit Scouting
Ranked #2 by Sportsnet
Ranked #2 by TSN/Bob McKenzie
Conrad Jack of Inside the Rink has Adam Fantilli projected at 2nd overall.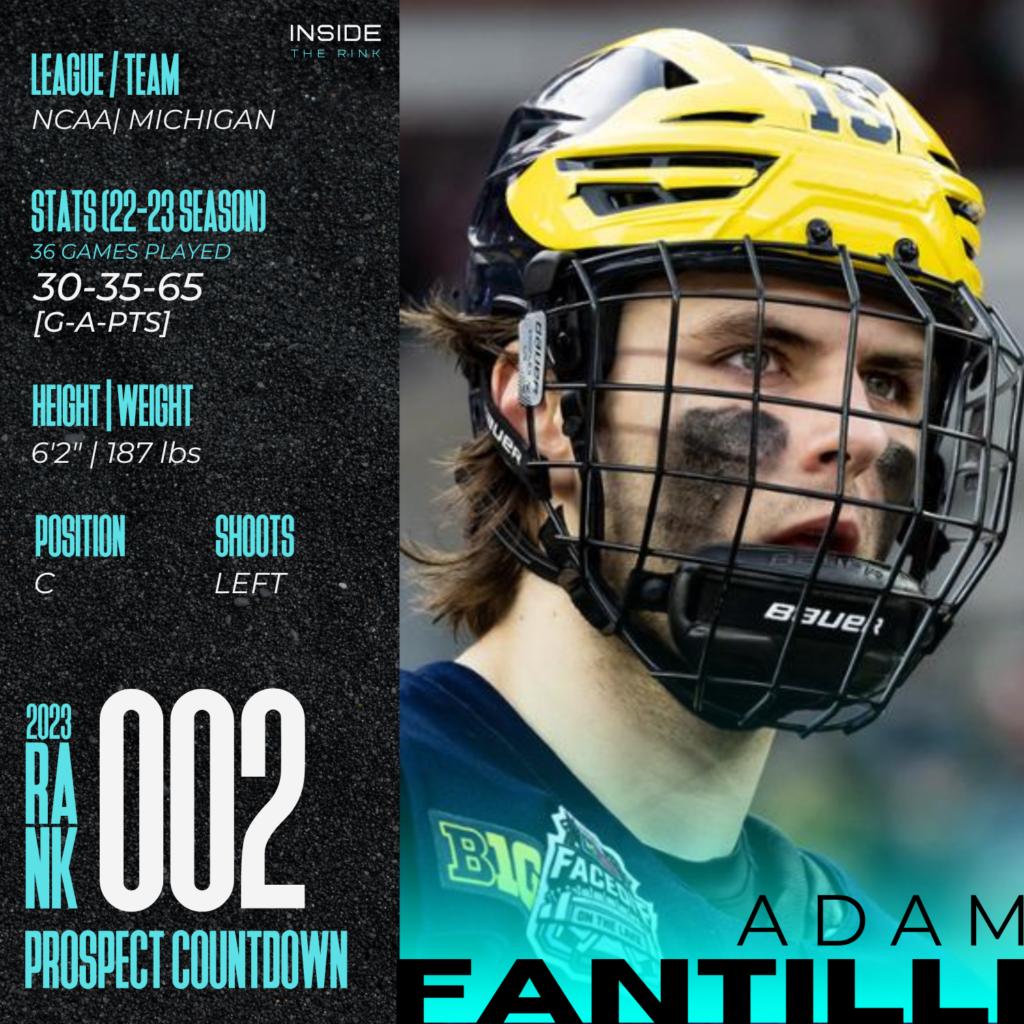 The Anaheim Ducks own the second overall pick in the 2023 NHL entry draft, and they will likely select Adam Fantilli with that pick. Adam Fantilli is no consolation prize. He's the real deal if you want to bring some more hype to your franchise.
"If this was almost any other draft class, Adam Fantilli would have a great chance at going first overall. But just like Jack Eichel back in 2015, he has the misfortune of being draft eligible in the same year as a generation talent with the first name Connor. For Eichel it was McDavid, for Fantilli, it is Connor Bedard."

Matthew Zator – The Hockey Writers – March 8th, 2023.
Diving Deeper:
Adam Fantilli is a dominant power forward, as previously mentioned, let's take a deeper dive into some of his best attributes.
Skating:
Adam Fantilli has impressive skating, simply put, there may not be a better skater in this draft class, without a doubt. Adam Fantilli relies on his skating just like a plant relies on water. Fantilli's acceleration, edgework, and crossovers work together to make his skating one of the best in his draft class.
Fantilli is a strong skater and excels in out-skating his opponents, he will explode past defenders to create plays. Fantilli tends to take wider or longer turns sometimes, which causes him to lose speed. However, he still creates a dominant presence when he has the puck, and this can be easily coached for better when he gets to the NHL.
"At almost 6-foot-2, Fantilli is a talented big man in the middle who is both skillful and competitive. He's an excellent skater who drives play, competes hard, does a lot of heavy lifting in the hard areas of the ice and is not without well-above-average offensive skills."

Bob McKenzie – TSN – Sept. 22nd, 2022.
Playmaking Ability:
Adam Fantilli's playmaking stands out, he creates high-danger chances from the majority of his passes and allows his teammates to score highlight-reel goals.
In a five-game sample from Fantilli, he attempted just 62 passes, zero of them came in the defensive zone, and just 11 came in the neutral zone. Of these 62 passes, 55 of them led to a scoring chance, and 12 led to a goal.
If Adam Fantilli can translate this dominance to the NHL, he will have no problem being an offensive threat and massive asset to the Anaheim Ducks or whichever team he is drafted to.
"He's got a huge frame, skates well and competes hard. He wins a lot of battles and isn't shy to use his big frame to lay out opponents. He has legit high-end skill and can make incredibly skilled plays at full speed."

Corey Pronman – The Athletic – Nov. 15th, 2022.
On-Ice Abilities:
Adam Fantilli has all of the tools to become a dominant NHL center for a lengthy amount of time, his puck-handling skills and willingness to lay a hit stands out. Fantilli elevates those that play around him and can easily push Anaheim to be more competitive than they have been previously.
Final Thoughts:
Adam Fantilli could do some work to his game, but every player could, Fantilli is no exception, and Connor Bedard is no exception either. With one of the strongest developed games in this draft class, Fantilli could excel early on alongside Bedard as a solid draft pick. Fantilli has the drive and the dedication to be a hardworking power forward in the NHL.
I have full confidence that Adam Fantilli will be drafted second overall to the Anaheim Ducks, though I have seen crazier things happen on draft day. Fantilli will become a household name and could become a player competing for the title of the best player in the world. In almost any other draft class, Adam Fantilli would be a first-overall pick.
Stats via Elite Prospects
Highlights via MyNHLDraft.com
The boys are back after a long break but have plenty to talk about as the playoffs are in full swing. We go series by series, looking at how teams have fared so far and who will come out on top. Thanks for listening! Please rate and review our show on your favorite listening platform. Check out our partner's website at www.insidetherink.com for all your latest hockey news.