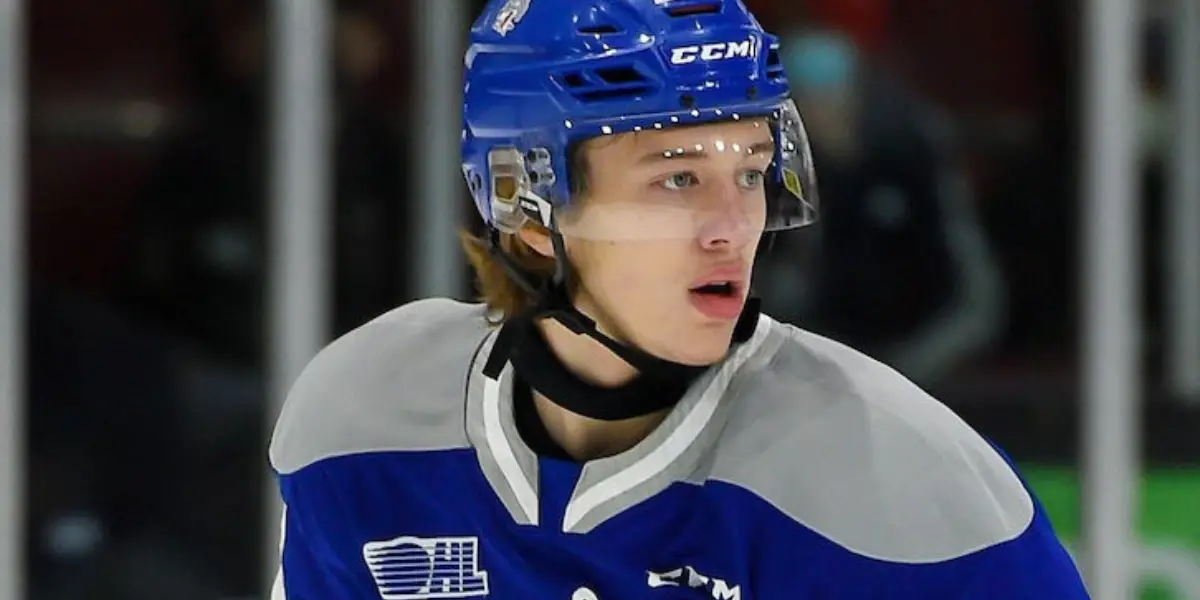 The first-overall selection from the 2021 OHL Draft, Quentin Musty is a dynamic winger with 'top-six' potential at the National Hockey League level. After a strong season with the Sudbury Wolves in 2022-23, Quentin had twenty-six goals and fifty-two assists for seventy-eight points in fifty-three games.
The 17-year-old winger, mostly known for his passing ability, isn't one-dimensional either. Using his speed and high offensive awareness, Quentin Musty can drive his own play and score goals himself when needed. Musty has very good finishing abilities, capitalizing on high-danger chances in and around the slot area. 
In personal viewings of Quentin Musty this season, there was a lot to like about the former Jr. Sabre. For a player who's got some size along with the ability to create chances in the offensive zone, there are so many reasons teams would be happy to draft Quentin Musty. The Sudbury Wolves forward is also a weapon on the powerplay and isn't afraid to make highlight reel plays. Given his unique blend of playmaking and agility, I expect Quentin to be a key piece to any franchise that selects him moving forward.
One thing I love about Quentin Musty is how he can beat opponents in so many different ways. Being such a dynamic playmaker who has good puck-handling ability can go a long way. Another thing you really notice is when the 17-year-old is feeling confident on the ice. Unlike most, you can really see that edge in Quentin's play when he's locked in. From my viewings of the player, there's just so much to like about Musty's style of play. As he grows into his strengths and develops even more attributes, surely he will be a threat at the pro level. I was actually quite taken away by how much speed Quentin plays with and his strength down low, quickly turning low-event plays into high-danger opportunities. 
When looking at his projection for the National Hockey League level, it's clear Quentin Musty can definitely grow into a 'top-six' scoring winger. I think he's still raw in certain areas, but with such a high ceiling, any team in the fifteen to twenty-five range would have a great selection. He's still going to need time to develop, like a lot of prospects, but he's got a lot of tools that should translate to the pro game well. The Hamburg, New York native also packs quite the release while also being a dynamic puck mover.
Quentin Musty and the rest of the Sudbury Wolves were a fun team to watch last season, and I can't wait to see what 2023-24 has in store. The Sudbury Wolves organization has become a very strong program with developing talent and is definitely a team to keep an eye on. After drafting Caden Taylor in this year's draft and bolstering that Wolves offense, the opposition is going to have some serious trouble next season. 
Thanks for reading! For more hockey coverage, follow me on Twitter @ITR_Anselmo.
WELCOME BACK TO LEAFS LATE NIGHT! Presented by Inside The RinkRoscoe / Galaxy Biehn – Dubas Out?!?- Remember All The Good Times We Shared- I Don't Love Our Options- Matthews Next Deal?- Keefe's Fate- AI MascotsSPORTS! IS FUNMERCH IS AVAILABLE!JOIN OUR DISCORD!Remember to follow us on Twitter @LeafsLateNight & IG @LeafsLateNightCheck out Mike, Josh, and Nathan's articles on the Leafs + many more! insidetherink.com