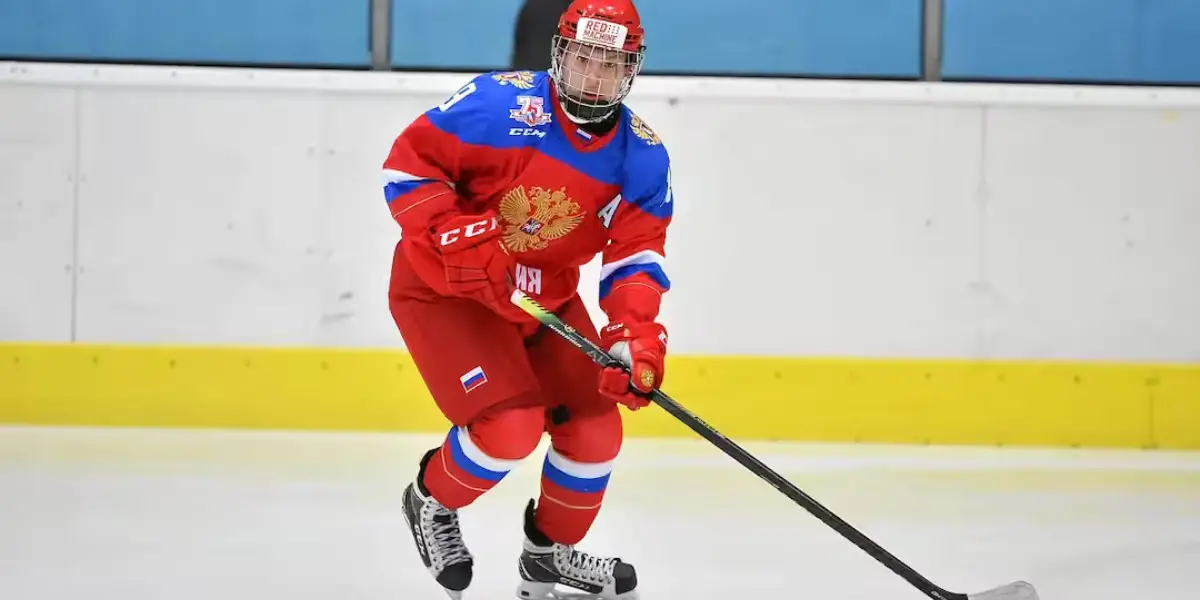 The Scouting Report:
Matvei Michkov, from Perm, Russia, born on December 9th, 2004, is touted as the best Russian draft-eligible prospect since Alex Ovechkin. However, a curious case for Matvei Michkov is his contract till the end of the 2025-26 season and possibly never transitioning from the KHL to the NHL. Standing at 5'10" and 148 pounds, Michkov could work on filling out his frame some more. Since the 2020-21 season, Michkov has played either in the MHL, VHL, or the KHL. Michkov is currently signed to SKA St. Petersburg and has played with its minor league affiliate teams in the MHL and VHL. However, Michkov would be loaned to HK Sochi of the KHL, where he found his biggest success with a KHL club.
Comparatively, Michkov is, without a doubt, more effective in tournament competition. His entire tournament statistics via Elite Prospects highlight his effectiveness in tournaments compared to the regular season.
As for Michkov's regular season statistics, he is still impressive in that regard, but his play almost elevates in the playoffs and tournament competition. There is no other prospect like Matvei Michkov in the 2023 NHL entry draft that has a fifth gear come tournament and playoff time.
Ranked #2 by Inside The Rink
Ranked #2 by NHL Central Scouting (EU Skaters)
Ranked #4 by TSN/Craig Button
Ranked #4 by The Hockey News
Ranked #3 by Recruit Scouting
Ranked #4 by Sportsnet
Ranked #4 by TSN/Bob McKenzie
Conrad Jack of Inside the Rink has Matvei Michkov projected at 5th overall.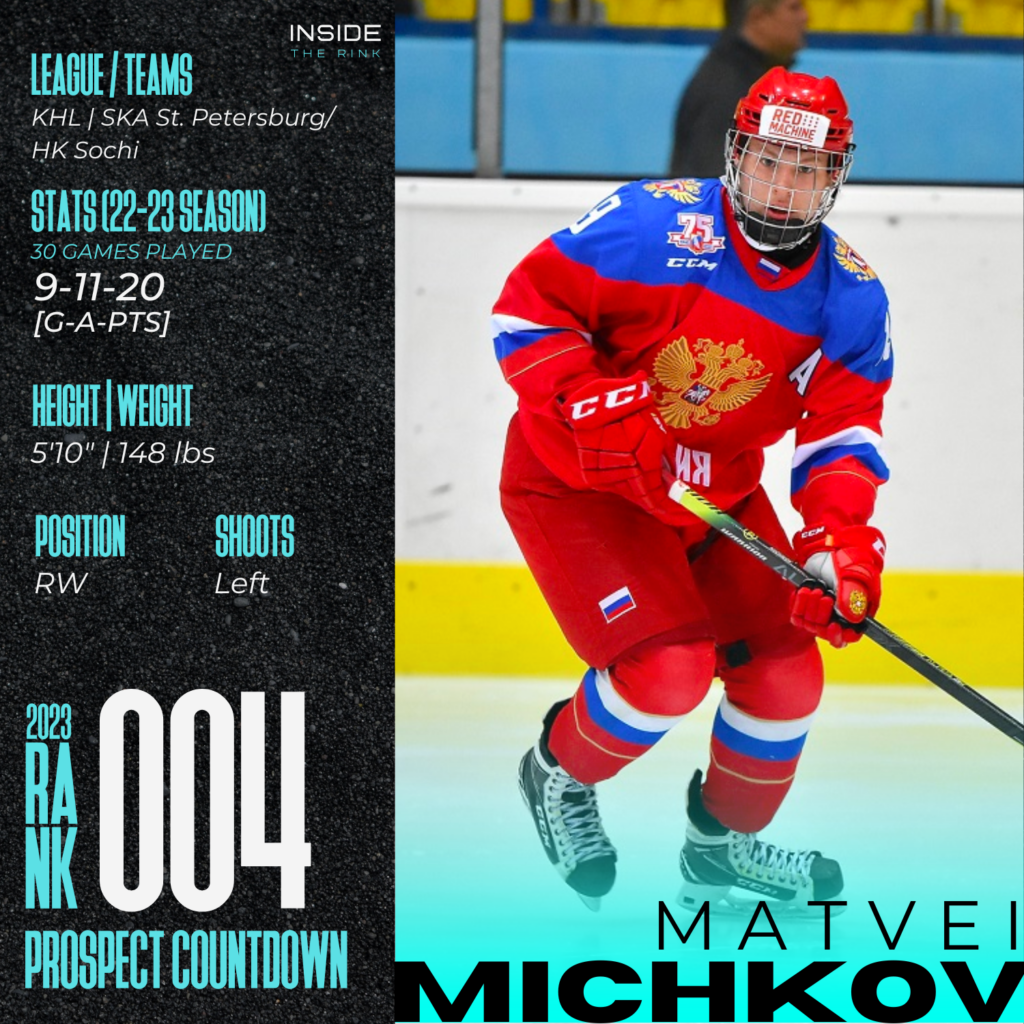 Michkov was once touted to be the first overall pick over Connor Bedard, which is definitely high praise to receive. With Bedard's draft-eligible season being one of the best in recent memory, Michkov should be a lock to contend for a top-five draft pick to whatever team wants to choose him. Although, teams should be lining up to draft Matvei Michkov in the 2023 NHL entry draft as soon as possible.
Michkov has built an impressive resume of awards and achievements throughout his career, and if he transitions to the NHL, he would definitely add a lot more to that list. The following screenshot via Elite Prospects highlights all of Michkov's awards and accomplishments by season.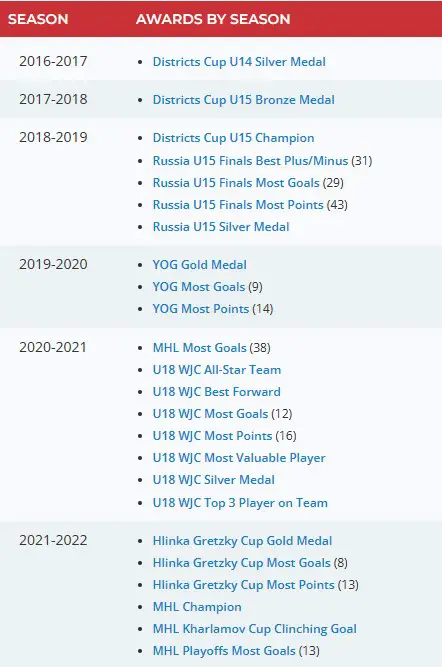 This list of awards and accomplishments is impressive for your draft stock, especially when you have taken the right steps in developing your play style. Matvei Michkov is an impressive young talent and deserves the title of the best Russian draft prospect since Alex Ovechkin. Teams shouldn't be too worried about Michkov staying in Russia until the end of the 2025-26 season, as this will allow him to develop and become dominant right away in the NHL. Michkov's case is similar to Kirill Kaprizov's because Kaprizov was drafted in the 2015 NHL entry draft and didn't come to the NHL until the 2020-21 season.
Diving Deeper:
I can talk about how impressive Michkov is all day, but I want to break down what makes him so impressive. Let's take a deeper dive into Michkov's best attributes.
Offensive Creativity:
I didn't know what to call this, Matvei Michkov is so incredibly dominant offensively that it is mindblowing. While playing a mediocre HK Sochi club, Michkov posted 20 points in 27 games. Michkov is the guy when it comes to offense, though his limited ice time and the KHL being a lower-scoring league are massive factors in his lower-point totals. When Michkov has the puck, Michkov will look for an open shooting lane before he passes the puck. Being a pass-first player sometimes isn't beneficial, but Michkov has definitely found a nice balance between the two.
Michkov uses his smaller frame and quick feet to blow by the defenders, and if Michkov doesn't get a clean break in front of the goaltender, he will whip around the goaltender to try and create a scoring chance. His creativity when he has the puck is far beyond the others in this draft class, almost certainly putting him in his own category. Alongside this creative intelligence that Michkov possesses, Michkov has a super unique IT factor, which creates a level of excellency for himself. This offensive creativity and all of the other factors that I have mentioned are so incredibly valuable, and it will be hard for teams to consider whether or not they want to wait a few years for the arrival of Matvei Michkov.
"Michkov's brilliance comes primarily from his ability to read and process the play at an extremely advanced level, make his decisions quickly, and execute on them with incredible consistency, whether that's ripping a patterned shot (his one-timer, his standstill wrister, his curl-and-drag, etc.), a quick move into a pass, a sudden stop-up, or an attacking cut."

Scott Wheeler – The Athletic – Nov. 1st, 2022.
Shooting Ability:
For Matvei Michkov's total frame, he has one incredibly accurate and powerful shot, and he is able to use both his accuracy and power with a highly tactical approach. Anytime Matvei Michkov has the puck on his stick, he is, without a doubt going to get a good shot on goal.
Across a four-game sample, I categorized Matvei Michkov's shots into three specifications, zone entrance shots, shot assists, and received shots. For zone entrance shots, this is specifically when Michkov enters the offensive zone and shoots on the net. For shot assists, Michkov took a shot on goal and created a rebound opportunity or passed to his teammates. Finally, for received shots, either Michkov retrieved a loose puck, received a pass, or took a shot from a rebound.
When Michkov is taking zone entrance shots, this is where he is the most successful. Across four games, he took 13 shots alone when entering the offensive zone; six of them were high-danger chances, four were low-danger chances, and the other three missed the net entirely.
When Michkov's shots fall under shot assists, he passed to his teammates 17 times and created four rebound opportunities across this four-game sample. Only three of his passes created high-danger opportunities, and only one led to a goal. When there was a rebound opportunity created by Michkov, two of them were high-danger chances, and one led to a goal.
Finally, for Michkov's shots that were categorized under received shots, Michkov retrieved a loose puck a total of seven times in four games, received a pass five times, and took a shot off of a rebound just two times. There were no high-danger chances created in this category, though the best team play from Michkov and HK Sochi happened when Michkov was more involved in a complete play.
"A very gifted, very talented player. But he's the wild card of all wild cards. The skill is terrific but the situation is one that leaves teams and people, 'Okay, what are we getting and when are we getting him?"

Craig Button – TSN – Sept. 29th, 2022.
Final Thoughts:
Michkov has the potential to be one of the NHL greats should he choose to come and play in the NHL after his current contract expires. His shot is definitely the best aspect of his game, as it's what he likes to show off the most. Michkov also has a well-balanced game. For what Michkov lacks in size, he makes up for in his effectiveness on and off the ice.
If there were no concerns about his situation in Russia, the 2023 NHL entry draft would be headlined by a top-three of Bedard, Michkov, and Fantilli. The sky is the limit for Matvei Michkov.
Stats via Elite Prospects
Highlights via MyNHLDraft.com
The boys are back after a long break but have plenty to talk about as the playoffs are in full swing. We go series by series, looking at how teams have fared so far and who will come out on top. Thanks for listening! Please rate and review our show on your favorite listening platform. Check out our partner's website at www.insidetherink.com for all your latest hockey news.