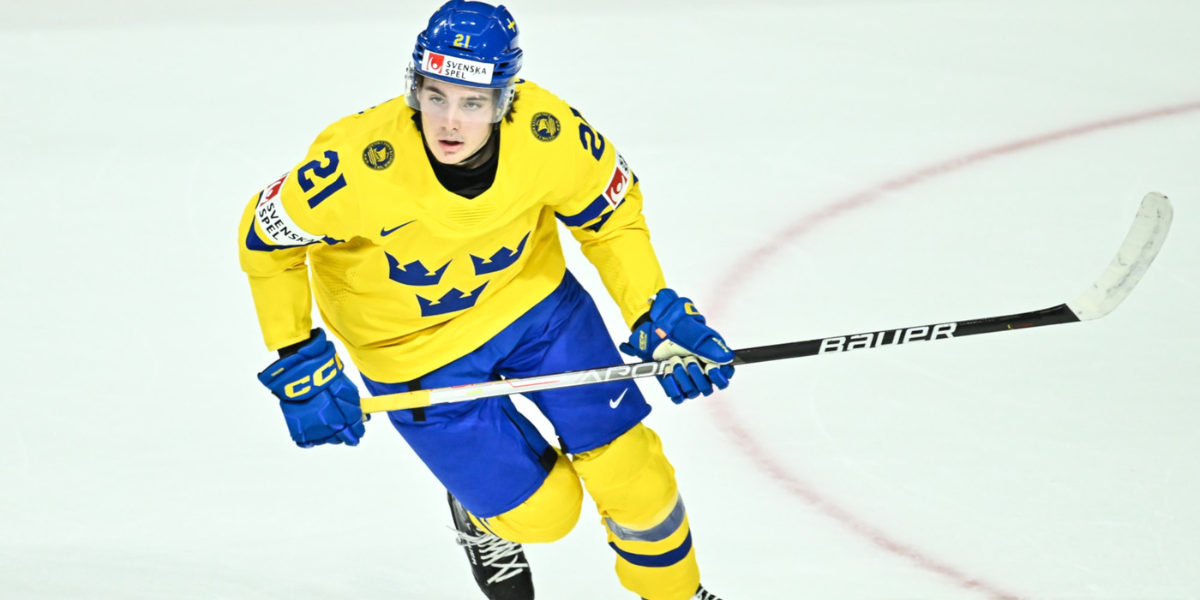 The Scouting Report:
Leo Carlsson from Karlstad, Sweden, born on December 26th, 2004, is one of the best available prospects in the 2023 NHL entry draft. Carlsson is a dominant two-way forward with an incredibly high ceiling, as shown by his consistent development and his quest to play at a higher level. For two straight seasons, Leo Carlsson has been at the senior level in the SHL, playing for Orebro HK in a full-time role. Carlsson may fall a few spots in the draft due to him being committed to Orebro HK till the end of the 2024-25 season and likely longer. Carlsson will play any forward position, though he's strongest when he's a center. Carlsson plays a solid two-way game that will make it incredibly hard to want to move him on the wing. Leo Carlsson stands at 6'3″ and 194 pounds, a frame that Carlsson has leveraged to develop his two-way game.
Ranked #3 by Inside The Rink
Ranked #1 by NHL Central Scouting (EU Skaters)
Ranked #3 by TSN/Craig Button
Ranked #3 by The Hockey News
Ranked #6 by Recruit Scouting
Ranked #3 by Sportsnet
Ranked #3 by TSN/Bob McKenzie
Conrad Jack of Inside the Rink has Leo Carlsson projected at 3rd overall.
It will test Leo Carlsson's development and character should he choose to transition to the NHL in the 2025-26 season. If he goes at third overall like he's projected to, he will be a Columbus Blue Jacket, and the Blue Jackets could use a strong two-way centerman.
Diving Deeper:
Some of Leo Carlsson's best attributes aren't what you'd expect, Carlsson isn't known for putting up a ton of numbers offensively, but he's known for other pieces of his game. Let's take a deeper dive into these attributes.
Situational Awareness:
I don't know if there is a player in this draft that has similar situational awareness as Leo Carlsson and is currently playing with men. Carlsson has an incredible ability to process and understand the game as it's happening on the ice, allowing him to help push forward an advanced play on the ice. This incredible read helps Carlsson get back sooner to help minimize all of the odd man rushes that the defensemen may encounter. This is incredibly valuable to Carlsson's teammates and coaches, draft stock, and player development. Any team looking to get a big, fast, and smart-minded two-way forward should have Leo Carlsson at the top of their list.
"In a similar mold to Fantilli, Carlsson is a well-rounded forward with a projectable frame. He has excellent puck skills and the ability to beat players with his hands – even in the SHL, where he already established himself as a regular player in his draft-1 season."

Eetu Siltanen – Dobber Prospects – Oct. 20th, 2022.
Skating:
For Carlsson's size, he has incredible skating and is a blend of shifty and smooth when the time allows for it to happen. Carlsson doesn't rely on his skating, which is something that other players get into a habit of. Carlsson relies on his hockey IQ and his vision to carry him in play. Carlsson doesn't possess lightning speed either, though. He is far quicker than most on the ice. When the play is transitioning from offense to defense, you can almost always count that Leo Carlsson will be in the defensive zone.
"The big Swedish forward, who has the versatility to play wing or centre, depending on the circumstances, has already earned some great early-season reviews for his play in Europe."

Bob McKenzie – TSN – Sept. 22nd, 2022.
Transitional Ability:
Probably one of the most impressive aspects of Carlsson's game is his transitional abilities. Carlsson never looks out of place on the ice, and that isn't necessarily because he is dominant. It's more due to Carlsson's hockey IQ and situational awareness that allows for this level of transitional ability. It is certainly a massive asset to Carlsson's game that he is so sound when he transitions, but his ability to never look out of place is probably his best asset.
"His skill, hockey sense and compete level are all excellent. He's able to create a ton of offense in the high-percentage areas with game-breaking skill elements to boot."

Corey Pronman – The Athletic – Nov. 15th, 2022.
On-Ice Abilities:
When considering all things relative to Leo Carlsson's play that we have discussed so far, Carlsson's overall game cannot go unnoticed. His combination of size, puck control, and hands make it so incredibly difficult to contain him offensively. Pair that with his strong skating, it's even harder to contain him.
Carlsson most recently put up ten goals and 15 assists for a total of 25 points in 44 games for Orebro HK in the SHL. This may not be the most appealing stat line, but Carlsson is a teenager playing against grown men, and to be this dominant so far is a rarity. Carlsson is so incredibly effective offensively that when he is given the room to handle the puck and make a play, there is almost no doubt that Carlsson will create a high-danger chance.
Carlsson's defensive game is far stronger than his offensive game, which is incredible, considering that Carlsson is super strong offensively. Carlsson will almost always recover loose pucks and create a play in the most unlikely of scenarios.
Final Thoughts:
Carlsson has the potential to become one of the two-way forwards to play in the NHL, and that's high praise, but that praise comes from highly notable people like Bob McKenzie and Craig Button. Any team that is able to draft Leo Carlsson is easily set up for a strong, defensively tailored game.
Stats via Elite Prospects
Highlights via MyNHLDraft.com
The boys are back after a long break but have plenty to talk about as the playoffs are in full swing. We go series by series, looking at how teams have fared so far and who will come out on top. Thanks for listening! Please rate and review our show on your favorite listening platform. Check out our partner's website at www.insidetherink.com for all your latest hockey news.