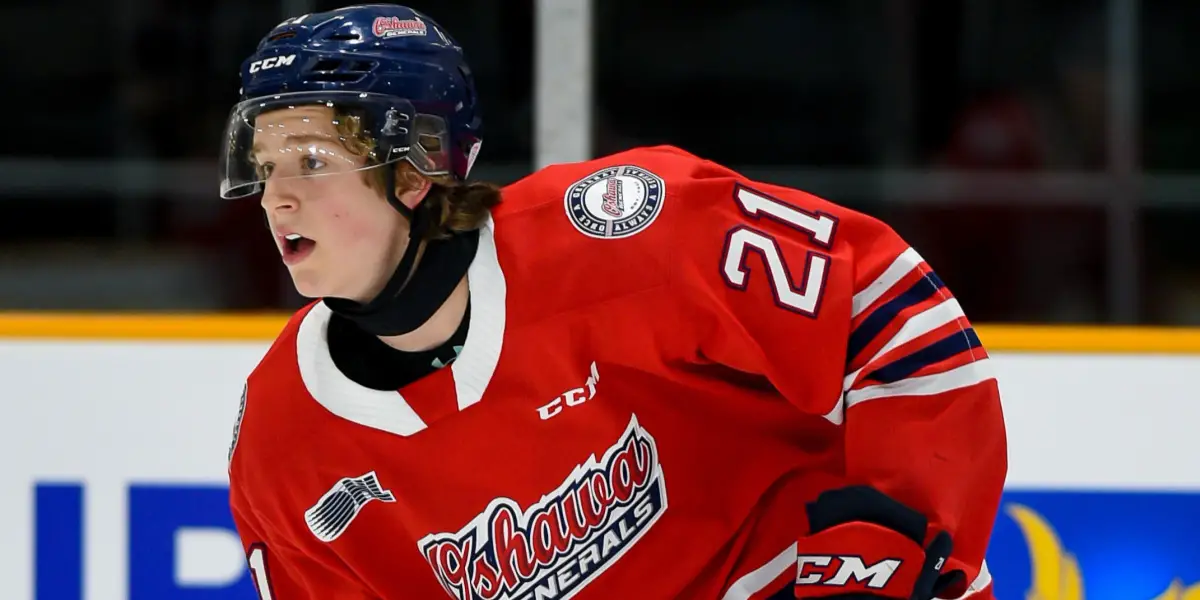 Oshawa Generals forward Calum Ritchie is one of the most intriguing prospects in this year's NHL Entry-Draft. After spending his Ontario Hockey League career with the Oshawa Generals, Calum Ritchie has found immediate success in his first two seasons. After playing in fifty-nine games with Oshawa this season, Calum had twenty-four goals and thirty-five assists for fifty-nine points. The right-handed forward is versatile and can play both at center and on the wing when needed.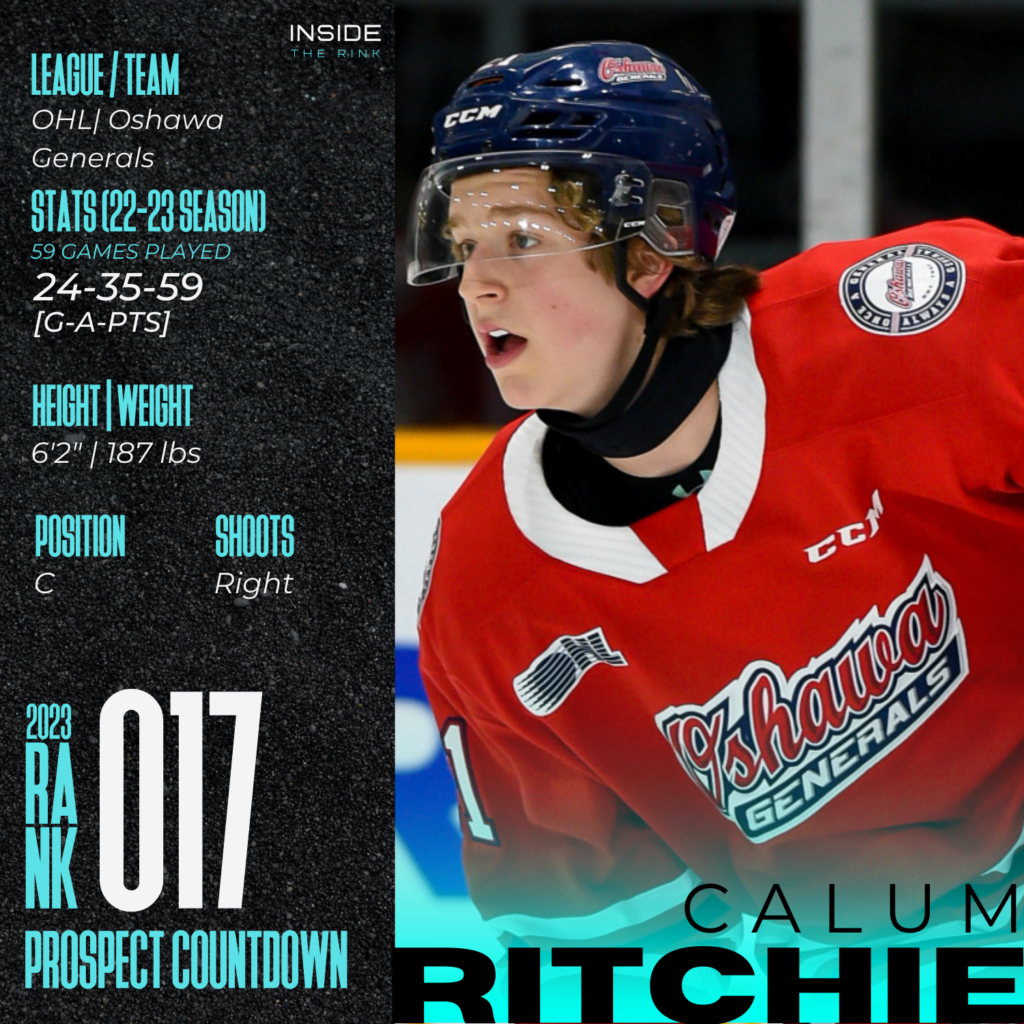 Most projections have Calum Ritchie labeled as a 'middle-six' center at the National Hockey League level, but I'm a little higher on the former Oakville Ranger. Using a unique blend of size and skill, Calum Ritchie is one of the most complete prospects in this upcoming class. The 18-year-old is already fairly responsible defensively and does well on draws. In personal viewings of the Oshawa Generals forward, I've been taken away by his overall game, making him one of my favorite prospects from this crop of players. 
Another couple of things I love about Calum Ritchie is how effective his shot can be and how mobile he already is. On the powerplay for the Generals, Ritchie is such a dynamic weapon and one that opponents struggled to contain. The Generals forward can beat you from along the half wall with his quick release or drive to the net using his size. It's very rare to find a complete package like Calum Ritchie outside the first ten selections of the draft, making him absolutely one of my names to watch in the ten to twenty range. 
At the National Hockey League level, I have Calum Ritchie currently ranked as a 'top-six' center. Although he might not have the high impact of such prospects, Calum's unique blend of traits makes me extremely confident in his jump to the next level. A significant reason for my projection is based on a few things, like Calum's confidence with the puck and his sound defensive awareness, leading me to believe he'll only improve as he gets older. When evaluating 'top-six' talent, Calum clearly has the hands and shot of that caliber, giving him that high ceiling offensively you want from a 'top-six' player. 
Whatever team is lucky to draft Calum Ritchie, I don't think it'll be too long before he gets his shot at the National Hockey League level. Obviously, I think he needs a bit more time to develop stronger traits, but he's not exactly too far off. I'm expecting Calum to return to the Generals again for the 2023-24 season, having a real strong offensive year. With Oshawa having a pretty nice draft last month, adding former York-Simcoe center Owen Griffin, this Generals team is likely going to be fun to watch. 
Thanks for reading! For more hockey coverage, follow me on Twitter @ITR_Anselmo.
WELCOME BACK TO LEAFS LATE NIGHT! Presented by Inside The RinkRoscoe / Galaxy Biehn – Dubas Out?!?- Remember All The Good Times We Shared- I Don't Love Our Options- Matthews Next Deal?- Keefe's Fate- AI MascotsSPORTS! IS FUNMERCH IS AVAILABLE!JOIN OUR DISCORD!Remember to follow us on Twitter @LeafsLateNight & IG @LeafsLateNightCheck out Mike, Josh, and Nathan's articles on the Leafs + many more! insidetherink.com