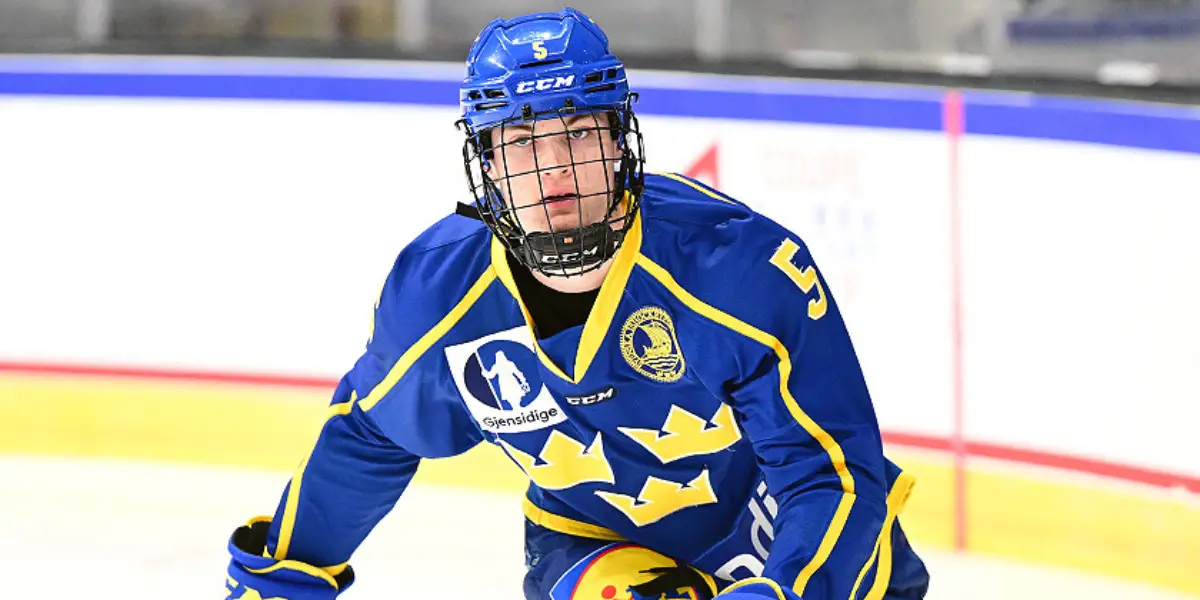 Tom Willander is a steady and smooth right-handed defensive prospect out of Sweden who is eligible to be selected in the 2023 NHL draft. Born on February 9th, 2005, Willander has spent the last five seasons climbing the Swedish hockey ladder playing for three different organizations (Flemingsberg IK, AIK, and Rogle BK). In 2022-23, his draft year, he played most of the season in Sweden's J20 division for Rogle BK, scoring 25 points in 39 games. He was allowed to get his feet wet in the SHL for a pair of games and then represented Sweden at the U18 World Championship tournament in April. In that tournament, he led Sweden's defensemen in ice time and was second among them in scoring with three goals and five assists in seven games providing big plays in every zone on Sweden's path to a silver medal. 
Willander has shot up draft boards as the season progressed. Initially projected as a second-round shoo-in, he is now seen as a top 5-7 defenseman in this draft. With a projectable 6-1 179 lbs. frame, he provides a stable presence on the blue line and doesn't have any debilitating weaknesses in his game.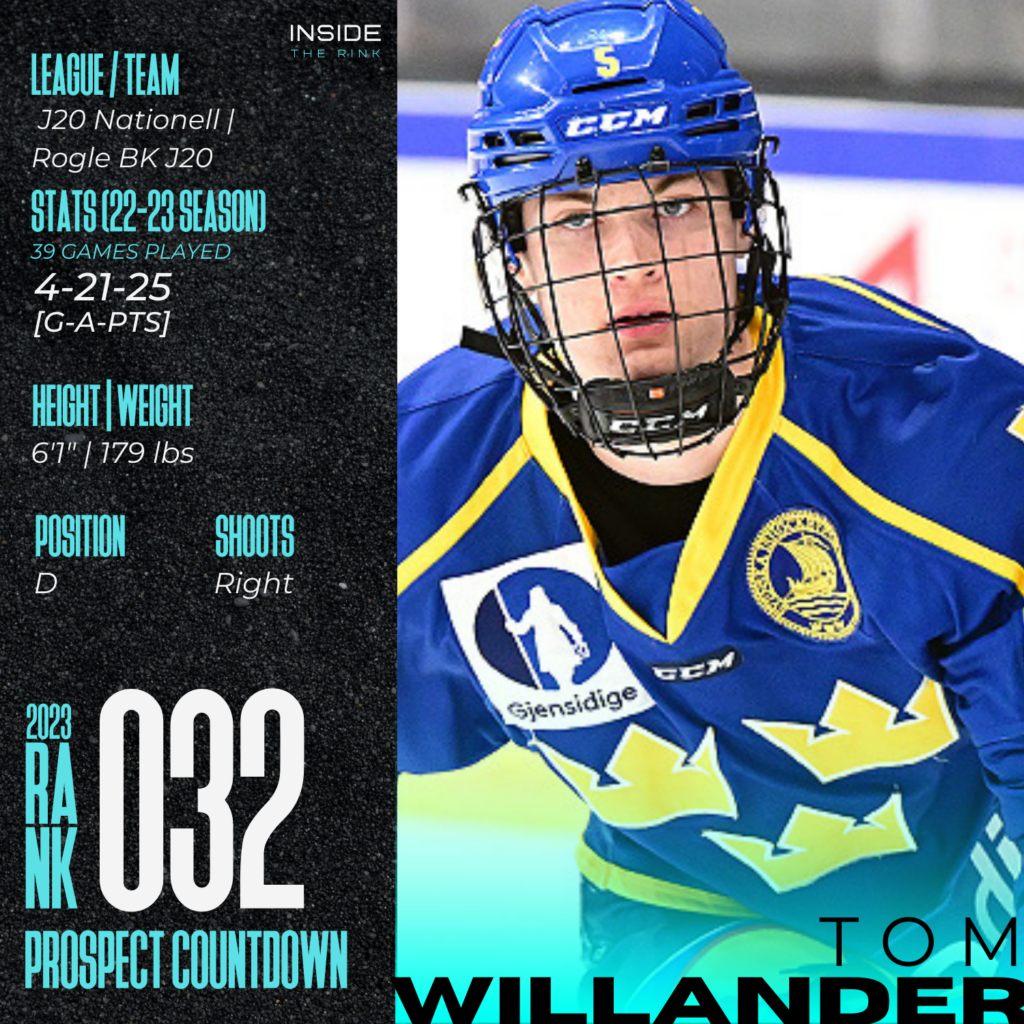 Scouting Report
At first glance, Tom Willander is a "jack of all trades, master of none" kind of defenseman. He doesn't have the dynamic skating ability or vision of his Team Sweden teammate, Axel Sandin-Pellikka. He also doesn't possess the physical snarl of fellow draft-eligible defenseman Jakub Dvorak. What Wallinder does provide are less noticeable yet highly technical traits that go a long way toward his team's success on a nightly basis. 
Puck-Moving
With the puck on his stick, Willander is poised beyond his years. Whether he holds the puck to lure forecheckers to him before moving the puck or he sees an opportunity to quickly turn it up ice with an 80-foot stretch pass, his first pass is always crisp and accurate. 
Side note: Shots are often said to have a "quick release." Players like Connor Bedard and Auston Matthews can drag and lean on their sticks to generate a tremendous whip on their stick. Willander does this when passing the puck. He can be at a complete standstill and pass the puck up ice like it was shot out of a cannon. 
Related Story: 2023 NHL Draft – Nashville
I mentioned previously that Willander isn't the most dynamic skater. That's not to say he's a poor skater. His forward stride lacks explosion, but he has decent straight-line speed after a couple of strides. He's capable on his edges; I would call his edge work "league-average." When he is leading a rush, he has great lateral mobility and uses it to protect the puck from opposing F1 forecheckers. 
In the offensive zone, he does his best work along the blue line. Like with his passes, he has a quick release on his shot from the point, and it gets through to the net or finds sticks in front more often than not. He easily walks the blue line and is adept at opening his hips to freeze pursuers and open up passing or shooting lanes. These qualities are what garnered him top powerplay minutes for Team Sweden over the more offensively gifted Sandin-Pellikka at the U18s.
Defending the Rush
The most impressive aspect of Willander's defensive game is his ability to kill rushes early. He times his pinches so effectively that the winger he engages often can't make a clean pass to a teammate from the boards. This is a skill that will be useful in the NHL, where most teams run a forecheck that requires the strong-side defenseman to pinch along the boards. 
He is a tremendous backward skater with great gap control and is cerebral enough to read how his teammates are backchecking. This allows him to determine how to engage with the attacking player. When the rush is coming on his side of the ice, he explodes from side to side with backward crossovers luring attackers to the boards before sealing them off. If attackers attempt to get to the middle of the ice, Willander is a highly skilled poke checker and can strip a forward of possession with ease. 
Other Areas of Strength
In the defensive zone, Willander rarely loses his check. The player he is covering is never allowed an easy opening to receive a pass. He's also smart and capable of clearing the front of his team's net and finding loose pucks around the crease. There aren't many rebound opportunities when he is defending the net.
What Needs Improvement
I previously mentioned how great Willander is at pinching along the boards to deny the strong-side winger a clean breakout. Sometimes he is overly confident in this ability, and it can lead to poor judgment, and a puck will get by him and lead to an odd-man rush chance the other way. 
He also needs to work on the consistency of his physical play. When he is in pursuit of a puck carrier in the defensive zone, he rarely uses his body to separate the player from the puck. He prefers to defend with his stick, but stronger opponents can fend him off. He has shown the ability to play more physically low in the zone but needs to do so more often.
His decision-making could use some refining as he moves lower into the offensive zone with the puck on his stick. He sometimes displays great mobility and will carry the puck down the wall looking for a seam pass to open up. That's a very positive trait and very projectable at the next level. He needs to be more selective with the passes he makes in that situation, however. He tends to attempt low-percentage, ambitious passes to the middle of the zone, which often leads to turnovers.   
Looking Ahead to the Draft
Tom Willander will likely be selected in the first round of the 2023 NHL draft. NHL General Managers value defensemen and centers more so than wingers with their high selections. Willander has shown to be a reliable and cerebral defender with some offensive upside. He will likely project as a middle-pairing defenseman at the NHL level and see some time on the penalty kill and maybe even the powerplay if he continues to grow his offensive game. He is still a few years away from playing NHL hockey, but if the way he progressed this season is any indication of things to come, we may see him on NHL ice sooner than later.