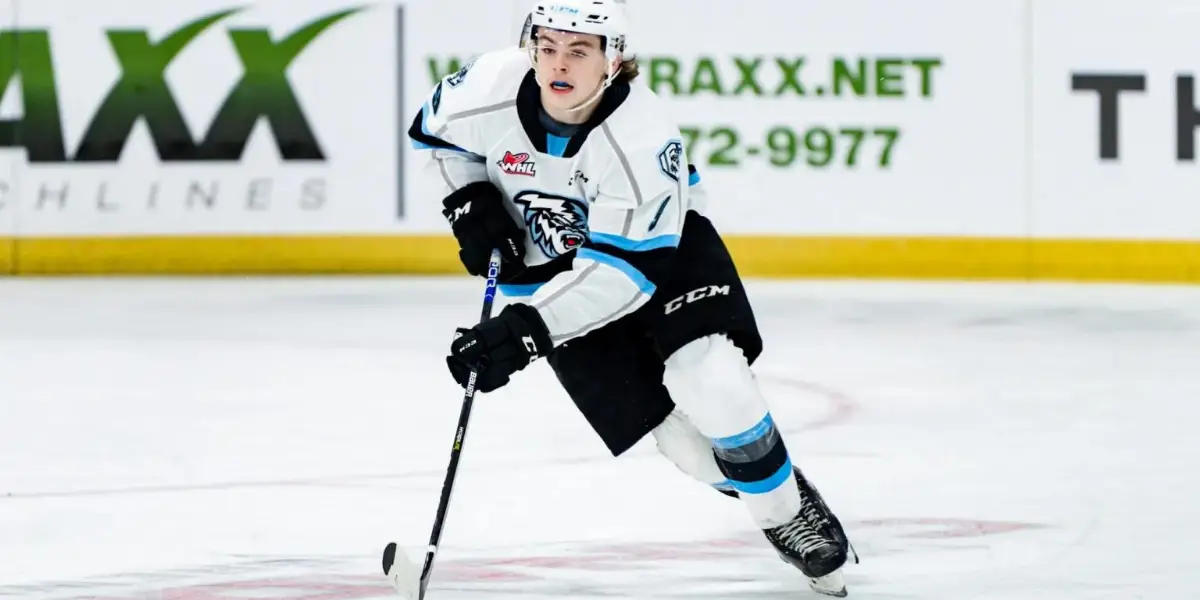 The Scouting Report:
Zach Benson from Langley, British Colombia, Canada, born May 12th, 2005, is a top prospect eligible for the 2023 NHL draft in Nashville. Benson is an incredible passer, and it will be interesting to see come NHL entry draft day if he moves up or falls a bit in the rankings. While I don't see Benson falling at all, his size might make teams a little hesitant to draft him. Listed at 5'10" and 159 pounds, Zach Benson isn't small, but there is a lot of depth in this draft. However, what Zach Benson has in his favor is the fact that he is a high scoring forward for the Winnipeg Ice of the Western Hockey League. In his 60-game stint, Zach Benson posted 36 goals and 62 assists for 98 points with the Winnipeg Ice. You could argue that in any other year that isn't 2015 or 2016, Zach Benson is a first-overall draft pick in any draft class.
Ranked #7 by Inside The Rink
Ranked #6 by NHL Central Scouting (NA Skaters)
Ranked #14 by TSN/Craig Button
Ranked #9 by The Hockey News
Ranked #4 by Recruit Scouting
Ranked #7 by Sportsnet
Ranked #5 by TSN/Bob McKenzie
Ranked #5 by Daily Faceoff
Ranked #5 by DobberProspects
Ranked #6 by Draft Prospects Hockey
Conrad Jack of Inside the Rink has Zach Benson projected at 4th overall.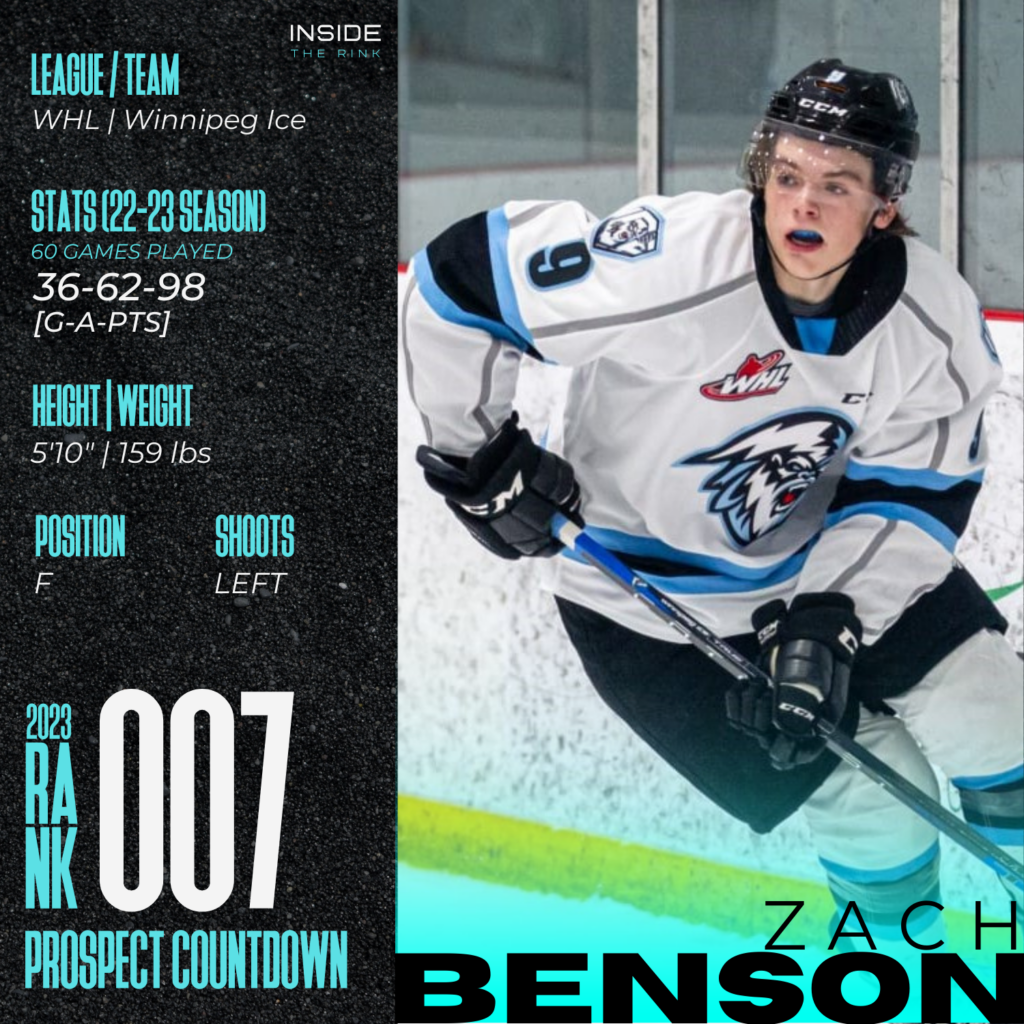 I don't see Zach Benson falling out of the top five. Benson has infectious energy on the ice, and his teammates are elevated to how Benson plays. Benson works hard and will push himself to the absolute limits for his teammates, and this is the kind of guy you don't typically find going outside of the top five.
Diving Deeper:
I've highlighted some of Zach Benson's attributes, so let's take a deeper dive into his attributes and areas for improvement.
Hockey IQ:
Zach Benson is one of the most robust prospects in the 2023 NHL entry draft, he's carefully built a strong list of accomplishments heading into his draft year. Nearly making the Memorial Cup with the Winnipeg Ice, Zach Benson has been a key piece to any team he plays on. Benson holds the puck with incredible calmness and works towards creating highly intelligent plays that his teammates can build off of.
"Unbelievably skilled player who drives play. Benson handles the puck well, especially at top speed and makes those around him better."

Sam Cosentino – Sportsnet – Oct. 19th, 2022.
Competitiveness:
Zach Benson is a highly competitive player, and it shows especially during the last game of the WHL final against the Seattle Thunderbirds. The Winnipeg Ice lost three goals to one to Seattle, but Benson refused to quit until the final buzzer sounded. Teams value this and will look to inject into their lineup; Benson combines skill and competitiveness into any team willing to draft him on draft day.
"Benson is one of the smartest players in the 2023 draft class; he scans frequently in all three zones, processes the information he gathers with impressive quickness, and executes upon those reads with great precision."

Sebastian High – Dobber Prospects – Oct. 20th, 2022
Areas for Improvement:
Zach Benson has one area that he could improve on, besides being a bit heavier weight-wise, which is physicality. While it isn't necessary to play with any sort of physicality, it is a major asset in the NHL, especially in the playoffs. Zach Benson lacks that bite you see in players who push back when needed, especially for teammates. If Benson can improve this soon, he will certainly become a steal come draft day.
Prospect Potential:
Zach Benson has high potential in the NHL, he could quickly become a first-line player on most if not all, teams, but he suits up as a projected top-six player. Benson can also be a solid point-per-game player; given the proper development, he will quickly become a great NHL player one day.
Final Thoughts:
As I previously said, Zach Benson can become a great NHL player one day, and it's up to his individual work ethic to maintain that potential. I don't see Benson dropping, but his size and weight may make it hard for teams to want and draft Zach Benson.
Stats via Elite Prospects
Highlights via MyNHLDraft.com