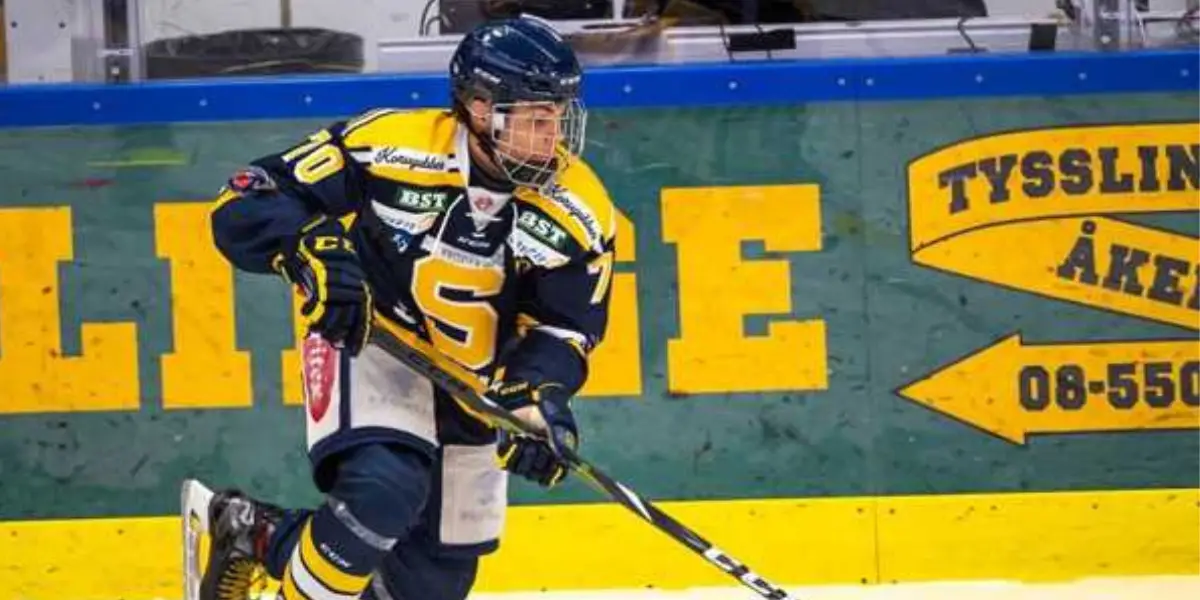 The Scouting Report:
Alex Ciernik from Wolfsburg, Germany (Slovakian nationality), born on October 8th, 2004, is a prospect eligible for the 2023 NHL entry draft. Alex Ciernik has flown under the radar due to his size as a winger. Listed at 5'10" and 179 pounds, Ciernik has certainly improved in recent years. Ciernik has split time between J20 Nationell and HockeyAllsvenskan in Sweden for the last three seasons, specifically with Sodertalje SK men's club and the J20 club. When playing for Sodertalje SK J20, Ciernik has put up a point-per-game stat line in 71 games played, 31 goals, and 44 assists for 75 assists. A solid stat line to see 37 games in three years in HockeyAllsvenskan.
Ranked #49 by Inside The Rink
Ranked #21 by NHL Central Scouting (EU Skaters)
Ranked #66 by TSN/Craig Button
Ranked #67 by Daily Faceoff
Ranked #53 by Recruit Scouting
Ranked #37 by Dobber Prospects
Ranked #63 by TSN/Bob McKenzie
Conrad Jack of Inside the Rink has Alex Ciernik projected at 57th overall.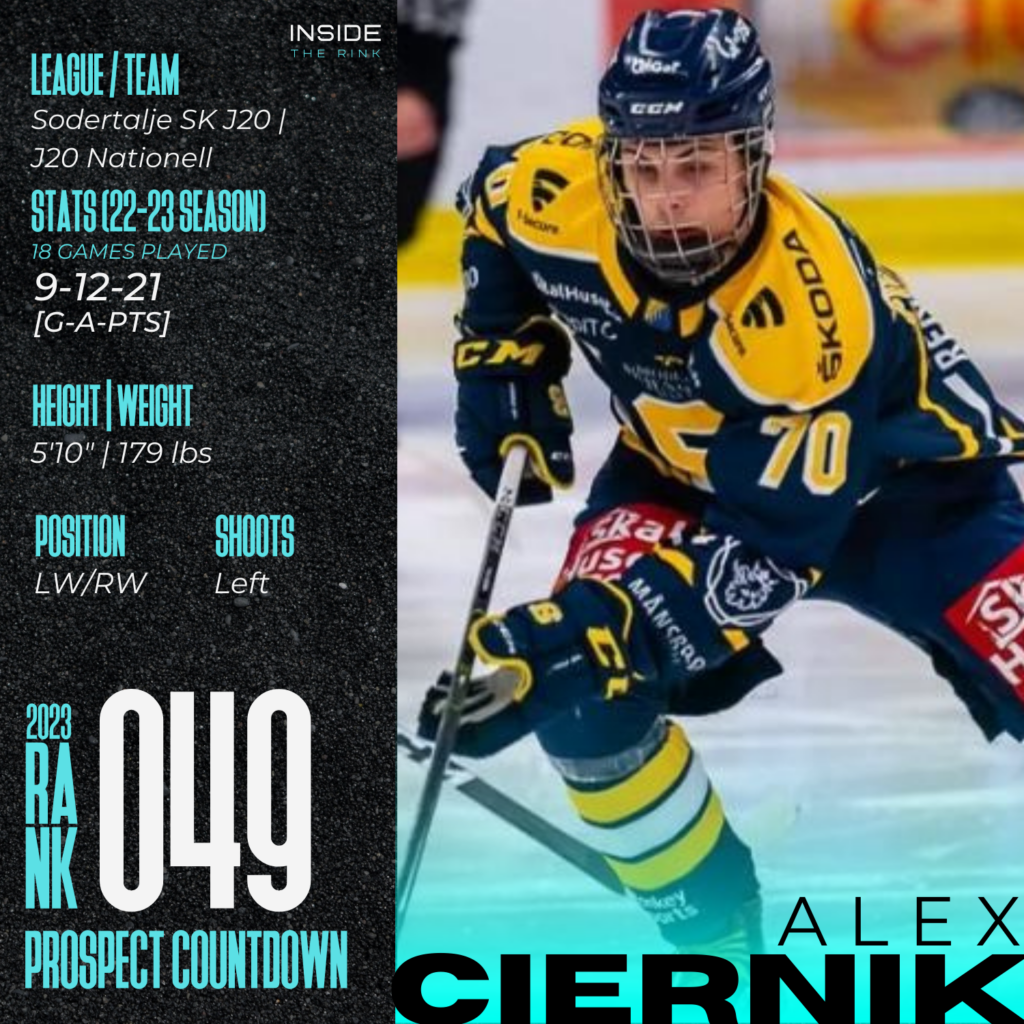 I don't see Alex Ciernik falling out of the third round, but crazier things have happened in the history of the NHL entry draft. Ciernik is more of a project prospect compared to other NHL draft prospects this year. However, Ciernik has always proven to be a hard worker.
Diving Deeper:
Alex Ciernik has certainly stood out this year, raising his draft stock as an investment prospect. Ciernik has his attributes and areas for improvement, every prospect does. Let's dive deeper into this.
Shooting Ability:
Alex Ciernik has the potential to be an incredibly dangerous shooter in the NHL. He's strong with the stick, controls the puck incredibly well, and has a quick release that most don't. This ability to shoot quickly and accurately is definitely what helped Alex Ciernik stand out in the 2023 NHL draft class.
"He's an up-tempo playmaker and dynamic skater (he's one of the fastest players on this list in straight lines, boasts an impressive three-step acceleration from a standstill, and can beat you around corners through his crossovers as well) who looks to involve himself more than you might expect at his size."

Scott Wheeler – The Athletic – Nov. 1st, 2022
Areas for Improvement:
Alex Ciernik certainly isn't afraid to lay a hit or take a hit, that's for sure. If Ciernik can get a bit heavier and stronger on his feet, he will be a force on the ice. Ciernik isn't too strong on his feet, and you can see this when he's battling for pucks. His strength is definitely one of the major concerns come draft day.
Related Story: 2023 NHL Draft – Nashville
On-Ice Abilities:
A strong skater and solid young prospect, Alex Ciernik are definitely one of those players you want to have in your prospect pool in case he becomes an impactful NHLer soon. Ciernik has the upside to be a solid middle-six player, and it's up to him to put in the work to get the kinks out of his game.
Final Thoughts:
Alex Ciernik definitely has a well-rounded game, it's uncertain if he will slide in the draft or not, but there may be a team who wants him badly and are willing to take him in the late first round. Ciernik can be impactful in the NHL once he improves as a player, though his strong shot makes him a valuable player now and not later.
Stats via Elite Prospects
Highlights via MyNHLDraft.com