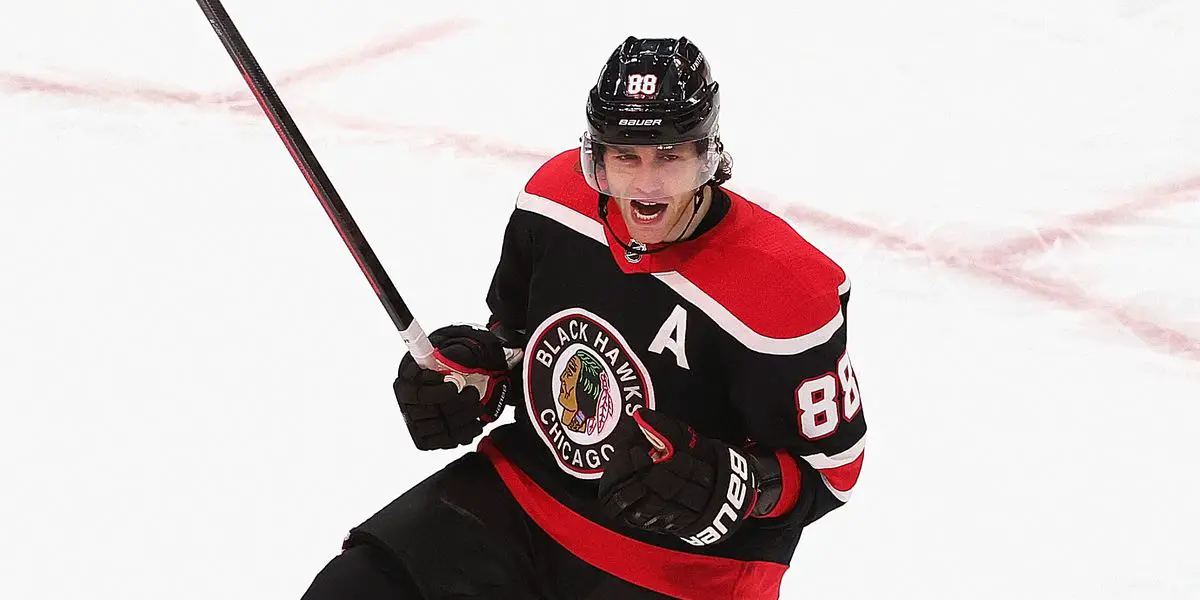 The Blackhawks are hitting the links after another grueling season, something Hawks fans have gotten used to over recent years. So as the NHL playoffs go on, let us look back and hand out some prestigious awards and some not so prestigious ones.
Stan Mikita Memorial (best ofensive forward):

Winner: Patrick Kane
Runner up: Alex DeBrincat
This was a two-horse race from start to finish. DeBrincat had an excellent season tieing a career-high in goals with 41. DeBrincat also had a career-high in assists and points. Kane was just slightly better. Kane is one of the few wingers in the NHL that drives possession. Kane put up his third-most points with 92. Kane continues to get better with age like a fine wine.
Runs on Duncan award (Player who was a workhorse):

Winner: Seth Jones
Runner up: Alex DeBrincat
Seth Jones not only leads the Blackhawks in ice time, but he leads the entire league. Jones played 26:13 a game, grinding out every shift. Jones's season started rough, but then he settled in and did everything he could on a bad Blackhawks team. Jones was the definition of a workhorse never getting off of the ice. DeBrincat was the only player to play 82 games. DeBrincat never took a shift off, let alone a game. He was battling through to the end even though the season was over early.
Kane and Panarin Award (given to the two players who created an everlasting bromance):

Winner: Kane and DeBrincat
Runner up: Strome and DeBrincat
Kane and DeBrincat are the closest combos to Breadman and Showtime since Kane and Panarin. DeBrincat and Kane can score at will when they are on the ice, and no good Bromance lives without an argument or two, and DeBrincat and Kane had more than a few spats. However, DeBrincat and Kane push each other to bring out the best in both players. DeBrincat and Strome have had a long Bromance, but if your Dylan Strome, watch out. Kane may be replacing you.
Hjalmarsson Shutdown Trophy (Best Defensive Defenseman):

Winner: Seth Jones
Runner up: Connor Murphy
This was a hard one to give out since defense was not played much in Chicago this season. Out of the choices, Seth Jones came out on top due to the ice time he logged well, playing along with a young developing defenseman who made many mistakes that Seth Jones would make up for. Jones was also third on the team in blocked shots with 155. Murphy was his usual self playing solid defense before getting hurt and missing the end of the season. Even with the missed time, Murphy finished fourth with 150 blocked shots in just 57 games. Murphy was in the top ten in the league in blocked shots before his injury. If Murphy had stayed healthy, this would have been his award.
Bobby Hull Memorial (Player who exhibits the worst off ice attitude/actions):

Winner: Jonathan Toews
Runner up: Stan Bowman
This award should be going to Stan Bowman for his miss handling of the Beach situation. Bowman not only turned out to be a bad person, but he was equally as bad at being a GM. But because Bowman is no longer with the Blackhawks (thankfully), he can't win this award. So instead, Toews wins this trophy for the "grumpy" attitude he carried all season long. Toews had more than a few interviews where he was "pouting." Toews didn't do anything egregious but came off as a curmudgeonly grandpa most of the season.
Marian DemiGod Hossa Award (best defensive forward):

Winner: Jonathan Toews
Runner up: Kirby Dach
With the lack of defense, this award shouldn't be handed out this season. Toews wins this award by a slim margin because he can win a faceoff. Toews still did a good job shutting down top players. Kirby almost won this award as the Hawks have been playing him in a shutdown role with the lack of offense coming from him. Kirby led all forwards in blocked shots with 44. Hopefully, next season we will have more worthy candidates for this trophy.
Seabrook Leadership Memorial (player who exemplifies leadership on and off the ice):

Winner: Alex DeBrincat
Runner up: Seth Jones
DeBrincat was one of the few players who handled the Beach questions with the full class you'd expect from a ten-year vet, not a young player. DeBrincat could have shied away from the questions because he was not on the team in 2010. He took every question. DeBrincat also played all 82 games, never quitting. Jones could have made this an awkward situation after coming over for Columbus to get out of a rebuild just to find out the Blackhawks are headed into one. Instead, Jones kept it classy on and off the ice. His game improved throughout the season, and Derek King praised him but said he needs to be more vocal.
Erik Gustafsson Traffic Cone Trophy (Given to the defenseman who plays like a traffic cone, aka the worst defenseman):

Winner: Erik Gustafsson
Runner up: Jake McCabe
McCabe just made the runner-up spot. After being abysmal for the first 3/4th of the season, McCabe's game did improve a lot. McCabe was coming to a new team off significant surgery in the offseason giving him a little built-in excuse. He will be given a different award if he plays as he did at the end of the season. Gustafsson STINKS! His inability to play any defense is infuriating. Hopefully, this is the last of him in Chicago. Gustaffson is not the player you want young defenseman to learn from.
Crawford Memorial (most underrated player):

Winner: Seth Jones
Runner up: Dylan Strome
Jones runs away with this award. The amount of people that want to say Jones is not a top-pair defenseman is mind-blowing. On a bad Chicago team, Seth Jones put up 51 points and a career season in assists with 46. Jones also sucks up minutes, making the workload of the developing players less. Strome is a second-line player yet gets treated like he's an AHL Brett Connolly (No disrespect to Connolly, who has played a significant role in Reichel's development) type. When Strome plays with players like Kane and DeBrincat, he's just shy of a point per game pace. Davidson has his hands full, trying to navigate his future.
Kane Showtime trophy (The most fun player to watch):

Winner: Patrick Kane
Runner Up: Alex Debrincat
This award will probably go to Patrick Kane as long as he's a Blackhawk. Kane's poise with the puck and his unbelievable hands make for edge of your seat hockey every time he has the puck. Kane is the most creative player and maybe the best passer in the league. Patrick Kane has been a skating Highlight reel since coming into the NHL. Kane is also starting to rub off on Alex DeBrincat, who is beginning to play with more patience. DeBrincat's playmaking ability continues to grow. DeBrincat proved that he's an elite goal scorer with 41 goals on the year. If this were an award for a duo, it would go to Kane and DeBrincat.
Alex Nylander Award (biggest disappointment):

Winner: Dominik Kubalik
Runner up: Jonathan Toews
Kubalik was a clear choice. Unfortunately, Kubalik only scored 15 goals, short of his rookie season, where he scored 30. This is the back-to-back season where Kubalik struggled to score goals. His energy and effort level also dropped off this season. Kubalik may have played his final game in Chicago. Toews would have won this award if it was handed out at the halfway point, but he was able to pick up his play later in the year. Toews will need to find a more consistent game next season.
Bickel Breakout Trophy (Breakout player):

Winner: Sam Lafferty
Runner up: Brandon Hagel
Hagel would have easily walked away with this. But, instead, he's playing playoff hockey for the /Lightning. So, the closest thing to a breakout player outside of Hagel was Lafferty, who earned himself a new two-year contract. Don't expect Lafferty to be the next Hagel, but his speed and work ethic can rub off on young players.