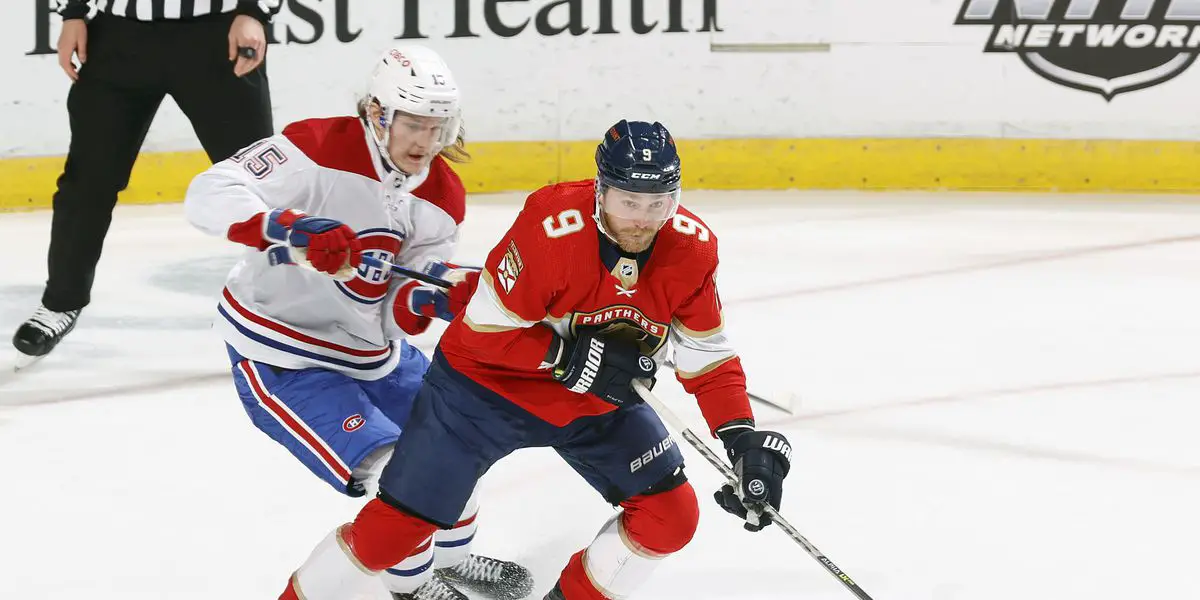 Leading up to the March 3rd trade deadline, all eyes will be on the Florida Panthers as they are a team worth monitoring. After an offseason that saw them trade away MacKenzie Weegar, Jonathan Huberdeau, Cole Schwindt, and a 2025 conditional first-round pick for Matthew Tkachuk, the team seems to be worse for it.
After finishing last year as the Presidents' Trophy winners, the Panthers now find themselves in a tough spot as they are currently four points out of the final Wild Card spot but have played more games than most teams they are chasing. General Manager Bill Zito has his work cut out for him as he will need to decide whether to be a buyer or seller at the trade deadline.
After years of being buyers at the deadline, it is expected that the NHL will see the Panthers become sellers this season.
Recently hockey insider Frank Seravalli named Florida as a team to watch, and more specifically, Seravalli named Sam Bennett as a potential trade candidate for Zito and the Panthers. Let's dive into three possible trade destinations for Bennett.
Toronto Maple Leafs
The Maple Leafs are a team to watch at this year's deadline, especially in the Same Bennett sweepstakes. The Leafs need more forward depth as they head into the second half of the season and a playoff run. The Maple Leafs' general manager Kyle Dubas should be expected to be busy ahead of the deadline as he currently does not have a contract beyond this season. Dubas will need to prove to upper management that he can assemble a team that can get out of the first round of the playoffs. He will have to balance this year's success and adding to it while keeping Toronto's long-term future in mind. Bennett makes sense for them as he's not a rental player as he has two seasons left on his contract, paying him a very reasonable $4.4 million against the cap.
Thanks to a handful of injuries, the Leafs have been using many different lineup combinations throughout the season as they try to find balance. The addition of Bennett would allow the team to move youngster Pontus Holmberg to the wing on the team's third line and move David Kampf down to the fourth-line center position. Besides allowing for lineup flexibility, Bennett brings some nasty to the lineup as he plays with a chip on his shoulder. The Maple Leafs could use a player like that, especially when heading into the Stanley Cup Playoffs.
What makes Bennett so appealing is his versatility, as he's a center capable of playing on both wings if needed. He also plays on both sides of special teams and would significantly improve the Leafs' second power play unit, which has struggled all season.
Adding a pending free agent and a top prospect who is almost NHL-ready is likely the kind of return he's looking for in any trade. Expect Kyle Dubas to try and package Pierre Engvall with one of the team's top prospects to get Bennett out of the sunshine state and north of the border. This trade also makes sense for the Panthers and Bill Zito, as he's looking to save money and add for the future.
Winnipeg Jets
The surprise team of the 2022-23 season, the Winnipeg Jets, have had an excellent start as they sit atop the Central Division and Western Conference with a 29-14-1 record and 59 points. Thanks to their hot start, the Jets and general manager Kevin Cheveldayoff likely be in the market for some depth up front as he rounds out this team. Sam Bennett will be a perfect candidate as his style of play would greatly benefit this Jets team.
On the season, the 26-year-old forward has recorded ten goals and 18 assists for 28 points through 45 games. The numbers that stand out for Bennett are his hits and blocked shots, as he's recorded 112 hits and 30 blocked shots so far. He is a player that is never afraid to muck it up in the dirty areas, and adding him to Winnipeg's third like could do wonders for the team's shutdown game. The Jets have the opportunity to create a solid checking line that could give teams fits by acquiring Bennett and pairing him with Adam Lowry and Mason Appleton once he's healthy.
As the trade deadline approaches, the Jets and Cheveldayoff are in a good financial position to make a splash. With their defense appearing to be deep enough, especially after a couple of players return from injury, the Jets can focus on improving their top nine. Acquiring Bennett would be an intelligent decision by the Jets GM as his versatility would allow him to slide up and down the lineup, whether it be at center or wing.
Pittsburgh Penguins
The Penguins must address a few needs, but nothing more evident than their third-line center. The veteran squad has found themselves back in the mix for the playoffs as they are currently holding on to the second Wild Card spot in the Eastern Conference. musHead coach Mike Sullivan has been using Jeff Carter, and all they have received from him is very inconsistent play.
GM Ron Hextall will be on the market to get a deal done as he understands the window for his core is rapidly closing. Pittsburgh is expected to have $19 million in cap space to work with next season, so adding a contract like Bennett's could easily be absorbed.
Bennett is an exciting addition for this team because he plays a much different style compared to the Penguins' top two centers, Sidney Crosby and Evgeni Malkin. This vast difference would complement each other wonderfully, giving the Penguins different looks to utilize. A big part of playoff success is having a shutdown line to roll out when needed, and Bennett helps provide them due to how he battles every night.
Hextall has options to use in the trade package that revolves around young defenseman Ty Smith and Pierre-Oliver Joseph. Both players could interest the Panthers and forward Kasperi Kapanen, who, as everyone knows by now, has been in and out of Mike Sullivan's dog house this season. Having multiple NHL roster options for Bill Zito to choose from makes Pittsburgh an ideal trade partner. Adding Sam Bennett would do wonders for this lineup.
The boys are back after a long break but have plenty to talk about as the playoffs are in full swing. We go series by series, looking at how teams have fared so far and who will come out on top. Thanks for listening! Please rate and review our show on your favorite listening platform. Check out our partner's website at www.insidetherink.com for all your latest hockey news.