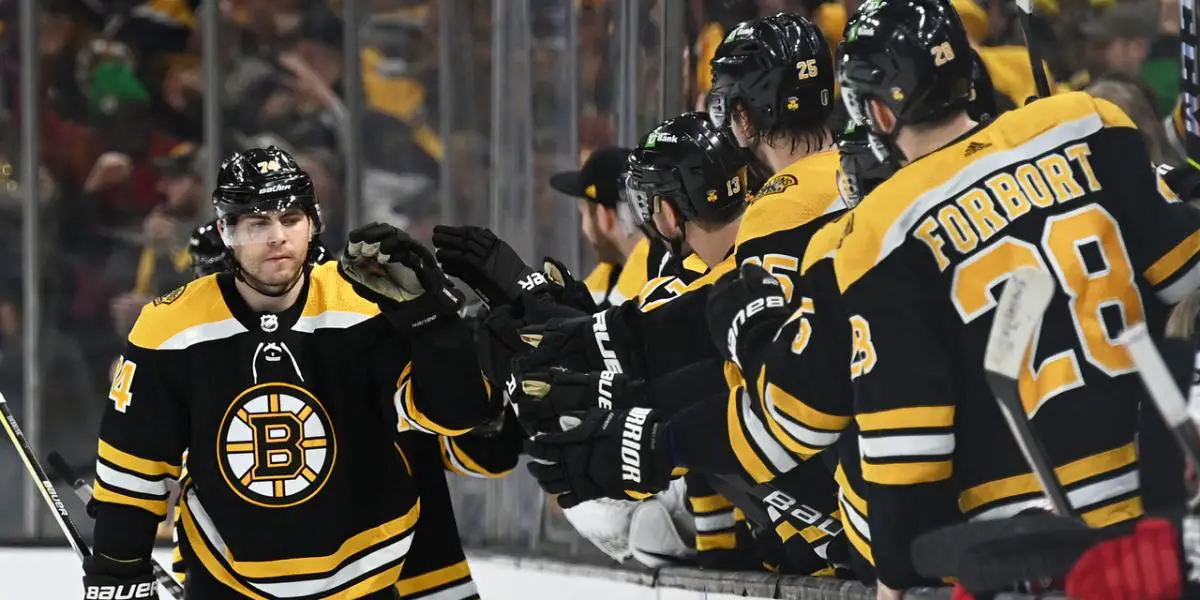 With the regular season just a couple of months away, the Bruins roster has taken shape and the beginning of the season looks to be rough for the Bruins. Even if Patrice Bergeron and David Krejci eventually sign, the Bruins will still have holes in the roster due to injuries. There is still no timetable on when or if the two centers will sign for the 2022-2023 season, but fans can only hope it will be soon so all the stress and rumors can finally come to an end. The Bruins enter this season with injuries to several players, with Brad Marchand, Charlie McAvoy, and Matt Grzelcyk all set to miss significant time early on. With all three of them likely out the first month or two of the season, it has left some big shoes to fill and leaves the door open for several Bruins players to step up early in the season and take advantage of the opportunity. Five players come to mind that will need to step into more prominent roles and help keep this team afloat until they can regain two of their best players in Marchand and McAvoy.
Taylor Hall
With Marchand set to be out while he recovers from off-season hip surgery, Hall becomes the de facto No. 1 left wing. No matter who he's playing with, whether it be alongside Bergeron or Krejci or Pastrnak on the other wing, the Bruins will need Hall to help drive the offense. Newly acquired forward Pavel Zacha can play either center or wing, so it will be up to new head coach Jim Montgomery to find the balance, and keeping Hall with Pastrnak may be the move as the two have built chemistry. The Bruins cannot afford for Hall to get off to another slow start like last season and hope to see the Taylor Hall who produced in the second half after he and Pasta were united. Last season Hall finished third on the team in even-strength points (46) and first in even-strength assists (33). Hall also added 20 goals (13 at even strength) last year. If the Bruins can get some more goal-scoring out of Hall, they will have one piece of the puzzle for keeping their heads above water.
Jake DeBrusk
DeBrusk was another player who got off to a slow start last season, as his relationship with then-head coach Bruce Cassidy seemed to do more harm than good for the progression of the young winger. After getting moved to the first-line right wing spot in the second half of the season, Debrusk flourished as he filled the stat sheet. DeBrusk is a much happier player now, as evidenced by him rescinding his trade request, and is locked into a top-six role. DeBrusk has the versatility to play on either wing, as he demonstrated last season when moving to the right side. It will be up to head coach Jim Montgomery to decide if he wants to leave DeBrusk on the right side or move him back to his natural left wing spot. No matter where DeBrusk lines up, the Bruins will lean on him to continue showing the scoring he demonstrated during his hot streak last season. The pressure is on for him to take the next step and see if he can reach the 30-goal mark for the first time in his career after finishing five short of the mark last year.
Craig Smith
Smith wasn't awful last season on the third line as he finished with 16 goals and 20 assists for 36 points, but he did sometimes disappear, especially in the playoffs. While his overall numbers weren't awful, those that watched the games throughout the season saw that he struggled at times with the majority of it down the stretch. In the playoffs, Smith had zero points in seven games against the Carolina Hurricanes. Depending on the lineups, Montgomery rolls out early on. Smith can be used on the second or third line, but whichever line he ends up on, the Bruins will need him to be an effective piece of the offense as they will require offensive depth from their middle six.
Mike Reilly
Reilly appeared in 70 games for the Bruins last season but found himself a healthy scratch down the stretch. Much speculation this off-season was the Bruins might look to trade away the 29-year-old left-shot defenseman as a way to clear salary cap space as he has two years left on his contract that carries a $3 million cap hit each season. At this point in time, it looks like the Bruins will hang on to him as they need depth on defense until McAvoy and Grzelcyk return. This will give Reilly an opportunity to slot into a top-four role out of the gate and prove to head coach Jim Montgomery that he deserves a regular spot in the lineup even after the Bruins are fully healthy on the blue line.
Jakub Zboril
Boston Fans should be excited to see what Zboril can do this season, as last year it appeared he was finally on the verge of establishing himself as an NHL regular before suffering a season-ending torn ACL. Expected to be fully recovered in time for the new season, he will get another shot to show the Bruins organization he belongs. These early months will be crucial for Zboril to carve out a role, as when everyone is healthy, he could see himself penciled in as the seventh or eighth defenseman. If Zboril can prove to Montgomery and the staff that he deserves more playing time, he has the chance to challenge Connor Clifton for a spot on the third pairing.
The boys are back after a long break but have plenty to talk about as the playoffs are in full swing. We go series by series, looking at how teams have fared so far and who will come out on top. Thanks for listening! Please rate and review our show on your favorite listening platform. Check out our partner's website at www.insidetherink.com for all your latest hockey news.