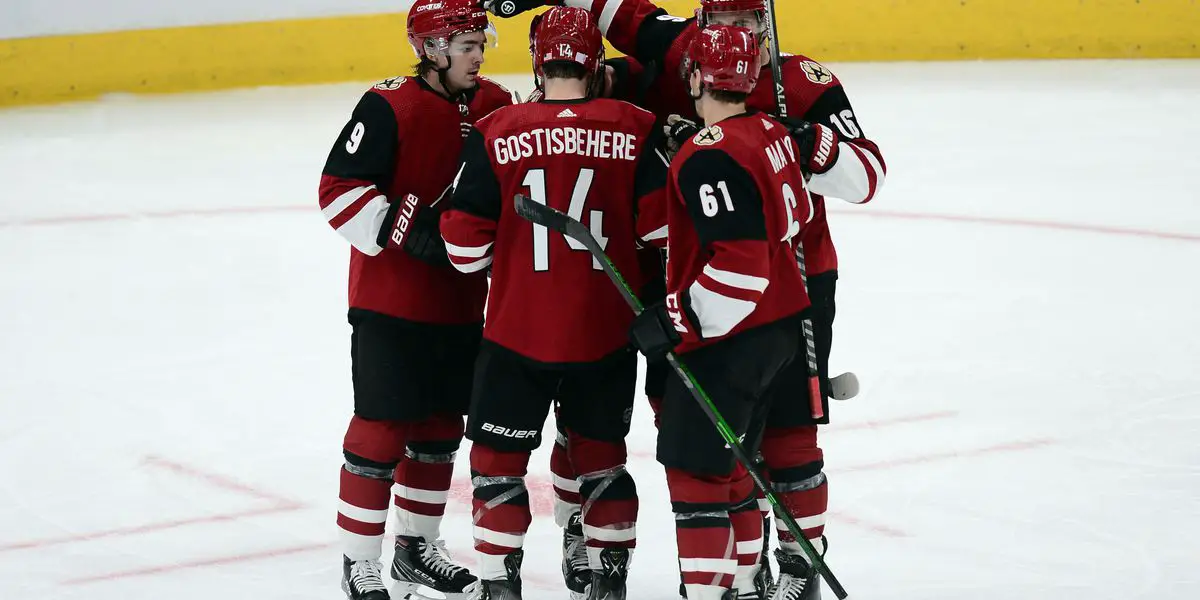 After a long season that saw the Arizona Coyotes go neck and neck with the Montreal Canadiens for the draft lottery to see who would claim the #1 overall pick in the 2022 Draft, it's time to look at their 2022-23 schedule to see what games fans should get excited for!
October 28 vs. Winnipeg
To kick off the new campaign, the Coyotes are on a six-game road trip, starting with the Pittsburgh Penguins and ending with the Columbus Blue Jackets, before having their home opener against the Winnipeg Jets where we get to see the new arena.
One theory about the new Coyotes arena is that packing the barn with 7,000 fans may create a "college-like" atmosphere. We will see how that theory tests out on October 28th.
November 1 vs. Florida
The Arizona Coyotes welcome the Florida Panthers into town. The Panthers are coming off one of their best seasons in franchise history finishing with 122 points.
This will also be Paul Maurice's first time in Arizona as coach of the Florida Panthers. Last season, we saw the Panthers have a high-flying offense, and I think we can expect much of the same this season.
November 27 at Minnesota
The first time the Arizona Coyotes play the Minnesota Wild. Last season, Kirill Kaprizov set the Minnesota Wild franchise record for most goals in a single season with 43.
Incredibly, Kaprizov reached the record last season when you consider games were postponed due to the surging Omicron variant as well as games being made up due to the Olympic break.
If everything goes to plan, Kaprizov has a really good shot at breaking his record and setting a new personal best. Does he have the potential to hit 50 goals? We shall see…
With recent reports coming out saying that Kaprizov is still in Russia and is wanted for potential fraudulent IDs, let's hope he can play this season because this matchup would be so much more fun with him in it.
December 13 at San Jose
It's always fun seeing other teams' top prospects. The one featured in this matchup between the Arizona Coyotes and San Jose Sharks is 2020 second-rounder Thomas Bordeleau.
He played eight games with the Sharks last year and had 5 points. Bordeleau has an exciting career ahead of him as one of the bright young stars coming up with the Sharks in the future.
December 29 vs. Toronto
Auston Matthews returns home with some hardware to show for his fantastic season last year as he won the Hart Trophy, Ted Lindsay, and Rocket Richard.
This will be the second and final meeting between the two teams, and last season the Coyotes pulled off the upset in both meetings, winning the first game 2-1 and 5-4 in overtime.
If history repeats itself, we should be in for a good matchup when the Leafs come to town to play the Coyotes.
Other Schedule Notes:
One thing I saw when I was looking at the 2022-23 schedule for the Arizona Coyotes was that they play four home games in 2 months! Already the Coyotes are going to be off to a tough start when next season rolls around.
The season's longest homestand for the Coyotes lasts four games, with three sets of four-game homestands. The first of the four sets start on February 19-February 28; March 3-March 9; March 12-March 18; and the final four-game homestand starts on March 26-April 1.
The Coyotes have a much better end to the season as they end on a three-game homestand facing off against the Anaheim Ducks, Seattle Kraken, and ending the season off against the Vancouver Canucks.
Player Milestones:
Clayton Keller is four goals away from reaching 100 career goals. You can expect him to achieve that in the first couple of games.
If re-signed by the Arizona Coyotes, Phil Kessel has two milestones he can reach this season. He is one goal away from 400 on the career and four points away from 1,000 career points.
Barrett Hayton is six games away from reaching 100 career games. He should be expected to reach that milestone when the Coyotes play the Columbus Blue Jackets. Hayton also has a chance of reaching 50 career points. He needs 19 more points.
Nick Schmaltz is 22 goals away from career goal #100. You should expect him to hit that within the first few months.
Related Articles:
5 games to get excited for if you're a Montreal Canadiens fan
The boys are back after a long break but have plenty to talk about as the playoffs are in full swing. We go series by series, looking at how teams have fared so far and who will come out on top. Thanks for listening! Please rate and review our show on your favorite listening platform. Check out our partner's website at www.insidetherink.com for all your latest hockey news.