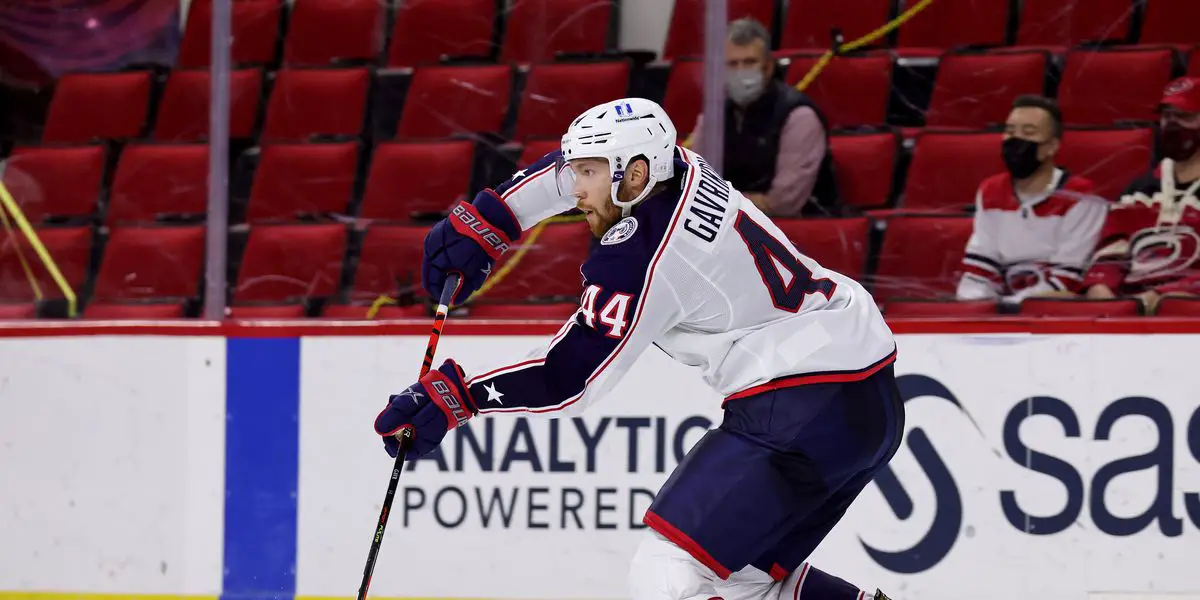 1: Vladislav Gavrikov
This, in my opinion, is the most realistic defenseman the Leafs could acquire at the trade deadline. Many Leafs fans remember Gavrikov from the bubble 2020 playoff series. He was an excellent shutdown defenseman for the Blue Jackets, who ultimately shut down Auston Matthews, Mitch Marner, John Tavares, and William Nylander. He is key to the Blue Jackets defense core and took a significant role after trading Seth Jones to the Chicago Blackhawks. The Blue Jackets are very likely to trade the defenseman, as they are likely to tank for Connor Bedard.
Possible Deal: To TOR: Vladislav Gavrikov To CBJ: Roni Hirvonen, 2024 2nd round pick.
2: Jakob Chychrun
It has been rumored for a while that Coyotes defenseman Jakob Chychrun wants out of Arizona. It also has been rumored for a while the Leafs have interest. Who wouldn't? A young defenseman with a $4.6M cap hit who has been overall solid for a couple of seasons. The Leafs wouldn't be the only team; nearly a dozen teams are reportedly in on Chychrun. It's something to keep an eye on going into the TDL.
Possible Deal: To TOR: Jakob Chychrun To ARI: Nick Robertson, 2023 1st.
3. Ryan O'Reilly
According to TSN's Pierre Lebrun, the Leafs have shown interest in Blues forward Ryan O'Reilly. I expect a top 6 forward will be Toronto's top priority ahead of the deadline. They will be looking for a winger to play on the 2nd line alongside John Tavares and William Nylander. The Blues have looked horrible to start the year, and with O'Reilly as a pending UFA, I expect St. Louis to trade him. O'Reilly, of course, led the Blues to a 2019 Stanley Cup championship. This could possibly happen.
Possible Deal: TOR: Ryan O'Reilly To STL: Nick Robertson, Mac Hollowell, 2024 2nd.
4. Luke Schenn
I could definitely see this as a depth, gritty move for Toronto. The Leafs previously showed interest in Luke Schenn, the former Leaf, at the 2022 trade deadline. This wouldn't be any blockbuster move, but Schenn can help Toronto in the playoffs, lay hits, stick up for teammates, and block shots. He's also a good locker room veteran.
Possible Deal: To TOR: Luke Schenn To VAN: 2023 3rd round pick.
5. Connor Garland
Another Canuck, Connor Garland, I can see being moved. Obviously, anyone in Vancouver can be moved, considering how badly the team has performed this season. But Garland is someone the Leafs have targeted for a while. A top 6 forward who could fit nicely on the 2nd line alongside Tavares and Nylander. Garland is someone who can dish the puck, & score goals. I love the fit here.
Possible Deal: TOR: Connor Garland VAN: Roni Hirvonen, Semyon Der-Arguchintsev, 2024 2nd.
That wraps up five possible trades I can see happening for the Leafs at the trade deadline. It should be a busy one for GM Dubas, who is entering his final season on his contract. Thanks for reading. If you enjoyed it, I would really appreciate you following me on Instagram & Twitter: Leafsdailynews. And stay tuned here, on Insidetherink.com, for more.
WELCOME BACK TO LEAFS LATE NIGHT! Presented by Inside The RinkRoscoe / FanalystSteph / Mikey D- The Line Blender- Consistency- Stuperstitions- How To Keep Willy- The Great Pop DebatesMERCH IS AVAILABLE!Remember to follow us on Twitter @LeafsLateNight & IG @LeafsLateNightCheck out Mike, Josh, and Nathan's articles on the Leafs + many more! insidetherink.com