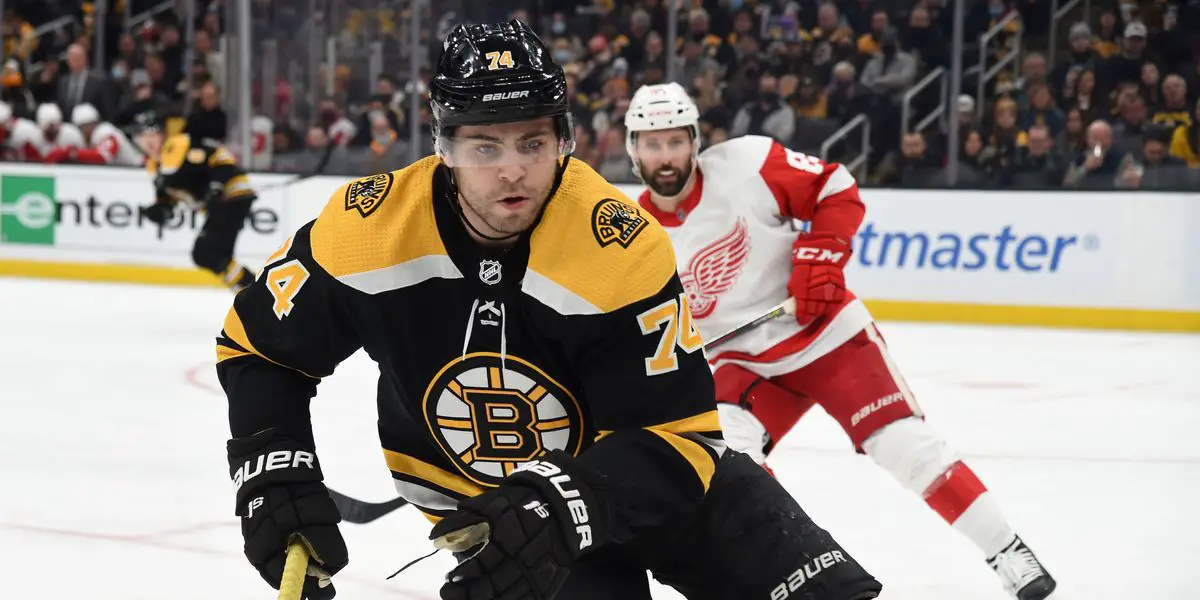 After the news of Debrusks trade request, hockey Twitter has been ablaze with people trying to gauge his value. After two poor seasons, Debrusks value is certainly a topic for discussion with no clear answer. 
Season #1: 70GP 16G 27A 43P +13
Season #2: 68GP 27G 15A 42P +2
Season #3: 65GP 19A 16A 35P -1
Season #4: 41 GP 5G 9A 14P +1
Season #5: 27GP 5G 4A 9P -3
Career: 271GP 72G 71A 143P +12
Some say that he will never live up to his high draft position, and those who think that a change in scenery will jumpstart his production again. I believe that the answer is somewhere in the middle, but regardless of what I think, Jake will soon be on the move, and we have a lot to talk about. Sweeney holds all of the cards right now, and with up to 12 teams rumored to have interest in a trade, he may very well have a lot of quality offers. Here are five teams that I think will push for Debrusk and what their potential trade offers could look like.
Seattle Kraken
To Seattle: Jake Debrusk
To Boston: Jeremy Lauzon, 2022 2nd Round Pick
This one is a bit fun. I saw someone post the idea of bringing Lauzon back and putting him with Charlie McAvoy to see what an entire season would yield, and I think it's a good idea. The Kraken can't score goals right now, and the bruins need another defenseman; it's a win-win. It also helps that the Bruins are very familiar with Lauzon as he played over half the season last year in Boston's top 4. Seattle would get a goal-scoring project that they could stick in their top 6 alongside veteran Eberle and 2X cup champ Yanni Gourde, and the Bruins get a solid defenseman who was just coming into his own last year, with a 2nd round pick to boot. If I'm Don Sweeney and this offer slides across my desk, I'd accept it pretty quickly, in all honesty.
New York Rangers
To Rangers: Jake Debrusk
To Bruins: Vitali Kravtsov, 2022 2nd Round Pick
Another young player that needs a new start is Vitali Kravtsov. After recently requesting a trade, he was loaned back to the KHL and has played there since. He was clearly unhappy after not making the Rangers lineup at the beginning of the year, and a trade like this would make sense for both sides. Debrusk gets a fresh start on an up-and-coming Rangers squad, and the Bruins get a promising young prospect in Kravtsov, as well as another pick. There is still time for Kravtsov to shape into the dynamic prospect that the Rangers drafted just two years ago. He is only 22, and the Bruins need young talent more than anything, so making this move would give them exactly that.
St. Louis Blues
To St Louis: Jake Debrusk, Karson Kuhlman, Mason Lohrei, 2022 2nd Round Pick
To Boston: Vladimir Tarasenko, 4th Round Pick
Tarasenko recently confirmed that he has not rescinded his trade request from the Blues and that he hopes they will still honor his request to be traded. This deal is expensive for the Bruins, but if they have any hope of winning now, they need to pull the trigger on a big deal. Tarasenko is still an excellent top 6 forward and would slot in on the second line with Hall and Coyle. He is also making 7.5 million a year, and his contract expires at the end of next season, giving the Bruins some room to either move him if things don't work out or strike an extension if he plays well. Going to St. Louis, Debrusk would be part of a solid core made up of Parayko, O'Reilly, Faulk, and old friend Torey Krug.
Vancouver Canucks
To Vancouver: Jake Debrusk, 2022 1st Round Pick
To Bruins: Brock Boeser, 2022 4th Round Pick
Those who remember the 2015 draft will understand why this trade is so ironic. Given the recent struggles of the Canucks, and the replacement of Benning and Green, this deal may kickstart the full rebuild that the Canucks are heading towards. Boeser is having an off-year so far, and rumors of him being traded go back at least two years. Using a 1st round draft pick in a very good draft year to sweeten the pot may be needed for Sweeney to make this deal go through. As of writing, the Canucks only have 16 wins and look like they will miss the playoffs, so trading out Boeser to get a quality winger and an extra pick in a stacked draft may help them in the long run. Boeser would find himself on the second line and most likely would see an improvement in his overall play. Getting power play time with the "Perfection Line" and McAvoy would give him a chance to increase his points to new career highs.
Colorado Avalanche
To Colorado: Jake Debrusk, Jakub Lauko, 2022 1st Round Pick
To Boston: Samuel Girard
The Avs Defensive depth has been the best in the league for a few years, and Sam Girard is one of the reasons why. The former Preds 2nd rounder made his way over to Colorado and has since come into his own as a top 4 D man. The Avs' ability to draft and acquire excellent defensemen in the past five years is nothing short of incredible. Cale Makar, Bowen Byram, and Sam Girard are the blueprint of what successful GMing looks like. A byproduct of this is that in this year's stacked draft, the Avalanche have no picks before the 3rd round and only have 4 in total for this draft. Suppose the Bruins came in and offered a middle-six winger in Debrusk, a speedy prospect in Lauko, and a 1st round pick. In that case, it's hard to believe that Sakic would say no. Colorado needs to free up defensive space as another top defensive prospect in Justin Barron needs a roster spot for next year. As your top defensive pair, Charlie McAvoy and Samuel Girard are pretty fantastic if you're a Bruins fan.