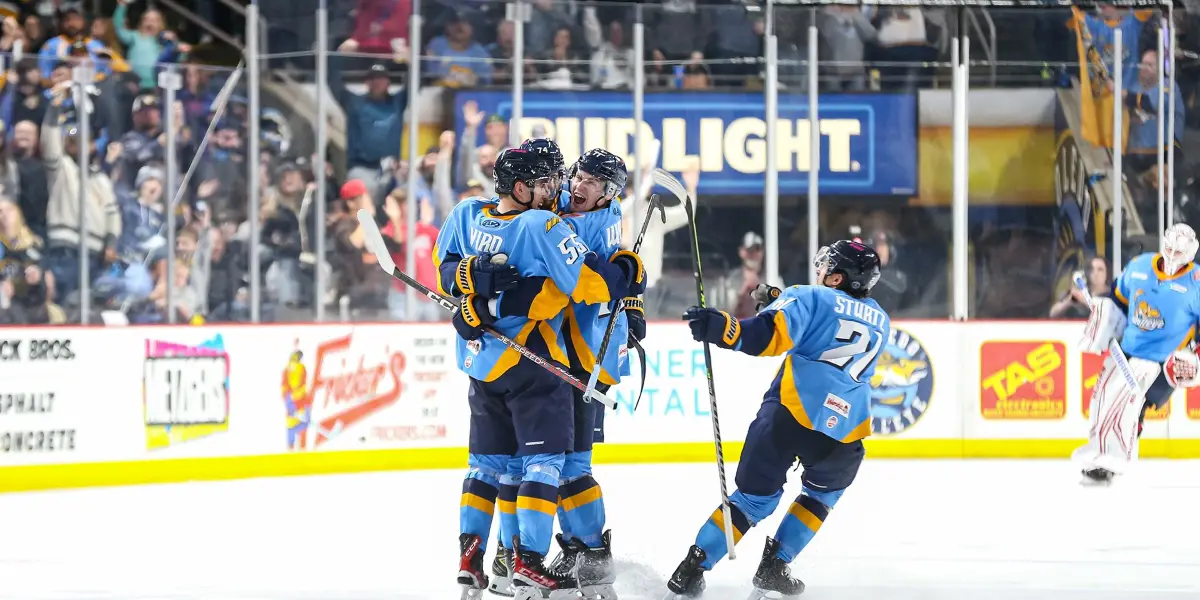 The Toledo Walleye claimed the Central Division as they trounced the Cyclones with a team playoff record of 9 goals scored to Cincinnati's 2. 
In goal for Cincinnati was Mark Sinclair, and for Toledo the ECHL Goalie of the Year, John Lethemon. Toledo made quick work of Sinclair with a goal by Sturtz (1:54). Shortly after, Green found the back of the net (5:37) with an assist by Curti and Hawkins. Later, a goal by Hawkins (17:02) put the Walleye up to 3-0. Green and Barton assisted his goal. There were only two penalties, one for each team. Toledo nor Cincinnati were able to convert during their power plays. Lethemon had 11 saves in the net, and Sinclair had 13 to end Period 1.
To start Period 2, Beck Warm took over in goal for Cincinnati. Still, it was no match for a quick short-handed goal from Toledo's Sturtz (1:33). Cincinnati was able to get by Lethemon with a rebound goal by Griffin (10:49), assisted by Pollino and MacLean. The Cyclone celebration was short-lived as Cincinnati's undisciplined play led to three straight Toledo power-play goals by Tyutyayev (12:34), Hensick (14:48), and Worrad (16:56). Toledo capitalized on Cincinnati's frustrations and ended the second period up 7-1. 
In Period 3, Toledo continued to hammer in the goals finding the back of the net two more times. Green (4:30) scored his second goal of the night, assisted by Bliss and Curti. The final goal for Toledo came from McKenzie at 11:36. As the crowd cheered, "We want 10!" the Cyclones were able to sneak one by Lethemon for their second goal of the night. The goal was scored by Hardie (12:08) with an assist from Nielson. The Huntington Center was electrified as over 8,000 fans stood for the last two minutes of the game waving their rally towels, ringing their cowbells, and cheering on their team to the Western Conference Finals for the third straight year. 
Toledo's Lethemon had 23 total saves in the game and proved, yet again, that he was a force to be reckoned with. Cincinnati's Sinclair and Warm combined for 28 total saves.
Toledo awaits the winner of the Idaho – Allen series. Idaho currently leads the series 2-1.