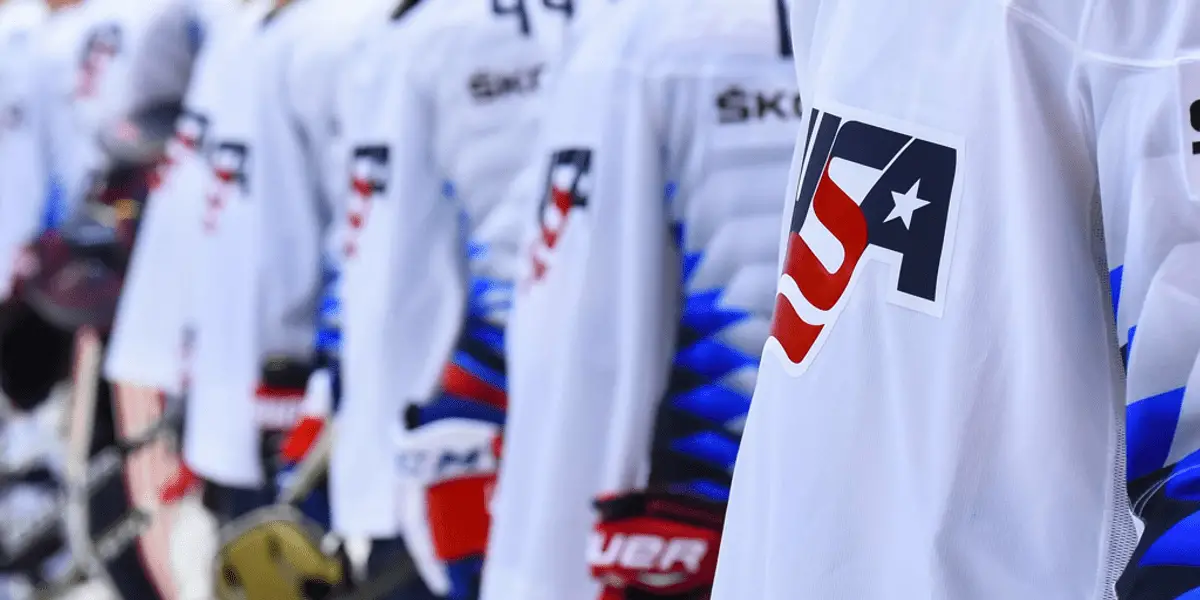 The 2022 Hlinka Gretzky Cup is back in full swing. The annual tournament will be played July 31-August 6 in Red Deer, Alberta, Canada. Team USA will compete with Czechia, Finland, and Germany in Group B. The top two teams from each group will advance to the semifinals on August 5.
Team USA will kick off its schedule with a pre-tournament game against Slovakia on Friday, July 29, and is looking for its first gold medal since 2003. The Americans have finished runner-up nine times in this tournament, including in 2016, when they fell to Czechia in the gold medal game.
Here are five players on the Team USA roster to keep tabs on through the tournament.
Defense
Ty Hanson
Despite being just 5-foot-9, 170 pounds, Ty Hanson could be in line for a big tournament. The Hermantown, Minnesota native spent most of last year with Hermantown High, where he potted 15 goals and led all defensemen on the team in points (45).
Taken in the second round by the Sioux City Muskateers in the 2021 USHL Phase I draft, Hanson got a four-game sample size during the regular season and played in seven postseason games as well. He's a quick skater and features a killer slapshot from a quick release from the blueline. Give him a little space, and he will send one toward the net.
As a solid puck-moving defenseman, the University of Minnesota-Duluth commit frequently joins the rush. Look for him to have an impact on the Team USA power-play.
Andrew Strathmann
Strathmann is one of a handful of Under-17 Select Team members invited to camp and made the Team USA roster. The Beach Park, Illinois native, was signed to a tender agreement with the Tri-City Storm before the 2021-22 season and enjoyed a remarkable rookie campaign.
He tallied five goals and 18 assists for 23 points and finished second on the team in PIM (100). Strathmann was named to the USHL All-Rookie Team. He will likely spend another season with Tri-City before heading off to the University of North Dakota in Fall 2023.
In terms of what he can offer, despite not being the biggest or the fastest skater, Strathmann demonstrates the ability to carry the puck through all three zones and score. From the blueline, he has a deceptive wrist shot and complements it with a massive one-timer, especially when following up on loose pucks.
As noted from his assist total, the 17-year-old is a terrific facilitator of the puck. Whether it be a breakout pass in his own zone or cycling the puck around the point in the o-zone, Strathmann positions himself well to make crisp passes.
Forwards
Tanner Adams
Strathmann's teammate in Tri-City, Tanner Adams, enjoyed a breakout rookie campaign as a 16-year-old, potting 12 goals with 20 assists in 62 games and pacing Tri-City rookie skaters in points (32). He won't turn 17 until September, but he's already shaping up to be a potential first-round draft prospect.
He's not the biggest or the fastest skater, but Adams is a decisive forward. Most of his goals last season came from a few feet in front of the crease. Whether he carries the puck in himself or positions himself in front of the opposing netminder, Adams utilizes quick hands and a quick release on his wrist shots. He also demonstrated the ability to re-direct shots from the point to find the back of the back.
A.J. Lacroix
Lacroix just turned 17 years of age at the end of April, shortly after putting the finishing touches on an outstanding first season with the Chilliwack Chiefs of the BCHL. The West Vancouver, British Columbia native, tallied 21 goals and 19 assists for 40 points, finishing with the fifth-most points on the team during the regular season. He added one goal and four assists in 11 games in the playoffs. Lacroix was named BCHL High School Player of the Month in March, having accumulated three goals and six assists in 10 games.
The 6-foot-0, 183-pound forward already plays a mature game, well beyond his years. Chiefs Head Coach & GM Brian Maloney had this to say after Lacroix was named 2021-22 Sapphire Creative Rookie of the Year.
"Although he's 16 years old, he played like he was 19. Another kid that's very hard to play against physically. The sky is the limit for this young gentleman," he said.
A strong skater, Lacroix will carry the puck through all three zones himself or provide support on the odd-man rush. He has good hands and puck skills, making him a nightmare on plays in tight. Added, he features a deceptive wrist shot with a quick release. Lacroix is a tenacious forechecker, so much that his aggressive pressure caused an own-goal last year.
Will Whitelaw
Despite being just 5-foot-8 and 165 pounds, Will Whitelaw is a force to be reckoned with. The Rosemount, Minnesota native put up crazy numbers for the Shattuck St. Mary's 18U Prep team last year. Whitelaw tallied 46 goals with 64 assists, averaging exactly two points per game. His 110 points were second-most in the USHS-Prep League, coming up seven points shy of teammate Macklin Celebrini.
The Youngstown Phantoms selected Whitelaw No. 1 overall in the 2021 USHL futures draft and tallied two goals and an assist in nine USHL games last year.
For what the University of Wisconsin commit lacks in size right now, he makes up for it in speed and a devastating and accurate shot. He zips through traffic and uses his quick hands to fool the netminder. In my viewing, Whitelaw has a deceptive wrist shot in that he sometimes pulls the puck back across his body before firing it on the net. Away from the puck, he positions himself well to receive passes in the slot and picks a corner. Good luck trying to stop the puck.
The complete Team USA roster is here.
(Videos courtesy of InStat)