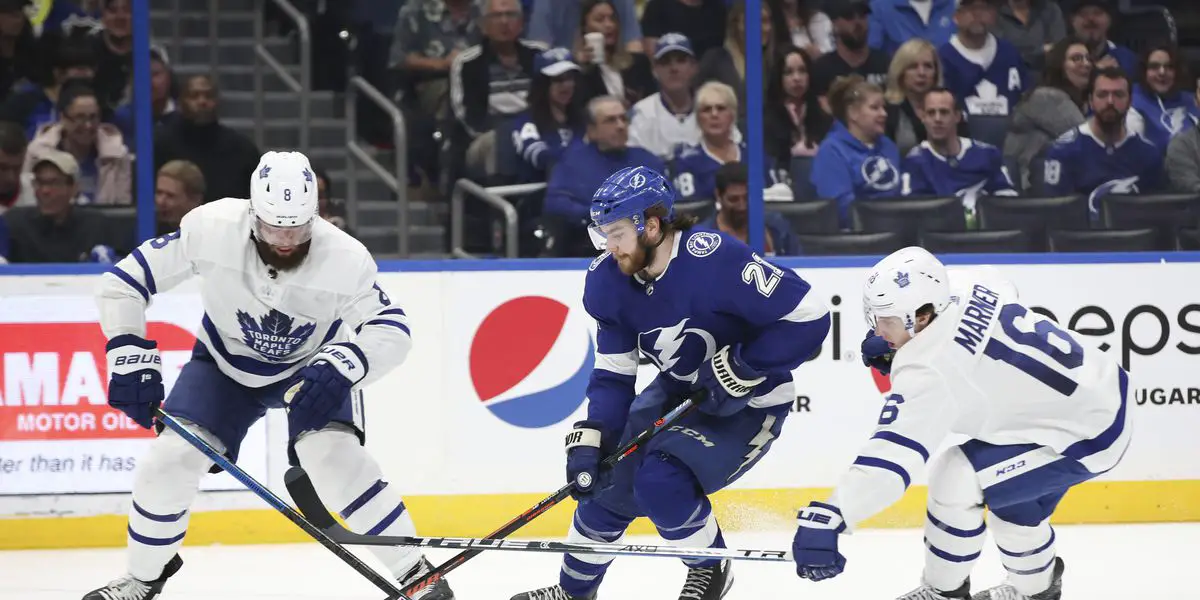 This game was the tale of two teams for the Leafs. It was the worst of times, and it was the best of times. A scary first period for the Leafs had a lot of people worried, but a Spezza ran locker room pep talk was exactly what was needed. The second period looked like a completely different team than what the Leafs were in the first. And that team kept on rolling in the third, finally playing and winning a close back and forth game. If that Leafs team that played in the second and third period shows up for game six, then we all have plenty of reason to be optimistic.
That first period was one of the most demoralizing periods I have watched as a Leafs fan. I thought the Leafs would pull a typical Leafs: come out slow, give up the lead and then give up. But reports came out that Spezza gave a rousing speech in the locker room between periods that fired up some of Toronto's star players.
"He said (our effort) wasn't good enough and that we had to get going and start battling". He continues "He's a great leader and he's been around for a long time and he knows what it takes. So, when he says something, everybody listens."

William Nylander on what Spezza told the team in intermission.
Something that will never show up on the score sheet is leadership, but goals and assists are pretty good too. Come the second period, the Leafs decided to get back in the game, scoring on the powerplay with a weird deflection was John Tavares. The captain played a great game, assisting the game-tying goal later in the third.
Morgan Rielly would be the one to open up the scoring in the third. Blasting home a shot that isn't far off from what we see our star Auston Matthews do regularly.
Then around a minute later, the Leafs would stay hot, scoring on a beautiful shot by William Nylander. Nylander always finds a way to turn it up in the playoffs, and this year is no exception, earning first star honors with a goal and two assists. But just as it looked like the Leafs secured the game, the Lightning would answer back with an incredible shot. Ryan McDonagh got everything on this shot, completely sucking the life out of Maple Leaf Square.
After five minutes of back-and-forth hockey, Marner and Matthews would go on a two on one. They would capitalize on the chance, Matthews scoring off a rebound purposefully set up. The Leafs and Campbell would hold on for the remaining 6 minutes and take a 3-2 series lead back into Tampa Bay.
Now to give credit where credit is due, Justin Holl played a solid game. He made few mistakes, won puck battles, and sent a great outlet pass to Mikheyev to set up Nylander's goal. Aside from the first Lightning goal where Holl was not covering anyone, he played a very clean game. No penalties and no glaring issues. But this isn't to say he is still trusted; one good game doesn't excuse over ten bad ones. I would still rather see Liljegren in that spot, but statistically, Holl had a great game.
On the night, Justin Holl had an assist, +1, 2 shots, and three hits. He was clearing guys out from the net after whistles and was not taking any BS last night. When Keefe puts Holl in the lineup, this is what he is looking for, and I get why. The Holl and Giordano pairing was as good as any other pairing last night. If they can continue to be a shut-down pairing for the rest of the playoffs, I hope that we won't have to worry about Holl's play.
Right now, I have no clue what to expect for game 6. On one hand, we could see the Leafs team from the first period, or on the other, we get the Leafs team that took game five right from the Lightning. If we see the latter, then I am optimistic that many Leafs fans will get to see the second round for the first time in a long time.