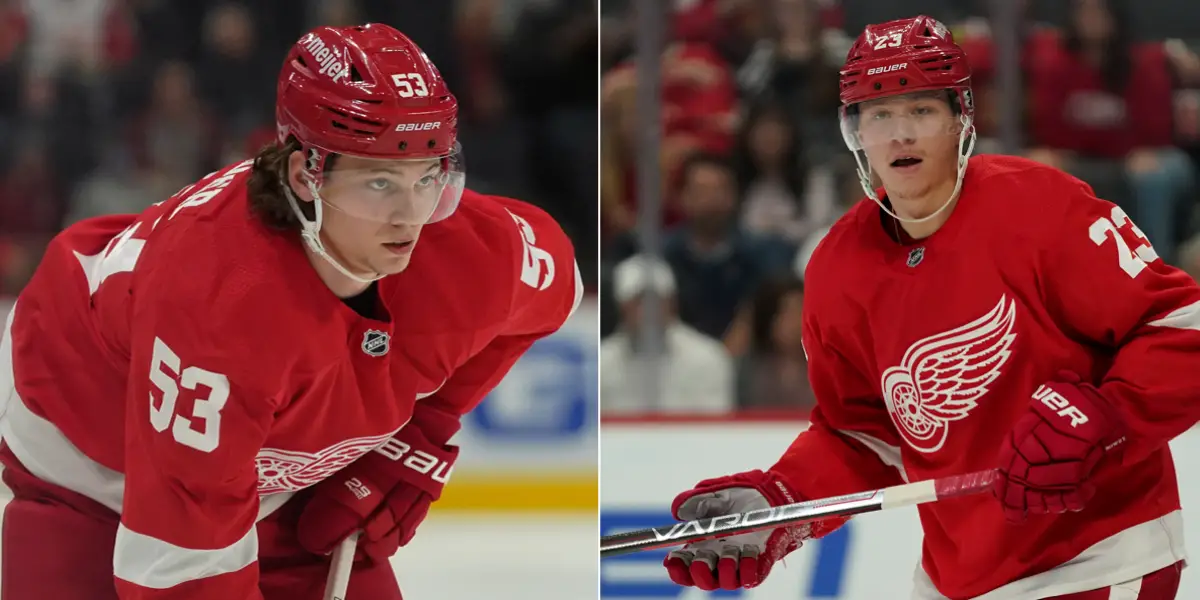 Each season marks a new chance to watch your favorite team duel it out for 82 regular-season games in hopes of achieving a playoff berth and making a run at the coveted Stanley Cup. While this is the primary goal of each season for each team, the fans get to witness many other exciting plots unfold throughout the season, whether it be new players debuting for your team or a new face leading the way in scoring categories. The best of them all, though, is seeing the new blood that gets infused into the NHL with rookie players making their debut seasons and breathing a new breath of fresh air into the league. It's always interesting to see which rookie will make the most significant impact for their team and take the league by storm. Of course, there's always the hyped-up prospects that are supposed to be the next insert great players name here, and then there are the quiet ones that come out of nowhere like 2021 Calder Trophy winner in fifth-round pick Kirill Kaprizov. The theme of this year's Calder Memorial Trophy race is that these players were taken in the first round of the 2019 or 2020 draft. At ages of 20 and 21 are already making such an impact in the league.
The Top Ten
This year's class of rookies include the names of players such as Trevor Zegras, Moritz Seider, Lucas Raymond, Anton Lundell, Michael Bunting, Tanner Jeannot, Matt Boldy, Dawson Mercer, Jamie Drysdale, Alex Newhook, Bowen Byram, and Jonathan Dahlen, along with plenty of others. Still, these 12 players are the ones that represent the best top ten odds to win the Calder Trophy.
The Four Maybes
While players like Drysdale, Newhook, Byram, and Dahlen have all had good years, they are not at the top of the rookie class as they sit at +5000 odds to win the Calder, and unless something drastically changes over these last two months, they don't have the best odds to pull it off.
The Middle of the Pack
The middle of the pack belongs to players like Dawson Mercer, who's at +3400 odds to win, and Matt Boldy from the Minnesota Wild. Boldy is currently on a hot streak finding the back of the net but has the disadvantage of only playing in 19 games; so far, he is hurting his chances and giving him +2600 odds to pull it off. Then there are two players at spots five and six of the top ten that are currently sitting at +1000, and that's Tanner Jeannot of the Nashville Predators and Michael Bunting of the Toronto Maple Leafs. While these two players have tied for the fifth-best odds thanks in part to their ages, it is essential to know that they both have somewhat of a chance. Especially Bunting; both players are tied for the rookie lead in goals with 18 apiece, but it's Bunting who is second among rookies with 40 points while Jeannot doesn't rank in the top five. Bunting is also fifth in assists with 22 and ranks third in plus-minus with 15 giving him an outside chance if he finishes the year strong on a high-powered Toronto team.
Fourth Place Finish
Coming in at number four is Anton Lundell, the young center who's had the honor to play on the third line for lethal Florida Panthers this year and has been a goal-scoring machine as a team. Lundell is sitting at +750 odds thanks to his scoring and play-making abilities which has helped him produce a staggering plus-minus of 29, which leads all rookies. Lundell also has 36 points which rank fifth and is only six points behind leader Lucas Raymond, fifth in goals with 12, which is six behind leader Michael Bunting but only three behind Raymond and one behind Zegras, who are his two real competitors. If Florida continues their winning and scoring ways in which Lundell is a significant part, he can leapfrog himself right to the front.
The Top Three
Fans love to watch this race to the finish, but not so many bettors. The top three rookies vying for the Calder Trophy are all so close now in terms of odds and statistics, making it hard to predict with Lucas Raymond at +350 and Trevor Zegras and Moritz Seider tied at +250. Once the front runner for the Calder, Lucas Raymond has now lost the lead to Zegras and his teammate Seider, who lost his lead in assists and now only leads rookies in points with 42.
Zegras has been a man on a mission with finally closing the gap on Raymond and becoming the front runner; Zegras is the league's future with his flashy goals and stunning play making him a well-known name this season and even leading up to it. Zegras ranks third in points with 39, fourth in goals with 13, third in assists with 26, and is ahead of Raymond for points per game. Zegras has a very legitimate shot at winning it all, and these last two months will play a critical component if he can close it out.
For odds, the man tied with Zegras is no other than Detroit Red Wings Defensemen Moritz Seider. He has stepped into Detroit's number one defensive pairing and has been nothing but spectacular each night, especially from a puck-moving and play-making ability. As a defenseman, Seider is tied with Zegras for points at 39 as he leads all rookies with 34 assists which is seven more than second-place rookie Lucas Raymond and eight more than Zegras as he also has five goals. It's also important to note that Seider is playing more minutes than any other rookie as he's logging 22:55 minutes per game over 53 games on that top defensive pairing. For a rookie to come in and play this kind of hockey, especially as a defenseman, is spectacular to watch and gives Seider that slight nudge over Zegras thanks to his position and still racking it up on the stats sheet.     
The boys are back after a long break but have plenty to talk about as the playoffs are in full swing. We go series by series, looking at how teams have fared so far and who will come out on top. Thanks for listening! Please rate and review our show on your favorite listening platform. Check out our partner's website at www.insidetherink.com for all your latest hockey news.