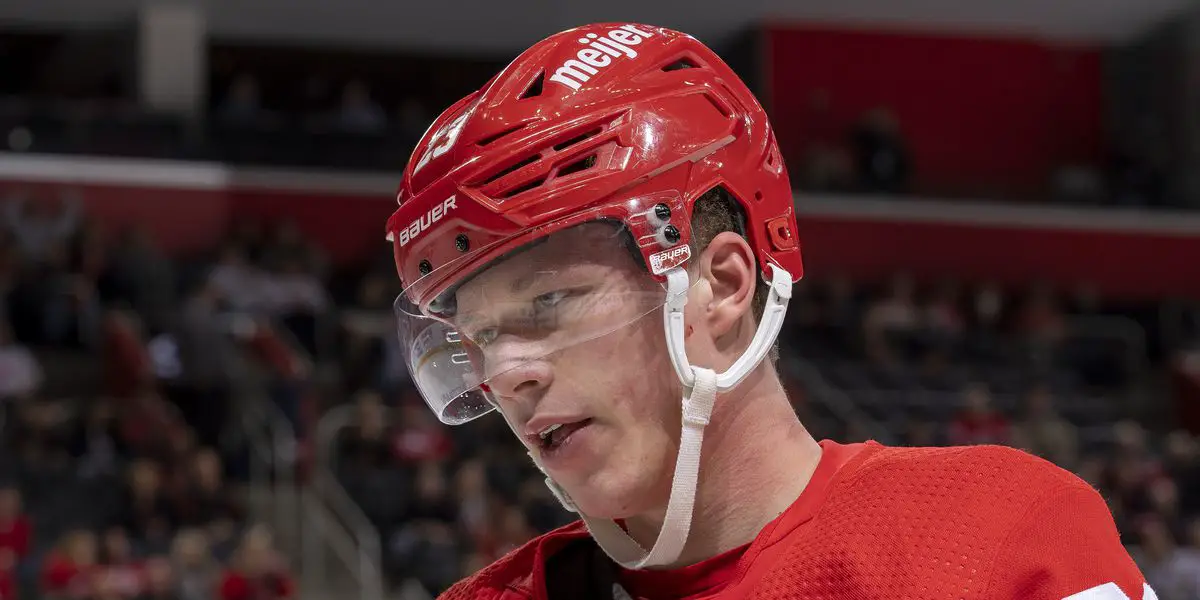 Lucas Raymond is in the stretch run of his rookie season with the Detroit Red Wings. Heading into tonight's game, Raymond appears to be running out of steam, as he has played every game for the Red Wings this season. Raymond has been one of the top rookie scorers in the NHL all season long. Raymond is currently tied with Trevor Zegras for 2nd in rookie, scoring 55 points.
It's Been a Long Season
The grind of an NHL season is difficult for all players, and Raymond is no exception. Before this season, Raymond was used to playing less than 50 games. By the end of this season, Raymond will have played almost double the games he played last year.
Last season, at the age of 18, Raymond played his first entire season of professional hockey in the SHL. In 34 regular season games playing for Frolunda, Raymond scored six goals, 12 assists, 18 points, and had a +1 rating. Raymond also played five games in the IIHF World Junior Championships as a member of Team Sweden, where he scored two goals, three assists, five points, and a +2 rating.
This season, Raymond wasn't initially scheduled to start the year with Detroit. A shoulder injury to Jakub Vrana in training camp led to an opening on Detroit's top line. Raymond jumped at the opportunity and hasn't looked back. In 73 games, Raymond has scored 22 goals, 33 assists, 55 points, and a troubling -26 rating.
Second Half Struggles
The entire Detroit Red Wings team has struggled during the second half of the season. After initially being in the running for a Wild Card playoff spot, the Red Wings have completely self-imploded during the second half. This self-destruction has been well documented over the last month, with numerous losses and a league record of 28 empty-net goals against.
Raymond recently turned 20, and he looks like he is wearing down as the season has dragged along. In his last ten games, Raymond has scored two goals, and both of those goals were scored against Ottawa during Detroit's 5-2 loss at home on April 1st.
During Raymond's last 19 games, dating back to March 4, Raymond has scored six goals, six assists, 12 points, and a disappointing -23 rating. To cut Raymond some slack, some of these even-strength goals against happened at the end of games, while the goaltender was pulled.
Expectations for Next Year
Expectations moving forward will be high for the former 4th overall pick from the 2020 draft. He will likely be a finalist for the Calder Trophy and has had a terrific first year playing on the top line in Detroit. Dylan Larkin and Tyler Bertuzzi have been tremendous linemates. He has also found a best friend in fellow rookie Moritz Seider making the transition away from his homeland that much easier.
One year of experience, where he has been averaging 18:15 of playing time, has done wonders for Detroit's top young forward. A summer in the gym where he will undoubtedly get stronger, coupled with the opportunity to play for Sweden at the IIHF World Championships, should prepare Raymond for another season of NHL hockey where he will take his game to the next level for the Red Wings.
After beating two top-ten teams in the NHL, the Red Wings have dropped three straight and are facing a crossroads. In this episode we look at what the future may hold for key players, the current roster construction, and the performance form the youth! Please rate and review our show on your favorite listening platform. Check out our partner's website at www.insidetherink.com for all your latest hockey news.