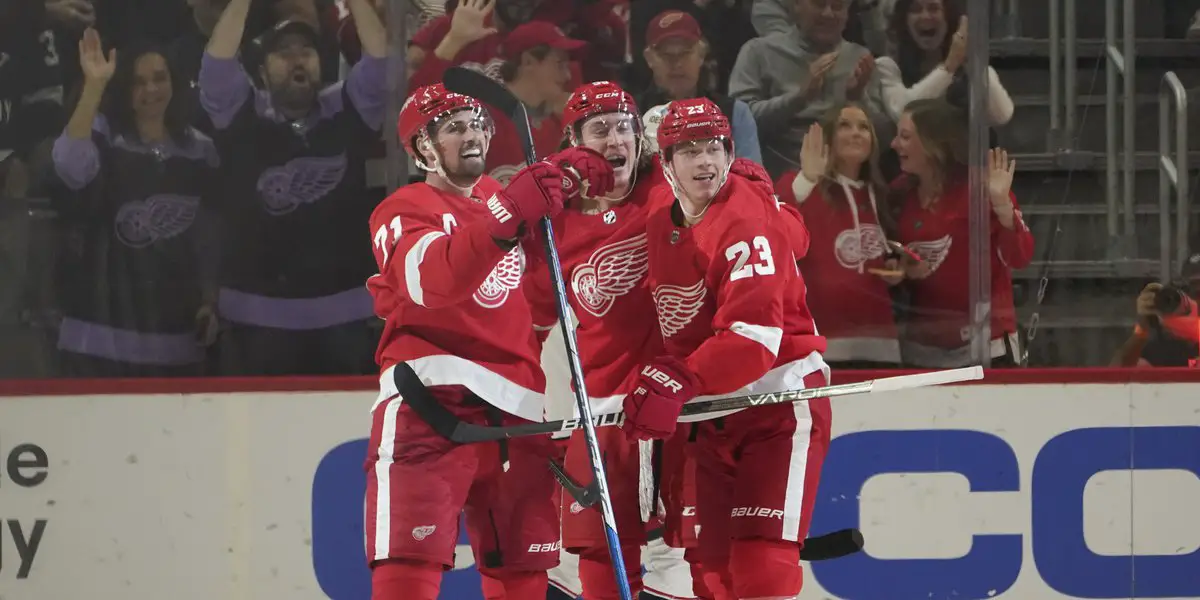 The Detroit Red Wings have been better than most people have expected this season, currently sitting 5th in the Atlantic Division with 41 points and a record of 18-17-5. There has been a handful of players who have pulled their weight, others not so much. The team just played their 40th game on Monday in Buffalo, so it is a game early of the actual middle of the season. But with the postponements and rescheduling of games this season, this felt overdue.
Forwards
Dylan Larkin
Grade: A
The Red Wings' leading scorer and 2022 NHL All-Star selection, Dylan Larkin, has had an excellent bounce-back season. With 36 points in 35 games, Larkin has proven he can produce at an #1 center level while still being dependable in the defensive zone. Larkin currently sits 13th in the NHL in points among centers. Playing with Lucas Raymond and Tyler Bertuzzi most of the season, the line has been near the top of the league in generating offense at 5 on 5. 
After scoring the game-tying goal and overtime winner versus Buffalo on Monday, Larkin became 8th in career points for a Red Wing by the age of 25. With all of the greats that have come through the organization, this is an impressive stat, and if he can keep up his current pace, it is possible we see Larkin passing Marcel Dionne and becoming 5th all-time.
Lucas Raymond 
Grade: A
In August, if anyone said that Lucas Raymond would be tied for second on the Red Wings in points halfway through this season, they would have been looked at sideways. Raymond has only been getting better as the season has progressed. He has had to adjust to opposing teams focusing more defensively on him as he recently broke a 15-game goalless drought. 
Even when not scoring, Raymond has been able to create offensive chances consistently. Raymond currently sits first in rookie points with 32 and tied for second in goals with 11. He has helped Bertuzzi and Larkin both take major steps offensively this season. He was even nominated as the Red Wings' Last Man In candidate for the 2022 NHL All-Star game but eventually lost out to Steven Stamkos. Being in the All-Star discussion is a great accomplishment as a 19-year-old rookie.
Robby Fabbri 
Grade: B-
Robby Fabbri has been a really interesting player this season for the Red Wings. He has been consistently one of the hardest-working players on the Red Wings this season but has struggled to produce offense regularly. With 10 goals and 17 points through 38 games, Fabbri is on pace for only 37 points, which is the slowest pace of his career. 
Fabbri has stepped in and produced well with Raymond and Larkin. Fabbri has been at his best in a supporting role rather than a play driver. When Bertuzzi has been out this season, but with Suter and either Zadina or Namestnikov, they haven't clicked as they lacked a play driver. Jeff Blashill moved Bertuzzi down to the second line in the past two games versus Buffalo, and Fabbri looked like a different player. With more consistency on his line and a guy like Bertuzzi with him, I think Fabbri's production will increase. 
Carter Rowney 
Grade: C
Carter Rowney has been basically what you expect of an average 4th line player. Rowney signed a one-year contract in early September to compete with Mitchell Stephens for the 4th line center spot. After losing out and starting as the 13th forward, Rowney was able to stay in the lineup consistently and not look out of place. Rowney was also able to establish himself as a go-to guy on the penalty kill. 
Adam Erne 
Grade: F
Adam Erne might be the perfect example of what a "flash in the pan" looks like in the NHL. Erne was traded to Detroit in 2019 from Tampa Bay, where he'd play 56 games in the 19-20 season but only recorded 5 points. His two goals from that season came in the same game. Then in the 20-21 season, Erne would shockingly lead the Red Wings in goals with 11 through 45 games, a 20-goal pace if it was a normal season. This season has been a completely different story as Erne has only 3 goals and 9 points through 39 games this year. He has also been one of Detroit's worst defensive players, with a GF% of 35.48%. Erne signed a two-year extension in the summer and the expectation was for Erne to step into a bigger role and build off of last season. So far, he has disappointed.
Tyler Bertuzzi 
Grade: A
Coming off of a significant off-season back surgery, there was some worry around Red Wings' fandom how Bertuzzi would return to action. With the gritty, two-way style he plays, it was possible that Bertuzzi wouldn't be able to play his true game. But so far, Bertuzzi has not only been able to recover fully from surgery but has taken his game to another level. With 32 points in 32 games played, Bertuzzi has been a key contributor to Detroit's offense and is on pace for the best offensive season of his career. 
Even when the team hasn't been playing well, Bertuzzi has consistently shown up and has been on a heater of late. In the past ten games, Bertuzzi has had eight goals and 13 points, leading the team during that time. Jeff Blashill decided to split up the top line of Bertuzzi- Larkin- Raymond and reunited the "Guelph Line" with Suter and Fabbri. The move has paid off nicely and has given the Red Wings two reliable scoring lines.
Pius Suter 
Grade: B
Pius Suter signed as a free agent after Chicago decided not to qualify a 25-year old restricted free agent due to salary cap issues. Throughout the current rebuild, the Red Wings haven't had a capable second-line center behind Dylan Larkin, which hindered any offense behind the first line. Suter looked to be a solution not only for this season but possibly in years to come, with his age being similar to the core of the Red Wings. 
Suter has been a very reliable second-line center so far this season, both offensively and defensively. Suter is on a similar point pace as last season as he has 18 points through 40 games this year and had 27 points through 55 games last season. He also played with Patrick Kane for most of last season, which is one of the best playmakers in the NHL. This season, Suter has produced his offense with little powerplay time and Robby Fabbri and a rotating cast on the other wing. Suter has also arguably been Detroit's best penalty-killer as he has taken big strides in his defensive game and broke the team's 101-game penalty kill goalless streak.
Michael Rasmussen 
Grade: D-
Michael Rasmussen has been one of the fanbases' favorite players to be frustrated this season, and rightfully so. The 9th overall pick from 2017 has not lived up to his draft slot so far in his career and has struggled often in his role as a third-line center. Last season seemed to be a step in the right direction for Rasmussen after being called up from Grand Rapids as he took major steps in his skating and focused on his defensive game. His play earned him a three-year contract extension and a more solidified role in the NHL lineup. 
Over the past couple of weeks, Rasmussen has looked to be more consistent on both sides of the puck as he moved to the wing for a game and truly looked comfortable. So far, it seems Rasmussen has regressed on the defensive side of the puck and has looked inept in the offensive zone. Being 6'6 and 230 pounds, he struggles to win puck battles in the corner, which should be a strength. With his skating deficiencies, Rasmussen isn't suited to be a shutdown center in the NHL, facing the opposition's best. Rasmussen should be a bottom-six winger on this team to truly get the best out of his skill set.
Filip Zadina 
Grade: D-
Again, this isn't a surprising grade as I just wrote a lengthy article about the disappointment of Filip Zadina's season. After an excellent start to the season, the line of Fabbri- Suter- Zadina struggled for a long period before being broken up. He has failed to generate consistent offense this season, both at even strength and on the powerplay. Some of Zadina's disappointing play can be attributed to coaching and what style he is being asked to play. But ultimately, when you are as talented as Filip Zadina, there is little excuse to have four goals through 38 games.
Sam Gagner 
Grade: C+
Sam Gagner has been a reliable bottom-six option for Detroit ever since being a thrown-in during the trade between Edmonton and Detroit, centering around Andreas Athanasiou. Gagner has reinvented his game into a defensively sound winger who can be a go-to guy on the penalty kill. He's also brought some offense to a bottom-six who struggles to produce. Gagner sits 9th on the team with 13 points in 40 games which in its own right isn't eye-popping, but he usually plays only 10-12 minutes a game with limited time on the powerplay.
Givani Smith 
Grade: D+
Givani Smith is currently in the midst of his first full season in the NHL and has quickly become one of the league's most formidable fighters. He has taken on the likes of Milan Lucic and Nicolas Deslauriers and held his own. The rest of Smith's game has been a different story so far. It could have been hard to recall a lot of games this season whether or not Smith played. But then there's one of those games where Smith is one of the most noticeable players on the team. December 4th versus the Islanders was easily his best game of the season as he was all over the offensive zone, hard on the forecheck and creating chances that led to him recording a goal and an assist. Smith has had a handful of games like this in his young career, but the issue is it isn't every game. Smith needs to improve his consistency over the next half of the season to prove that he can be an everyday NHLer. On Wednesday, the Red Wings announced that Givani Smith's older brother Gemel was claimed off waivers from Tampa Bay. Maybe that could be a new look to the 4th line.
Vladislav Namestnikov 
Grade: B+
Namestnikov has finally found his footing after a rough 20-21 season and is precisely what the Red Wings were hoping they would get out of the 2020 free-agent signee. Namestnikov has already passed his last season's totals in goals, assists, and points in 13 fewer games. He is currently on pace to have his highest career goal total, and all but one of those have come at even strength. On Monday, the other goal was this short-handed goal that would spark a 3rd-period comeback and eventual overtime win.
He has recently earned more ice-time and a spot on the first line with Dylan Larkin and Lucas Raymond, and the trio, through two games together, has 8 points. Namestnikov has been a vital member of the Red Wings this season, and with an expiring contract and the trade deadline coming up, Steve Yzerman will have an interesting decision to make.
Joe Veleno 
Grade: D+
Joe Veleno came out of the gates of his NHL season as he was called up for a Saturday night game in Toronto and rode with Steve Yzerman to the game and would go on to have the best game of his career. Playing wing on the third line, Veleno would score a big goal and then set up Vladislav Namestnikov only a few shifts later. After that game, Veleno only has two goals in 23 games. Granted, many of those games have been played on the 4th line. There hasn't been any sign of that first game of the season performance coming back. Veleno hasn't utilized his underrated speed a whole lot this year and has conformed to the 4th line grinder role most nights. But the few nights he has played higher in the lineup, Veleno has played with pace and skill and has looked close to scoring a few more goals. I'd like to see Veleno on a higher line and maybe a longer look on the powerplay to see what he can truly do.
Defense
Moritz Seider 
Grade: A
This is an easy grade for me. Moritz Seider has been hands down the Red Wings' best defenseman and some nights even their best player as a 20-year-old. With 25 points in 40 games, he's on pace for 51 points which would be the highest by a Red Wings' defenseman since Nicklas Lidstrom in the 2010-11 season. He has been able to produce at this rate with replacement level partners most nights, which is something very few top-pairing defensemen deal with daily.
His ability to shut down opponents in either the defensive or neutral zone and then transition the play with ease into the offensive zone has given the Red Wings more chances off the rush.
This goal is a great example of that as Seider steps up in the neutral zone and calmly waits for his teammates to be onside. He pulls defenders towards him as he gains the offensive zone, leaving Bertuzzi open in the slot and eventually scoring. He has also been one of the few bright spots on the Red Wings' power play as he runs the 1st unit and leads the team in points on the man-advantage with 10. Seider has been everything Red Wings fans could have hoped for in his rookie season, and he's only going to continue to develop from here.
Filip Hronek 
Grade: B-
Filip Hronek continued his lackluster defensive game from the 20-21 shortened season into the beginning of this season, as he found himself a scratch after only a few weeks. But with the emergence of Moritz Seider, Hronek was able to settle into more of a second pair role and didn't have to face the opposing team's top lines. Hronek has been playing to his strengths as he has simplified his game in the defensive zone while activating and shooting more in the offensive zone. He has still been inconsistent at times in recent weeks but has made up for that with his ability to produce on one of the worst powerplays in the NHL. Hronek currently sits tied for 5th on the team in scoring with 20 in 38 games.
Nick Leddy 
Grade: C
Nick Leddy was acquired for a second-round pick before the 2021 expansion draft from the Islanders, as they were worried about losing him for nothing. At the time, this trade felt a bit too high of a price to pay for a 30-year-old defenseman making $5.5 million, and looking back on it, that feeling remains. Coming off a shortened season where he was on pace to have his best season in 5 years, he has struggled to put up points with only 1 goal and ten assists through 38 games.
Leddy started the season playing Moritz Seider, and the results were very promising. According to MoneyPuck, the pairing of Leddy Seider ranked 7th in the entire NHL for expected goals against with 3.6 through 111 minutes together. In an attempt to even out the defensive pairings, Leddy was partnered with Hronek, and the results have been far from the same. Leddy recently has been paired with Gustav Lindstrom and has looked more comfortable. Leddy is still a good NHL defenseman, but he has looked uncomfortable in Detroit. For a player who was brought in to help the powerplay, he has struggled with only a pair of assists.
Jordan Oesterle 
Grade: C-
With the way the Red Wings' defense is set up, a few guys have been playing in a higher role than they should, Oesterle being one of them. Oesterle has been used this season as either a depth defenseman or Moritz Seider's partner, which are two very different roles. WHe has looked pretty solid when he has been used in his proper role on the third-pairing, Oesterle is a mobile defenseman who can join the rush when needed, and that is always an asset to have. He has also been able to transition out of the defensive zone quite well. When he has played with Seider and faced top players, he has looked out of place with his decision-making.
Danny DeKeyser 
Grade: F
There was a time when Danny DeKeyser was the top defenseman in the entire organization. Unfortunately, after his back surgery in December of 2019, DeKeyser has been a shell of his former self. Playing in a top-pairing role most of this season, he has been exposed for his lack of speed and strength, leaving Moritz Seider to clean up DeKeyser's mistakes. It is extremely unfortunate because he does bring value to the locker room, as he is the longest-tenured player and an assistant captain. It is just hard to justify having DeKeyser in the lineup every night at this point.
Marc Staal 
Grade: C
I was skeptical of how well Staal would play after being traded with a second-round pick to Detroit as salary cap relief for the Rangers. Staal has been serviceable and well-deserving of his contract extension this past summer. He has been a key member of the Red Wings penalty kill, which has improved greatly throughout the season. I am most surprised how often he activates off the blue line in the offensive zone to attempt to create offense. Sometimes it ends up creating an odd-man rush against as Staal isn't a great skater, but sometimes it creates scoring chances and even goals, like his game-winner this year in Boston. But at the end of the day, he is still only a third-pair defenseman but has performed as well as Red Wings' fans could have hoped for.
Gustav Lindstrom 
Grade: B-
If the 2017 draft brought the Red Wings any real value, it is Gustav Lindstrom. Last season I didn't see much in Lindstrom's game that screamed everyday NHLer, but he has been arguably Detroit's second most reliable defenseman all season. Playing mostly third-pairing minutes, Lindstrom's quiet, low-event style has been a nice surprise to the defensive core. He has shown the ability to scan the zone and make a quick outlet pass out of the defensive zone. There has been the occasional off game, but that comes with development with a young defenseman.
Goalies
Alex Nedeljkovic 
Grade: A-
It is still hard to see Carolina's logic in trading at the time 25-year old goalie of the future, Alex Nedeljkovic, for only a third-round pick and the rights to Jonathan Bernier. Nedeljkovic has come in and been exactly what Red Wings fans have been missing in goal since prime Jimmy Howard. Nedeljkovic currently has a .918 save percentage which is 10th in the NHL for goalies who have started 20 or more games. The Red Wings have also not made life easy for Nedeljkovic as he has to face a lot of odd-man rushes regularly due to defensive lapses. From Top-Down Hockey as of January 15th, Nedeljkovic sits 10th in goals saved above expected on this table below. 
There is a serious argument to be made for Alex Nedeljkovic to be not only the Red Wings' best rookie but the NHL's, as he is still eligible for the Calder Trophy this season.
Thomas Greiss 
Grade: D+
Greiss has struggled to find his game over the first half of the season, which resembles his first half last season but in a different way. Through his first 22 starts as a Red Wing, Greiss averaged over three goals against per game and a .889 save percentage. In his last 12 starts of the 20-21 season, he was the hottest goalie in the league with a goals-against-average of 1.39 and a save percentage of .953. This season Greiss has similar numbers as his start to last season with a .894 save percentage and averaging 3.36 goals against. Greiss played almost every game at the beginning of his first year due to Jonathan Bernier's health and was left out to dry often. This year, with the emergence of Alex Nedeljkovic, Greiss's starts have been few and far between. Greiss has started one game in 2022 and only three starts in the past 12 games. If the Red Wings hope to play meaningful games later into the season, they need consistent goaltending from both goalies, which Greiss has proven he can during his tenure in Detroit.
Incomplete
Mitchell Stephens
Jakub Vrana
Troy Stecher