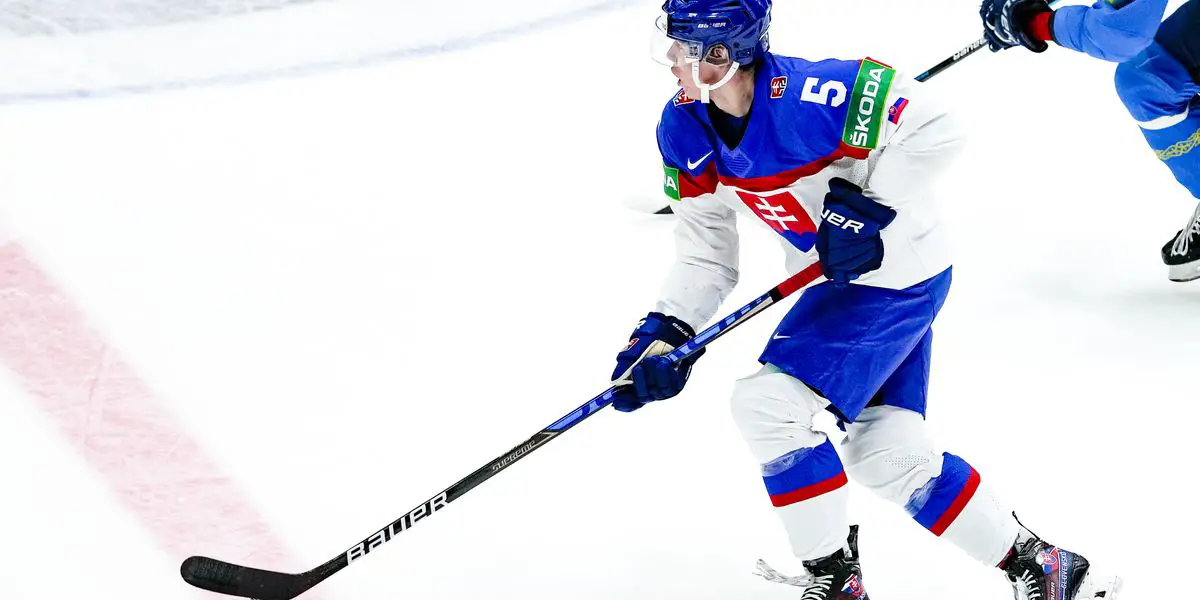 The Draft
Seeing the draft live in person and in no better place than Montreal was great. It was a great event filled with plenty of fireworks and trades. The New Jersey Devils had a successful draft and loaded up at the defense position, primarily focusing on the right side. Tom Fitzgerald also made a Day two splash by acquiring goaltender Vitek Vanecek from the Washington Capitals. Here is what the Devils did in this draft.
The Class
Round One: Simon Nemec
Right after the Montreal Canadiens selected the big Slovakian Winger Juraj Slafkovsky, Tom Fitzgerald kept the Slovakian trend going. The New Jersey Devils selected defenseman Simon Nemec with the second overall pick. While playing in the Slovakian League, the blueliner netted one goal, 25 assists, and 26 points in 39 games. Also, skating in 19 playoff games, he totaled 17 points. 
Simon Nemec said, "I'm really, really excited. I still can't believe it. Amazing," said Nemec to the media after his selection. "It was an amazing moment for my family, for me, for everybody in Slovakia. It's an amazing night because we had the first overall (Slafkovsky) and second overall." 
Simon Nemec will be attending the Devils' rookie camp next week, and Tom Fitzgerald has signaled he could begin the season with the Utica Comets. 
Round Two: Seamus Casey
After trading picks with the Washington Capitals that also came with Vitek Vanecek, the Devils went on to draft right-handed defenseman Seamus Casey. 
Seamus Casey is coming off a solid season. The last two seasons have been great for the young defensemen. In 2020-21, with the USTNDP Juniors, he scored 20 points in 30 games, and when playing with the United States U17 team, he went on a tear scoring 36 points in 46 games. He carried that same momentum into this season. Playing for the same two teams, he scored 13 points in 17 games for USTNDP Juniors, and with the U17 team, he put up 33 points in 48 games. 
It has been confirmed that Seamus Casey will go off to college at Michigan University, where he will join Luke Hughes, the other Devils' top prospect.
Round Four: Tyler Brennan
The Devils continued to add at the goalie position. Tyler Brennan is a big goalie standing at 6'4 and weighing 190 pounds. By NHL Central Scouting, he was ranked as the top goaltender. The Winnipeg native has spent his season with the Prince George Cougars in the WHL. 
This season Brennan boasted a goals-against-average of 3.58 and a save percentage of .898 in 39 games played for the team. As the Cougars made it to the playoffs, he had a much better performance. When the postseason concluded, he finished with a 1.86 goals-against-average and a .954 save percentage. He was a rock in the net despite only being a three-game sample size. All players need work and development, but you can see the talent is there.
Round Four: Daniil Orlov
The Devils selected big Russian defender Daniil Orlov. Standing at a towering height of 6'2, the blueliner, aside from his defensive attributes, has offensive upside to his game. Orlov had a solid offensive campaign as he scored nine goals and 30 points in 54 games. His production increased as the year prior, but he only managed 17 points in 58 games played. The Russian netminder will continue to play in the MHL, Russia's second league.
Round Four: Charles Leddy
If there is one position the Devils focused on, it was the back end. They continued with defense in this round, selecting Charlie Leddy. After selecting two offensive defensemen, getting a defensive defenseman was a smart addition by Tom Fitzgerald. Standing at 6'1, the biggest strength of his game is being a stay-at-home defenseman on his blueline. While playing for the USTDNP, he managed 17 points in 55 games.
Round 5 Petr Hauser
Petr Hauser is a tower of a winger standing at 6'4. He has some offensive upside to his game. After having a massive campaign in 2019-20, where he tallied up 71 points in 38 games for the HC Plzen U17 team, his play took a dip. After a short campaign that saw him score 11 points in 7 games played, he turned it up this season. Playing for the HC Sparta Praha U20 team, he scored 25 goals, 34 assists, and 59 points in 41 games. It remains to be seen what his ceiling will be, but the potential is there. 
Round Six: Josh Filmon
Josh Filmon is another towering winger standing at 6'2. Primarily playing left wing, he can also play on the right side. He scored 23 goals and 45 points in 65 games. He skated for the Swift Current Broncos in the WHL. 
One of the best things about this kid is that he has incredible skating for his size. He uses his speed to create offense and contributed heavily to the powerplay working along the walls. While he has the size, he needs to fill out more and pack on the weight for the big league. 
Round Seven: Artem Barbashoa
The Devils may have found a gem in the rough. Selecting yet another defenseman, Artyom Barabosha, was the right pick. According to Red Line Reporting, he was the 79th-ranked defenseman. To land him in round seven is terrific. 
Another player in the MHL scored 11 points in 45 games. He is extremely mobile for his size at 6'2, holds tremendous value on the back end, and is a physical stay-at-home player. 
The boys are back after a long break but have plenty to talk about as the playoffs are in full swing. We go series by series, looking at how teams have fared so far and who will come out on top. Thanks for listening! Please rate and review our show on your favorite listening platform. Check out our partner's website at www.insidetherink.com for all your latest hockey news.