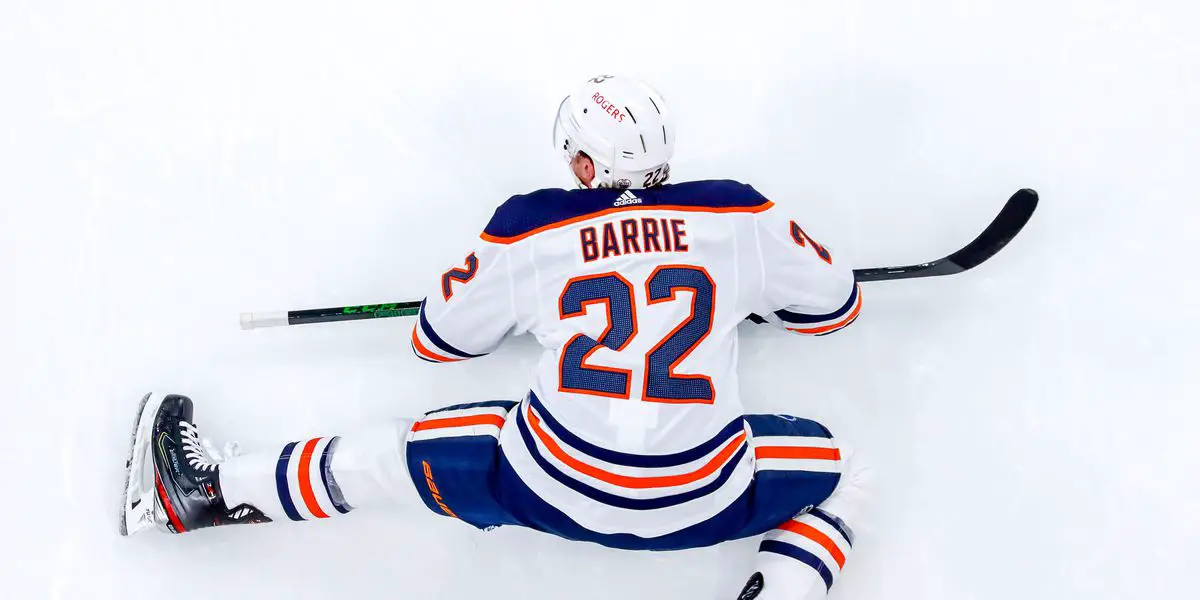 It's safe to say the off-season had been a win so far for Ken Holland, as he has made multiple great value signings this summer. With players like Evander Kane, Kailer Yamamoto, Jesse Puljujarvi, and Brett Kulak all re-signing sweet deals in Edmonton, the additions of starting goalie Jack Campbell and depth piece Mattias Janmark, it's safe to say the Oilers are a better team now than the previous season. But there are still moves that need to be made. Ryan McLeod is still an RFA and will likely be a key player in the Oilers' bottom six this coming season. With his low ask (around $1 million AAV), it is doubtful the Oilers will lose him, but they can't afford him as of now.
As of today, the Oilers are over the cap by six and a bit million, which doesn't sound very good, but keep in mind that LRIT hasn't kicked in yet. Once LTIR starts and Oscar Klefbom ($4.5 million AAV) and Mike Smith ($2.2 million AAV), the Oilers will be cap compliant by $335K. Yet this still doesn't give the Oilers to re-sign Ryan McLeod. Unless the Oilers want to lose McLeod, they will be forced into making a trade to move out money.
Who could be some trade candidates for the Oilers?
Tyson Barrie ($4.5 Million AAV)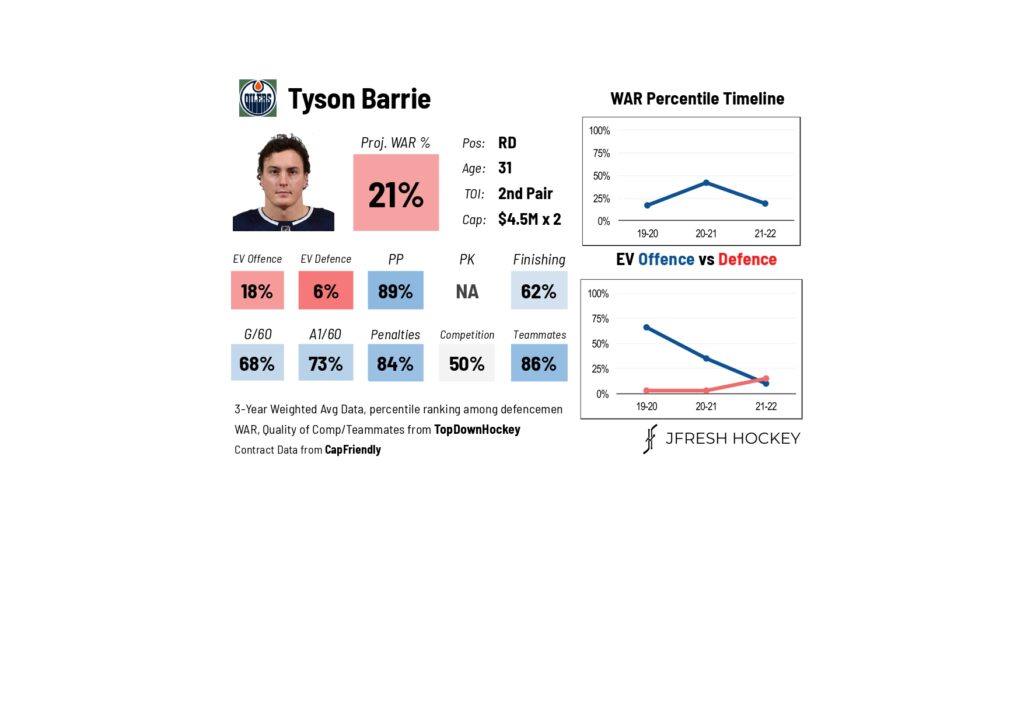 Since Tyson Barrie joined Edmonton in the 2020-21 off-season, fans have had mixed feelings about the offensive right-shot d man. While some are quick to point out his help on the powerplay, others bring up his struggles at 5v5 both offensively and defensively this season. Something that is a bit contradictive with the Oilers keeping Barrie is that they have a younger, way cheaper option, who outperformed Barrie this season, Evan Bouchard.
Something noticeably different between Bouchard and Barrie is their ability to wait. Bouchard played his first season this year and, offensively speaking, looked like he had played in the NHL for 10+ years. Bouchard's patience was second to none this season as he waited and found the perfect opportunity to shoot the puck. With Bouchard on the rise and ready to take the next step, it's hard to see a fit for Barrie in this lineup. Sure, you could play him on the 3rd pairing, but that is an expensive 3rd pairing.
Trade Prediction: One possibility we could see is a trade involving the Dallas Stars, as they seem to fit the bill pretty well after losing their right-shot offensive d man this off-season, John Klingberg. The Oilers may see the player coming back from the Stars as 30-year-old Jani Hakanpää. Hakanpää has two years left at an AAV of $1.5 million and would be a solid 2nd pairing guy for Edmonton. While he doesn't bring a lot offensively, his defensive ability is excellent, and that is something the Oilers need.
To Edmonton: Jani Hakanpää, 2023 4th round pick
To Dallas: Tyson Barrie
Warren Foegele ($2.75 Million AAV

)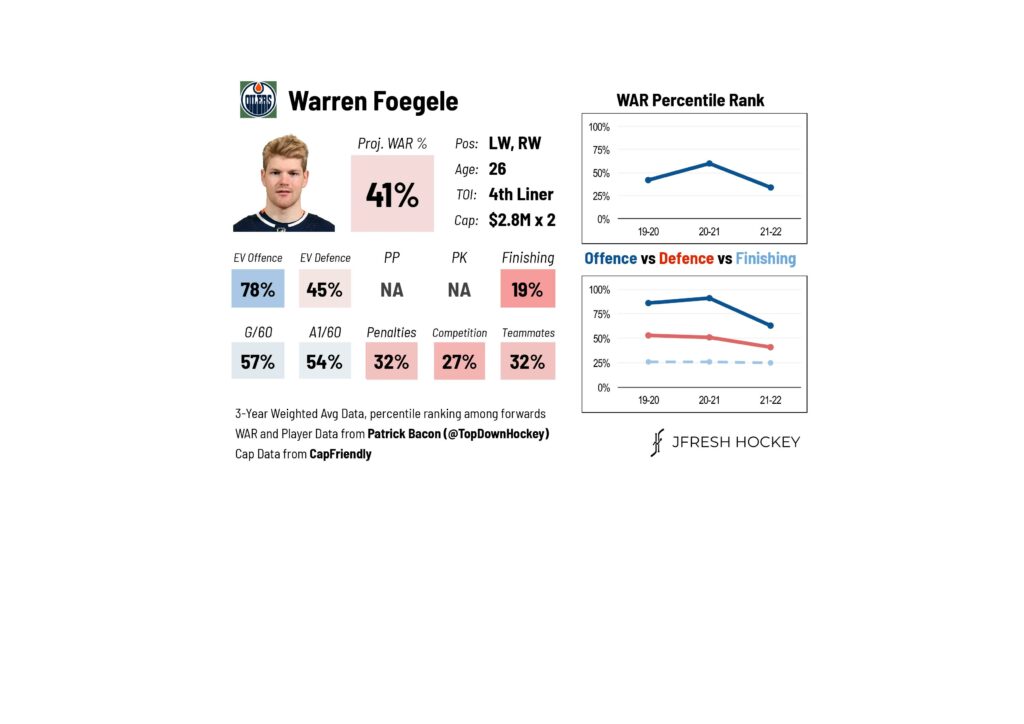 When Warren Foegele joined the Oilers, there was a bit of excitement, as the Oilers desperately needed depth help. At the time, Foegele was coming off a rough season, scoring 20 points (ten goals, ten assists) in 53 games. In 82 games, Foegele scored 12 goals and finished with 26 points. There was some promise, though, as Foegele in the past showed he could be a third-line guy on a good team. Sadly, this past season didn't show he was there.
Unfortunately for Foegele, he is running into the same problem as Tyson Barrie, as Dylan Holloway is ready to earn a job in the NHL. Some could say Holloway isn't proven and would need a player to hop in just in case he isn't ready yet, and those people would be correct, but the Oilers did pick up another depth piece this off-season in Mattias Janmark. The odds seem stacked against Foegele, as he is on the outs, but a fresh start may be the best option. If he does stay, an entire season under Jay Woodcroft could turn his game around and back into that depth player Edmonton hoped for.
Trade Prediction: The Oilers will most likely be looking for draft capital, as they are without a 4th round pick in next year's draft and are also down a 3rd round pick in the 2024 draft. It's hard to see the Oilers getting a player back, as they want to move money out. One possibility could be the Chicago Blackhawks, as they have a ton of cap space and aren't looking to be competitive this coming season, but they most likely want to keep their draft picks. If the Oilers can't find a deal anywhere else, one trade could see the Oilers swapping picks with Chicago while the Blackhawks take on the contract.
To Edmonton: 2023 4th round pick
To Chicago: Warren Foegele, 2023 3rd round pick
All In All
While the off-season has been a win for the Oilers so far, moves still need to be made. With the Oilers finally entering their cup contention window, it is time to move whatever picks are necessary to be competitive. It'll be interesting to see how Ken Holland handles the rest of this off-season and how he approaches this situation with Ryan McLeod.
The boys are back after a long break but have plenty to talk about as the playoffs are in full swing. We go series by series, looking at how teams have fared so far and who will come out on top. Thanks for listening! Please rate and review our show on your favorite listening platform. Check out our partner's website at www.insidetherink.com for all your latest hockey news.