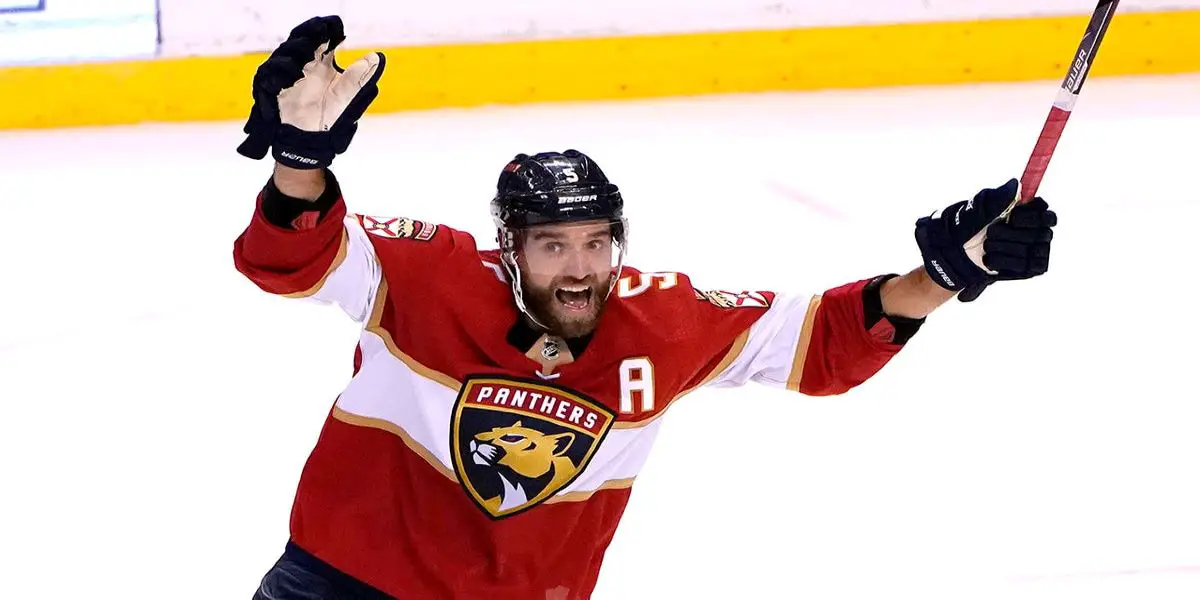 In a typical NHL season, certain franchises struggle to obtain the same level of notoriety as others. Of course, a team's success level plays a role, but geographical location typically has a lot to do it with as well. Generally, organizations inhabiting non-traditional hockey markets struggle to obtain a great deal of attention on a national scale. The Florida Panthers, without a doubt, fall into that category.
Until recently, the "other team" in the "sunshine state" rarely crossed many people's minds outside the fanbase. By association, many players failed to receive the recognition they deserved. Now, with a 24-7-5 record through 36 games, the Panthers are forcing the hockey world to take notice, placing the spotlight on its highly-skilled players.
Though far from an unknown commodity, Florida's recent success has helped draw attention to defenseman Aaron Ekblad and his successful start to the 2021-22 campaign.
Playing in all but one game thus far, Ekblad ranks tied for fifth in points amongst NHL defensemen with 32. He currently sits six points behind the league leader, Victor Hedman, while suiting up for three fewer games. In terms of goal, he ranks third among blueliners with 10, six behind the leader Cale Makar. Additionally, his 22 assists slot him into tenth place amongst his peers. Taking the statistic for what it is, Ekblad is also one of the better defensemen regarding plus/minus with a +23. Of course, the supporting cast around him plays a significant role, and Florida possessing the second-best goal differential in the NHL helps. Still, there's no denying Ekblad is one of the Panthers' best players and an overall workhorse, averaging 25:19 of ice time.
The 25-year-old's success this season is not just limited to five-on-five play. As with most great players, his effectiveness extends to all situations. Of Ekblad's 32 points, 11 were on the power play (2G, 9A), and two were on short-handed situations. Florida's most-used defenseman on the man-advantage, averaging 3:45 a game, he also serves as a fixture on the penalty-kill, playing 2:45 a night. Furthermore, Ekblud is a go-to player for clutch situations, having a game-winning goal in overtime this season.
In Tuesday's contest against Vancouver, Ekblad reached the 30-point mark in the fewest games in his career. Before crossing that plateau in just 35 games, his previous best was 51 games in 2014-15. He now only sits behind Keith Yandle for the defenseman to reach 30 points in the fewest amount of games. Yandle hit 30 points in 32 games during the 2018-19 season.
Ekblad not only reached 30 points with a first-period goal Tuesday night, but he also added two assists for a three-point contest, bringing him to 32 total points on the year. He now has four three-point games this season and is tied with Roman Josi for the most among blueliners this season. Though not quite there, Ekblad has the opportunity to pass Brian Campbell for the most three-point games in a season. Campbell recorded five in 2011-12. Ekblad has seven three-point games in his career, enough for third in franchise history (tied with Campbell).
The Florida Panthers are stacked with top-level talent firing on all cylinders. Although you might identify a hole somewhere, it would be a stretch compared to other teams. Yes, Ekblad's success partially comes from having an elite-level cast around him. However, he is a significant piece of that elite cast and could find himself a part of the Norris Trophy conversation at the season's end.