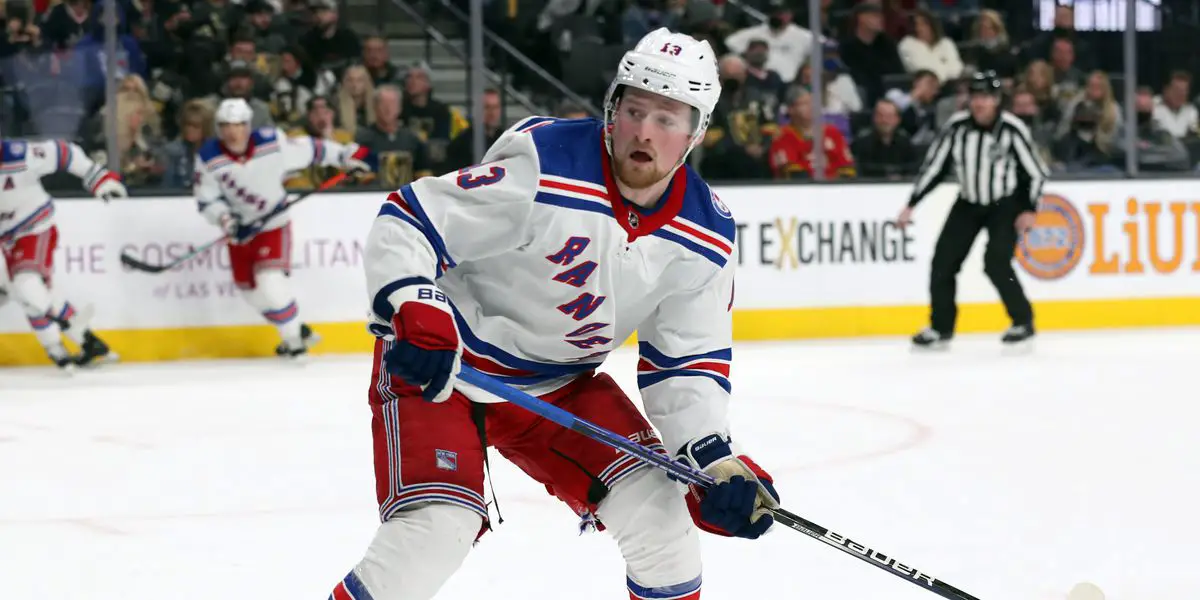 With an excessive amount of space to fit any player they desire under the cap, there has been some well-deserved ballyhoo about who the Rangers should, could, and would target ahead of the March 21st trade deadline. Names like Claude Giroux, Jakob Chychrun, Phil Kessel, Artturi Lekhonen, and Joe Pavelski are all floating around the rumor ether. The newest addition to the list is Filip Forsberg.

One lineup upgrade that isn't being spoken about enough is the maturation of Alexis Lafreniere. Since his promotion in late January to the top line with Kreider and Zibanejad, Lafreniere has shown he's ready for more. Put aside what you want GM Chris Drury to do this trade deadline, and realize that for this Rangers team to make any sort of run, Lafreniere and Kaapo Kakko (once he returns from injury) need to take their next steps as players in this league.

The Rangers made it a team prerogative to "get Mika going earlier during the season." They emphasized putting the Swede in his preferred offside spot on the powerplay to crank one-timers, and he's since taken off. It's time they do the same for the former number one overall pick. With four goals and five total points in his last eight contests, Lafreniere seems to be on the cusp of breaking through. A bump up to the first powerplay unit could give the twenty-year-old who sports a career shooting percentage of 18% the push he needs.

There are many reasons why you would change something to the league's fourth-best powerplay unit. One of them would be to get a player who's earned the opportunity a chance to excel and grow. Another one would be to take a page out of the best team in the league's playbook. Colorado Avalanche coach Gerard Bednar has begun playing with his lines in hopes of preparing his team for anything and everything that might occur during the gauntlet that is the Stanley Cup Playoffs. This is one of the benefits of being firmly ensconced in a playoff position in early March.

Lafreniere has deferred to his veteran teammates early and often in his young career. A spot opposite Mika or Panarin on his offside should generate excellent scoring chances that he or the number one powerplay unit currently lacks. The top PP unit consists of four righties and one lefty. Adam Fox isn't going anywhere. The lefty, Kreider, goes to the front of the net and has turned in a career year in doing so. Mika and Panarin both have game-changing shots and playmaking abilities that are keystones to the powerplay. Strome, often seen in the bumper position or the right-wing, would be the odd man out. If Lafreniere, or even Kaapo, once he's healthy, are put into their off-wing on the powerplay, a one-timer option would be available from both sides on the powerplay. This is something that has made the Tampa Bay Lightning powerplay so explosive for the past few seasons, with Kucherov and Stamkos on opposite sides.

The powerplay isn't the problem that has been plaguing this Rangers team since opening night in Washington, but this is still something that they should consider trying out during the remaining 29 games. If it's the spark that ignites the young phenom, why not?
This week we have on the Legend himself, Bill Pidto. We discuss the broadcast, the Rangers 2nd half and do our own fastest 150 seconds on a podcast.Thanks for listening! Please rate and review our show on your favorite listening platform. Check out our partner's website at www.insidetherink.com for all your latest hockey news.