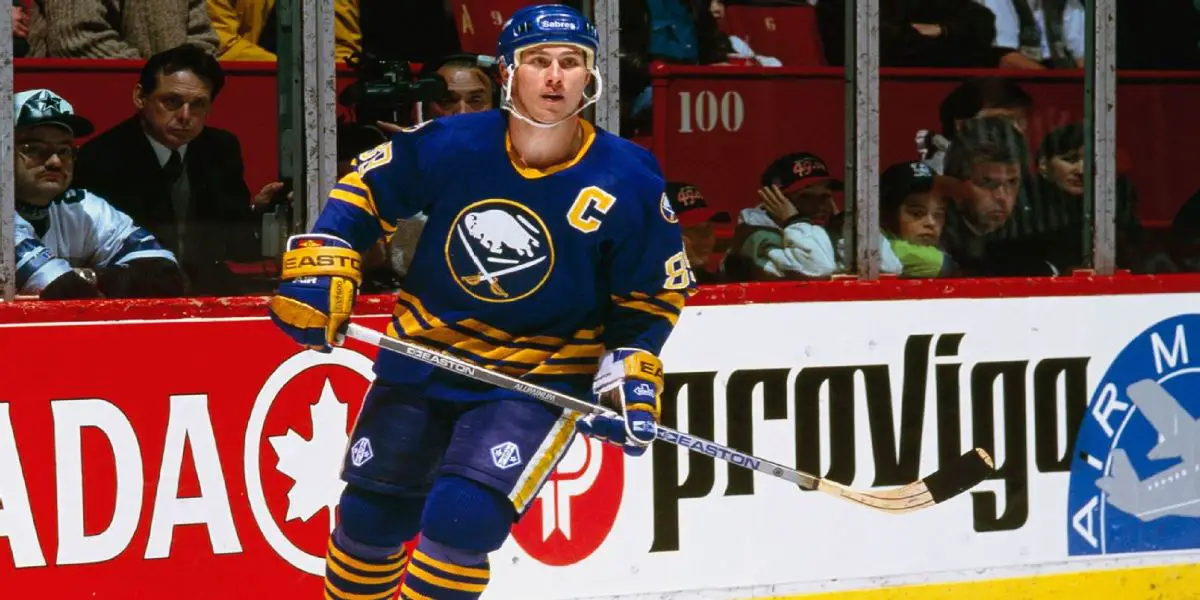 The 2022 class for the Hockey Hall of Fame has been announced, and they will be enshrined into hockey's sacred grounds on November 14th. This year's class includes players Henrik and Daniel Sedin, Daniel Alfredsson, Roberto Luongo, and Riikka Sallinen, while Herb Carnegie will be going in under the builder's category. This is indeed a very worthy class. However, there is once again a noticeable exception.
That exception is Alexander Mogilny.
Before I make the case as to why Mogilny belongs in the Hall of Fame, let me present some of the basic rules for induction to the Hockey Hall of Fame via its website http://www.hhof.com.
Six players per year are eligible for induction. Of those players, up to four must be male, and up to two must be female.
Player attributes: playing ability, sportsmanship, character, and contributions to his or her team or teams and to the game of hockey in general.
A potential inductee must not have played in a professional or international hockey game during any of the three playing seasons prior to his or her election.
All new inductees are undoubtedly worthy of entering the hall with these criteria. While it's understood that only a limited number of players can enter each year, it is frankly mind-boggling that Mogilny has yet to get the call. He retired after the 2005-06 season, playing for the New Jersey Devils and the Albany River Rats of the American Hockey League. Given the three-year waiting period, Alexander Mogilny has been eligible for Hall of Fame enshrinement since 2009.
Breaking News: LA Kings Acquire Kevin Fiala
Since he is well past the three-year waiting period, let's look at the player attributes the selection committee considers when looking at potential inductees pertaining to Mogilny.
Playing Ability.
For perspective, here is Alexander Mogilny's career stat line courtesy of http://www.hockey-reference.com:
990 Games Played, 473 Goals, 559 Assists, 1,032 points, 2,966 Shots, and 66 Game-Winning Goals.
Mogilny played his career at right-wing, so comparing him to Henrik Sedin of this year's class might not be the best comparison since Henrik played center. Instead, let us compare Mogilny's career numbers to the other two wingers in this year's Hall of Fame class, Daniel Sedin and Daniel Alfredsson. These statistics are also courtesy of Hockey-Reference.
Daniel Sedin: 1,306 Games Played, 393 Goals, 648 Assists, 1,041 Points, 3,474 Shots, and 86 Game Winning Goals.
Daniel Alfredsson: 1,246 Games Played, 444 Goals, 713 Assists, 1,157 Points, 3,471 Shots, and 73 Game Winning Goals.
As you can see, both Daniel Sedin and Alfredsson amassed more assists and game-winning goals than Mogilny in their careers. The catch is that both Alfredsson (256) and Sedin (316) played in more games than Mogilny. Despite having played in far fewer games than Alfredsson and Sedin (about three seasons worth, as a matter of fact), Mogilny still has more career goals. Mogilny is also the only one of the three with a career point per game player at 1.04 points per game.
Sportsmanship
Alexander Mogilny won the Lady Byng Trophy in 2003, which goes to the NHL player who "exhibited the best type of sportsmanship and gentlemanly conduct combined with a high standard of playing ability." He also received votes for the award in four of his sixteen-season professional career. It looks like he qualifies under the sportsmanship criteria as well.
Character and contributions to his or her team or teams and to the game of hockey in general
This is the one for me that puts Mogilny over the top as someone who should be in the Hockey Hall of Fame. Mogilny's first season in the NHL was in 1989-90 with the Buffalo Sabres (he would go on to play for the Vancouver Canucks, Toronto Maple Leafs, and New Jersey Devils as well). Although he had been drafted by the team, his arrival was far from a typical "rookie breaking into the league" season. In 1989, the old Soviet Union was still a goliath on the world political landscape and had just begun to allow its older players to play in the National Hockey League – under a big condition. A vast majority of the salaries these players received were sent back to the Soviet government as "payment" for allowing these players the opportunity to play in the NHL. Due to this arrangement, the Soviet players in the NHL at the time only received a small fraction of their actual salaries.
Mogilny was a twenty-year-old rising star for the Soviet National Team in 1989, and no money agreement in the world would convince them to let their young star leave the team to play in the NHL. The National Team was a great source of pride for the Soviet Union, and it was a team that had defeated NHL teams on several occasions. Mogilny wanted no part of staying in the Soviet Union and was determined to make it to North America. At a tournament in Stockholm, Sweden, in the summer of 1989, he decided to make his move. Despite the great danger to himself, he escaped from the Soviet team. He defected to the United States – becoming the first player to ever defect from the Soviet Union to play in North America.
If he were caught, Mogilny would have faced at the very least a lengthy prison sentence in the Soviet Union. Instead, his defection ultimately helped open the door for other Soviet players to come to North America free from their government's iron grip on them. If this doesn't exemplify " character and contributions to his or her team or teams and the game of hockey in general," then I don't know what does.
As I have stated, the inductees of this year's class into the Hockey Hall of Fame are undoubtedly worthy of the honor. With that said, there is no way Alexander Mogilny should not be among the honorees in the Esso Great Hall. The time has come to right a wrong that has gone on for too long.
The boys squeak in an episode before Jake heads off to Florida. They touch on the Bruins' recent milestones, especially Bergerons 1000 points. They head over to the metro to see can Pittsburgh and Washington turn things around before heading out west to take Shane Wright and the Seattle Krakheads.Thanks for listening! Please rate and review our show on your favorite listening platform. Check out our partner's website at www.insidetherink.com for all your latest hockey news.