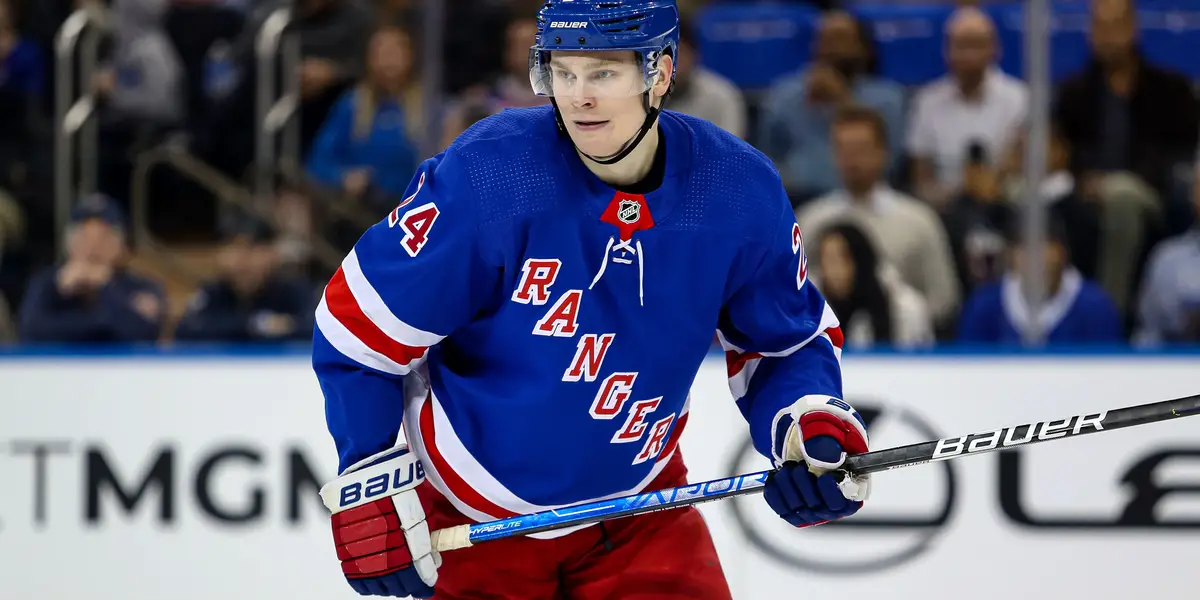 In the first-round series against the New Jersey Devils, the majority of the New York Rangers, aside from Igor Shesterkin, looked as if they hadn't a care in the world whether they lost or won. Despite this disappointing showing, at least a couple of players looked like they came to compete. Amongst them was 22-year-old Kaapo Kakko. While his point production doesn't wow you, scoring just 2 points in 7 games, he managed to have a very productive series against the Devils.
In games where stars Artemi Panarin and Mika Zibanejad looked pedestrian, Kakko showed a level of fight and hunger to win we've yet to see from the 2019 second-overall pick. Out of seven games during the series, he only had two games with a negative game score, in games 4 and 7, where not many Rangers had successful games. He had one game where he was just fine (game 3), a game where he was great (game 2), and three games where he was good (games 1, 5, and 6).
Kakko was an effective forward throughout the series, proving his puck control abilities to be not just effective but exemplary. The line of himself, Alexis Lafrenière, and Filip Chytil was the Rangers' best game in and game out, as every shift they were on the ice, they managed to get the puck into the offensive zone, grind it out and get quality chances. Amongst all Ranger lines, they were the most effective line in generating high-danger chances; moreover, they were also the line with the second highest expected goals percentage, falling just below the top line of Mika Zibanejad, Patrick Kane, and Chris Kreider with an expected goals percentage of 55.37%.
Not only did Kakko show a new level of competition in his gameplay, but also in the scrums after the whistle. Before, Kakko would be rather disengaged, not really engaging with players and taking a relatively passive role, which is fine in its own right. But these playoffs showed he had an extra level in him. Not only did he play well through the series, but the after-the-whistle scrums that ensued showed that he wanted to win and wanted it badly.
This clip exemplifies Kakko's performance in the series perfectly. Engaging in scrums after the whistle, not giving up after a play is dead, and getting high-danger chances for himself and his linemates are all things you love to see out of a player who was drafted so high.
While he may not have put up points, Kakko played well; there's no denying it. When you also consider his play during the season, which saw him put up 40 points in a full 82-game season and become a solid middle six winger, perhaps it's time to raise our expectations for the 22-year-old forward for next season.
When Kakko entered the league, to say he was the worst forward in the league is not putting it lightly. He was quite literally the third-worst player in terms of Goals Above Replacement (GAR), in the 0.3rd percentile above only Johnny Boychuck and P.K. Subban and below the notorious Jack Johnson. Now? He's around the 81st percentile; certainly not Jack Hughes level, but near players like David Perron, Jonathan Marchessault, and fellow teammate Filip Chytil. These are all effective players, and with his performance in the 2023 Stanley Cup Playoffs, Kakko has shown he is ready to take the next step and elevate his game.
The path to becoming a bonified top-line winger is in sight; in fact, the line of Kreider, Zibanejad, and Kakko was one of the Rangers' best throughout the season. With an opening on the top line, alongside a playoff run that rejuvenated the fight within him, it's safe to say you should watch out for Kaapo Kakko next season: he is poised for a breakout season.
In this week's episode we discuss the new rumors regarding the Rangers coaching situation. Then go on to the fun stuff discussing the impact Tkachuck's play will make on the game, Rangers players and more. Thanks for listening! Please rate and review our show on your favorite listening platform. Check out our partner's website at www.insidetherink.com for all your latest hockey news.