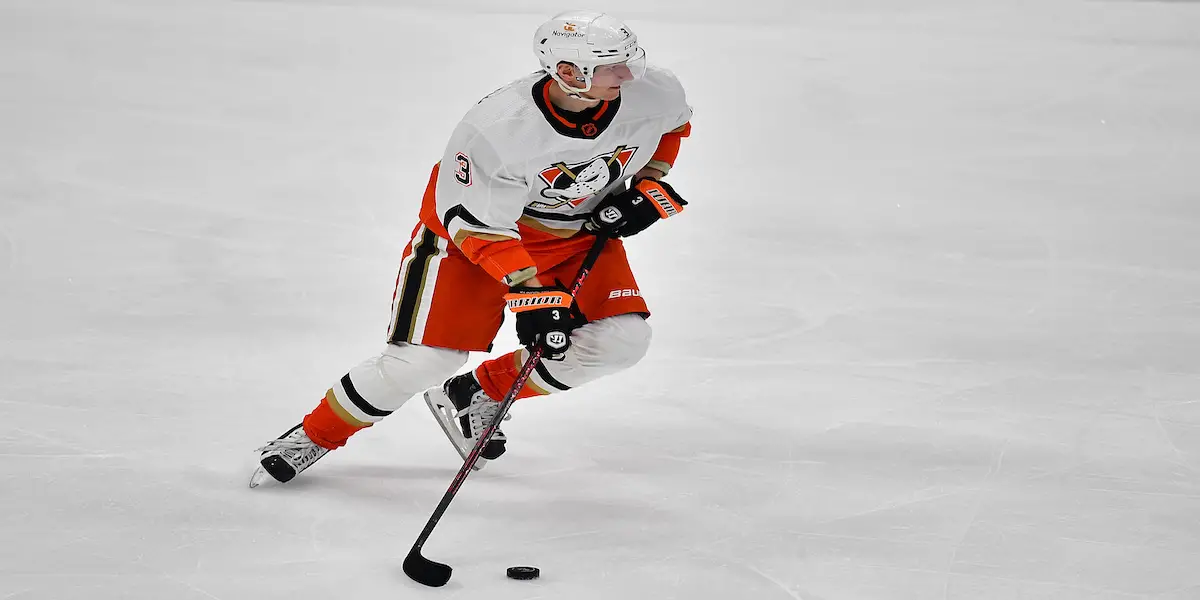 A large disco ball dropped, champagne bottles popped all around the world, and kisses were shared, ushering in a brand new year on planet Earth. On a slightly smaller scale, it also meant a clause in a contract for a certain defenseman for the NHL's Anaheim Ducks was altered. John Klingberg's 1-year, $7 million contract had a full no-trade clause that was effective through the end of 2022. On January 1st, that clause was reduced to 10 teams from which John has the right to refuse a trade.
When Klingberg signed this deal with Anaheim, it was thought of widely as a good piece of business from both parties' perspectives. John didn't get the long-term, big-money deal he coveted (that his agents told him would be there) in the summer, so he settled for a "show me" deal where he could play meaningful minutes and showcase his talents to earn a sizable deal in the summer of 2023. For Anaheim, this deal was all-business. It would allow them to meet the salary cap floor. If the team got off to a good start, he'd be a big part of a playoff push, and if they didn't, they could shop him for a sizable return at the trade deadline in March of 2023. We are nearly halfway through the season, and it's the latter scenario that's playing out.
Klingberg is having the worst statistical season of his career. He has only managed five goals and eight assists in 33 games while playing 21:18 minutes per night in 2022-23. Analytically, he hasn't faired any better, sporting an on-ice expected goals percentage (xG%) of 37.3 and an off-ice xG% of 41 at five-on-five (via moneypuck.com). At nearly the halfway mark of the season, it's clear that this isn't the season either party was expecting.
The issue we're witnessing on a nightly basis is that John Klingberg is a square peg and the system that Ducks head coach, Dallas Eakins, runs is a round hole. It doesn't fit. Eakins' system relies on stretch passes and forechecking. Klingberg is at his best when he is carrying the puck up ice with speed and east/west passing options as well as north/south. His skill set is negated and muted quite a bit in Anaheim. However, there is still skill there, and he has a long track record of being an above-average offensive defenseman. When he's had the opportunity to skate with the puck or join a rush, he brings another level to the attack that, if used properly, can be very beneficial. There are plenty of contending teams that run a more Klingberg-friendly system in which he can thrive.
What's the Price?
In recent years, we've seen defensemen fetch sizable hauls at or near the trade deadline. Here are a few examples from the 2022 trade deadline:
-Josh Manson from ANA to COL for Drew Helleson and a 2nd round pick
-Ben Chiarot from MTL to FLA for Ty Smilanic, a 1st round pick, and a 4th round pick
-Hampus Lindholm (with an extension in place)(and Codie Curran) from ANA to BOS for Urho Vaakanainen, John Moore, a 1st round pick, and two 2nd round picks
-Mark Giordano (and Colin Blackwell) from SEA to TOR for two 2nd round picks and a 3rd round pick
A few things to note before getting into my wildly irresponsible and detailed speculation on where Klingberg will end up and what the Ducks could get in return:
-The Ducks will almost certainly be retaining 50% of his $7 million cap hit. The acquiring team will only have to fit $3.5 million into their payroll.
-It's been speculated that players with 10-team no-trade lists have all Californian and Canadian teams included in their lists for tax reasons. I'm ignoring that aspect for this exercise, as Klingberg may likely be willing to waive his clause to join a contending team.
-NHL GMs are unpredictable. This could be the year they're more unwilling to part with a 1st round pick, or their trigger fingers could grow increasingly itchy as the deadline approaches.
That being said, I can see Klingberg fetching a return of anywhere between:
A 2023 1st round pick + an A- level prospect + a roster player
And
A 2024 2nd round pick + a B- level prospect
So let's dive into the juicy stuff…
Mock Trades
Seattle Kraken
John Klingberg (signed to a 4-year contract extension) + 2023 3rd round pick
For 
2024 1st round pick + Jani Nyman + Cale Fleury
Why Seattle Does It:
Seattle is in contention for "surprise team of the year." They are currently 2nd in the Pacific Division from a points percentage standpoint, and it would take quite a spiral to knock them out of a playoff spot between now and the end of the season. With most of their core signed beyond this season, Seattle finds their window open a lot sooner than many anticipated.
With excellent winger depth and the emergence of Matty Beniers to their center group, their forward lineup has few, if any, holes. They are solid and structured on the blueline but are missing a truly dynamic offensive weapon from the backend. Their powerplay sits at 17th out of 32, and adding a John Klingberg takes that group to another level. Seattle is the only team in this exercise that I can see signing him beyond this season, as he can fill that role for the next handful of years for the Kraken and play good 2nd pair minutes next to former teammate Jamie Oleksiak. While they didn't play together during their time in Dallas, they have complementary play styles. The 3rd round pick gives Seattle an extra selection in this year's draft as a sweetener for losing a high one in 2024.
This is what Seattle's D lineup could look like in the playoffs with Klingberg added…
Vince Dunn – Adam Larsson
Jamie Oleksiak – John Klingberg
Carson Soucy – Justin Schultz
Why Anaheim Does it:
While the 1st round pick isn't for this year's draft (it's going to be a big ask for teams to part with theirs for this draft in particular), it's still a 1st round pick.
Jani Nyman is a former 2nd round pick in 2022 who is producing at nearly .5 points per game (p/g) in the Finnish Liiga and just wrapped up his World Junior Championship performance with two goals and an assist in five games for Finland. With a 6-4, 217 lbs frame, he has an NHL-ready body, and Pat Verbeek has made it clear he likes acquiring size. Nyman isn't the best skater but has fantastic offensive instincts and a plus shot.
Cale Fleury, 24, has had a tough time cracking (Kraken (lol)) the lineup for Seattle in 2022-23. With Jamie Drysdale possibly out for the remainder of the season and the Ducks looking to move on from RHD's John Klingberg and Kevin Shattenkirk, there's an opportunity for ice time for Fleury in Anaheim. He's a powerful skater with good vision and can play physically. He needs to find a way to make an impact at the NHL level, but he also needs a chance to do so.
Washington Capitals
John Klingberg
For
2023 1st round pick + Aliaksei Protas + Lars Eller
Why Washington Does It:
Plain and simple, the Caps are in "win now" mode, and they just lost John Carlson for a significant period of time after taking a puck to the face, requiring surgery. A good replacement for a right-handed powerplay quarterback-style offensive defenseman is a right-handed powerplay quarterback-style offensive defenseman. Klingberg can fill that role until Carlson returns (reported around playoff time) and can play 2nd pair minutes alongside Erik Gustafsson or Martin Fehervary as the Caps make their playoff run. The cap hit for Eller and Klingberg would carry the exact same dollar figure ($3.5 million), and Eller may be on his way out with some other Capitals forwards returning to the lineup.
This is what Washington's D lineup could look like in the playoffs with Klingberg added…
Dmitry Orlov – Nick Jensen
Erik Gustafsson – John Carlson
Martin Fehervary – John Klingberg
Why Anaheim Does It:
It's hard to see a world where Klingberg can return a 1st round pick without an extension in place or a bad contract coming back. Eller is the bad contract coming back. With Backstrom and Wilson's return to the lineup, Eller is the odd man out, and his cap hit helps Anaheim hit the salary cap floor after selling their pending UFA's while earning them a 1st round pick for this draft in the process.
Aliaksei Protas, like Jani Nyman, is a sizable (6-6, 210 lbs) winger with good offensive instincts. He's now approaching 75 career NHL games, mostly mainly playing 4th line minutes, and can see an increased role if he were to be traded to Anaheim. The 21-year-old former 3rd round pick in 2019 has three goals and six assists in 40 games on the 2022-23 season. He was recently sent down to the AHL to play for the Hershey Bears.
Boston Bruins
John Klingberg + 2024 3rd round pick
For 
2023 1st round pick + Craig Smith + Mike Reilly + Matthew Poitras
Why Boston Does It:
This one is my personal favorite. I think the result could be so much fun. The Bruins have activated "last dance" mode. They are the best team in the NHL, and eight of their current forwards are UFAs at the end of the season. Their forward group is strong from top to bottom, and their defensive group is as well. However, their 2nd powerplay unit could use an upgrade on the point. Nobody loves Hampus Lindholm more than I do, but he isn't the best option for that spot. John Klingberg can come in and provide some elite puck-moving prowess on either of the bottom two defensive pairs, and if they didn't already, the Bruins would have the best defensive unit in the NHL. Klingberg's style doesn't fit in Anaheim, but the system that Jim Montgomery has brought to Boston seems like it would mesh well with John's skillset. Klingberg has stated that he and Lindholm are good friends and, like Lindholm, Klingberg's transition to Boston would be seamless.
In this scenario, Boston would be ridding themselves of Mike Reilly's contract for this season and next. If they keep him buried in the AHL, he carries a cap hit of $1.875 million for the NHL team. Craig Smith was placed on waivers earlier this season and is playing less than ten minutes per night. Trading Reilly and Smith (while acquiring Klingberg at 50%) would result in $1.375 million in cap space the Bruins could use to add another piece if they were so inclined.
This is what Boston's D lineup would look like in the playoffs with Klingberg added…
Matt Grzelcyk – Carlie McAvoy
Hampus Lindholm – Brandon Carlo
Derek Forbort – John Klingberg
Why Anaheim Does It:
The 1st round pick, though it will likely be in the '30s, is a 1st round pick, nonetheless. Craig Smith and Mike Reilly will help Anaheim remain over the salary cap floor and provide some stability to what will, no doubt, be a very young team after the trade deadline. Smith will be a nice addition to the bottom six as he looks to earn his next contract heading into the summer as a UFA. Mike Reilly has been a very good bottom-pair defenseman over the last few years in Boston and has produced ten points in 13 games for the Providence Bruins of the AHL this season. He would help stabilize Anaheim's defensive unit after the trade deadline and play top-four minutes.
Matthew Poitras was a 2nd round pick in the 2022 draft and is having a very productive season for the lowly Guelph Storm of the OHL. The 18-year-old center has tallied nine goals and 29 assists in 31 games in 2022-23. Poitras is a cerebral and competitive center who thrives in the small areas of the ice, not with his size (5-11, 172 lbs), but with his skill. What he lacks in straight-ahead speed, he makes up for with his edge work and continuous motor. He will likely make the adjustment to the wing at the NHL level, and the Ducks could use wingers with Matthew's skillset moving forward.
Carolina Hurricanes
John Klingberg
For 
Noel Gunler + 2023 2nd round pick
Why Carolina Does It:
The Hurricanes have been and continue to be one of the league's most consistent teams. They play an effective and structured brand of hockey and have seen a few very good playoff runs in the last handful of years, but they're still looking to get over the hump. Lack of firepower has been stated as a major contributing factor and is seen as something the team can improve on heading toward the end of the season, as they currently have the ninth-worst power play (19.7%) in the league. While getting Max Pacioretty back from injury should help them in this department, John Klingberg could help bolster that top unit or provide a better option on the 2nd unit than Brett Pesce. Klingberg can play very effective bottom pairing minutes and help alleviate the tough minutes the top four defensemen will accrue down the stretch.
This is what Carolina's D lineup could look like in the playoffs with Klingberg added…
Slavin – Burns
Skjei – Pesce
De Haan – Klingberg
Why Anaheim Does It:
It will be tough to acquire a 1st round pick for John Klingberg without taking back a bad contract in return. The Hurricanes have done a wonderful job of not signing players to bad contracts; thus, there are no candidates in that department, so the Ducks settle for a 2nd.
Noel Gunler was a 2nd round pick in 2020 and is currently playing for the Chicago Wolves of the AHL, where he has seven goals and six assists in 20 games. Gunler is a versatile and supreme offensive threat who has had consistency and effort issues in the past. While that doesn't seem to fit into Pat Verbeek's wheelhouse, the talent of the 6-2 Swedish winger may be enough to overlook those potential negatives.
Calgary Flames
John Klingberg 
For
2023 2nd round pick + William Stromgren
Why Calgary Does It:
Like Carolina, Calgary plays a very structured brand of hockey but currently has the seventh-worst powerplay in the NHL (18.6%). They are currently just hanging on to a wild card position in the standings and will need to play excellent hockey down the stretch. Though Rasmus Andersson has been doing a fine job, John Klingberg could bring the powerplay group to a new level. At five on five, Klingberg would be an upgrade to the bottom pair next to Nikita Zadorov and would feast on lesser competition.
This is What Calgary's D lineup could look like in the playoffs with Klingberg added…
Hanifin – Andersson
Weegar – Tanev
Zadorov – Klingberg
Why Anaheim Does It:
Like with Carolina, Calgary isn't itching to get out from any bad contracts, so they settle for a 2nd round pick and a prospect.
William Stromgren was a 2nd round draft pick in 2021 and just wrapped up a disappointing World Junior Championship tournament from a production standpoint, where he only managed an assist in seven games. Stromgren is a 6-3, 175 lbs winger that has the skillset of a much smaller player. He is a dynamic and deceptive offensive talent who is lightning-quick and has an explosive stride. He will need need to flesh out his hockey IQ and vision, but if he can, there's a potential for a truly dominant NHL winger.
Summary
Though John Klingberg isn't having a phenomenal year, there is still a market for a player with his particular skill set and can be had with a cap hit of $3.5 million. A common theme in the scenarios I entertained is; a solidly-structured defensive team looking to open things up offensively from the blueline could benefit from adding Klingberg (who needs to play lighter minutes in a system more fitting to his skillset) to one of their bottom defensive pairs and one of their powerplay units. A mutually beneficial relationship could be created that can take whichever team is willing to pull the trigger to the next level in terms of playoff success.
While the return may not be what Pat Verbeek hoped it might be when Klingberg was signed over the last offseason, there are still quality options available. The Anaheim Ducks should be looking to improve their forward prospect pool as well as increase their draft capital in the 2023 and/or 2024 draft(s).
The trade deadline is March 3rd at 12 pst. Between now and then, a lot can change as far as a market for the talented Swedish offensive defenseman. Depending on his play in the next eight weeks, his value could drastically increase or decrease. New teams could enter or fall out of the sweepstakes based on injuries or where they are in the standings. But the reduction of John Klingberg's no-trade clause enticed me to take an early and way too in-depth look at what his trade market could look like.
On this week's chaotic episode of LAP, Jake, Chris, and Lou talk about the Stanley Cup Final, some coaching changes and share some thoughts on the ESPN and TNT broadcasts. They also talk at length abouth why Florida's uniforms need to change and finish things up with listener questions!Follow Late Arrivals Twitter: @latearrivalspodInstagram: @latearrivalspodFollow the hostsChris: @CJKChelConnor: @91_PlutyJake: @_JRobles71Louis: @Louiex37 Intro/ Outro done by Will Rice/ @pastorwillrice