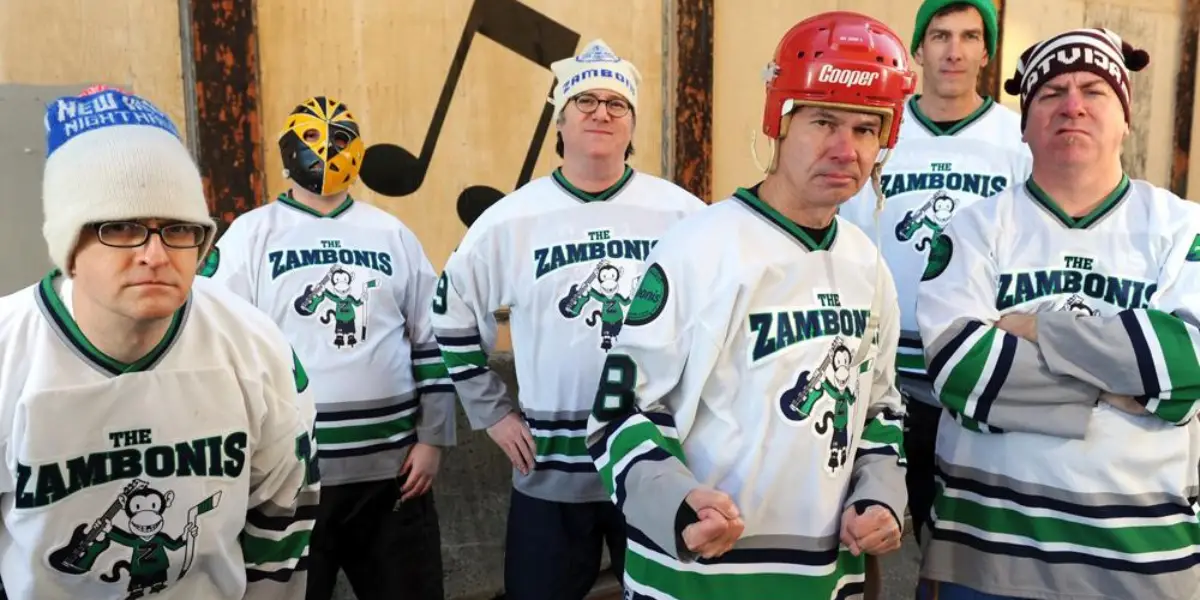 Not only am I a big hockey fan, but I am a lover of music as well.
There is one band out there that put those two loves together to form my kind of band – a hockey-themed group! The name of the band is The Zambonis.
The leader of the band, Dave Schneider, was kind enough to take some time out of his summer schedule to tell us about how he got into hockey, how the band was formed, how the band comes up with their songs, and much more. Dave really knows that hockey rocks!
PH: Growing up, how did you get into hockey?
DS: My father would pack me and my two older brothers into our unbelievably huge four-door Lincoln Continental Town car and drive us 30 minutes down I-95 to New Haven, CT, the home of the AHL's New Haven Nighthawks. We also played hockey as kids, but the exposure to these huge players for an eight-year-old kid was tremendous. They were some of my earliest heroes.
PH: Growing up, who was your favorite team and player? How about now?
DS: I was a huge Hartford Whalers fan. I lived about an hour away and would try to get to as many of their games as I could.
I loved a bunch of players quite a bit. Pat Verbeek was a big favorite of mine. He was always in the game, and he had his head in the game. I loved that.
When he got traded to The New York Rangers I was kinda psyched cause I could still go to MSG to see him play. Ron Francis was another big one for me. 
Nowadays, I just cannot believe Connor McDavid. His talent is jaw-dropping, and I cannot wait to see the new kids in the league this year.
As a favorite team goes, my favorite team was The Hartford Whalers and always will be. That said, when they left, I was ok liking a bunch of teams as I now did the Rangers, Boston Bruins, New Jersey Devils, and San Jose Sharks.
PH: How did you come up with the idea to form a hockey-themed band? How quickly did it come together?
DS: I happen to love this band that was from CT called The Philistines Jr. At the time, I was filling in for a friend who played with a popular CT band called Those Melvins.
My deal with that band was that at the end of their set, I could just make up a song. At one show, I made up a song about a musician I was a huge fan of named Jonathan Richman, and at the end of the song, these two guys run up and say, "Who wrote that song about Jonathan Richman"? I replied, "Me. I just made it up".
They quickly invited me to their house for a recording party. At the time, I had no idea what that meant.
Two weeks later, my roommate, who played guitar in Those Melvins, went with me to that party, and it was like a scene right out of "Freaks and Geeks." There were 20 or so beautiful nut jobs, all recording and singing background vocals for an artist named James Kochalka Superstar. Moby, who would get very famous three years after this party, was smashing a frying pan on an expensive microphone while others were just dancing around. It was a mob of togetherness and creativity.
Peter Katis was producing the session in the basement of his parent's house, and it was mayhem. Peter's brother Tarquin was walking on his hands while we were recording. Both of these two characters made up The Philistines Jr.
The night ended, and on our way out of the driveway, my roommate Brad said, "That was the worst night of my life." I immediately responded with, "That was the best night of my life."
All I wanted to do was be in a band with Peter and Tarquin. We basically spent all of our time together hanging out, and then they got a big break, they were asked to fly to England to record for a very prestigious DJ on The BBC. His name was John Peel.
Of course, I had to go with them. It was 1991, and the Stanley Cup Playoffs were in full stride. We wanted to watch a game, and trying to do that in the UK was like looking for a four-leaf clover on a golf course.
We tried everything to no avail, and then I said to the guys, why don't we just sing songs about hockey, Peter said I was an idiot, and Tarquin said I was a genius. The band started that night.
PH: How do you come up with ideas for your hockey-themed songs? Take us through that process.
DS: They can come from a load of different angles. Before anything, the song has to be a good song. We may be a "joke" band, but we take the music as seriously as any non-hockey band.
Regarding the writing, the obvious is there. My back hurt from playing hockey, so I wrote the song "My Back Hurts." Same with "Drop That Puck." Come on, ref, DROP THE PUCK!
Then you got a song like "Captain." Sure, it's about being a captain, which is the hockey reference, but it is also about keeping a relationship together, being a leader, being a good person, and also just being a team player in whatever you do.
"Hockey On The Moon" is another song about the 1980 USA Olympic team, the Cold War, and the race to the moon. We are a hockey band, but we will never stop being an art project too. The weirder it gets, the better it gets for me personally.
PH: Speaking of coming up with ideas for hockey-themed songs, how do people respond when you tell them, "I am a musician that writes songs about hockey."? What are some of the best responses you have gotten back?
DS: The first response is always, "Are you serious?" Another response is usually, "You are joking, right"?
After the internet got going, it was a lot easier to just let people google it and realize that the band is nowhere as bad as the concept sounds. We have always been very well accepted by the critics.
It is great when hockey people get it, but the true payoff is when someone says, "I never liked hockey until I heard The Zambonis."
PH: Your band has been lucky enough to play at a lot of hockey-related events. Tell us about what those experiences were like and which ones were your favorites.
DS: It was obviously an amazing thing to play at The Staple Center for the 2002 NHL All-Star Game.
That was a huge one for us. Jewel, Five For Fighting, and The Zambonis. We performed pre-game and also after the first period.
Singing the National Anthem at Herb Brooks Arena in Lake Placid was thrilling. We did that many times for the NCAA Division III Championships.
It was amazing to play live and skate in the Christopher Reeves Celebrity Benefit at MSG in 1999. All of that sort of stuff is mind-blowing, but the all-hockey wedding in Boston, where the groom's family played the bride's family, was pretty darn sweet. The priest was the referee!
Ok, the hockey Bar Mitzvah in NYC was awesome too. Not only did they have us, but they also had Rhett Miller from The Old 97's play too.
PH: Do you have any new hockey-themed albums coming out? If so, can you share anything about it with us?
DS: These are weird times. Do you release a record, or do you put out singles?
In the past few years, we have released a bunch of new songs, and we have two more we will be putting out over the next few months. One month ago, we wrote and released "What The Tkachuk," and before that one, we put out one of the better songs we have ever written and a really great video too for "Slow Whip."
The next single is a song written during the pandemic about just getting to know yourself again, being alone, and being ok with that. It is called "Skating With Myself."
After that, we have a new one coming out titled "Unforced Penalties," which we also made a video for. That one is, again, more about hockey and just being frustrated with your team for not doing what you hoped they would do.
After those two come out, I am really excited for a brand new one called "I Don't Like Hockey No More". It is about a guy who takes a date to the game, goes to get a beer, and she's kissing another man on the jumbotron, ie "That's why I don't like hockey no more."
PH: Is there anything else you would like to share with us hockey fans?
DS: It is not easy being an all-hockey band. We are getting older, and I think it is about time that the NHL and all minor leagues give a two-minute minor to the home team if they do not blast one Zambonis song out of the jumbotron at some point during the games that are being played.
They have about 260 hockey songs to choose from.