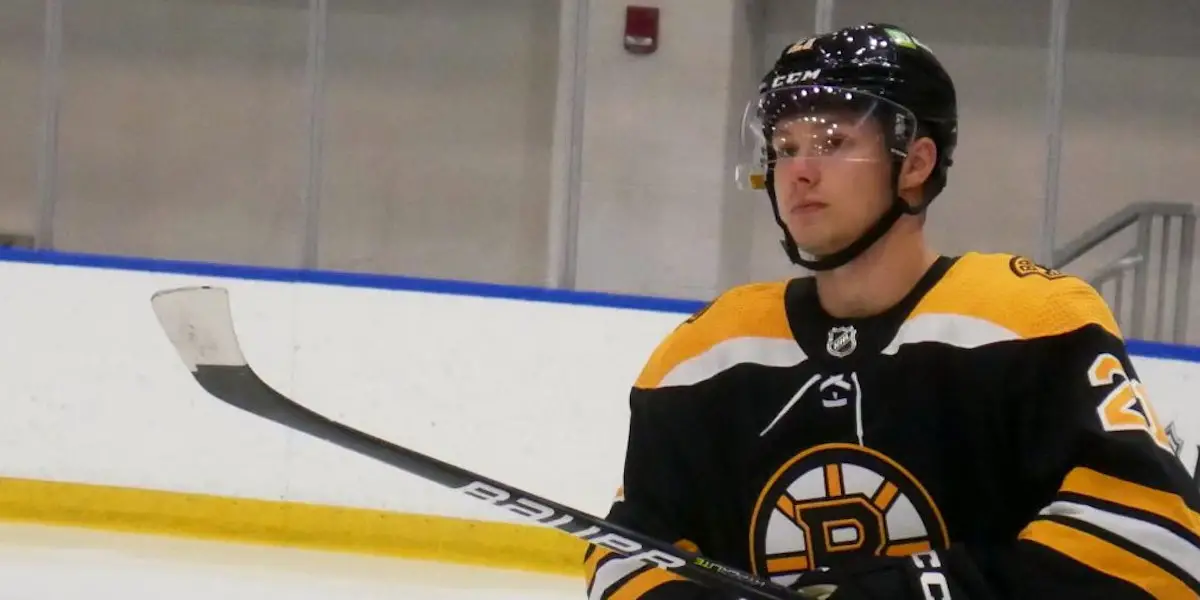 The Boston Bruins are off to a hot start this season and should be contenders all season long in the Eastern Conference. But next season could begin a roster transition that will need to include some young, homegrown talent in the future. General Manager Don Sweeney is banking on a few top prospects making the NHL roster sooner than later. Here is an early season look at ten Bruins' farmhands.
Matthew Poitras C – Guelph Storm – OHL
Poitras was Boston's second-round pick, 54th overall in 2022. The 18-year-old center is playing in his second season with the Guelph Storm of the Ontario Hockey League. In his first season, Poitras had 58 points in 68 games. This season has been an adventure for the young prospect, who has totaled 3-8-11 in 11 games. The adventure has come in the form of two slew-footing incidents resulting in suspension. Poitras received his first suspension and served two games, then upon his return, received a match penalty for slew-footing again and should receive a stiffer punishment. The skilled center is known for his gritty style but needs to learn the boundary line.
Riley Duran C – Providence Friars – NCAA
Duran is a Woburn, Massachusetts, native who the Bruins drafted in the sixth round of the 2020 NHL Draft. The 6-foot-2, 185-pound center had a good freshman year at Providence under head coach Nate Leaman and continues his surprising climb up the prospect ladder. This season through seven games, the 20-year-old has four goals and three assists for the Friars.
Ryan Mast D – Sarnia Sting – OHL
Mast was also a sixth-round pick (2021) of the Bruins and signed a three-year, entry-level deal with Boston in July. The 19-year-old defenseman is playing his third season for Sarnia in the Ontario Hockey League. This season the 6-foot-4, 212-pound defenseman has eight assists and a plus-4 rating. Former Bruins defenseman Adam McQuaid has been a big influence on Mast.
Oskar Jellvik C/W – Boston College -NCAA
In the fifth round in 2021, the Bruins selected forward Oskar Jellvik, who committed to Boston College for his freshman year. The 19-year-old from Sweden has gotten off to a good start with three assists in four games. The 5-foot-11 forward was impressive in Bruins' Rookie Development this past summer and has seen his stock rise after a year in the Swedish League last season.
Marc McLaughlin RW – Providence Bruins – AHL
The former Boston College star had a good camp and preseason for Boston but was a casualty of a numbers game and sent down to Providence of the American Hockey League. McLaughlin has not scored in eight games with the Baby Bruins with two assists. The 23-year-old was a later bloomer in college and scored 21 goals his senior season. The Bruins would like more offensive production from the Billerica native before finding a roster spot for him.
John Beecher C – Providence Bruins – AHL
Beecher also had a good camp but has been a disappointment in the AHL this season thus far. The knock on Beecher when he was at the University of Michigan was minimal offensive results for all of his impressive tools. It seems that much of the same is happening with Beecher now. The 6-foot-3, 215-pound left-shot center has one goal and a minus-2 rating. The Bruins drafted Beecher in 2019 with the 30th overall pick.
Georgii Merkulov C – Providence Bruins – AHL
The dynamic 22-year-old has been just that for Providence, with four goals, four assists, and a plus-4 rating in eight games. Boston signed the former Ohio State Buckeye after his sophomore year, and he has shown promise, particularly offensively. The Bruins will need help up the middle in the coming years, and the hope is that Merkulov will be an addition to the parent club as early as next season.
Brett Harrison C – Oshawa Generals – OHL
The third-round pick in the 2021 NHL Draft is coming off a 61-point season for Oshawa. Harrison has four goals in seven games to start his third season in the OHL. Harrison missed training camp due to an injury, and his development was on hold for a bit. The 19-year-old is another center who the Bruins hope will continue developing and make his presence felt in next summer's camp. The London, Ontario native signed a three-year, entry-level contract with Boston in August.
Mason Lohrei D – Ohio State – NCAA
The 2020 second-round pick missed Bruins' camp after a knee procedure forced him into off-ice workouts. Lohrei has returned to the Buckeyes for his sophomore season and has six assists in 10 games with a minus-2 rating. Lohrei is known for his ability to jump into the play offensively and still working on his defensive game. It is yet to be seen if the 6-foot-4 defenseman will sign with Boston at the end of the collegiate season.
Fabian Lysell RW – Providence Bruins – AHL
The 19-year-old Swede is the most celebrated offensive prospect the Bruins have had since David Pastrnak. In six games with Providence this season, Lysell has two goals and seven assists. The 5-foot-10 forward will also provide some gritty, pesky play and has eight penalty minutes. The Bruins are banking on Lysell being an option either later this season or certainly in 2023-24. The right wing is working on playing in his end but should be among the league leaders in points in the AHL this season.
The Boston Bruins roster is as deep as it has been for a while, but beginning next season, Boston will need some of these prospects to make significant progress to help turn over the roster. This is a big year for the development of these players and a chance for Boston's prospect pool to move up from the bottom of the league.
https://share.transistor.fm/s/98708ab9