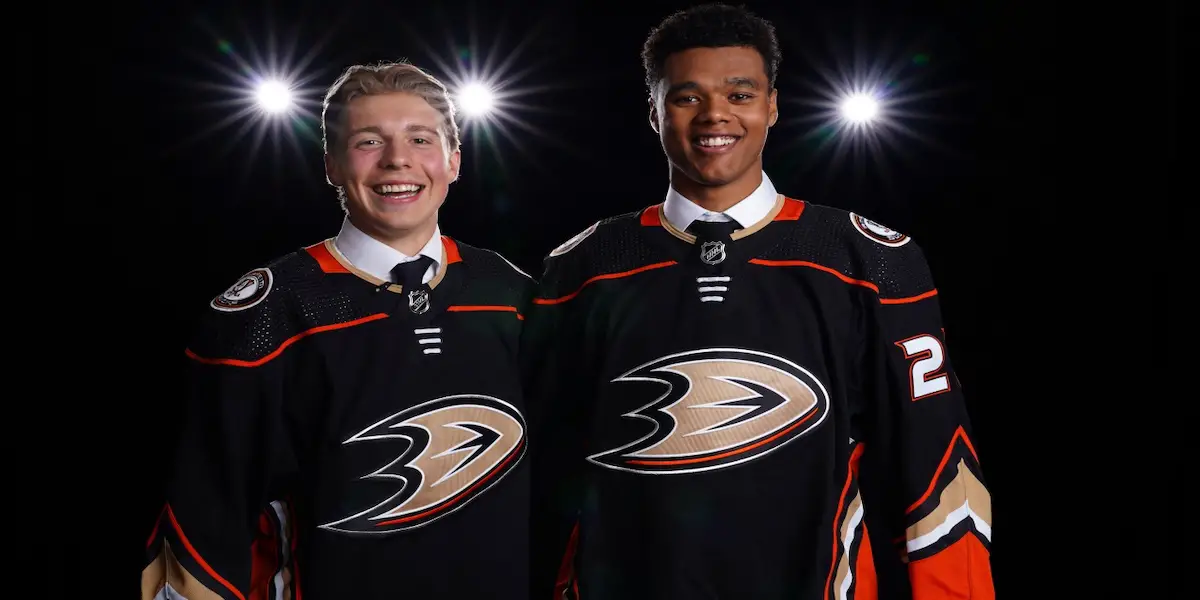 We have all, as Ducks fans, been thrust into a pit of despair every time the team sets foot on an ice sheet this season so far. The present is a cold and soul-sucking place, but hope is on the horizon. The Ducks will have a wealth of draft picks (including a very, very high one) in the 2023 NHL draft, and they have one of the top prospect pools in the NHL, even with some players having recently graduated into full-time NHL regulars (Trevor Zegras, Jamie Drysdale, Mason McTavish). The brightest beacons of hope in the prospect pool are the defensemen. I highlighted 5 of them in part 1 of this series here.
Now let's look at five more defensive prospects in the Anaheim Ducks pipeline.
Jackson LaCombe – LHD – Minnesota (NCAA)
Ht: 6-2 Wt: 201lbs.
Draft: 2019 (2nd round, 39th overall)
Stats:
2021-22: 39 GP | 3 goals | 27 assists | 30 points
2022-23: 20 GP | 4 goals |16 assists | 20 points
After the University of Minnesota reached its first frozen four since 2014 (losing in the championship game), Jackson LaCombe decided to return for his senior year and tidy up some unfinished business. Sitting at exactly a point per game, he's off to a blazing start and is easily among the top (if not THE top) defensemen in the NCAA this season. He eats minutes every night while on both top special teams units (power play and penalty kill). When he was drafted in 2019 as part of that epic USNTDP team that included the likes of Jack Hughes, Trevor Zegras, and Cole Caufield, he was seen as a bit of a low-risk, high-reward project. He was selected as a good-skating, cerebral, but lanky defenseman who needed to fill out his frame. He has fulfilled his end of the bargain. 
LaCombe plays a pretty flawless brand of hockey. His effortless skating ability, while not particularly explosive, allows him to start, lead, or join rushes and contribute offensively while taking away time and space defensively. His other best tangible asset is his outlet pass. It's crisp, decisive, and can thread a needle from anywhere to anywhere on the ice surface. His hockey IQ is unparalleled, as he can survey the ice and think a step or two ahead of opponents. He isn't much of a gambler and chooses his spots to pinch and pressure up ice without sacrificing position defensively. While not overly physical, Jackson excels at defending with his stick and uses his body to gain position to win battles. 
The elephant in the room when it comes to LaCombe's future is the same as with any NCAA senior; if he doesn't sign his ELC (entry-level contract) by August 15th, 2023, he will become a free agent and have the ability to sign with any team that offers him a contract. Based on the season he is having, I can imagine several teams lining up to recruit the services of the young defenseman. The benefit and selling point for signing with Anaheim is opportunity. Behind Cam Fowler, the left side of the blueline is completely up for grabs. He can earn top 4 minutes the second he puts on a Ducks jersey if that's the direction he so chooses. Until then, he will focus on continuing his remarkable season and polishing his game while leading Minnesota as far as they can in the NCAA tournament. The second the University of Minnesota season is over, he can sign his ELC and report to either Anaheim or San Diego with the Gulls of the AHL, where his former teammate, Blake McLaughlin, is playing.
Noah Warren – RHD – Gatineau Olympiques (QMJHL)
Ht: 6-5 Wt: 215 lbs. 
Draft: 2022 (2nd round, 42nd overall)
Stats: 
2021-22: 62 GP | 5 goals | 19 assists | 24 points
2022-23: 19 GP | 0 goals | 5 assists | 5 points
The Ducks selected Warren with the first of their two 2nd round selections at the 2022 NHL Draft. Noah was drafted as a future potential shutdown defenseman to complement the immense skill the Ducks currently have on the blueline in their prospect pool. His 2022-23 campaign got off to a bit of a late start as he was sidelined for 13 games after undergoing foot surgery following training camp with the Anaheim Ducks. The initial injury was sustained during last Spring's QMJHL playoffs and lingered all the way through training camp in Orange County. Since returning, he seemingly hasn't missed a beat as he is one of the top defensive defensemen in the QMJHL, is a staple on the top penalty kill unit, and his Gatineau Olympiques are primed to make a deep playoff run this season. 
While size is the obvious selling point for the hulking right-handed defenseman, it's how he uses his size that impresses anyone who watches him play. He is a very calm and poised defender who forces attackers to the wall with good positioning and long reach. From there, he has no problem overpowering his opponent to win puck battles and find open teammates in support. He's obviously a tank low in the defensive zone and is never caught out of position/puck-watching or beaten out of corners. When using his stick to defend, he's able to cut down on time and space given to the attacker, as well as take away options and passing lanes. With someone his size, footwork will always be an issue, but he still needs to work on his pivoting as well as his explosion. He can get caught flat-footed often and beat if his gap control isn't perfect. While there isn't much of an offensive game to speak of, he rarely turns the puck over and has a crisp, clean first pass. 
As mentioned before, he will look to continue to impact the game for his QMJHL team on the defensive side of the puck and penalty kill as he looks to remain healthy and his team looks to make a deep run in the playoffs. He already has an NHL body, but it's still unlikely he will make the jump to the NHL next season and will likely return to juniors after training camp again. Ducks General Manager Pat Verbeek said recently in an interview that he sees Warren as a potential defensive partner for Pavel Mintyukov, and their styles would mesh together nicely on the blueline in Anaheim one day.
Tristan Luneau – RHD – Gatineau Olympiques (QMJHL)
Ht: 6-2 Wt: 191lbs.
Draft: (2nd round, 53rd overall)
Stats:
2021-22: 63 GP | 12 goals | 31 assists | 43 points
2022-23: 30 GP | 11 goals | 22 assists | 33 points
Just eleven picks after his Gatineau Olympiques teammate was selected, Anaheim grabbed Luneau with the second of their two 2nd round picks in 2022. Tristan was selected as a low-risk, high-reward 2-way defenseman with a high hockey IQ. In 2020, he was selected #1 overall in the QMJHL draft and earned honors as the league's top rookie defenseman. In his draft year (2021-22), he was slow out of the gates as he was returning from an offseason knee procedure. That procedure was likely the main reason his draft stock fell in the NHL Draft until he was finally taken with the 53rd pick. After turning heads at Ducks training camp, he returned to Gatineau, where he's assumed leadership responsibility. He wears an "A" on his chest, quarterbacks the top power play unit, and kills penalties on the second unit. He currently sits tied for 4th among defensemen in scoring in the QMJHL.
Luneau's best attribute is his brain. Whether offensively or defensively, his ability to read the ice and anticipate plays is what sets him apart. Watching him is like watching a mathematician on skates. He excels at puck retrievals and has the ability to read the ice past the F1 forechecker to determine if he should skate the puck out of danger or move it quickly to an outlet. His decision-making prowess is always on display when he has the puck, and he rarely turns it over. He doesn't have a particularly overpowering shot but finds ways to get it through traffic or find a teammate's stick for deflections. Defensively, he doesn't go out of his way to be physical and elects to angle off attackers with his positioning and stick work. He is adept at using his stick to break up passes and passing lanes and challenge shooters. His skating style reminds me of one of those basilisk lizards that can run on water. His stride is a little short but powerful nonetheless, and he is good on his edges, displaying an excellent ability to pivot and escape. Because of his stride, he does lack straight-line speed, but with more time in the gym filling out his frame, speed should follow. 
Tristan Luneau gets better and better every time he steps on the ice. He is always growing and learning from every experience. Though he didn't make this year's World Junior Championship team for Canada, that will certainly be a goal for 2024. For the duration of the 2022-23 season, Luneau will be looking to push the limits of his offensive game and continue to produce at high levels. Gatineau is primed to make a deep playoff run in the QMJHL playoffs, and they'll be looking to Tristan to be a play-driver on the ice and leader in the locker room. He will likely return to Gatineau in 2023-24 as one of the top defensemen in the entire CHL and dominate on both sides of the puck. He has that kind of top-end potential.
Ian Moore – RHD – Harvard (NCAA)
Ht. 6-3 Wt: 185lbs.
Draft: 2020 (3rd round, 67th overall)
Stats:
2021-22: 35 GP | 2 goals | 13 assists | 15 points
2022-23: 11 GP | 0 goals | 6 assists | 6 points
Ian Moore was drafted in the 3rd round of the 2020 NHL Draft as a bit of a project. His raw talent and NHL frame made him a very enticing prospect out of prep school as an 18-year-old. Moore's freshman season at Harvard University was canceled, so he played for Chicago of the USHL. He had decent production, scoring 10 goals in 45 games. Moore is now in his Sophomore season at Harvard, and while he's a physical force of nature, he's still finding his role and learning the nuances of NCAA hockey. Moore is a part of the second power play and penalty kill units. While production isn't where it could be based on his potential, he is a 2-way force on the blueline and, as a right-handed defenseman, is often playing on either the left or right side. He also played in August's World Junior Championship tournament for the United States, where he underwhelmed with just an assist in 5 games. 
Those who watch Ian Moore play see a specimen on the ice. He is the biggest and fastest player in every game with a heavy cannon shot and non-stop motor. While owning a powerful stride, he could stand to work on his edges and pivot. He's got wonderful puck skills and can fire an accurate outlet pass to and from anywhere on the ice after skating away from danger. He works hard defensively to maintain a gap against the rush and always fights for position low in his zone. He has all the tools to dominate every time he steps on the ice, especially in the conference he plays in, but he hasn't quite put it together yet. He should be imposing his will, winning every board and corner battle, but he often lets his check hold the puck too long and make a play because he isn't engaging as effectively as he should. He should also be racking up points on the offensive side, and while he's lower on the depth chart, with his ability, he should be leading or joining every rush and far more involved in the offensive zone. 
Harvard is ranked in the top 15 in NCAA season rankings. Moore will likely be looking to make greater impacts on each game as the season heads toward tournament season in the Spring. With roster spots available on the right side of the Anaheim Ducks blueline for next season, Moore could be looking to sign his ELC and turn pro. The more likely route for him will be to return to Harvard for his Junior season with an increased role.
Henry Thrun – LHD – Harvard (NCAA)
Ht: 6-2 Wt: 195lbs.
Draft: 2019 (4th round, 101st overall)
Stats: 
2021-22: 35 GP | 7 goals | 25 assists | 32 points
2022-23: 11 GP | 3 goals | 11 assists | 14 points
Henry Thrun was drafted in the 4th round from the same USNTDP team as Jackson LaCombe and Trevor Zegras. He was thought of as a defensive stalwart who wouldn't move the needle much offensively. After a decent Freshman season at Harvard, Thrun's Sophomore season was canceled due to the pandemic. Thrun made lemonade. That season, he played for Dubuque in the USHL with a singular goal in mind; to work on his offensive game. It worked, and since returning to the NCAA, he's been a point-per-game player. This season, Henry is captain of the Crimson while playing on the 1st penalty kill unit and on the 1st power play unit (interestingly) at the net-front/low-release position, where his playmaking and vision in tight is on display.
Henry Thrun (like the captain of the Harvard hockey team should be) is the smartest player on the ice on a nightly basis. He is great at retrieving pucks and escaping checks in tight spaces to find an outlet pass. He doesn't have a heavy shot, but it's effective at finding sticks on its way to the net. He has an underrated vision in all three zones and the poise to either turn the puck up ice quickly or slow down for a regroup. He is one of the best defenders in college hockey but doesn't win battles by imposing his will physically but mentally. He reads attacks like a picture book and uses angles to gain body position when engaging opponents and his stick to break up plays and poke pucks free. What's striking is that for a player who uses his body so well to defend, he hardly takes penalties (4 PIMs in 11 games). He's a perfectly average skater but excels in small areas on his edges and never wastes a stride, as he's effortlessly always in a perfect position to defend. He has NHL tools and needs to adjust to the professional game to find his role.
Thrun is a natural leader and is captaining his team to one of their best records in recent memory (currently 9-1-1). He has shown the ability to improve in all the aspects of his game that he feels are lacking. He is undoubtedly focusing on the current season, but like with Jackson LaCombe, he has until August to sign his ELC with the Ducks, or he could choose to become a free agent. The left side of the Anaheim Ducks' blueline is below mediocre (to put it lightly) and could use a steady and cerebral young defenseman like Thrun in the near future. He would have an opportunity to battle for a top 4 spot in Anaheim if he chooses to sign his ELC and could be playing professional hockey when his collegiate season wraps up. He is also in the unique position of being eligible to return to Harvard for his Senior season. Though he was drafted four years ago, his true Sophomore season was canceled, making him a Junior technically. He will have a big decision this Spring, but it's clear he is good enough to jump from NCAA hockey after this season. 
Summary
Between these five defensemen and the five from part 1 of this series, the Ducks are sitting pretty on the blue line for the foreseeable future. While it would sting to lose the NCAA players to free agency if it came to that, there is plenty of talent on this list and on the horizon with the picks from the 2023 NHL draft. I have all the faith in the world that the Anaheim Ducks scouting staff will continue finding players like these that will someday make a significant impact in Orange County as NHLers as they look to build a perennial contender. Better times are ahead in Duckland.
On this episode of LAP, the guys talk about the continued ups and downs of Ducks hockey from the last week. They cover the short-lived fun from Saturday's shootout win against Colorado and Leo Carlsson's little heater in the last few games. Troy Terry's struggles are discussed amongst a large amount of miscellaneous NHL topics like the draft and some other teams who are on the struggle bus. Follow Late Arrivals Twitter: @latearrivalspodInstagram: @latearrivalspodFollow the hostsChris: @CJKChelConnor: @91_PlutyJake: @_JRobles71Louis: @Louiex37 Intro/ Outro done by Will Rice/ @pastorwillrice