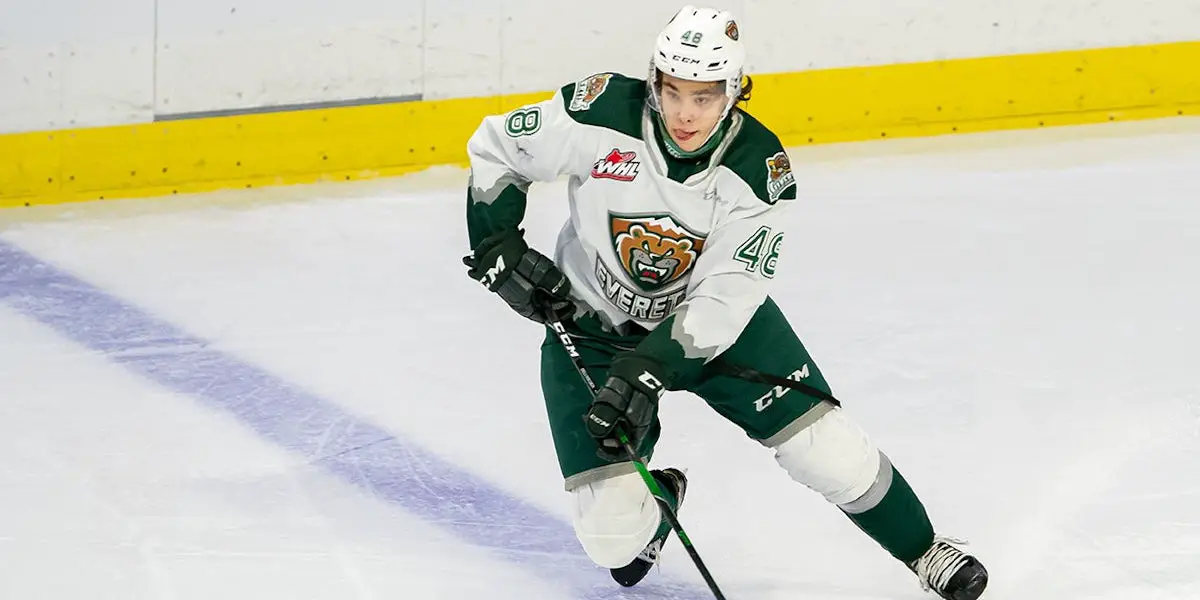 We are all aware of the abysmal and droll season the Anaheim Ducks and their fanbase are suffering through. They are last in the league in a myriad of categories, most importantly, points in the standings. So let's shine a light on the positive and begin to put the dark black sludge of the present into the rearview and look through the windshield to see what's coming very soon to an ice sheet near you (if you live in Orange County, CA).
The strength of the Anaheim Ducks prospect pool lies on the blue line. The defensive prospect ranks include a deep and diverse blend of size, firepower, and IQ from both the left and right sides. Anaheim has made acquiring young blueline talent, whether through trade or draft, a main focal point of their rebuild in hopes it will translate to success for the foreseeable future. 
The first part of this two-part series is focused on prospects who are playing on or have already signed their entry-level contracts (ELC)…
Drew Helleson – RHD – San Diego Gulls (AHL)
Ht: 6-3 Wt: 205lbs.
Draft: 2019 (2nd round, 47th overall)
Stats: 
2021-22: 32 GP | 4 goals | 21 assists | 25 points (Boston College, NCAA)
               17 GP | 0 goals | 2 assists | 2 points (SD Gulls, AHL)
2022-23: 18 GP | 2 goals | 1 assist | 3 points
The Ducks acquired Helleson's rights and a 2023 2nd round pick from the Colorado Avalanche in exchange for RHD Josh Manson a week before the trade deadline last season. He had an excellent college career for BC, where he was hailed for his poise (with and without the puck) and his hockey IQ, and he even represented the United States at the Olympics in Beijing last February. Once his Junior year in the NCAA wrapped up, he signed his ELC and reported to San Diego of the AHL, where he finished off his 2021-22 campaign and even tallied a pair of assists in 2 playoff games for the Gulls. 
Drew is a good skater, especially for his size, who pivots and transitions effortlessly while displaying quality instincts moving the puck in all three zones. He defends adeptly all over the ice surface and shows elite gap control to deny easy zone entry and use of his stick to break plays up. He is also a responsible player in his own zone, never losing assignments and winning battles in dirty areas of the ice. He seems to play a little low-energy, rarely showing a 4th gear, and to round out his game, I would like to see him display more explosion in his stride and assert himself more offensively. 
Early on, Helleson had difficulty adjusting to the size and speed of professional hockey. Since the end of last season, he has added to his frame (now eclipsing 200 lbs) and now looks far more comfortable on both sides of the puck, indicative of his willingness to grow, learn, and adjust. He is currently playing on the top penalty kill unit for the Gulls. He'll likely never become a power play quarterback or 60 point player, but there is still untapped offensive potential. He will probably finish the 2022-23 campaign in the NHL playing for the Ducks. Spots are sure to open up with the number of pending UFAs on the right side of the Ducks blueline that are sure to be traded. Once called up, he will bring much-needed stability to that unit and will be able to study the NHL game firsthand. 
Axel Andersson – RHD – San Diego Gulls (AHL)
Ht: 6 Wt: 182lbs.
Draft: 2018 (2nd round, 57th overall)
Stats:
2021-22: 35 GP | 4 goals | 6 assists | 10 points
2022-23: 16 GP | 1 goal | 3 assists | 4 points
Axel Andersson was acquired from the Boston Bruins, David Backes, and a 2020 1st round pick (Jacob Perreault) in exchange for Ondrej Kase ahead of the 2020 trade deadline. Though he was injured for stretches of last season, Axel is now almost 70 games into his AHL career and hasn't turned as many heads as he was probably hoping to at this point, only having produced 19 points in that span.
Andersson is a very mobile and smooth defender with above-average vision. He has terrific outlet passing ability and a decent shot that often finds its way to the net, but those qualities haven't turned into production at any level he's played at. Though possessing high-end offensive ability, he never sacrifices defensive responsibilities (maybe something he should start). Despite a smaller frame, Axel finds ways to be effective defensively using his instincts and an active stick. From watching him over the years, the one quality that sticks out most in his game is his ability to retrieve pucks, make proper reads, and turn the puck back up ice quickly and effectively. 
While Axel is close to NHL ready, it's unclear exactly how high his ceiling is. For reference, Ducks fans will understand he plays like a right-handed Colton White and would likely be a similar player at the next level. I will say he can maximize his output, but he'd better act quickly because several RHD prospects in the Ducks pipeline are hungry for an opportunity and nipping at his heels.
Pavel Mintyukov – LHD – Saginaw Spirit (OHL)
Ht. 6-2 Wt. 194lbs.
Draft: 2022 (1st round, 10th overall)
Stats:
2021-22: 67 GP | 17 goals | 45 assists | 62 points
2022-23: 27 GP | 12 goals | 24 assists | 36 points
To say Pavel Mintyukov has taken off in the first part of the season for Saginaw of the OHL is an egregious understatement. In his draft year (his 1st playing in North America), he led a horrendous Saginaw Spirit team in scoring and was 3rd among all defensemen in the OHL. He was drafted as an offensive powerhouse who wasn't afraid to take risks if it meant a possible scoring chance, but he also possessed solid defensive tendencies. As it stands today, he is tied for 3rd in the OHL among ALL skaters for points, and among defensemen, he leads the entire CHL. It was recently announced that Mintuykov had earned honors as OHL defenseman of the month for October and November (the first time since Dougie Hamilton did it in 2011). Though his production has slowed a bit of late, he is still contributing at the highest level and is a true difference-maker for one of the OHL's top teams.
Mintyukov is the one prospect in the Ducks pipeline with the potential to be a true #1 defenseman and exert 2-way dominance. Though at the time of the draft, he was considered a hyper-aggressive offensive-defenseman, what's struck me as pleasantly surprising has been his attention to detail on the defensive side of the puck. He's an explosive skater with a quick first step, both moving up ice and pivoting back on defense. Pavel is incredibly active in the offensive zone, pinching down the half-wall to deny breakouts, and is in constant motion with or without the puck. He shows excellent vision and, when combined with his elite puck skills, is able to get pucks through to the net or move it smartly to teammates. In his own zone, while he isn't overly physical, he uses his size to gain position, win puck battles, and displays proficiency in tight spaces to break the puck up ice. The one thing I love the most about Mintyukov's defense is his ability to defend the rush. He has perfect gap control and dictates with his stick to deny attacking players at the blueline before sealing them on the wall and creating a battle. 
Mintyukov will look to continue to be among the top scorers in the OHL while leading his team on a deep playoff run. He has a shot at making the NHL roster next season but will be in an intense battle with a number of other LHDs looking to earn a job. He'll likely return to juniors for one more season after this. For the rest of his time in the OHL, he should be looking to polish his zone coverage and truly become a shutdown defender. He also should focus on being a tad choosier on his pinches because a lot of what he can get away with in juniors will be exploited at the professional level. 
Olen Zellweger – LHD – Everett Silvertips (WHL)
Ht: 5-10 Wt: 175 lbs.
Draft: 2021 (2nd round, 34th overall)
Stats:
2021-22: 55 GP | 14 goals | 64 assists | 78 points
2022-23: 23 GP | 10 goals | 18 assists | 28 points
Olen Zellweger electrified the eyes and stole the hearts of everyone who watched him play hockey in 2021-22. He led WHL defensemen in scoring while playing fewer games than everyone else in the top 10. In August, he represented Canada (alongside fellow Ducks prospects Mason McTavish and Nathan Gaucher) at the World Junior Championship, where he finished 3rd among all skaters in scoring with 9 points (2 goals, 7 assists) in 7 games and walked away with a gold medal. When his Everett Silvertips were upset in the 1st round of the WHL playoffs in 6 games (Zellweger had 2 goals and 7 assists), he reported to the San Diego Gulls to join them for their own playoff campaign. He was inserted into the lineup for only 1 of their 2 games and recorded an assist, playing minimal minutes. To date, in 2022-23, Olen's production isn't near where it was last season (which was insane, btw), but that is a result of taking on more defensive responsibility on a team that doesn't have as much talent as a year ago. He's currently averaging over 5.8 shots per game in the WHL and only sits behind (future teammate?) Connor Bedard (6.25) in that category.
Zellweger plays like a riptide. He's smooth and fluid but is also a powerful force of nature. Technically, he might be the best skater I've ever seen. His stride is perfect (forward and backward), and he has a mastery over his edges like only Olympic figure skaters do. Anyone who's seen him handle a puck is hypnotized by his wizardry, as he seemingly has the puck on a string. He is a one-man breakout from his own zone; starting, leading, and joining rushes up ice any time he wants to (which is all the time), and he does it with the ability to go zero-to-sixty and back-to-zero at the drop of a hat. His deception in the offensive zone not only fools the defender in front of him but the entire opposing defense as a unit, as he can either take the puck to the net himself, find a shooting lane to unleash his underrated shot, or thread the tiniest of needles to find teammates in soft spaces. In programs, Zellweger is listed at 5-10 and weighs 175 lbs, but I would caution those viewing that as a concern. Anyone who's seen him out of his gear knows he is 175 lbs of pure muscle, and anyone who's seen him play hockey knows he doesn't look small in the slightest or play diminutively. He's not one to get bullied on the ice. 
Olen Zellweger is a brilliant and flawless offensive dynamo, but his defensive game could use a tune-up. He gambles quite a bit in the offensive and neutral zones trying to create offense. He gets away with that at the junior level most of the time because his skating is head and shoulders above everyone else's, and he can recover. Still, he will need to be far choosier when playing professional hockey. He also tends to cheat in the defensive zone looking to break up ice and join a rush before he should, often leaving his check. He'll need to work on his fundamentals (gap control, body play, puck-watching) because when he's facing highly-skilled forwards, he can get walked or lose his assignments too easily. Those kinds of mistakes just won't cut it at the NHL level.
With his increased role, Olen will look to iron out the defensive deficiencies in his game and lead Everett on a deep playoff run this season. He'll likely spend the offseason getting even bigger and stronger and will be a frontrunner to make the Ducks NHL roster out of training camp for the 2023-24 season. Zellweger will represent Canada again at the World Junior Championships later this month in hopes of exceeding his stellar performance from August. Ducks fans will be salivating (even more than they are now) as they daydream of the night Zellweger makes his NHL debut. 
Tyson Hinds – LHD – Sherbrooke Phoenix (QMJHL)
Ht: 6-3 Wt: 188lbs.
Draft: 2021 (3rd round, 76th overall)
Stats:
2021-22: 61 GP | 12 goals | 23 assists | 35 points
2022-23: 26 GP | 9 goals | 18 assists | 27 points
On draft day in 2021, the Anaheim Ducks identified Tyson Hinds as a must-have player and traded their 2022 3rd round pick to the Montreal Canadiens for the 76th pick and selected the defenseman they wanted. Hinds was viewed as a raw but talented and physical defenseman who could learn to impact a game at both ends of the ice if/when he filled out his frame. That day seems to have arrived. He was traded from Rimouski Océanic to Sherbrooke Phoenix in 2021-22 and played a shutdown D role until they were knocked out of the QMJHL playoffs in the semi-finals. Nearing the halfway mark of the season, Hinds is sitting at over a point per game in his 4th season in the QMJHL (for his 3rd different team) and is doing so with limited power play time on the 2nd unit. 
Tyson Hinds has the tools to become a modern day NHL shutdown defender. While exuding a high-energy play style, he's a powerful skater with a polished forward stride and displays nice control of his edges. When denying zone entry, he dictates using his long stick and seals attackers at the blueline with heavy body contact. He takes no prisoners in low in the defensive zone; you have to earn your way and take a beating if you want to get to the net against Tyson. When it comes to joining the rush, he is never shy to get involved as the trailer being the 3rd or 4th man into the offensive zone, and it's led to excellent production. He's already much improved in determining when to activate in the offensive zone and has become more selective, but he will still need to be more conservative at times. He also loses focus around his own net and has screened his own goalie on occasion. 
Sherbrooke Phoenix are in a position to make another playoff run, and Hinds will play a big role in providing energy, eating minutes, and killing penalties. He shot out of the cannon this season after having an excellent training camp with the Ducks and signed his ELC before returning to juniors. He will be one of those young players looking to earn a spot on the opening night roster for the Ducks, but will more likely start the 2023-24 season in San Diego playing for the Gulls of the AHL. In a slightly surprising turn of events, Hinds has been invited to Team Canada's National Junior Team selection camp. So, you may be able to catch Tyson at the World Junior Championship tournament along with fellow Ducks prospects Olen Zellweger and Nathan Gaucher.
Summary
The Anaheim Ducks, it seems, rarely miss when it comes to drafting defensemen. This list is impressive, and Ducks fans are likely eager for the day they'll see these young men in black and orange. Some will be arriving incredibly soon, hoping to make an impact on a unit in desperate need. Be sure to stick around for part 2 of this series because, as mentioned before, the Ducks defensive prospect pool is DEEP.
On this week's chaotic episode of LAP, Jake, Chris, and Lou talk about the Stanley Cup Final, some coaching changes and share some thoughts on the ESPN and TNT broadcasts. They also talk at length abouth why Florida's uniforms need to change and finish things up with listener questions!Follow Late Arrivals Twitter: @latearrivalspodInstagram: @latearrivalspodFollow the hostsChris: @CJKChelConnor: @91_PlutyJake: @_JRobles71Louis: @Louiex37 Intro/ Outro done by Will Rice/ @pastorwillrice