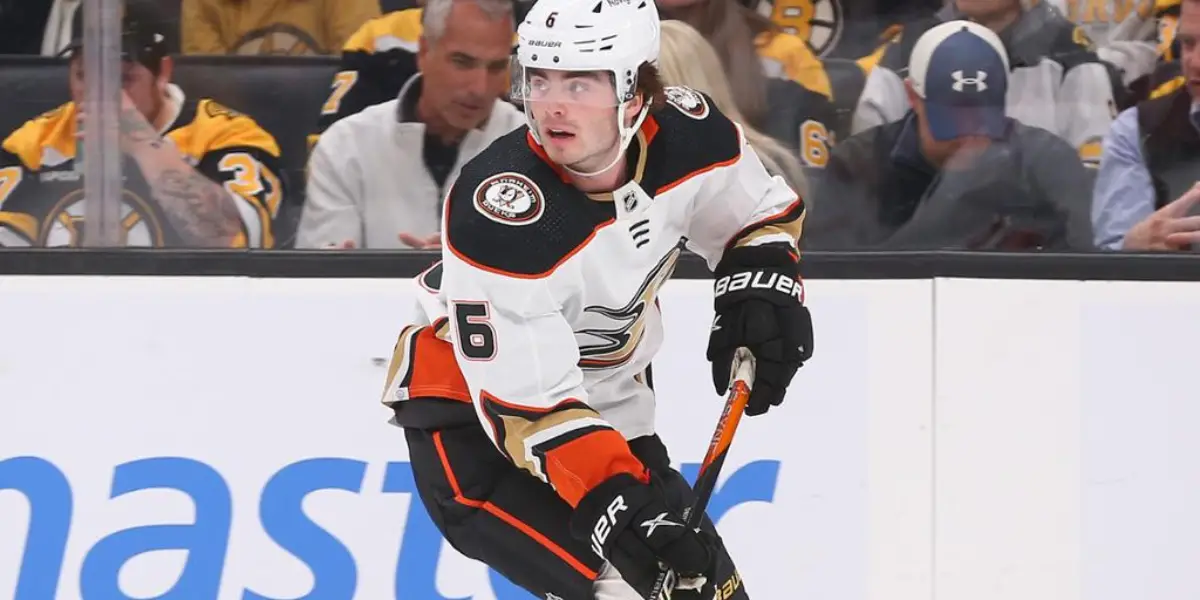 Over the first seven games of the 2022-23 season for the Anaheim Ducks, the wind in the team's sail had been reduced to a gentle breeze. Jamie Drysdale's injury in their eighth game took the remaining wind out completely. Over those eight games, the Ducks only managed three points in the standings. Any preseason hope of a competitive season was dashed in those opening games. The offense was sputtering, and the defense was (and still is) bleeding chances at will. One of the lone bright spots during that stretch of games was sophomore right-shot defenseman Jamie Drysdale.
Near the halfway mark of the Ducks' eighth game of the season in Vegas, Drysdale went below his goal line for a routine puck retrieval. He moved the puck up the boards on his backhand and received an innocuous check from Vegas forward William Carrier. However, something in the way Drysdale went into the glass caused his labrum to tear and would require surgery to repair. His return was given a timetable of four to six months. With that being the reported window, it's speculated that he will remain out for the remainder of the season. 
Jamie Drysdale plays a unique brand of hockey. His main asset is his skating ability. The kid can plain fly. He's got a quick twitch stride, uses his edges to escape pressure, and can turn up ice 0-60 in nothing flat. He isn't shy about joining/leading a rush or moving freely in the offensive zone but never does so at the expense of his defensive responsibility. His hockey IQ is akin to a player with far more experience than he has, and he can read the ice like a picture book. The optics may fool some (a sub-six-foot defenseman wheeling the puck up ice at 100mph with his jersey flapping in the wind), but he is a defensive-minded player first and foremost. He doesn't possess dazzling puck skills or a lethal shot and instead creates his offense through constant motion and vision to shoot for sticks or find teammates in space. 
Since being drafted in 2020, Jamie Drysdale's development has been an enjoyable study. In his first two seasons of professional hockey (mainly as a teenager), Drysdale played 105 games. It was clear he had some adjustments to make transitioning to playing at higher speeds against larger opponents. Offensively, he seemed a bit timid, moving the puck quicker than he perhaps had to and hesitating to take chances. Defensively, he struggled to maintain position in front of his net and got beat out of corners against stronger, craftier opponents. He also had an issue of showing too much respect while defending the rush, often allowing too much gap for attackers to make plays.
For most of the 2021-22 season, Drysdale was playing alongside Hampus Lindholm. They were the Ducks' top pair and were matched up against opposing top lines on a nightly basis. On the surface, playing with one of the league's top all-around defenders in Lindholm was a good idea from the coaching staff. He could study firsthand what it would take for him to be a successful two-way defenseman in the NHL. In hindsight, the workload may have been a bit overwhelming for the rookie. It must be challenging to work on developing one's game when facing the Nathan MacKinnons, Connor McDavids, and Auston Matthews of the world every shift. 
In the seven-plus games to open the 2022-23 season (in addition to what we saw from him in the preseason), it was clear he identified his weaknesses and worked extremely hard in the offseason to correct them. He wasn't getting beaten out of corners or bullied in front of the net. He was less timid with the puck on his stick and seemed more comfortable. He proved to be a true student of the game and a real competitor. 
Heading into the 2023 offseason, one of the items on General Manager Pat Verbeek's agenda could (and probably should) be to find a long-term partner for Jamie Drysdale as he continues his development in the NHL. He would benefit from playing alongside someone responsible and engaging on the defensive side of the puck, but also with the capability to keep up with Drysdale cerebrally and physically, someone that can unlock, encourage and elevate his game to the next level. Jamie's a unique player who can be a two-way force in this league for a long time. It would be nice to find him the Anderson to his Doughty, Weegar to his Ekblad, Toews to his Makar, etc. 
What Does an Ideal Drysdale Partner Look Like?
When playing matchmaker with defensive pairs, ideally, one would like the two players to think and react to the game at the same pace. They should be able to simultaneously complement each other's strengths and make up for each other's deficiencies. In Drysdale's case, he processes the game at a breakneck rate, so you want someone with that same ability to read a play and instinctually react based on what he sees with the knowledge of what his partner sees as well. One would also want his partner to be sound in front of their net, excelling at clearing the low slot and jumping on loose pucks around the crease. And lastly, you also want a stable presence that can spring Jamie for a rush and confidently cover for him if he gets caught up ice. 
Pat Verbeek has four obvious paths he can take if he is searching for a quality partner for his young defenseman. He can make a trade for a veteran player, make a trade for a younger player with some NHL experience, sign an unrestricted free agent (UFA) in the summer, or play him with someone currently in the Ducks system. I ran down some options based on whichever path Verbeek chooses to take in the near future. 
Trade for a Veteran
When trading for a veteran partner to play alongside the 21-year-old defenseman, one should be looking for stability. This route would allow Drysdale to learn from a player who knows how to sustain success at the NHL level. Based on where the Ducks are in their rebuild and where Drysdale is in his development, one would likely be looking to acquire a player with some term left on their contract (signed for two or more years after 2022-23) in order to develop a meaningful rapport. 
Nate Schmidt-Winnipeg Jets
The Jets are in a position to win now, so they might be hesitant to move a veteran defenseman with Schmidt's skill set. However, they currently have an abundance of NHL-caliber left-shot defensemen on their payroll. If this season doesn't go according to plan, they may look to move one of them to fill a need elsewhere on their roster. Schmidt's contract does come with a 10-team no-trade clause, so he may have to waive it if Anaheim is looking to acquire him. Schmidt, 31, is signed for two more seasons and carries an average annual value (AAV) of $5.95 million. 
Mattias Ekholm-Nashville Predators
The Nashville Predators may find themselves at a crossroads in their franchise history. They have a lot of money tied up for a long time, with many players on their roster over 30 years old. If they are looking to take a step toward rebuilding/retooling and want to move out a veteran, Ekholm, 31, might be able to fetch a quality return. He is signed for three seasons after this one with an AAV of $6.25 million.
Jake McCabe-Chicago Blackhawks
McCabe, 29, is my favorite option in this exercise. His name has popped up recently on many trade target lists as the trade deadline nears, and he has been a lone bright spot on a Blackhawks team going through the "teardown" portion of their rebuild. He is signed for two more seasons after this one with an AAV of $4 million. Chances are McCabe won't finish his contract out in Chicago, and if the Blackhawks get an offer they like, he could earn them a good package in return. 
Trade for a Young NHL Defenseman
If Verbeek were looking to acquire a younger defenseman (24 years and under) to pair with Drysdale, it would be with the intention that they'd be paired for several years to come. They could learn simultaneously and, hopefully, grow into one of the league's most effective defensive pairs as the Ducks enter their true Stanley Cup contending window. This player would represent a more cost-effective option by carrying a low AAV so Pat Verbeek can spend the Ducks' ample cap space elsewhere. 
Thomas Harley-Dallas Stars
Harley, 21, was a 1st round pick in 2019 and is currently playing for the Texas Stars in the AHL. He has 34 games of NHL experience (all from 2021-22), where he tallied a goal and three assists. He'll never be a big-time point producer at the NHL level but can develop into a quality 2-way defender. He (like Drysdale) is an excellent skater who creates plays with his above-average instants and vision. He has a large frame (6-3 205 lbs) that he uses to gain body position when defending, and he excels at breaking plays up with his stick. 
The Stars sit atop the Central division and have their eyes on a long playoff run. On the left side of their defensive unit, they have Miro Heiskanen, Esa Lindell, and Ryan Suter all signed for two more years after this one, creating a bit of a logjam for Harley. If they are looking to improve their team elsewhere in the lineup, Harley would be a huge trade chip as they currently find themselves in their contending window. 
Riley Stillman-Vancouver Canucks
Stillman, 24, is playing in his second season as a full-time NHL defenseman. He has been in and out of the lineup for Vancouver due to various injuries and healthy scratches as the team's 6/7th defenseman. Stillman is a very "meat and potatoes" defenseman. He won't take too many risks and is a constant and steady presence on the backend. He defends the rush well with his stick and with the use of angles but has to learn to be more effective while battling in the corners of the defensive zone. 
With the eyes of the hockey world constantly looking upon and scratching their heads at the state of affairs for the Vancouver Canucks, we still don't know which direction they're heading. From one perspective, they could be rebuilding. From another, retooling. From yet another, they could be trying to contend. Riley Stillman may find himself on the outside looking in on most of these scenarios and, ultimately, used as a trade piece for Vancouver. 
Dylan Samberg-Winnipeg Jets
Samberg would be my choice if Pat Verbeek were to take the "trade for a young NHLer" route. He's a 24-year-old rookie two-way defenseman who won two NCAA championships during his time at the University of Minnesota-Duluth. He skates very well in every zone and every direction with a good-sized frame (6-3 190lbs) and is calculated in his efforts with the puck and away from it. He uses his skating ability to stay in front of attackers and his long stick to disrupt plays consistently.
The Jets are in "win now" mode and have a team built for playoff success. They also have a plethora of left-shooting defensive talent. On the current roster, they have Josh Morrissey, Brendan Dillon, Nate Schmidt, Logan Stanley, Kyle Capobianco, and Samberg (not to mention top prospect Ville Heinola, currently playing in the AHL). If the Jets want to improve their team elsewhere for this coming playoff run or during the offseason, Dylan Samberg could garner a lot of interest around the league.
Sign a UFA
This will always be the most expensive option from a salary cap standpoint. UFAs have played in the NHL for a long time (they are either at least 27 years old or have played in the NHL for seven years) and are typically looking for long-term/big-money deals. The Ducks will have plenty of cap space (even if/when Trevor Zegras, Troy Terry, and Jamie Drysdale have all signed their next deals) with some hefty contracts (John Klingberg, Kevin Shattenkirk, and Dmitry Kulikov) coming off the books when the season ends (if not sooner). This year's free agency crop of left-shot defensemen has several quality options if Pat Verbeek decides to go in this direction when searching for Drysdale's next partner. Based on contracts signed in the 2022 free agency period, it's highly likely these players will sign 4-5 year contracts that carry an AAV of $4-5 million. 
Vladislav Gavrikov-Columbus Blue Jackets
Gavrikov, 27, is in his fourth full season since making the jump to North America after a successful career in the KHL. Gavrikov is a big defenseman (6-3 213 lbs) but seems even bigger during play. He seems so much larger because he moves so well. He uses powerful strides and backward crossovers to take away attackers' time and space in the blink of an eye. He's excellent in defensive-zone coverage as he's hard to gain position against in front of the net or win corner battles against. Gavrikov's puck-moving prowess has improved dramatically since he arrived in Columbus, and he's become a two-way threat who can eat big minutes in the NHL. 
Ryan Graves-New Jersey Devils
Graves, 27, is similar to Gavrikov in that he is an extraordinarily large defenseman that seems even bigger on the ice because of how he moves. He handles the puck incredibly well for a man of his size (6-5 220 lbs) and plays well off his partner, Damon Severson. Severson is similar to Drysdale in that they are offensively gifted yet defensively responsible. Graves bullies opponents deep in his own zone, defends the rush well, and moves the puck efficiently and quickly after winning battles. Side note: Graves would be my target if I were in Verbeek's shoes. 
Jake Walman-Detroit Red Wings
Walman, 26, is a bit of a late bloomer but has made a considerable impression so far in 2022-23. When he was drafted, he was more of a puck-moving defenseman. Still, he had a tough time translating that to professional hockey after a quality career in the NCAA with Providence College. Walman worked hard to improve the defensive side of his game and is now a top-pairing defenseman for the Red Wings playing alongside Calder Trophy winner Moritz Seider. Walman thrives in transition as he jumps on loose pucks and looks to immediately turn it back up ice to an outlet. At 6-2 and 215 lbs, he doesn't get pushed around in his own zone and has learned how to use that size, along with his skating ability to gain position on attackers to separate them from the puck. After missing the first 15 games of the 2022-23 season due to off-season shoulder surgery, he's turned many heads and could earn a big contract on the open market in the summer of 2023.
Internal Option
The Anaheim Ducks currently have four left-shot defensemen either signed or under team control for the 2023-24 season (Cam Fowler, Urho Vaakanainen, Simon Benoit, and Colton White) who could be options to slide next to Jamie Drysdale next season or moving forward. In those players, it's tough to see a fit for any of them next to Drysdale, however. Of those four, he has only played significant minutes next to Fowler and Vaakanainen. With Fowler, the pair was good in transition and moving the puck up ice but struggled deep in their zone. When he played with Vaakanainen, Vaakanainen struggled to transfer to a new team and city after being traded from the Boston Bruins at the 2022 trade deadline. The fit with Benoit isn't there because they don't process the play at the same level or speed. Benoit is a very North/South player who plays a simple game. That simple game wouldn't help Drysdale develop into the player he has the potential to be. Alongside Colton White, the pair could excel at moving the puck, but White can't win meaningful battles low in the defensive zone that an ideal partner for Drysdale would need. 
The lack of options on the current roster would encourage a look toward the prospect pool, where there is a bevy of left-shot defense options. Pavel Mintyukov, Olen Zellweger, and Jackson LaCombe (who recently communicated his intent to sign his entry-level contract when his NCAA season is over) are all hoping to make the Anaheim Ducks roster in the 2023-24 season. Pairing one of them with Jamie Drysdale would mean that the duo will be very talented and inexperienced. Of that group and based on their play styles, the option that makes the most sense is LaCombe. 
Looking further down the road and further down the Ducks' prospect pool, the option that fits the bill best as Jamie Drysdale's long-term defense partner is Tyson Hinds. He is developing into everything a player like Drysdale needs in a partner to get the very most out of him. He's energetic, athletic, and cerebral. He defends well in all zones, has the puck skills to make plays alongside someone like Drysdale, and plays with an edge. 
For a more in-depth look at the defensemen in the Ducks' prospect pool, check out these two articles I wrote previously for inside the rink…
Summary
Jamie Drysdale will be an essential part of the Anaheim Ducks when they are ready to contend for a Stanley Cup again. He is still a young and developing player, so it's important to put him in the best possible situation to maximize his potential. Finding a partner with whom he connects and playing him in a role that will nurture his development will be key moving forward. 
Several options are within grasp for Ducks GM Pat Verbeek. If it were up to me, I would likely go with the opportunity to trade for or sign a UFA veteran left-shot defenseman over the summer. Drysdale is a student of the game. In those scenarios, he could play alongside a defenseman from whom he can learn while also being provided a stable presence to encourage Jamie to round out his game. Down the road, if his development goes according to plan, he could find himself paired with another young player like Tyson Hinds or Jackson LaCombe (if their developments go according to plan, too), and they could blossom into one of the top defensive pairs in the NHL for a long, long time. 
Jamie Drysdale is one of several talented, young defensive players that will make an impact during the Ducks' next contending window. He is an electrifying talent, and everyone from fans to those in the Ducks' organization is anticipating what he'll be able to accomplish when he's ready to return from injury. 
On this episode of LAP, Jake, Chris, and Lou talk about the start of Anaheim Ducks training camp and the last weekend's rookie tournament. They talk about Greg Cronin's encouraging 'real' first day as Ducks head coach and the philosophies he's bringing to the team. They also talk about Pat Verbeek's comments in regards to Zegras and Drysdale's contract negotiations and round things out with listener questions!Follow Late Arrivals Twitter: @latearrivalspodInstagram: @latearrivalspodFollow the hostsChris: @CJKChelConnor: @91_PlutyJake: @_JRobles71Louis: @Louiex37 Intro/ Outro done by Will Rice/ @pastorwillrice