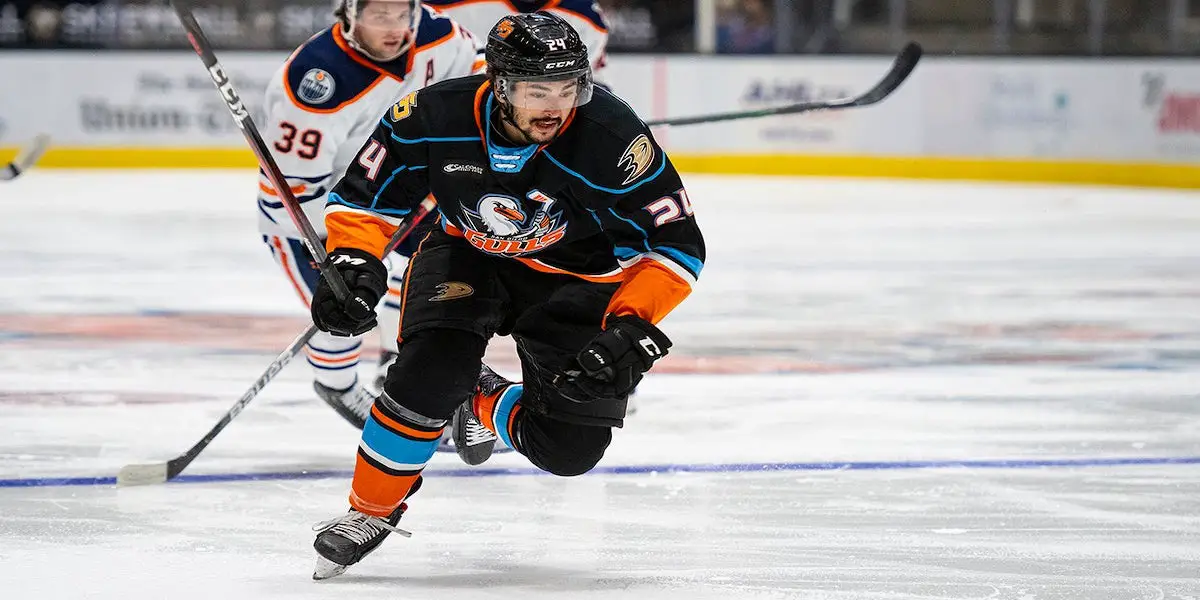 It's been a rough quarter season for the Anaheim Ducks in 2022-23. They sit at the bottom of the NHL standings with a lowly 13 points and have only totaled one win in regulation. Their special teams play is some of the worst we've seen in recent memory, with their powerplay sitting at 31st out of 32 (15.2%) and penalty kill at 32nd (65.4%). Jamie Drysdale, who was having a nice start to his season, is now potentially injured for the remainder of the regular season with a torn labrum in his left shoulder. Needless to continue, things haven't gone exactly according to plan this season. However, there are still some positives to take from this year. The young players the Ducks will need to take the next step into contention (Trevor Zegras, Troy Terry, Mason McTavish) are all progressing nicely. The Ducks also have one of the top prospect pools in the NHL, and several of those prospects are turning heads in each the minors, juniors, and college levels.
The Ducks forward prospects are deep and talented. Many have NHL-ready size, while others display the high-end skill needed to be productive at the highest level. In the system, there are forwards that are tenacious in dirty areas of the ice, there are forwards that are creative and silky, and there are forwards that are responsible and active on the defensive side of the puck. One thing they all have in common, an attribute Ducks' General Manager Pat Verbeek holds above all others, is that they all compete. They compete for every game, every shift, and with every stride. So, I decided to highlight the 10 forward prospects in the Anaheim Ducks organization that have a chance to become impact players at the NHL level and how their seasons are going to date.
Benoit-Olivier Groulx – C – San Diego Gulls (AHL)
Ht: 6-2 Wt: 198lbs. 
Draft: 2018 (2nd round, 54th overall)
Stats:
2021-22: 40 GP | 11 goals | 11 assists | 22 points
2022-23: 19 GP | 5 goals | 10 assists | 15 points
Groulx is off to a scorching start for the San Diego Gulls of the AHL. He is the most NHL ready center in the Ducks pipeline and will hopefully get a call-up by the season's end. Once thought of as strictly a shutdown-style center with a ceiling set as a 4th liner, he has clearly worked on developing the offensive side of his game. B.O. is a fluid, strong skater who isn't shy about working the dirty areas of the ice and has improved his vision and ability to make plays in tight spaces. He worked hard in the offseason to polish the skill aspects of his game, and it's paying off. 
Josh Lopina – C – San Diego Gulls (AHL)
Ht: 6-1 Wt: 199lbs.
Draft: 2021 (4th round, 98th overall)
Stats:
2021-22: 27 GP | 12 goals | 15 assists | 27 points (UMass, NCAA)
               13 GP | 1 goal | 3 assists | 4 points (SD Gulls, AHL)
2022-23: 18 GP | 1 goal | 1 assist | 2 points
The start of Lopina's season has been a severe disappointment. After what seemed like a good training camp with the Ducks, he hasn't been able to find the scoresheet often thus far in 2022-23. While he is still a solid center in his own zone, will give full effort on every shift, and won't cost a team many goals, his offensive awareness does leave something to be desired. Josh isn't the prettiest skater, but he has decent hands in tight and displays an understatedly quick release on his shot. As Groulx did, he has some work to do at polishing major aspects of his game.
Nathan Gaucher – C – Québec Remparts (QMJHL)
Ht: 6-3 Wt: 207lbs.
Draft: 2022 (1st round, 22nd overall)
Stats:
2021-22: 66 GP | 31 goals | 26 assists | 57 points
2022-23: 23 GP | 14 goals | 15 assists | 29 points
Nathan Gaucher has turned some heads with his early production for Quebec in 2022-23. Gaucher is what I call a "coaches dream." He's an all effort center who is never out of position, tenacious on the forecheck, and consistently overmatches and outworks opponents in battles. He has a powerful stride, underrated puck skills, and a high hockey IQ in all three zones. Edgework and shot release are the only things I would say he needs to improve on, but if he's displayed anything, he has an unrivaled work ethic and will likely work to improve those aspects sooner than later. Nathan will very likely represent Canada at the World Junior Championship next month. Ducks prospects seem to do very well at that tournament (understatement). 
Ben King – C – Red Deer Rebels (WHL)
Ht: 6-3 Wt: 201lbs. 
Draft: 2022 (4th round, 107th overall)
Stats:
2021-22: 68 GP | 52 goals | 53 assists | 105 points
2022-23: 5 GP | 5 goals | 5 assists | 10 points
Ben King was drafted as an over-ager in the 2022 NHL Draft. He burst on the scene as a 20-year-old in the WHL in 2021-22 and had an excellent camp in Anaheim, which earned him a spot with the Gulls in the preseason before being sent back to Red Deer, where he's picked up right where he left off. He's a surprisingly fluid skater for his size, decent vision, and a nose for the net. I wish he were kept in San Diego of the AHL this season because he simply dominates the junior game with his size and speed leaving little need for him to work on the other aspects of his game like he would have been forced to in the minors. 
Jacob Perreault – RW – San Diego Gulls (AHL)
Ht: 6 Wt: 198lbs.
Draft: 2020 (1st round, 27th overall)
Stats:
2021-22: 55 GP | 14 goals | 23 assists | 37 points
2022-23: 18 GP | 6 goals | 4 assists | 10 points
I used to refer to Jacob Perreault as just a perimeter sniper. He was adequate in his own zone, decent on the rush, and would find soft spaces in the offensive zone to showcase his incredible shot. He has the highest skill level of any forward in the Ducks pipeline but has really turned a corner this season to round out his game. He is now far more assertive on the rush, more physically engaged from the forecheck to the cycle, and works to drive and find loose pucks around the front of the net. He has now earned the label of "NHL-ready." He'll hope to see time in Anaheim quite soon.
Brayden Tracey – LW – San Diego Gulls (AHL)
Ht: 6-1 Wt: 186lbs.
Draft: 2019 (1st round, 29th overall)
Stats:
2021-22: 55 GP | 11 goals | 20 assists | 31 points
2022-23: 15 GP | 5 goals | 6 assists | 11 points
Everyone who played hockey growing up played with or against a guy like Brayden Tracey, which drove them nuts. He is a sloppy player in that he isn't a beautiful skater or fluid puck-handler, but he always finds a way to beat a defender out of the corner or win a battle on the wall. Tracey is a puck hound and will outwork opponents in every zone, especially around the crease, where he bangs home rebounds or fights for body position and displays elite hand-eye coordination tipping pucks. Brayden will beat defenders in the ugliest way possible and then give a punchable smirk afterward. He's grown stronger physically during his time in the AHL and has translated his game to the professional level. He too is NHL-ready. 
Blake McLaughlin – LW – San Diego Gulls (AHL)
Ht: 6 Wt: 173lbs.
Draft: 2018 (3rd round, 79th overall)
Stats: 
2021-22: 39 GP | 13 goals | 20 assists | 33 points (Minn., NCAA)
                 7 GP | 1 goal | 0 assists | 1 point (SD Gulls, AHL)
2022-23: 15 GP | 0 goals | 0 assists | 0 points
In 7 games last year and 13 this year, Blake has failed to make an impact at the AHL level. He has played his entire AHL career on the 4th line, and his lack of production has led to a recent run of healthy scratches. McLaughlin made his name as a shifty winger who uses his above-average puck skills, good edge work, and vision to create opportunities on the rush and in the offensive zone. When he signed his ELC, it was made clear he needed to add to his frame and get stronger on the puck. He hasn't quite achieved that goal and is struggling to adjust to the professional game. 
Sasha Pastujov – LW/RW – Sarnia Sting (OHL)
Ht: 6 Wt: 184lbs.
Draft: 2021 (3rd round, 66th overall)
Stats:
2021-22: 65 GP | 34 goals | 42 assists | 76 points
2022-23: 20 GP | 14 goals | 13 assists | 27 points
Similar to last season, Sasha has started this season on a tear. He was traded recently from the Guelph Storm to the Sarnia Sting and has continued his production there. Pastujov can score in any fashion, he's good on the rush, off the cycle, in front of the net, and especially from the right circle on the power play with his laser one-timer. His skating needs a makeover as his stride is clunky, and he isn't the best on his edges. Sasha scores many of what Jeff Marek (Sportsnet and the 32 Thoughts podcast) calls "junior goals," where his shot simply overpowers goaltenders, burns slower defenders, or outmuscles weaker ones. He's a gifted offensive talent, so there's no reason to believe he can't produce at higher levels, but it's something to keep an eye on. Sasha will likely represent the United States at the World Junior Championships next month.
Sam Colangelo – RW – Northeastern U (NCAA)
Ht: 6-2 Wt: 205lbs.
Draft: 2020 (2nd round, 36th overall)
Stats:
2021-22: 29 GP | 12 goals | 15 assists | 27 points
2022-23: 15 GP | 3 goals | 8 assists | 11 points
Sam isn't dominating the NCAA game the way you'd like a player of his ability to in his Junior year. He's a big kid but doesn't utilize his size to it's full potential. He has the power and skill to dictate offensive zone play as a one-man cycle, yet he differs to linemates far too often. He is powerful on his skates and is fantastic in tight spaces, but he lacks the 4th gear. If he can get that to click, he can become a force in the professional game. If offered, Sam can sign his entry-level contract when his NCAA season is over. He could also return to Northeastern in 2023-24 for his Senior season. If he opts to return, the Ducks will risk losing his rights as he can become a free agent in the summer of 2024.
Connor Hvidston
Ht: 6-2 Wt: 164lbs.
Draft: 2022 (5th round, 139th overall)
Stats:
2021-22: 58 GP | 13 goals | 19 assists | 32 points
2022-23: 19 GP | 6 goals | 16 assists | 22 points
Hvidston has been a delightful surprise since being drafted in the 2022 draft. Before the draft, he was praised for his defensive prowess by utilizing his IQ, non-stop motor, and active stick to be disruptive. So naturally, it came as a surprise to see his production blow up thus far this season. He seems to have translated his tenacity to the offensive side of the game, which has led to more engagement in the offensive zone. As a cherry on top, he has a nice little release on his shot, and it's very deceptive. We may have a steal on our hands here from Swift Current. 
Summary
As stated, this season hasn't gone the way the Ducks hoped. They will likely be sellers at the trade deadline and looking to incorporate young talent before the season is over with an eye toward how the roster will look in 2023-24. BO Groulx, Jacob Perreault, and Brayden Tracey should all see significant NHL time toward the end of the season with hopes of making an impact and putting their AHL days behind them. Sam Colangelo is eligible to sign his ELC, if offered, at the end of the season and could finish the 2022-23 season playing professional hockey for either or both the Ducks and Gulls. We will also keep an eye on Sasha Pastujov and Nathan Gaucher as they're set to represent their respective countries at next month's World Junior Championship tournament. There's plenty to be excited about when it comes to the future of the Anaheim Ducks, and this group of forward prospects is high on that list.
On this week's chaotic episode of LAP, Jake, Chris, and Lou talk about the Stanley Cup Final, some coaching changes and share some thoughts on the ESPN and TNT broadcasts. They also talk at length abouth why Florida's uniforms need to change and finish things up with listener questions!Follow Late Arrivals Twitter: @latearrivalspodInstagram: @latearrivalspodFollow the hostsChris: @CJKChelConnor: @91_PlutyJake: @_JRobles71Louis: @Louiex37 Intro/ Outro done by Will Rice/ @pastorwillrice