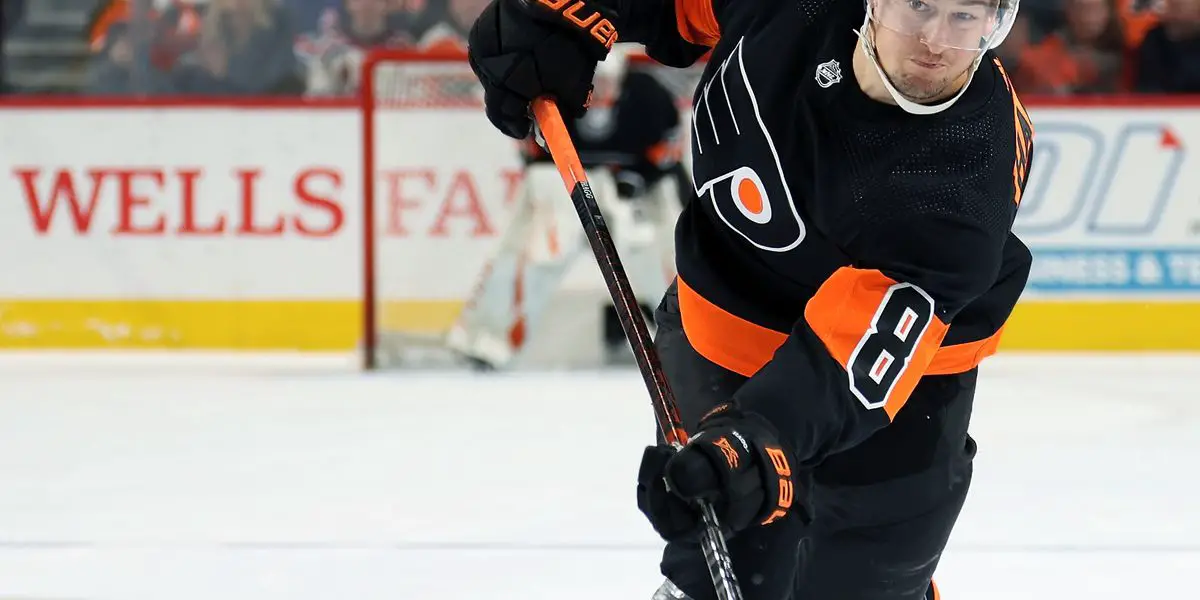 The Detroit Red Wings have signed veteran defenseman Robert Hagg to a one-year one-way contract for next season. Hagg will earn $800,000 and again be eligible to become a UFA next summer. Hagg has seven years of NHL experience and should provide depth at the defense position next season.
Who is Robert Hagg?
Robert Hagg is a Swedish-born defenseman who was initially drafted 41st overall by Philadelphia in 2013. Hagg played in the MODO organization before he came to North America to play in the Flyers organization.
Hagg made his NHL debut playing one game during the 2016-2017 season. Hagg has been an NHL regular since the 2017-2018 season. In 300 NHL regular season games, he has scored 14 goals, 42 assists, 56 points, and has a +4 rating. In 14 playoff games covering two seasons, Hagg has chipped in with three assists and has a +2 rating.
Hagg's best season occurred during the 2018-2019 season when he picked up 20 points in a season when he played all 82 games. Last season, Hagg split the year between Buffalo and Florida, scoring one goal, eight assists, nine points, and had a -9 rating in 64 games.
How Does Hagg Fit in with Detroit?
Robert Hagg will fit in nicely with Detroit's offensively oriented defensemen. He can play strong defensively and has an affinity for blocking shots, particularly during the penalty kill. His physical presence will make it difficult for teams when the puck is in Detroit's end of the ice.
Detroit has added Ben Chiarot, Olli Maatta, Mark Pysyk, and Steven Kampfer during this free agency period. Adding Hagg provides Detroit with the depth required for a long season and, hopefully, a playoff run.
Pysyk recently had surgery for an Achilles tendon, which will likely require 4-6 months to heal. As a result, the Red Wings acted fast. They solidified a position that general manager Steve Yzerman believes is necessary if a team wants to challenge for a playoff spot next year.
Detroit's New Defense Pairings
Detroit will have three new left-shot defensemen on the opening night roster against Montreal. With Jake Walman and Mark Pysyk starting the year on the IR, Detroit's defense to start the season will look very different compared to the defense that finished last season.
Ben Chiarot will likely play on the top pairing with last year's Calder Memorial Trophy winner Moritz Seider. Olli Maatta will likely start the year paired with Filip Hronek. Newly acquired Robert Hagg will probably play on the third pair with Gustav Lindstrom. The extras will likely be returnee Jordan Oesterle and KHL veteran Steven Kampfer.
Final Thoughts
Detroit's defense will look a lot different entering next season. With the additions of Chiarot, Maatta, Hagg, Kampfer, and later in the season, Pysyk will provide a much-improved defense group compared to one year ago.
Steve Yzerman has always built teams from the defense out. Big mobile, defensively responsible defensemen will assist the goaltending duo of Alex Nedeljkovic and Ville Husso in allowing not only fewer shots but also fewer goals against compared to last season.
Adding several forwards will also provide more depth at the forward position. This team is built to compete every night and should push for a playoff spot. The addition of Hagg was needed because of two significant injuries that need time to heal. It should be fun to watch the Big Swede (Robert Hagg) play for the Red Wings next season.
With five picks in the top-50 of the 2023 NHL Draft, the Red Wings are in prime position to make a trade for a top-six forward. We breakdown fits of players that are potentially on the trade market and what a potential package could look like. We also start with how Red Wings at the World Championships are performing, focusing on Dominik Kubalik, Carter Mazur, and Lucas Raymond.