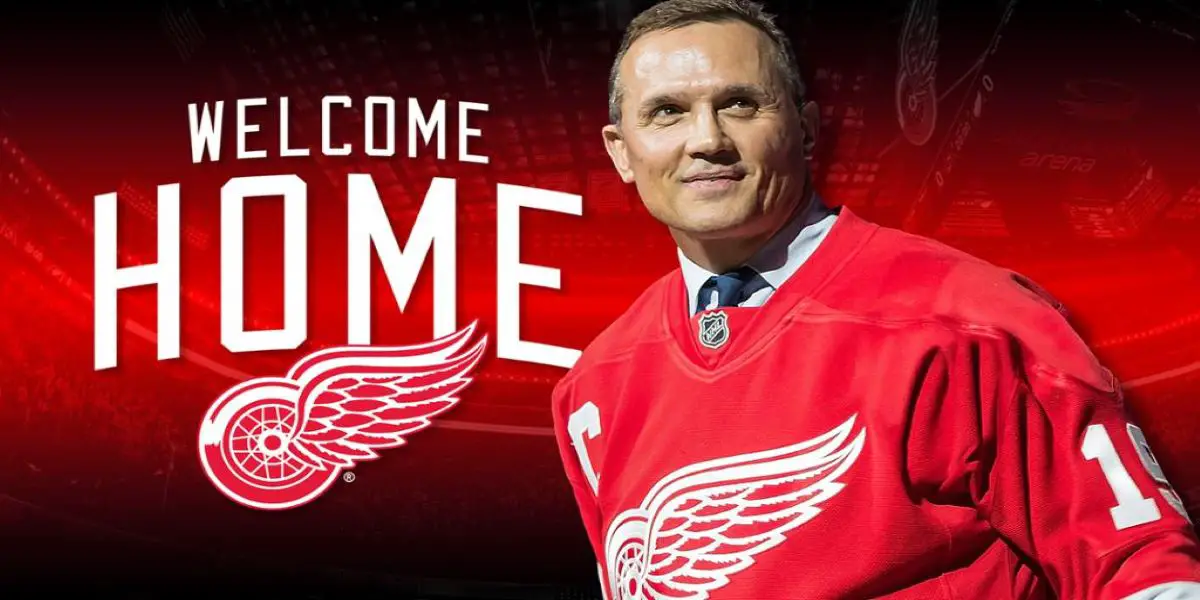 Steve Yzerman has been the general manager of the Detroit Red Wings for three years. At the time of his hiring, Yzerman indicated that there is no timeline as to when Detroit will make the playoffs again. The rebuild has been slow and painful for Detroit fans. The Red Wings bottomed out in the pandemic-shortened season one year ago. Are the Red Wings improving at a sustainable rate? How long is this rebuild going to take? Is Steve Yzerman doing a good job as the Detroit general manager?
These are all questions that are difficult to answer, but I will take a look at where the Red Wings currently stand in their rebuild and try to explain what Detroit fans can expect moving forward.
Steve Yzerman has been patient
It is no secret that Steve Yzerman likes to win. He played on four Stanley Cup Championship teams, built the Tampa Bay Lightning into a perennial powerhouse, and is now saddled with rebuilding a once-proud franchise in Detroit.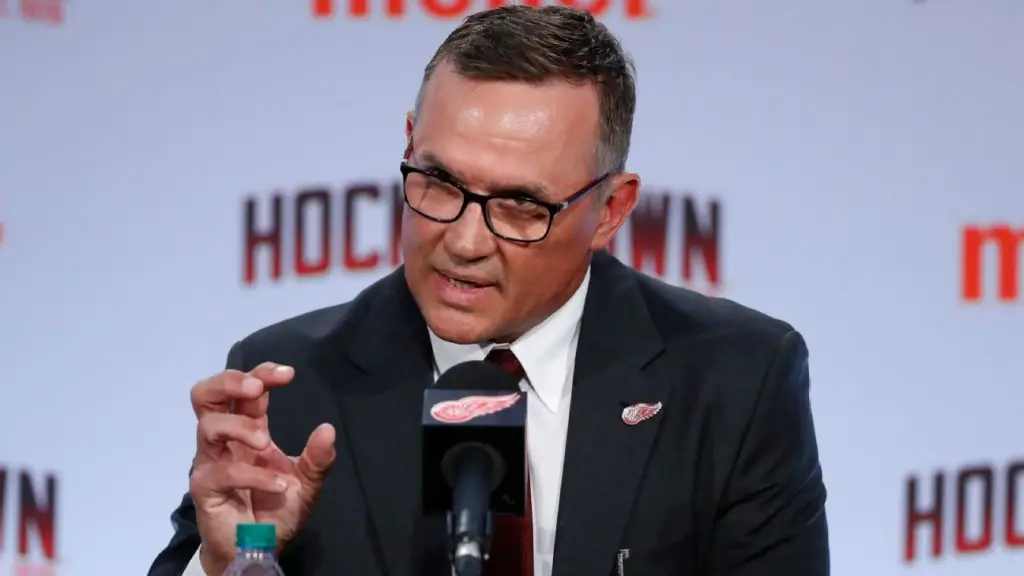 When Yzerman was hired to be the General Manager of the Red Wings, the team had missed the playoffs for three consecutive years, and the team was at the start of a rebuild. Three years later and three more years out of the playoffs, Yzerman still has his job, and he has made several important moves that will hopefully guide the Red Wings in the right direction.
The Red Wings are right back to where they were when Yzerman took over the team. In 2018-2019, the Red Wings had a record of 32-40-10. The following year, the team imploded and had a league-worst 17-49-5 record. Last year, Detroit improved slightly during the 56-game schedule and had a .429 winning percentage. This year, the Red Wings once again had a 32-40-10 record, but all indications point to the Red Wings moving in the right direction.
The biggest disappointment to this season was embarrassing losses in March to Arizona and Pittsburgh. During the 9-2 embarrassment to the lowly Coyotes, Yzerman was visibly shaken while watching from upstairs. Over three weeks later, the Red Wings were again blown out, this time 11-2 against a much better Pittsburgh team.
Steve Yzerman was patient throughout the season, but his patience came to a head shortly after the season ended when he fired most of this year's coaching staff, including seven-year veteran head coach Jeff Blashill.
Good Things Are Coming
Not only have the Red Wings promoted young players into the lineup, but some of these players are also the future stars in Hockeytown. Moritz Seider was Yzerman's first draft pick in 2019, and he was nothing short of sensational in his first season. Lucas Raymond was drafted a year later and was also terrific playing as a nineteen-year-old.
The Red Wings have more prospects on the way. Last year's top pick, Simon Edvinsson, recently signed his entry-level contract and will fight for a spot on Detroit's blueline in the fall. Sebastian Cossa was also drafted in the first round last year and is having an outstanding playoff with the Edmonton Oil Kings (WHL).
Other top prospects include defensemen Albert Johansson, Jared McIsaac, and Donovan Sebrango. Winger Jonatan Berggren set a Detroit minor league record by scoring 64 points as a rookie while playing for Grand Rapids (AHL). Yzerman also signed highly-coveted winger Pontus Andreasson out of the SHL. Each of these prospects will attempt to make the Red Wings out of training camp in September.
Millions in Cap Space
The Red Wings also have the luxury of having almost $36M in cap space. With several outstanding young players entering free agency in July and an enormous amount of cap room available, it would not be unreasonable to see Yzerman sign one or two top free agents this summer. Both Johnny Gaudreau and Filip Forsberg would like terrific in the Winged Wheel.
Detroit currently has 29 players under contract for next year, and with cap room to spare, adding a free agent to an already crowded lineup will undoubtedly create competition for jobs. Any signings of veteran free agents will help accelerate the rebuild.
Plenty of Trade Capital
Yzerman has always wanted to put his stamp on the Red Wings. Players who were drafted or brought in during the Ken Holland era have found their way out of Detroit. The Red Wings have seven UFA's that finished the year in Detroit. Most of these players will not return to Detroit next year.
The Red Wings also have four RFA's, and although most, if not all, will be re-signed, these players might also be used as trade chips prior to the draft. Filip Zadina has underperformed since he was drafted and is likely the first casualty before the draft.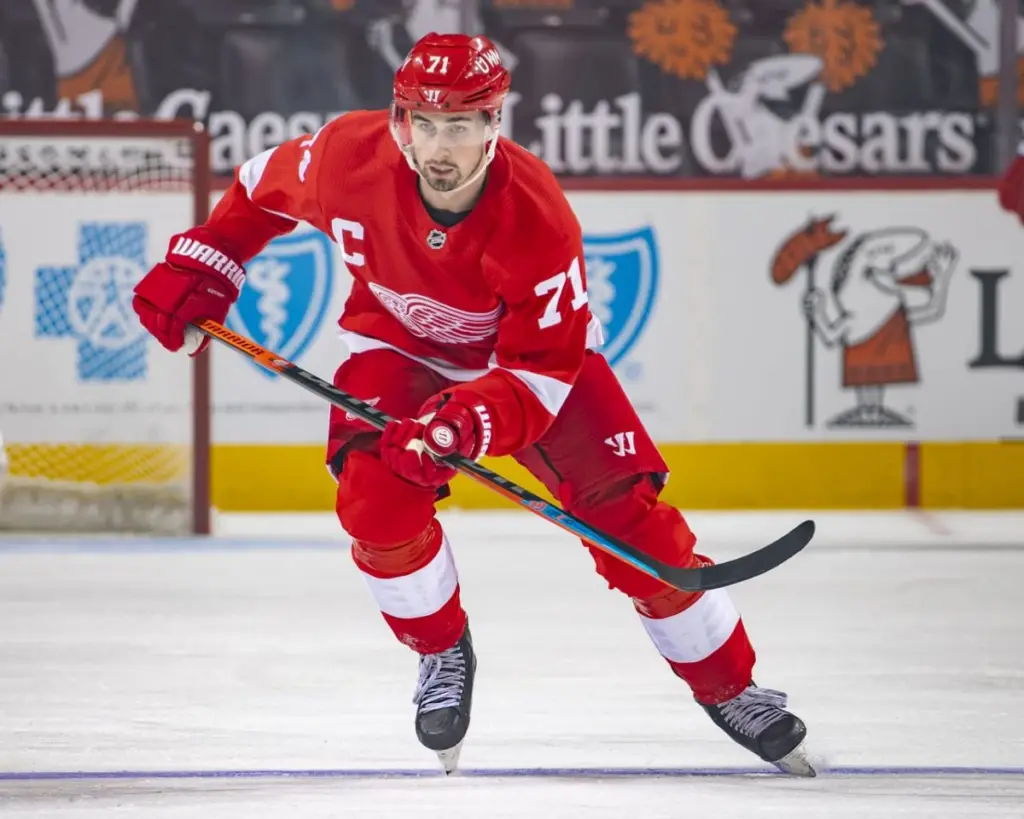 At the end of next season, Alex Nedeljkovic, Tyler Bertuzzi, and Dylan Larkin are all UFA's. If any of these players get to the trade deadline without a contract extension in Detroit, they will likely be moved before they can be lost as UFAs. Larkin even changed agents this week, hoping that his new agent can negotiate a fair contract extension with the Red Wings.
Final Thoughts
Even though the Red Wings missed the playoffs by almost 30 points this year, the rebuild is showing some success. The team was horrible in 2019-2020, the worst team in the NHL. They made a slight improvement in 2021 and improved slightly more this year. With several young prospects ready to push for roster spots, the team has shown that they are on the road to recovery. Hiring the right coach for the next phase of the rebuild is paramount in ensuring that the Red Wings get back into playoff contention in the near future.
Please rate and review our show on your favorite listening platform. Check out our partner's website at www.insidetherink.com for all your latest hockey news.