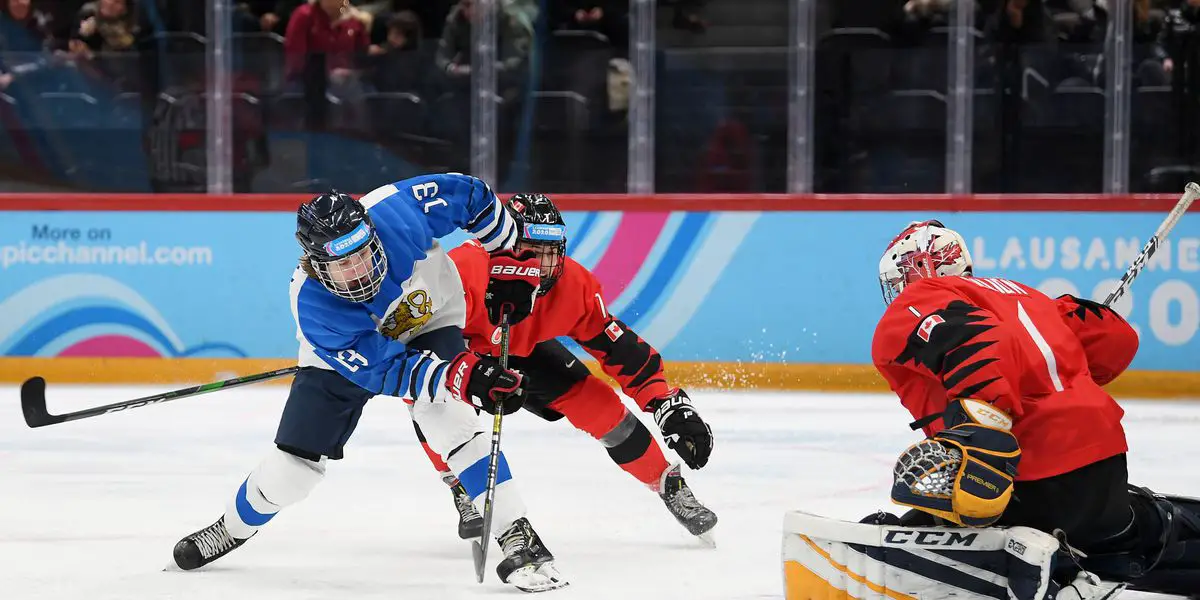 In July, the Detroit Red Wings will pick at #8 in the NHL Entry Draft. Adding a top forward such as Joakim Kemell will provide Detroit with two prized right-wingers to balance out the top two lines. Kemell is very similar to rookie phenom Lucas Raymond in that he is shoots right, is very skilled, and has a terrific shot. Here is a look into what Detroit would be getting if they drafted Joakim Kemell at #8.
Joakim Kemell
Joakim Kemell is a highly skilled goal-scoring right-winger who just finished his first full season playing for JYP in Liiga. Kemell has played in the JYP organization since at least the 2017-2018 season, when he started playing in the U16 division.
In 2019-2020, when he was 15, Kemell played his first full season in the U18 division. In 40 games, Kemell scored 17 goals, 21 assists, and 38 points. He also played internationally for Finland for the first time. In 12 international games, he scored five goals, five assists, and 10 points.
In 2020-2021, Kemell spent most of the season playing in the U20 division. In 38 games, he scored 22 goals, 14 assists, 36 points, and a +5 rating. In two U18 games, Kemell scored three goals, three assists, and six points. Kemell also played one regular-season game in Liiga, scoring one goal. Internationally, Kemell played in the World U18 Championships. In seven games, he scored three goals.
This season, Kemell moved up to Liiga full-time. In 39 games, he scored 15 goals, eight assists, 23 points, and had a -13 rating. Kemell once again represented Finland at the World U18 Championships, where he scored six goals, two assists, and eight points in five games. In twelve U18 international games, Kemell scored 12 goals, three assists, 15 points, and had a +1 rating. Kemell also played six U20 international games, scoring one goal, two assists, and three points. Kemell played two games in the postponed World U20 Championships for Finland and is expected to participate again once the tournament resumes in Edmonton this August.
Kemell's Final Rankings
NHL Central Scouting has Kemell as the 2nd ranked EU skater behind Juraj Slafkovsky (TPS, Liiga). Despite playing professionally for JYP (Liiga), Kemell is the 7th highest goal-scoring EU player in the draft and the highest goal-scoring junior-aged professional in the EU. The website eliteprospects.com has Kemell ranked 11th in the draft, one spot behind previously featured player Matthew Savoie.
Why would Kemell be a good pick for Detroit?
Kemell plays right-wing similar to Red Wings terrific rookie Lucas Raymond. If he is drafted by Detroit, and once he is deemed to be NHL ready, Kemell would instantly be thrust into a top-six role with Detroit. With Kemell and Raymond on the right-wing on the top two lines, the Red Wings have two excellent right-shot wingers who could routinely score 30 goals for the Red Wings.
Kemell is scheduled to go back and play a second year in Liiga with JYP. Playing a second year in Finland would allow Kemell to get stronger and ready for the switch to North America to start the 2023 season. Kemell's rise through professional hockey could be similar to Lucas Raymond in that he may be scheduled to start 2023 in Grand Rapids (AHL), but he may force his way into the Detroit lineup earlier than expected.
Final Thoughts
Even though Detroit would like a skilled center, if Kemell is available, his high skill-set will likely be too tempting to avoid if he is still available with the 8th overall pick. Moving forward, adding Kemell to an already solid top two lines would fortify the top six for at least the next decade in Hockeytown.