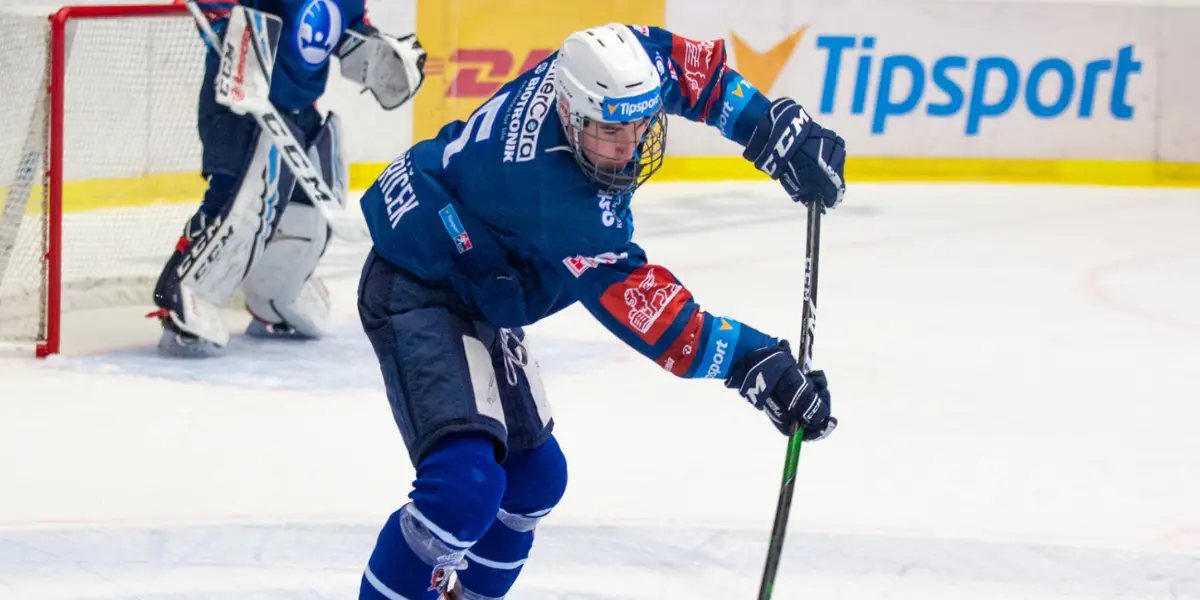 In July, the Detroit Red Wings will pick at #8 in the NHL Entry Draft. Even though Detroit is in need of skilled forwards, if David Jiricek is available with the 8th pick, Steve Yzerman is likely to draft the player that is one of the most polished defensemen in the draft.
David Jiricek
David Jiricek is a highly skilled and mobile right-shot defenseman from Czechia. Jiricek has represented Czechia internationally in several events since he was 15. Jiricek has also played at various age levels for his club team, HC Plzen.
In 2019-2020, Jiricek played 41 games at several different levels in the HC Plzen organization. Jiricek scored 11 goals, 19 assists, 30 points, and had a +10 rating. Internationally, Jiricek played 16 games at the U17 and U18 levels, scoring five goals, seven assists, 12 points, and an even +/- rating.
In 2020-2021, Jiricek played his first full season in the Czechia professional league. In 34 regular-season games, he scored three goals, six assists, nine points, and had a +13 rating. In four playoff games, Jiricek chipped in with one assist. Jiricek played in several international tournaments, including the World U18 and U20 tournaments. In 21 international games at all levels, Jiricek scored five goals, three assists, and eight points.
This season, Jiricek played 29 regular-season games in Czechia's top professional league, scoring five goals, six assists, 11 points, and had an even +/- rating. Jiricek was an alternate captain on the U20 World Junior Championship team. He chipped in with one assist in one game before the tournament was postponed. He is expected to participate in a revamped version of the tournament when it resumes in August. Jiricek played 20 additional games representing Czechia at the U20 and professional levels, scoring two goals, eight assists, 10 points, and a +10 rating. Jiricek is currently playing at the World Championships, where he has scored one goal and one assist in two games.
David Jiricek's Final Rankings
NHL Central Scouting has Jiricek as the 4th ranked EU skater behind Juraj Slafkovsky (TPS, Liiga), Joakim Kemell (JYP, Liiga), and previously previewed Simon Nemec. Jiricek is also the 2nd highest scoring draft-eligible EU defenseman currently playing professionally in the EU. Elite Prospects has Jiricek ranked at #2 behind only Shane Wright in the Final Rankings.
Why would Jiricek be a good pick for Detroit?
Jiricek is an outstanding offensive defenseman. He can quarterback a power play, make exceptional breakout passes, and would be a terrific complement to the right side of Detroit's defense.
Jiricek will turn 19 in November, and if he is drafted by Detroit, the Red Wings would likely bring him to North America immediately so that he could play in Grand Rapids (AHL). He has already played two full seasons of professional hockey in Czechia and has nothing else to prove at that level. After one full season in the AHL, Jiricek would challenge for a full-time spot on the Red Wings defense.
Final Thoughts
Detroit will likely draft the offensively gifted defenseman if David Jiricek is still available at #8. In my opinion, Jiricek is the best offensive defenseman available in this year's draft. It would be nice to have an opportunity to draft a right-shot defenseman who will likely play in the NHL full-time within the next 2-3 years.
Previous articles in the series you may have missed:
Joakim Kemell
Simon Nemec
Matthew Savoie
In this episode, we recap the World Championships, highlighting Kubalik, Seider, Mazur. Next, we take a long look at the 2023 first round and which players will be available at 9th and 17th.