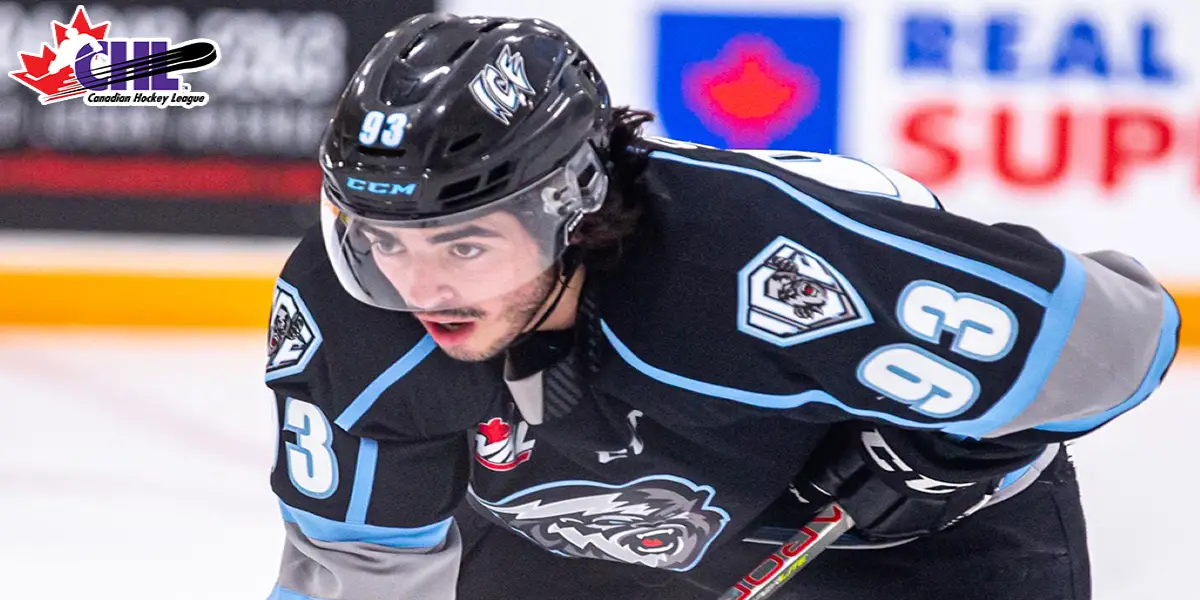 The Detroit Red Wings will be the pick at #8 in the NHL Entry Draft in July. If General Manager Steve Yzerman stands pat at #8, he will have plenty of prospects to choose from that are worthy of the 8th overall selection. The belief is that Shane Wright (Kingston, OHL), Juraj Slafkovsky (TPS, Liiga), and Logan Cooley (U.S. National U18 Team) will be long gone before Detroit has a chance to pick. If this is the case, numerous scenarios could happen by the time it is Detroit's pick. Here is the 1st in a series of potential players that Detroit could select with the 8th overall selection.
Matthew Savoie
Matthew Savoie is a highly-skilled center currently playing for Winnipeg in the WHL. Savoie was the #1 pick in the WHL Bantam Draft in 2019. Savoie has had success wherever he has played. After being drafted into the WHL, Savoie played for most of his post-draft year playing for Rink Hockey Academy Prep. In 22 regular-season games, Savoie scored 19 goals, 33 assists, and 52 points. During the playoffs, Savoie played two games and scored an amazing three goals, four assists, and seven points. Savoie also suited up for 22 regular-season games for Winnipeg, picking up seven assists.
During the Covid-interrupted 2020-2021 season, Savoie decided to play some games in the AJHL for Sherwood Park and finish his season playing for Dubuque in the USHL. In four games playing for Sherwood Park, Savoie scored three goals, three assists, and six points. Savoie played 34 regular season games for Dubuque scoring 21 goals, 17 assists, 38 points, and a +11 rating. In two playoff games, Savoie was held off the scoresheet.
This season, Savoie took his offensive game to the next level. In 65 regular-season games, Savoie scored 35 goals, 55 assists, 90 points, and had a +54 rating. Savoie led all rookies in WHL scoring. So far, in seven playoff games, Savoie has scored four goals, four assists, eight points, and has a +6 rating. His Winnipeg Ice team is currently leading Moose Jaw 3-1 in the second round of the WHL playoffs. If they win the series, they will play the highly ranked Edmonton Oil Kings, featuring Detroit's top goaltending prospect, Sebastian Cossa.
Savoie's Final Rankings
NHL Central Scouting has Savoie as the 4th ranked North American skater behind Shane Wright, Logan Cooley, and Cutter Gauthier (U.S. National U18 Team). Savoie is also the 3rd highest scoring player in the draft behind Jordan Dumais (Halifax, QMJHL) and Wright. Dumais scored 109 points playing in the QMJHL and is the #73 ranked North American skater, according to the NHL Central Scouting Bureau.
Why would Savoie be a good pick for Detroit?
Savoie is a dynamic playmaker that could play in the top six on any NHL team. The Red Wings are desperate for skilled forwards to compliment the other top prospects in the organization. Savoie would slot in as the #2 center behind Dylan Larkin. He would be terrific playing with Jakub Vrana and top forward prospect Jonatan Berggren.
Savoie likely needs at least one more year of major junior hockey. He will turn 19 on January 1st, so with an early birthday, he may be ready to play in the NHL before other players in his draft class. According to eliteprospects.com, Savoie is only 5'9 and 179 pounds. An additional year of junior and two summers in the gym should give him ample time to prepare for life in the NHL. Another year of maturing would also provide Savoie with the opportunity to get the strength required to play 82 games against the best men in the world. Moving forward, Savoie would also benefit from playing for Canada in the World Junior Championships.
Final Thoughts
If Matthew Savoie is still available at #8, Detroit will likely draft the highly skilled center. After the Top 3, anything can happen when teams are drafting 18-year-old teenagers. It sure would be nice to have an opportunity to draft a player with the skillset of Matthew Savoie.